I don't want to toot my own horn, but I definitely came out on top after yesterday's April Fool's shenanigans. Five pranks pulled without falling victim to a single one. Win. The best one was probably the prank that I pulled on my mom…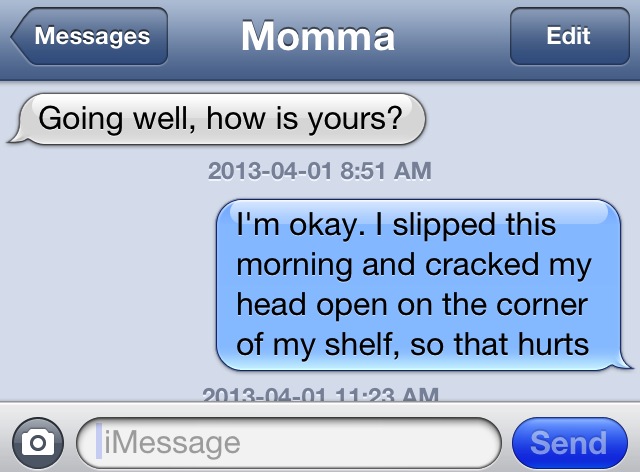 Approximately 10 seconds after I sent that text, I got a phone call from a very panicked mother asking me what happened. I kept up the act for a while before becoming a little concerned that I might cause her to have a heart attack or something. Either Mom is far too gullible, or I deserve an Oscar for my performance. I'd say April is off to a pretty good start indeed. That being said, we've got another month under our belts which means it's time for another monthly favorites post!
. – . – . – .
. food .
I seriously lucked out on the food front in March and came across two new-to-me products that I became instantly obsessed with. First up, Barefruit Apple Chips…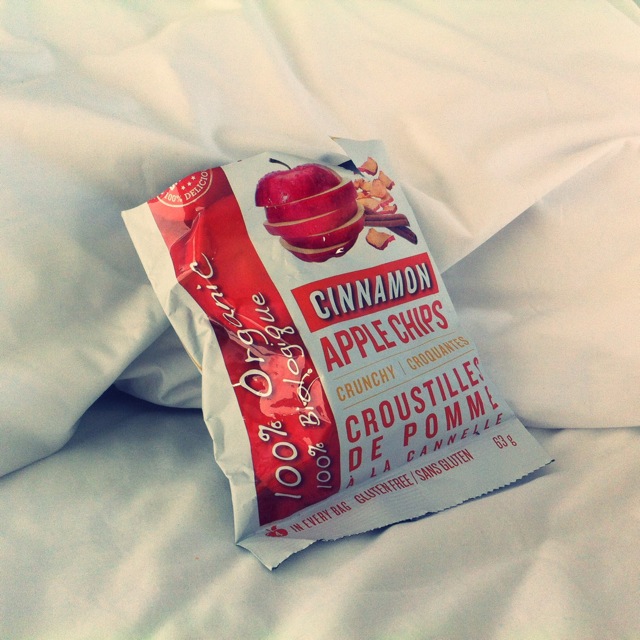 Guys… As if my applesauce addiction didn't have me eating enough of them, I now get to add to my daily apple count thanks to these wonderfully delicious chips of joy. What I love most about them is that they're crispy the way chips should be (not spongey the way dried apples can be), and the only ingredients are apples and cinnamon. No sugars. No preservatives. No nonsense. Love it.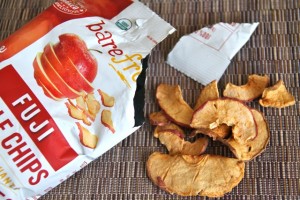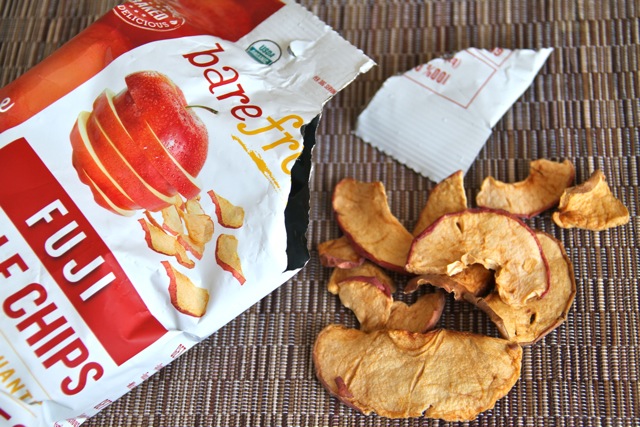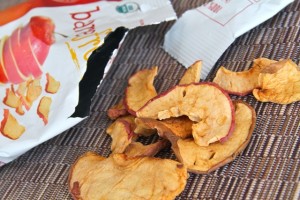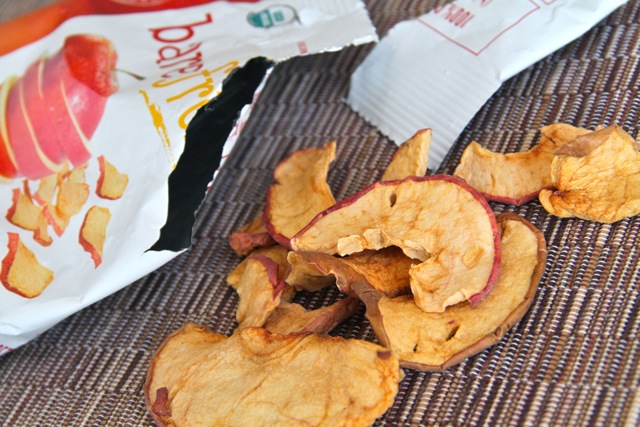 Next up is Oikos' Coconut Greek Yogurt, aka Heaven in a 100g Container…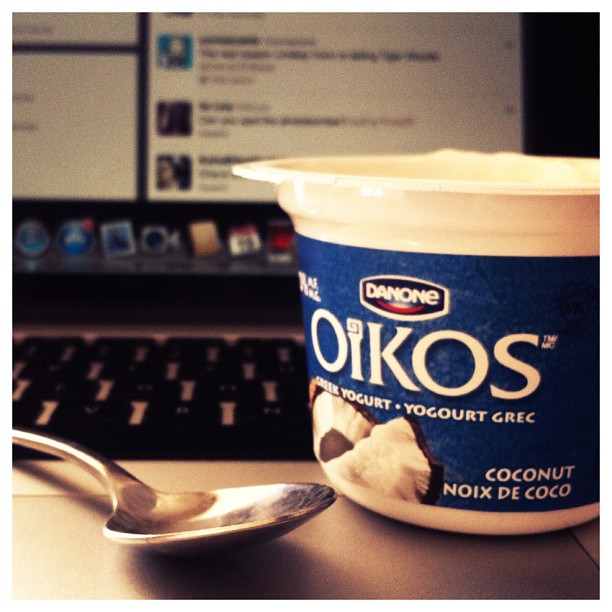 I'm super picky when it comes to flavored yogurts because most of the time I find them to be way too artificial tasting, but Oikos definitely got it right with this one. It's subtle enough not to be overpowering, with the perfect amount of sweetness and coconut flavor. Combined with the aforementioned apple chips? Divine. And don't even get me started on how good it tastes when paired with applesauce. There are no words.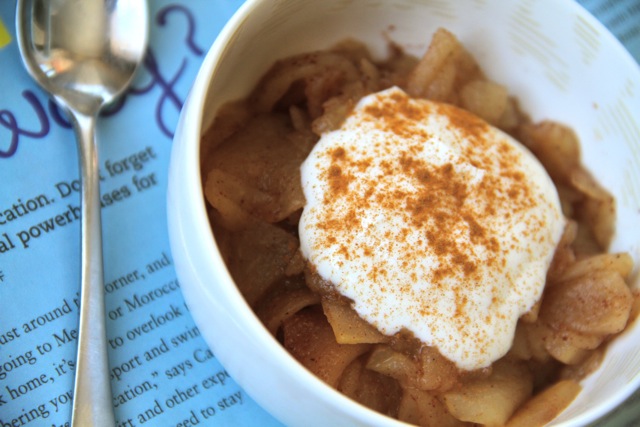 This next one is a bit of an oddball because it's not a food per say, but it doesn't really fit anywhere else so I'm just going to lump it in here. What am I talking about? Genuine Health Greens+ multi+.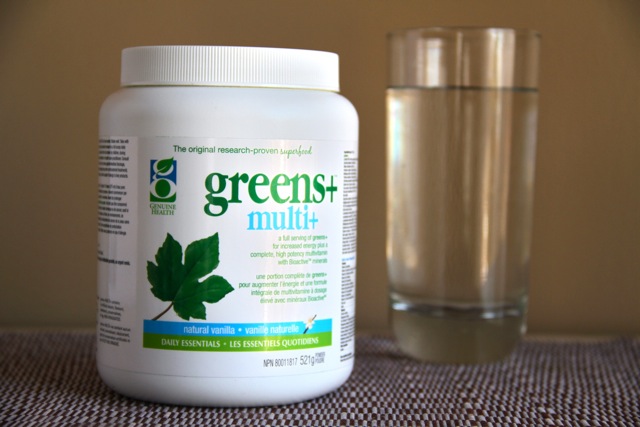 Say what? Hear me out. From the site:
For 20 years greens+ has stood the test of time as Canada's favorite green food supplement, providing consumers with improved health, energy and vitality, as well as nourishing the body with protective antioxidants and detoxifying ingredients. Just one scoop provides a full serving of greens+ that's rich in phytonutrients and antioxidants, PLUS the convenience of a superior quality, high potency and food-based multi-vitamin/mineral supplement.
Essentially, it's a green food supplement and multivitamin all in one. You take one scoop a day in water/juice/smoothie/paste/whatever form, and it provides you with a good dose of vitamins, minerals, antioxidants, and probiotics.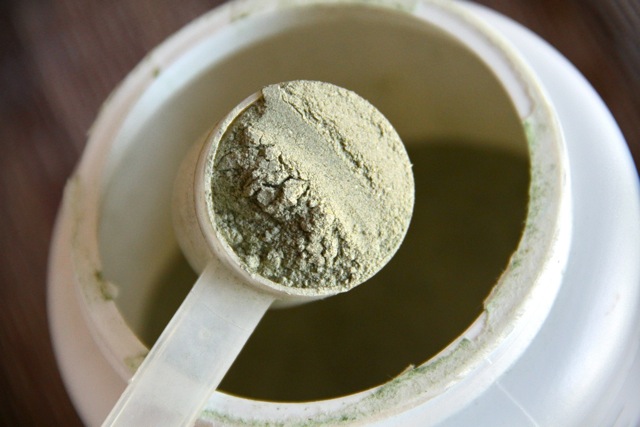 My mom is actually the one who got me into taking this, so I have to send a huge kudos out to her because this stuff is… wow. Amazing. I'm not normally one to buy in to the claims of green/voodoo powders since I tried so many of them in the past only to be underwhelmed by the results, but this.stuff.works. I've been taking it daily since the end of February and not only have I noticed a huge difference in my hair, skin and nails, but my energy has gone way up and, surprisingly and unexpectedly enough, my stomach has been reaping all sorts of benefits as well. I don't want to go all TMI on you guys, but yeah… let's just say that things finally feel like they're working as intended 😉 Smitten.
And last but not least, although it's long gone and my heart aches because I can't buy it anywhere around here, I have to send an honorable mention out to Cascadian Farm Cinnamon Crunch cereal…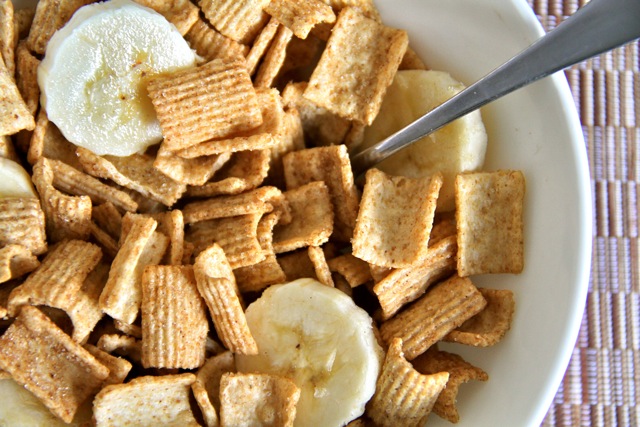 I picked up a box while I was in Hawaii, hoping that it would be a slightly healthier version of my beloved Cinnamon Toast Crunch, and was pleasantly surprised. But all good things must come to an end, and it's better to have loved and lost than to never have loved at all? Just trying to make myself feel better here…
. – . – . – .
. beauty .
Winter was rough this year – cold and seemingly never-ending. In an effort to make myself feel better, I spent a good part of March trying to feel more 'springy' by painting my nails with pretty smile-inducing colors.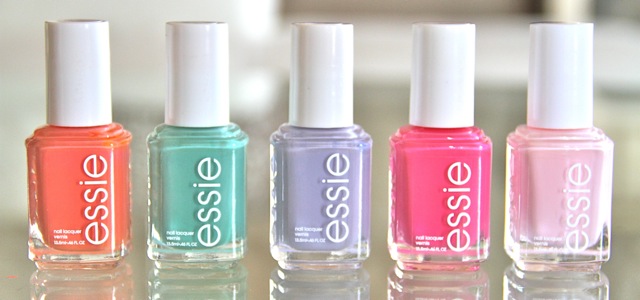 Essie's Tart Deco – Turquoise & Caicos – Lilacism – Off the Shoulder – Fiji
It worked. Kind of. But to be honest, I spent most of March trying to minimize winter's nasty effects on my skin and hair. On the hair front, I've been swearing by the Deep Repair Masque by Macademia Hair…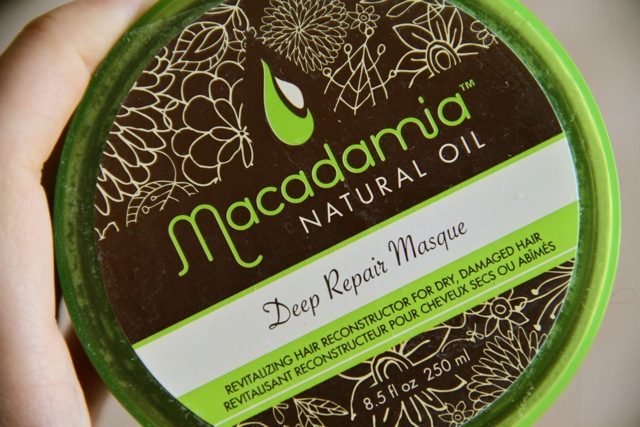 I mentioned this stuff in my post about healing malnourished hair, and while I've been using it regularly for about a year now, I find myself relying on it a lot more in the winter. It's an argan oil based heavy-duty conditioner that penetrates deeper into damaged hair to help rebuild and moisturize, leaving it feeling softer and healthier. Definitely a must in my hair care routine.
In last month's favorites post, I professed my love for MAC's Fix+ makeup setting spray, and this month I'm admitting infidelity and professing my newfound love for Urban Decay's All Nighter makeup setting spray.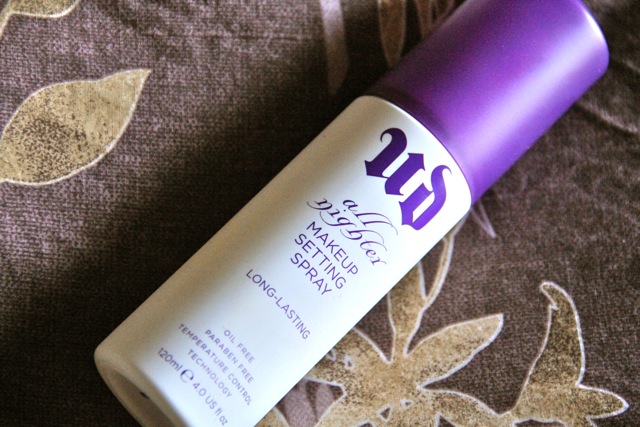 After running out of Fix+ and hearing so many good things about the UD spray, I decided to pick it up and see what all the fuss was about. I definitely see, and I have to admit that I'm probably a convert. What I do is apply my liquid makeup first (BB Cream/foundation/concealer), give my face a spray, wait for it to dry, apply my powder makeup (powder/blush/bronzer/highlight), and give my face another spray. Hello all day makeup with no powdery/dry look to speak of. Love it.
But what goes on must come off, and for that I turn to these Simple Cleansing Facial Wipes.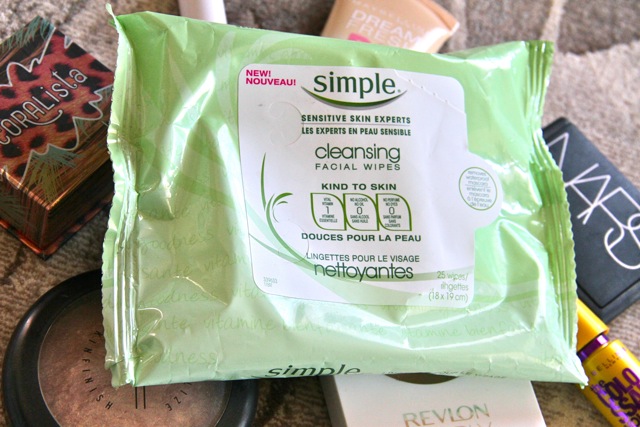 I have pretty sensitive skin that doesn't respond well to harsh skin care products. Simple wipes are oil, alcohol, dye, perfume, and irritant free and do a great job at removing my makeup without making my face feel raw – just clean and moisturized. I use these every night as part of my nightly skincare routine, and I have a feeling they'll be a part of it for quite some time.
. – . – . – .
. book .
March's book of the month is a little different. Rather than giving up something for Lent this year, I decided that I'd rather focus on doing something more. That didn't mean that I wanted to eat more chocolate or drink more coffee, but rather work on spending more time strengthening my faith and relationship with God. Enter Jesus Calling by Sarah Young.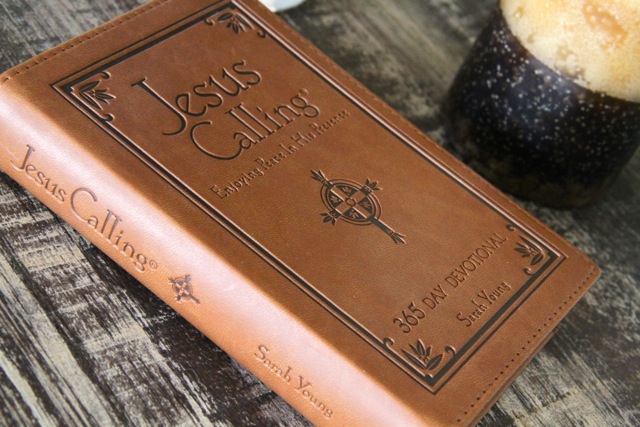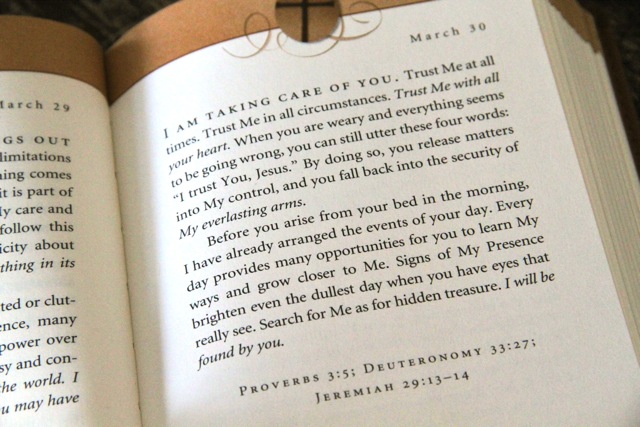 I first heard about this devotional from Lindsay, who recommended it to me after I asked her where some of the readings that she often posted were from, and I'm so glad that I picked up a copy for myself. I've been reading the daily entry and then spending a little bit of time each day, either in the morning or at night, meditating/journaling about my reaction/thoughts/feelings to it. There have been so many times where the words were exactly what I needed to hear, and the way it's written makes it feel like Jesus is actually speaking to you, creating a greater sense of intimacy and closeness. I know I don't spend a lot of time talking about religion and faith, but yeah… this has just been too big of a blessing in my life for me not to share.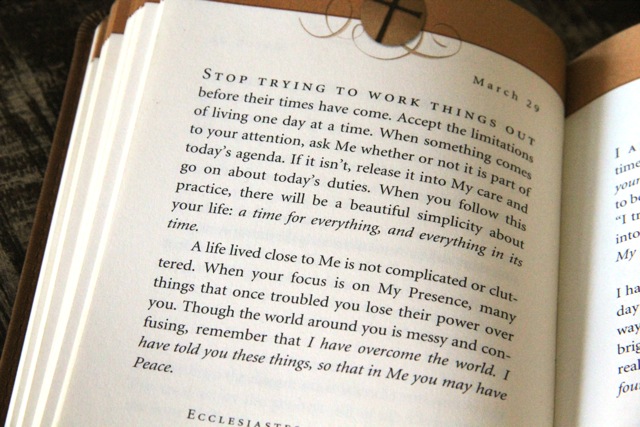 . – . – . – .
. blog .
Starting this month, I decided to add a little blog recap to the end of my monthly favorites posts, just as a way to look back and remember some of my favorite blog-worthy moments and memories from the past month… especially because I have a tendency to forget a lot of the things that happened to me over the past 30/31 days 😯
Obviously, the best part of March was my vacation to Hawaii. The post-vacation blues were no fun, but can you blame me for feeling a little down after experiencing the beauty of places like Diamond Head and Manoa Falls and then having to come back home to grubby old Edmonton?
In an effort to make myself feel a better, I did a little baking therapy and shared a recipe for Blueberry Banana Breakfast Muffins before deciding that the only way to cure the post-vacation blues was to take another vacation. Enter a weekend snowboarding trip to the mountains.
Feeling refreshed, I came back and advocated living a life without numbers, before opening up about the girl I used to be in the depths of my eating disorder, and contrasting that with the girl I am now.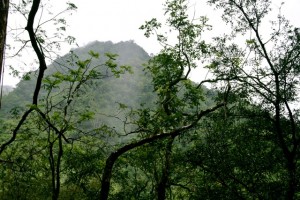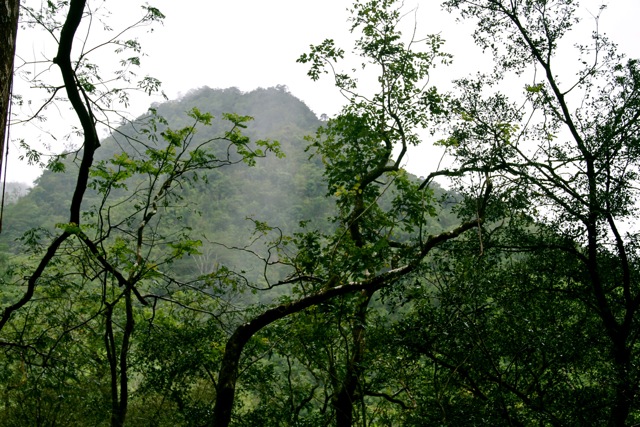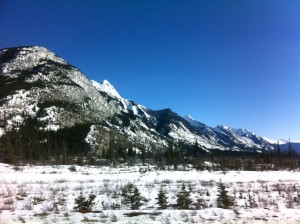 Overall, March was a pretty epic month. Here's hoping that April will follow suit!
. – . – . – .
Was that post epically long or what? Oops… 😳
Canadians: What are some products you see on blogs that you wish we could get here?
What's something awesome that happened in March?
AND!! SOS! My mom's birthday is coming up in a couple of days… any suggestions on what I can get her?!