I was a little worried this year, but I'm happy to report that you're never too old for the Easter Bunny…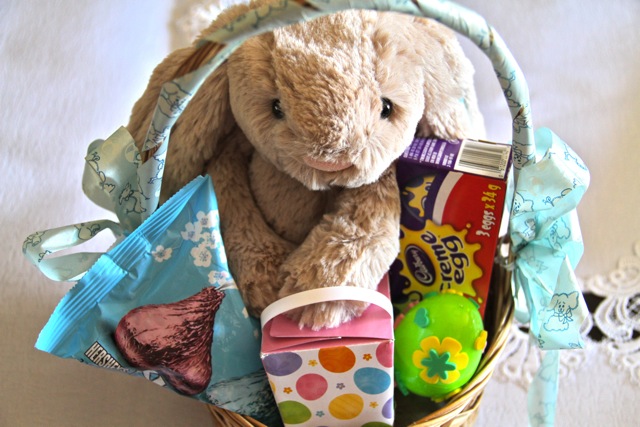 I swear that I'll grow up one day, but today is not that day. Today I'm going to let my inner child run wild and free. Today I'm going to enjoy my milky chocolates and fuzzy bunnies. Today… I'm going to tell you all about my Easter weekend. The celebrations started on Saturday morning with some festive Easter egg nail painting…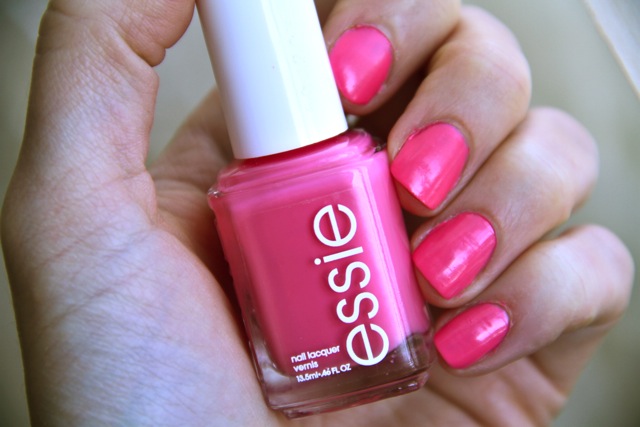 Essie's Off The Shoulder
Then it was off to church with the Easter basket in tow.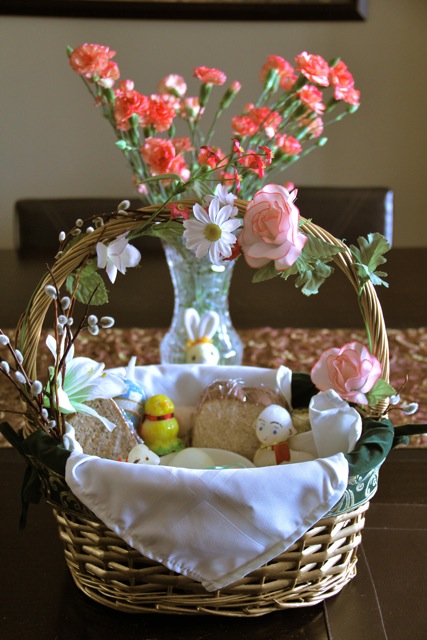 It's a Polish tradition to bless a basket of food on Holy Saturday. The foods in the basket most commonly include eggs, meats, cheeses, bread, butter, and salt, but really… anything goes. My family has been doing this for as long as I can remember, and it's one of the Easter traditions that means the most to me.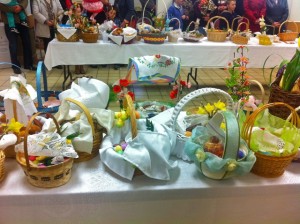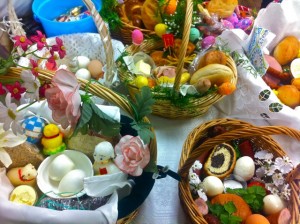 After the basket was blessed, I headed on over to my parents' place to join Mom in the kitchen and help her start prepping food for the next day. There was a lot of chopping…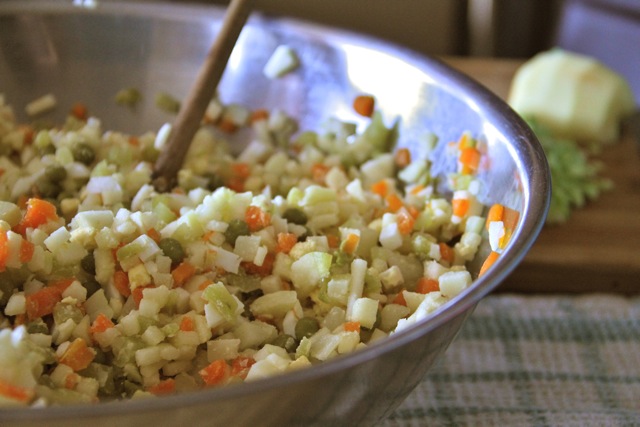 … wrapping…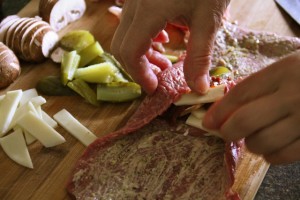 … boiling…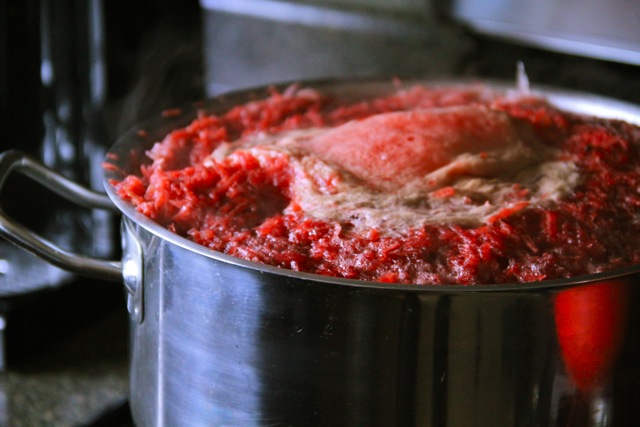 … frying…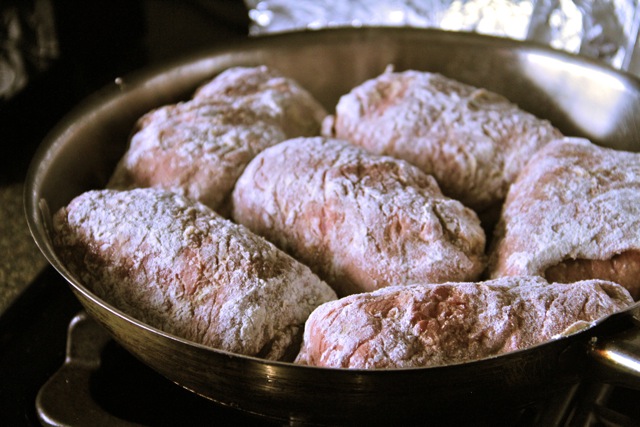 … baking…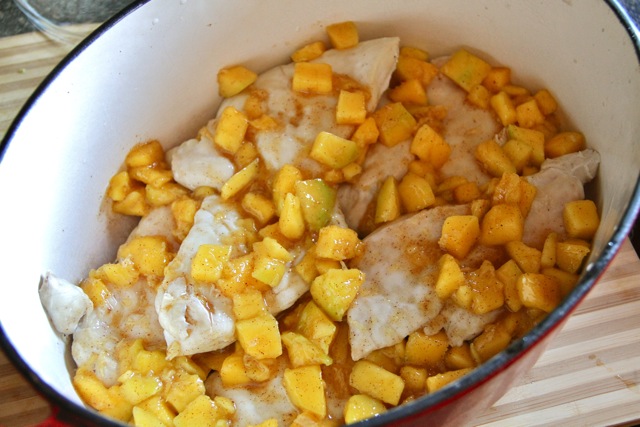 … and beating…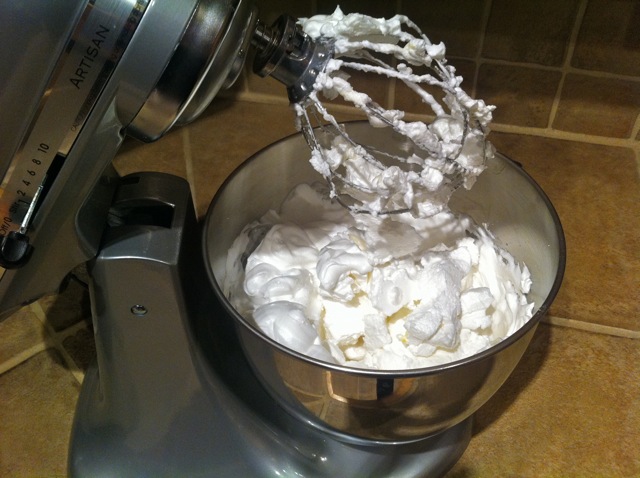 Phew. It was a long day in the kitchen and I may or may not have passed out as soon as my head hit the pillow.
Sunday morning started bright and early with a trip to church. I don't talk about religion much on Spoons, but my faith is a big part of my life and it's hard to imagine Easter without all of the accompanying masses and prayers. After mass I headed on over to my parents' place yet again for a simple Easter brunch, which included all of the foods that we blessed the previous day.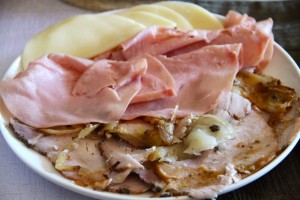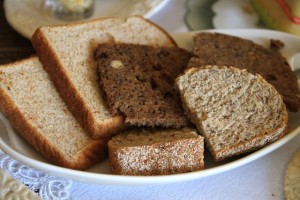 Various meats and cheeses – A variety of breads.
As well as some of the foods that we prepped the day before.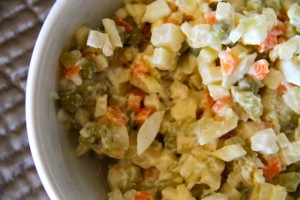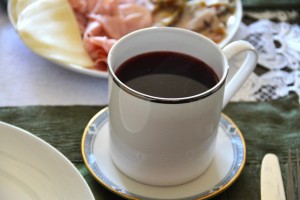 Potato, veggie, and egg salad (similar to this one) – Beetroot broth.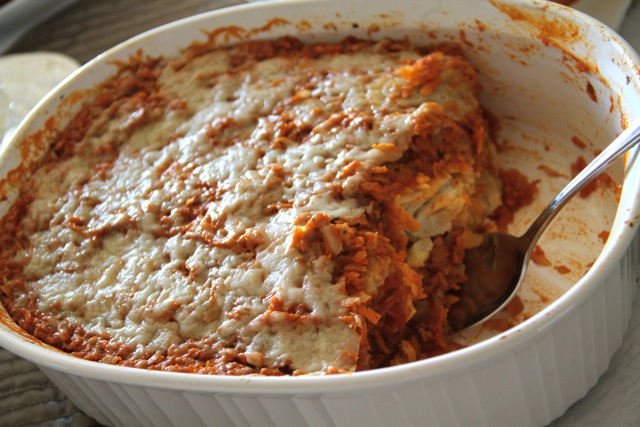 We also partook in another Polish tradition which involves dividing up the eggs we blessed the previous day and exchanging it among ourselves along with a blessing.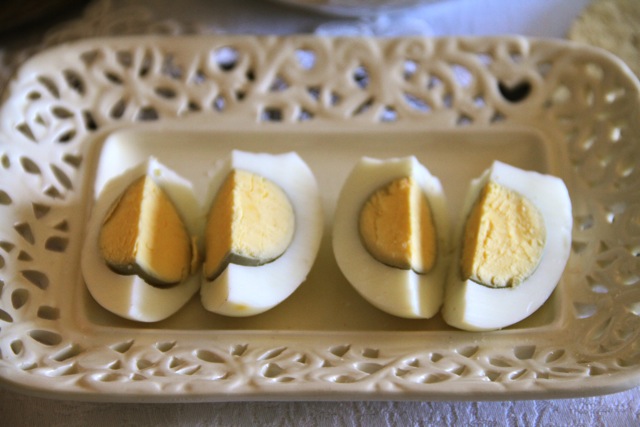 The rest of the day was pretty relaxed. There was napping, game playing, and egg hunting…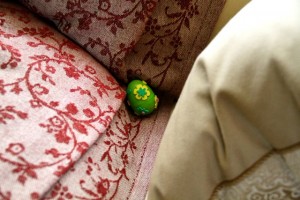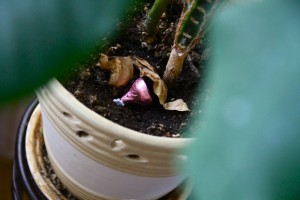 With the ever essential afternoon break for coffee and cheesecake…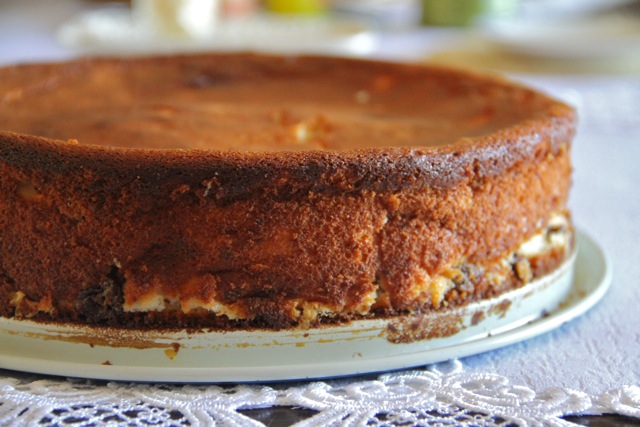 That right there is my contribution to the Easter feasting. It's an orange ricotta cheesecake recipe that I got from Martha Stewart (I added raisins and almond extract), and even though I'm not really the biggest cheesecake fan, I have to admit that even I enjoyed it (my parents raved about it).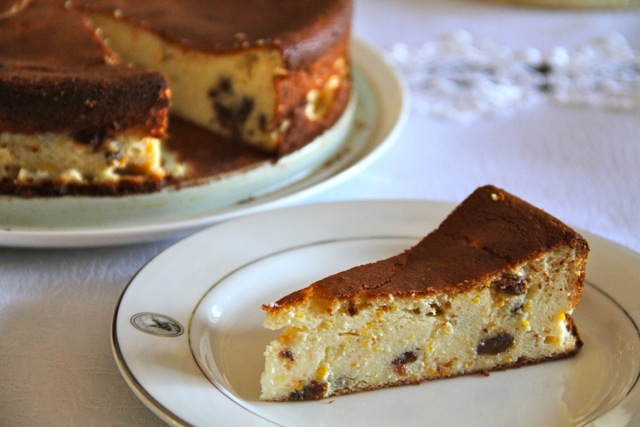 I think it was the fact that it uses ricotta cheese instead of cream cheese – it wasn't overly cloying the way I find most cheesecakes to be, and I could actually eat more than two bites without having to deal with that strange pasty feeling on my tongue and the back of my throat. No I'm not crazy. Cheesecake is – but this one gets a thumbs up from me.
As for the rest of the day, we had dinner at some point…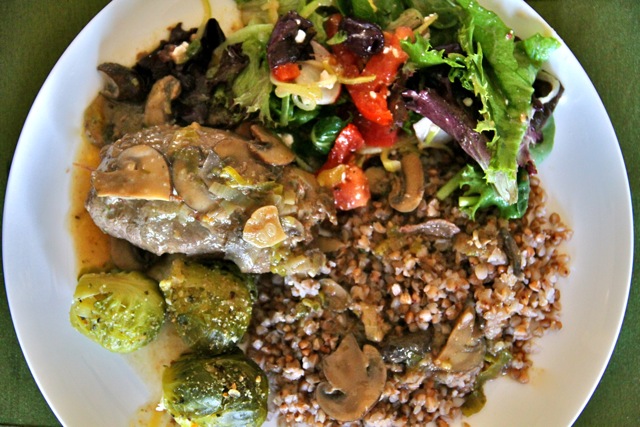 Rolladen (bacon, cheese, mushrooms, red peppers, dill pickles, and mustard wrapped up in beef sirloin), kasha with gravy, salad, and roasted brussels.
… before calling it a night and settling down to watch The Hobbit. Overall, it was a marvelous Easter, and because this post has already reached epicness in length, I'll end it here by wishing you a happy Monday and a happy April Fool's! Make sure to keep your guard up so you don't get pranked 😉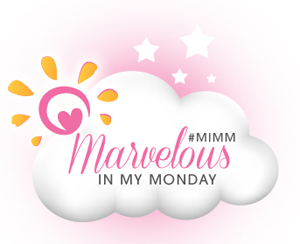 . – . – . – .
Cheesecake: yay or nay?
Did you get an Easter basket this weekend? What was in it?
Do you take part in April Fool's? What was your best prank/pranked moment?