These ridiculously soft and tender maple flax blueberry oatmeal muffins are naturally sweetened and loaded with wholesome ingredients for a deliciously healthy breakfast or snack.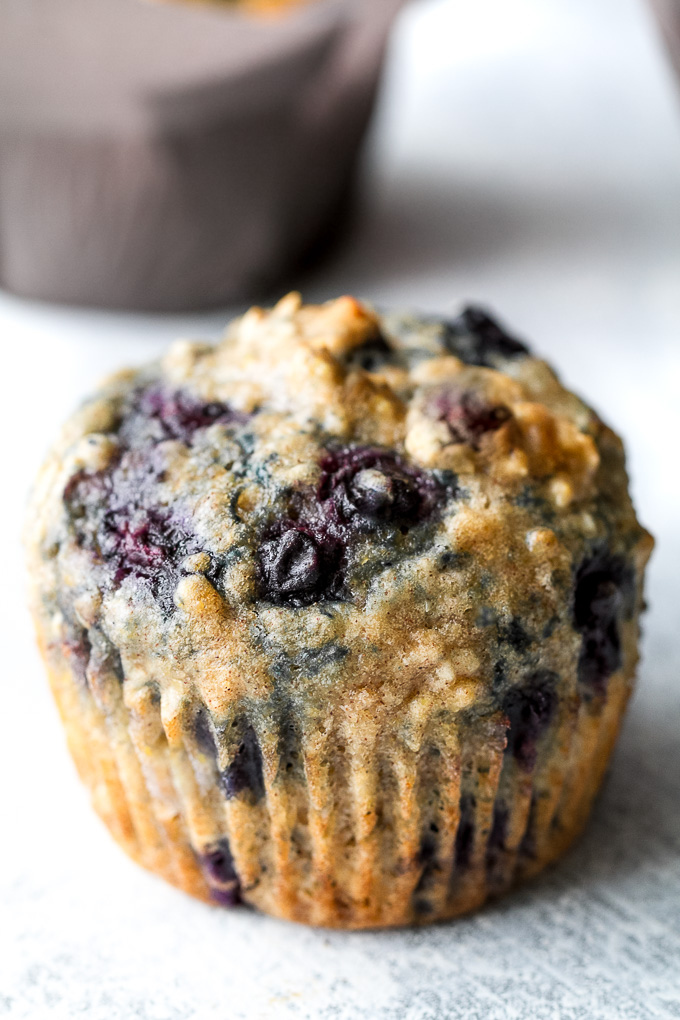 Only one more week until my cookbook launches. 7 days!!
And I seriously can't believe it. Like… this time last year, I was elbow-deep in flourless muffins and wondering how the heck I was going to develop, test, retest, shoot and write 80 recipes. I'm pretty sure I did nothing but eat, sleep, and breathe the book for about 5 months straight, and despite the handful of breakdowns and a freezer that came close to exploding on more than one occasion, I'd do it again in a heartbeat. Eventually 😂
On that note, I actually came across a few leftover muffins hiding in the depths of my freezer the other day. And I mean the deep, dark, edge of the nether depths. Like… "these misshapen little lumps are covered in icicles and probably over a year old" depths. Needless to say, they didn't look overly appetizing, but they did leave me craving muffins.
So! I whipped up a new batch inspired by a combo that I can't seem to get enough of lately.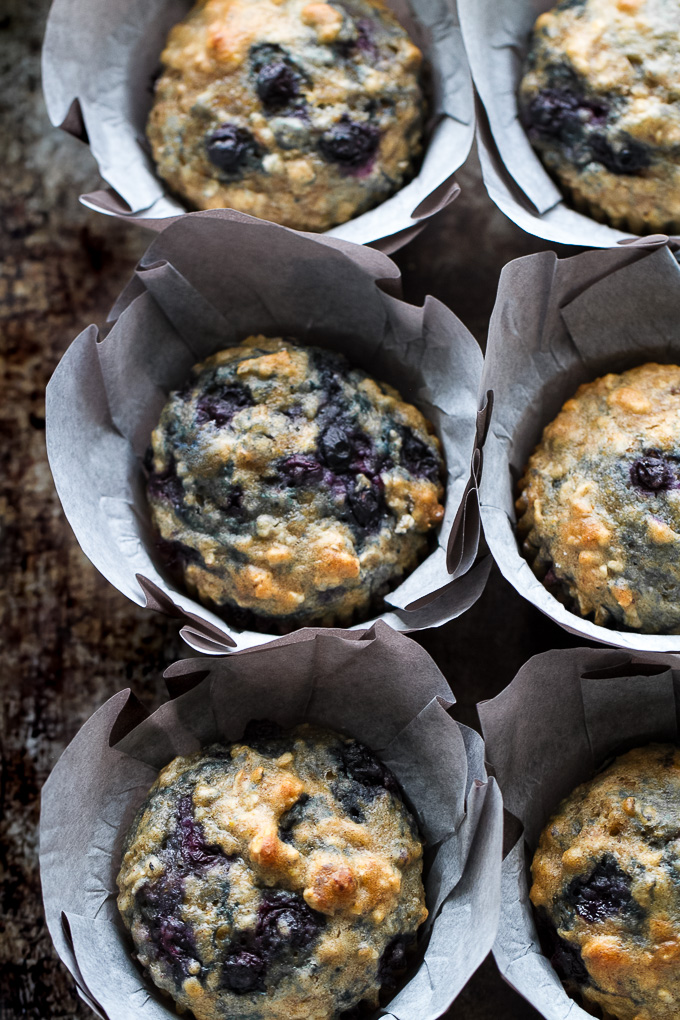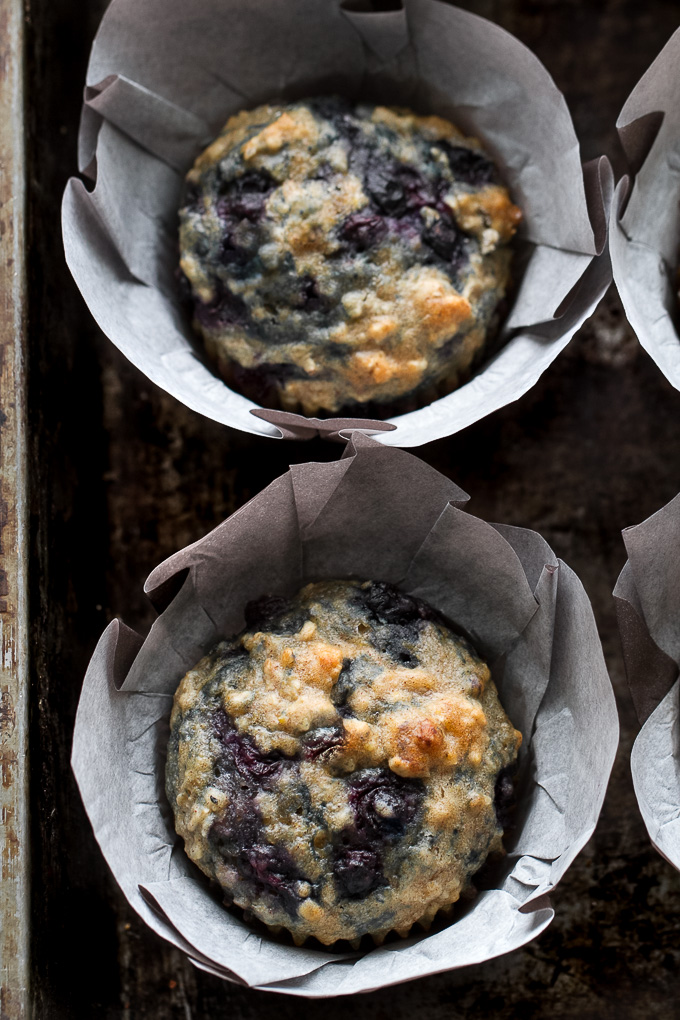 Maple. Flax. Blueberries. Oats.
Baller in my breakfast bowl (I think I mentioned my obsession?), and even more baller in these tender little muffins.
I mean… the bite shots don't lie…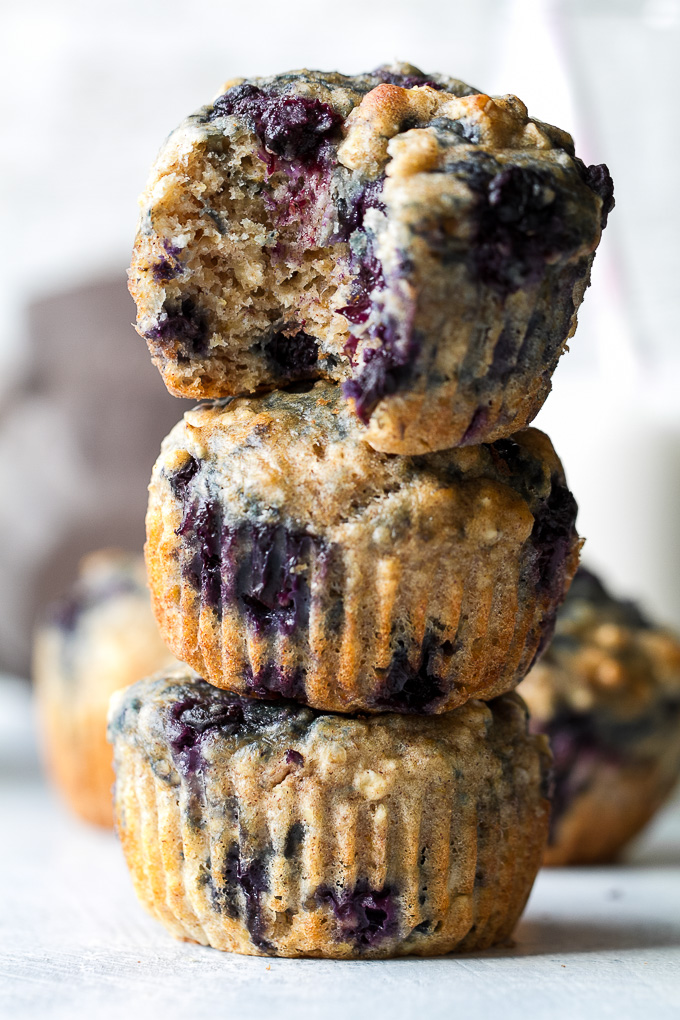 Actually, can we talk about the bite shots for a second? Because they give me serious performance anxiety.
Like… what if my bite looks wonky? What if it's too big? What if it's misshapen? What if it's sloppy? What if I take a bite and end up eating the whole thing?
Okay. That last one is a legit concern because it's happened to me more times than I care to admit. Luckily, there's always one or two test subjects in the batch that don't quite make it as far as looks go. You know… the one's that you'll stick in the background of a picture… buuuuuuut only because they'll come out blurry and no one will be able to see just how gimpy they really are.
True story. Not every muffin/cookie/bar/etc comes out looking picture perfect every time, but there are always those that come out looking pretty darn biteable.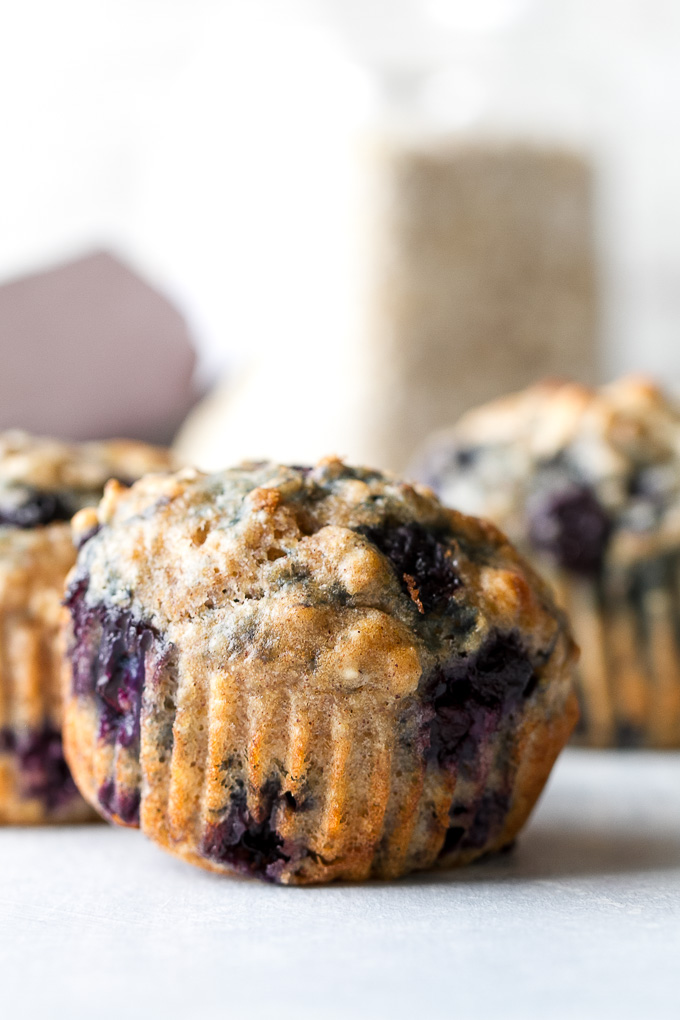 So let's talk deets.
These muffins are super tender. I'm talking, like, moist level tender. And I know. And I'm sorry. But there's really no other way to describe them. They just have a really, really irresistibly tender crumb.
Maybe it's the ground flax… which I'm going to start putting in more recipes because that stuff's golden. Literally. I bought a baggie of golden flax and it seems a little more mild flavour-wise than regular flax. So that's an awesome option if you want to get all the omega benefits of flax without the strong taste.
Then again, it could be the Greek yogurt… which you guys know I adore using in my muffins to lighten them up a bit.
Or maybe it's the maple syrup… which pairs perfectly with the flax and blueberries, and keeps these muffins naturally sweetened.
Or maybe it's it's all those things combined to make a pretty awesome muffin. I hope you guys love them!
Happy eating!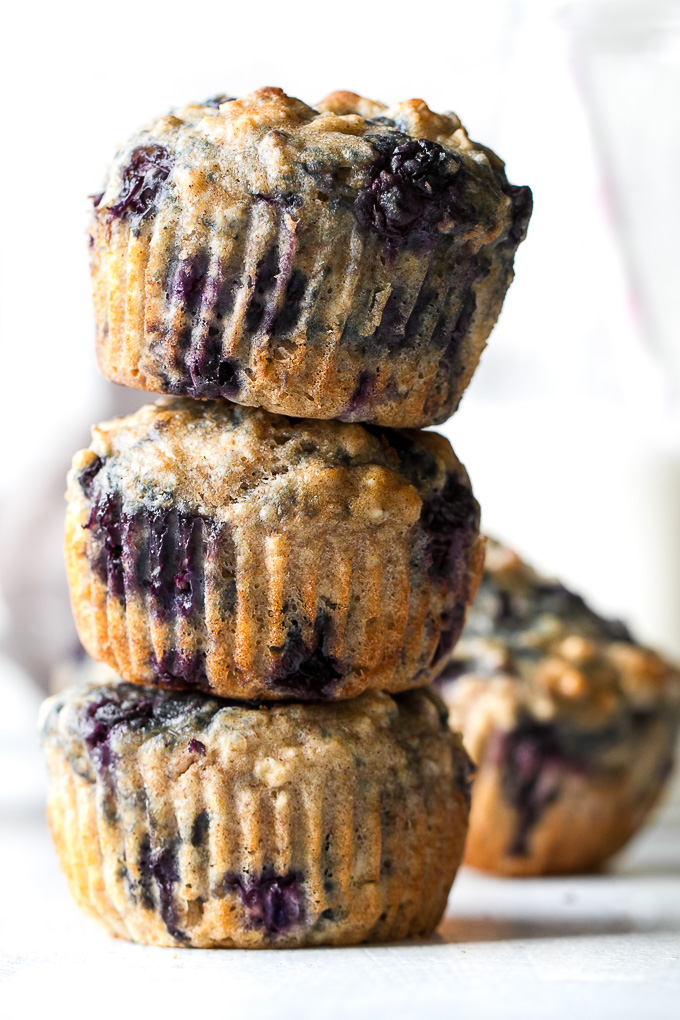 I'd love to know if you make this recipe! Leave a comment and rating down below to let me know what you think, and subscribe to our mailing list to receive new recipes in your inbox!
Print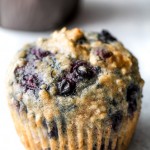 Maple Flax Blueberry Muffins
---
Author:

Total Time:

30 mins

Yield:

12

muffins

1

x
1 1/4 cup

(

150 g

) all-purpose flour*

3/4 cup

(

60 g

) quick cooking oats

1/4 cup

(

30 g

) ground flaxseed

1 tsp

ground cinnamon

1 tsp

baking powder

1/2 tsp

baking soda

1/2 tsp

salt

1

large egg

3/4 cup

(

175 g

) plain Greek yogurt

1/2 cup

(

120

ml) maple syrup

1/4 cup

(

60

ml) unsweetened almond milk

2 Tbsp

(

30

ml) vegetable or melted coconut oil

2 tsp

vanilla extract

1 cup

(

140 g

) blueberries, frozen or fresh
---
Instructions
Preheat your oven to 375F (190C) and prepare a muffin pan by spraying the cavities with cooking spray or lining them with parchment paper liners. Set aside.
In a large mixing bowl, combine the flour, oats, flaxseed, cinnamon, baking powder, baking soda, and salt. Set aside.
In a separate bowl, lightly beat the egg just to break it up. Whisk in the yogurt, maple syrup, almond milk, oil, and vanilla, mixing until well combined.
Add the wet ingredients to the dry ingredients, mixing gently until just combined. Toss the blueberries in 1 Tbsp (7.5 g) of flour to prevent them from bleeding or sinking to the bottom of the muffins, and gently fold them into the batter.
Divide the batter evenly among the 12 muffin cups, filling almost to the top.
Bake for 20 – 22 minutes, or until the tops of the muffins begin to turn golden and a toothpick inserted into the centre comes out clean. Allow the muffins to cool in the pan for ~5 minutes before transferring them to a wire rack to cool completely. Store in an airtight container at room temperature for up to 5 days, or freeze for up to 3 months.
Notes
* You can also use a mix of all-puprose and whole wheat. I would probably go 1/2 cup + 2 Tbsp AP and 1/2 cup +2 Tbsp whole wheat.
Prep Time:

10 mins

Cook Time:

20 mins
Keywords: blueberry, breakfast, flax, healthy, maple, muffins, oatmeal, recipe, snack