This creamy and comforting honey nut breakfast smoothie combines the simple flavours of honey and nuts in a wholesome and balanced smoothie that's guaranteed to start your day off on the right foot. Naturally gluten-free and refined sugar-free, this smoothie makes a healthy breakfast or snack!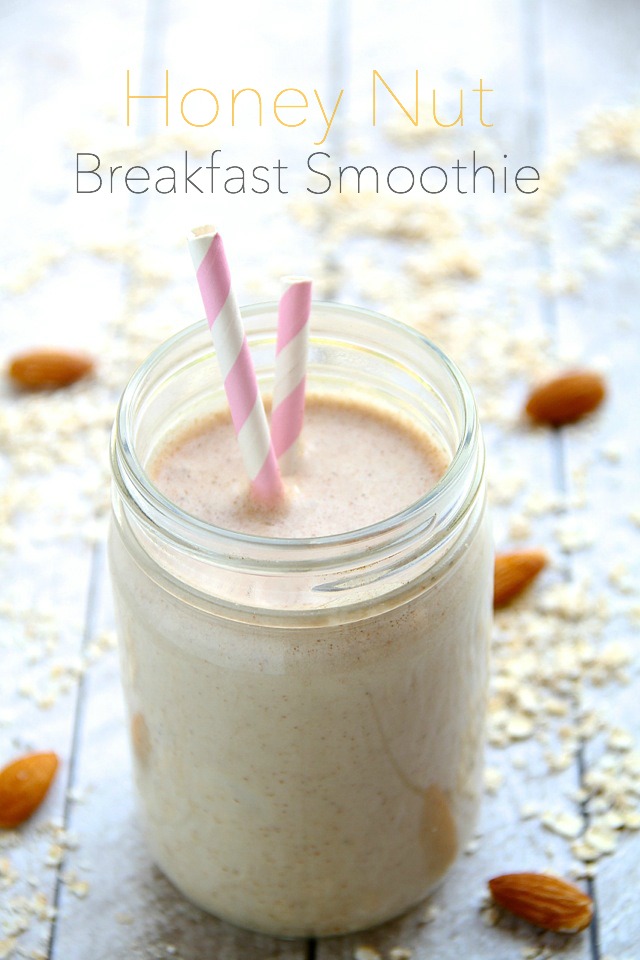 Let's talk breakfast!
Whether or not you think it's the most important meal of the day (research keeps going back and forth… as always), you have to admit that breakfast foods are the best kinds of foods. There's oatmeal, pancakes, waffles, crepes, cereal, smoothies, muffins, toast, bagels, eggs… Even people who don't like breakfast (!?!?) usually like breakfast foods… albeit later in the day.
Personally, I can (and often do) eat breakfast for every meal and feel perfectly satisfied. Oatmeal for breakfast, a smoothie for lunch, and maybe pancakes for dinner is my idea of perfection — my only requirement is that all those meals be sweet. I've tried going the savoury breakfast route on a few occasions, and it just doesn't work for me like everyone says it should. Apparently it's supposed to keep your sugar cravings in check, but I'm pretty sure it only makes mine worse — I end up digging through my chocolate stash about 30 minutes after I'm done to satisfy the craving.
Savoury lunches and dinners I can do. Savoury breakfasts, not so much.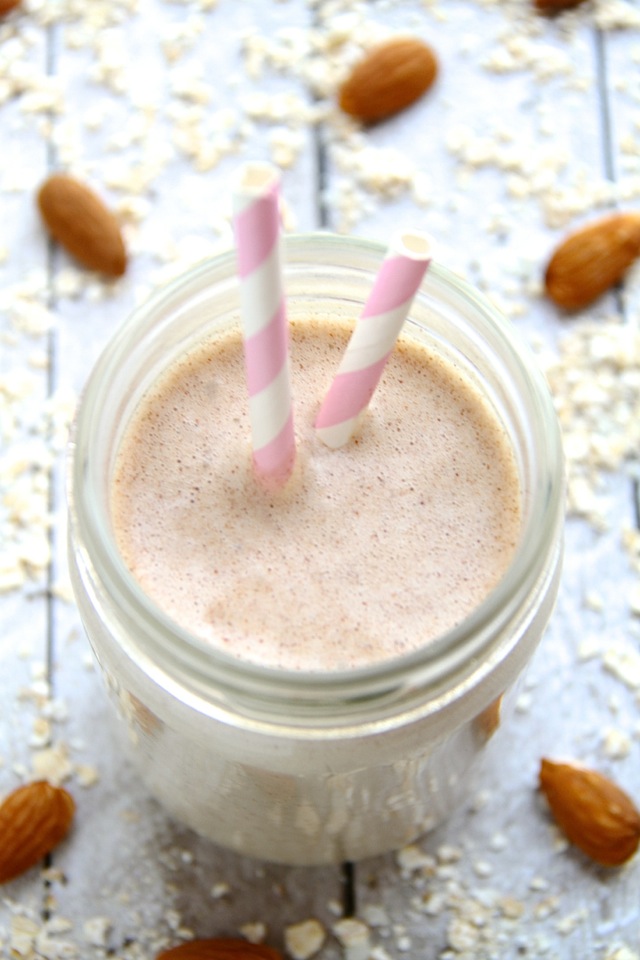 Another thing I can't do is smoothies for dinner.
I love them earlier in the day, but I'm usually looking for something with a little more substance when dinnertime rolls around… which is probably why I don't really eat many soups either. But I digress. It's summer and we're not talking about hot soup because even the thought makes us sweat.
We are, however, drinking and dreaming about lots and lots of creamy and refreshing smoothies.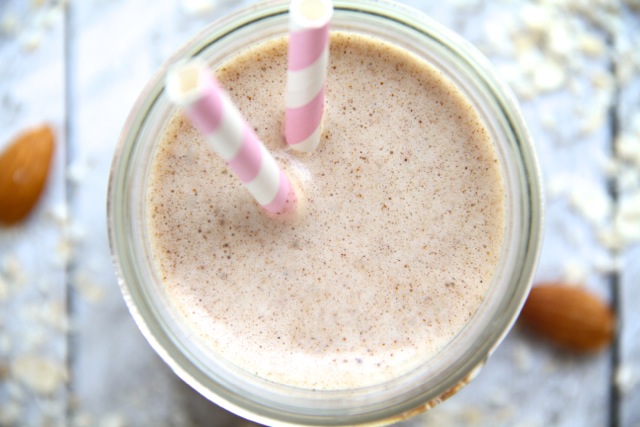 One of the things I love most about smoothies (besides basically everything), is that the possibilities are endless when it comes to what you throw in them and what kind of flavour you end up with.
Whether it be something like Black Forest, Almond Joy, or apple pie, it's so easy to take your favourite dessert flavours and stick them in a drinkable form. Not because it's bad to eat dessert, but because it's probably not the best idea to eat it for breakfast. Unless, of course, it's leftover birthday cake, in which case — all bets are off.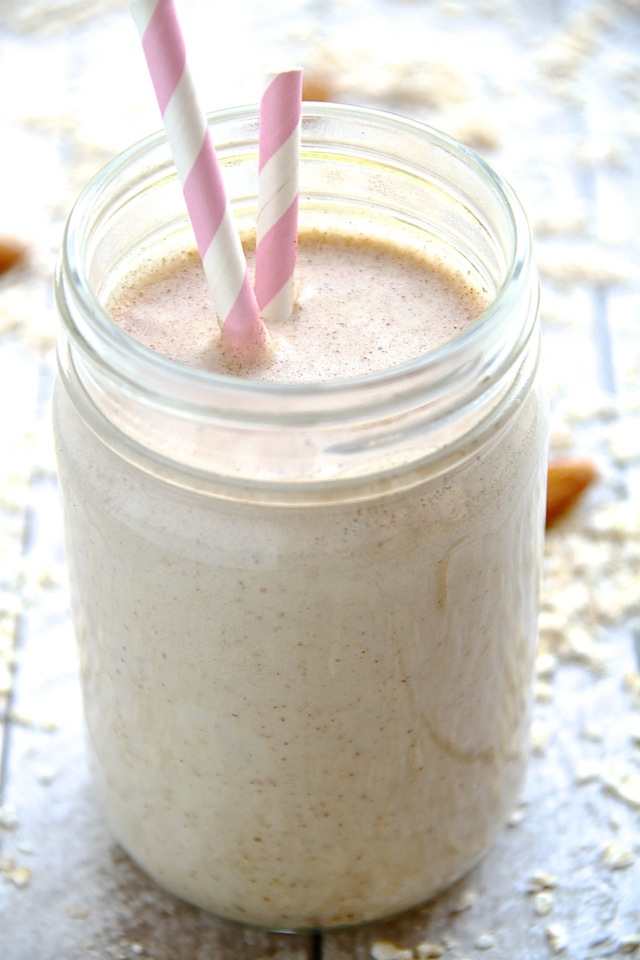 And then there are the times where you're just craving something simple. Oatmeal with brown sugar. Pancakes with maple syrup. Eggs and ketchup. Something that lets each flavour really stand out. It's fun to go crazy on toppings and add-ins, but if you're anything like me, then you occasionally find yourself craving something really simple… something with only a couple of flavours that compliment each other perfectly.
Enter this honey nut breakfast smoothie with its simple combination of honey and [your favourite nut] in a creamy and comforting smoothie that also happens to pack a great balance of healthy carbs, proteins, and fat. It's naturally gluten-free (as long as you use certified GF oats), free of refined sugars, and guaranteed to satisfy and start your day off on the right foot. You can even whip it up the night before and leave it in the fridge to thicken overnight so that you have no excuses to miss breakfast. Because even if it's not the most important, it's definitely the best.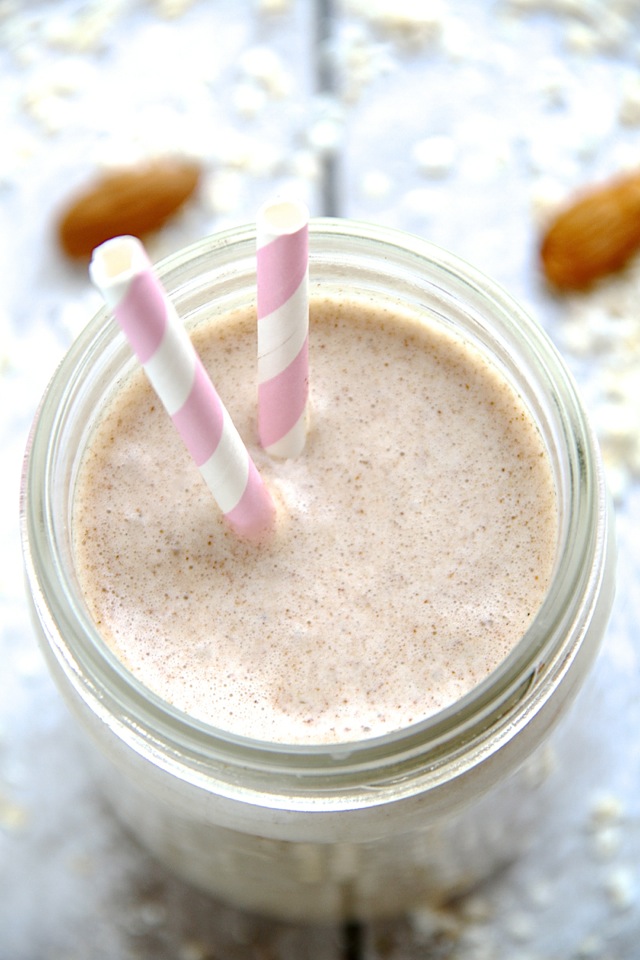 I'd love to know if you make this recipe! Leave a comment and rating down below to let me know what you think, and subscribe to our mailing list to receive new recipes in your inbox!
Print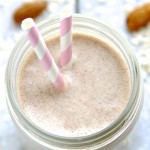 Honey Nut Breakfast Smoothie
---
Author:

Total Time:

5 mins

Yield:

1

serving

1

x
1/3 cup

rolled oats

1 Tbsp

. of your favourite nut butter*

1 Tbsp

. honey**

1/4 cup

plain Greek yogurt***

1/2 cup

unsweetened vanilla almond milk

3

–

4

frozen almond milk cubes (or ice cubes)
---
Instructions
Place all ingredients into any standard blender and blend until smooth. This smoothie can be made in advance and stored in the fridge for extra thickness and creaminess!
Notes
* I used a creamy natural almond butter in mine, but feel free to use whichever nut butter you love. Or use a sunflower or soy nut butter to make this nut free. ** You can also use maple syrup or agave nectar to make this vegan. *** Use a non-dairy yogurt to make this vegan.
Keywords: breakfast, breakfast smoothie, gluten-free, healthy, honey nut, honey nut smoothie, quick & easy, recipe, smoothies

Looking for more breakfast oatmeal smoothie recipes? Try one of these!
Oatmeal Cookie Dough Smoothie
Apple Pie Protein Smoothie
Almond Joy Overnight Oatmeal Smoothie
Banana Latte Overnight Oatmeal Smoothie
Chocolate Overnight Oatmeal Smoothie