Satisfy your craving for something sweet and doughy with this honey almond oatmeal mug cake! It's super quick and easy to make, contains NO flour, butter, or oil, and makes a deliciously healthy single-serving snack.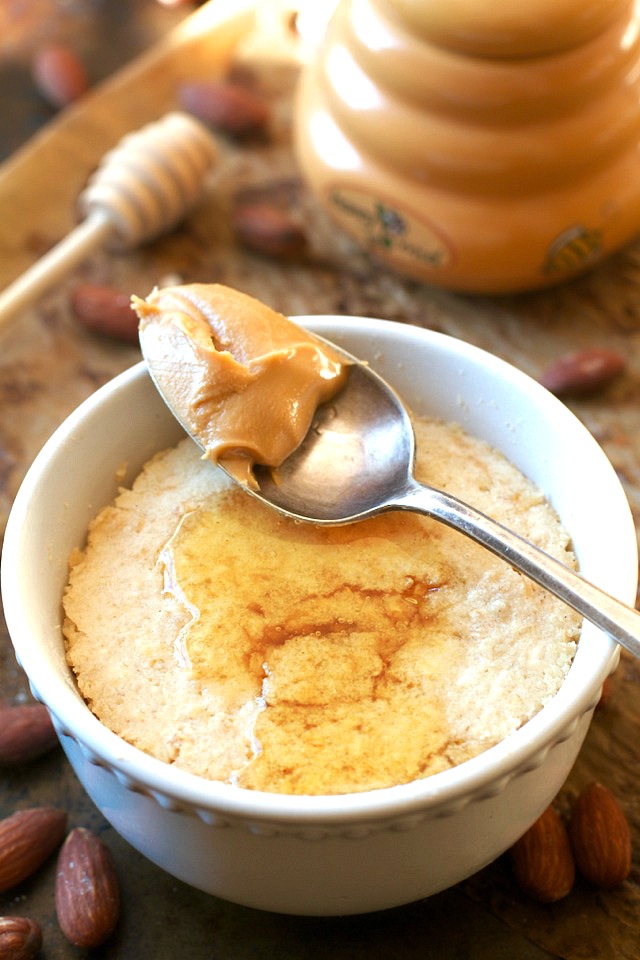 Have you ever spent so much time looking at a certain word that it no longer looks like a real word? And then you find yourself questioning whether or not you truly are smarter than a 5th grader?
That happened to me the other day with "protein."
I was adding a long pin to my soft and chewy protein granola bars post, and I spent so much time tinkering with the graphic that I caught myself wondering whether "protein" was actually spelled "protien." And the worst part is that my reasoning as to why it would be spelled that way totally made sense [at the time]… I mean, you have a word like "stein" that ends in -ein and sounds nothing like protein, so clearly protein has to go the -ien route. See?!?! Perfectly sound.
Except not really. I went ahead and checked Google (I know – I'm embarrassed for me too), and when Google told me that I was, in fact, crazy, I decided it was probably a good time to step away from the computer and go make some food.
So that's what I did…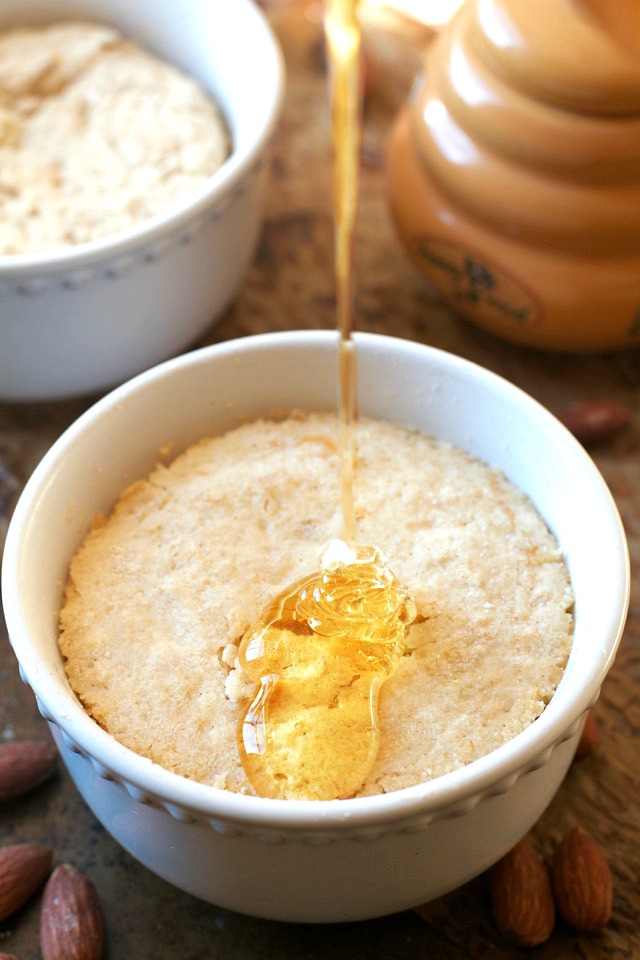 Thankfully, this honey almond oatmeal mug cake didn't suffer as a result of my brain fart – I tested it out a handful of times because I was ravenous after boarding just to be sure 😉
Actually! Let's talk about the whole testing process.
I always make a recipe multiple times before posting it, mostly so that I can play around with the ingredients to see which version I like the best. Usually it's just minor things like changing up the quantities of liquid or baking powder, but sometimes I'll add/subtract an entire ingredient just to see the difference it makes… as was the case with this mug cake…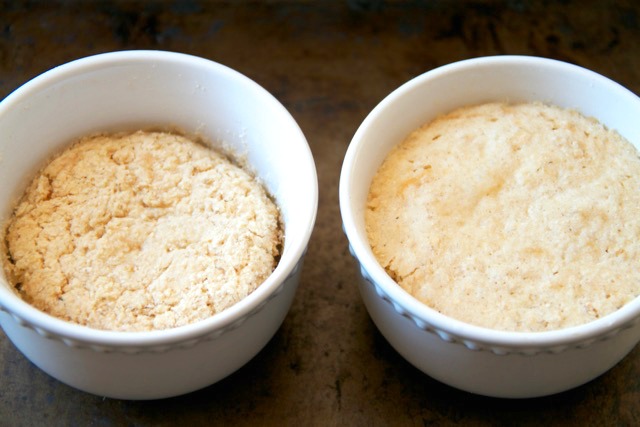 On the left we have today's honey almond oatmeal mug cake sans egg; on the right we have the exact same recipe plus 1 egg white. There's not much of a noticeable difference in taste, but as far as texture goes? Night.and.day.
The mug cake without the egg white was a lot denser, while the one with the egg white came out super moist, tender, and fluffy.
Kind of something like this…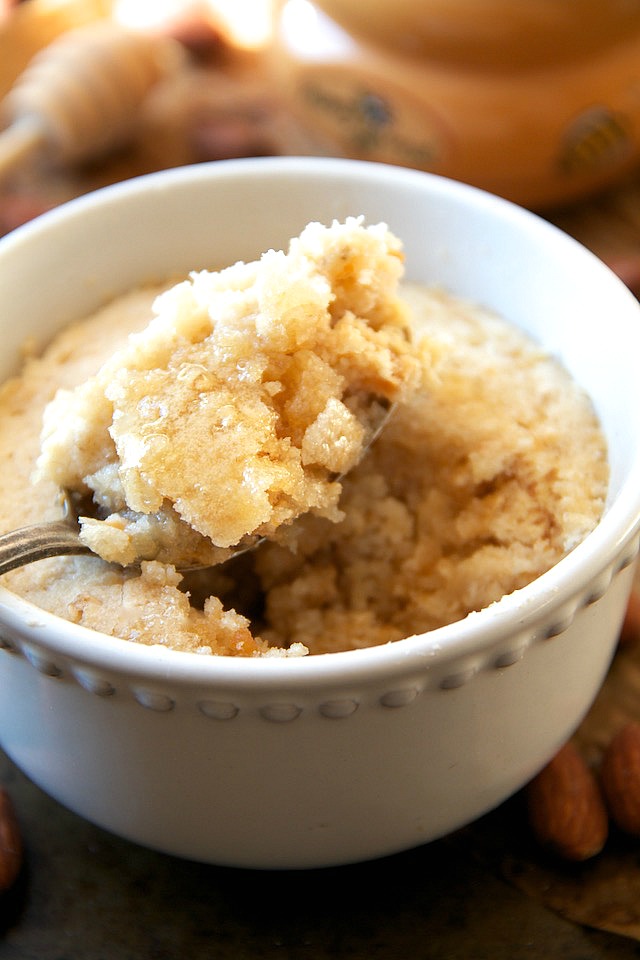 I know. I can hardly handle it myself.
And the best part is how quick and easy it is to make. Believe me. That is the best part… especially when you get hit with a craving for something sweet and doughy and you need it yesterday.
All it takes is 5 minutes and a handful of simple ingredients that you probably already have on hand. At least… I hope you have them on hand – please tell me you have coconut flour on hand. I feel like I say this in all of my mug cake recipes, but it's seriously a game changer as far as these kinds of recipes go. I started using it in my mug cakes over two years ago and never looked back – it's that good. Especially in this particular mug cake right here 😉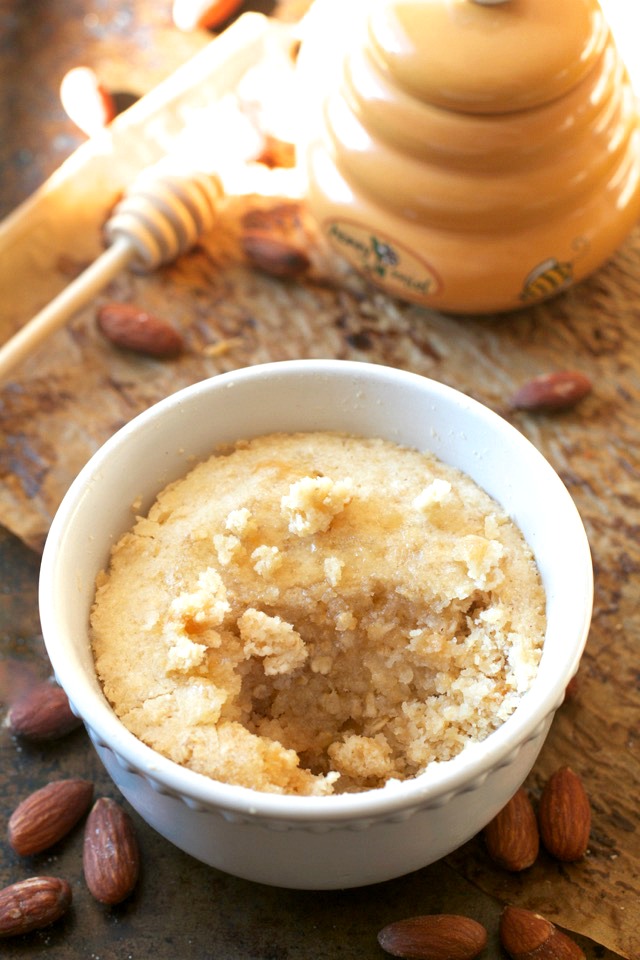 I'd love to know if you make this recipe! Leave a comment and rating down below to let me know what you think, and subscribe to our mailing list to receive new recipes in your inbox!
Print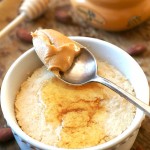 Honey Almond Oatmeal Mug Cake
---
Author:

Total Time:

7 mins

Yield:

1

serving

1

x
1 Tbsp

(

7 g

) coconut flour

1 Tbsp

(

7 g

) almond flour

2 Tbsp

(

10 g

) quick oats

1/4 tsp

baking powder

2 Tbsp

(

30

ml) unsweetened almond milk

1

large egg white

1 Tbsp

(

20 g

) honey

1/2 Tbsp

(

8 g

) almond butter
---
Instructions
Add the coconut flour, almond flour, oats, and baking powder to a microwave-safe mug or bowl, mixing until all the dry ingredients are well combined.
Add the milk and egg white, stirring until no clumps remain before adding in the honey and almond butter. Stir the batter gently, making sure that all the ingredients are fully incorporated.
Microwave on high for 2½ to 3 minutes, depending on microwave strength and size of mug.*
Remove from microwave, top with an additional drizzle of honey, if desired, and enjoy!
Notes
* you can also make this the oven by preheating your oven to 350F (176C) and baking for 15-20 minutes, until desired consistency is reached.
Prep Time:

5 mins

Cook Time:

2 mins
Keywords: almond, coconut flour, gluten-free, healthy, honey, mug cake, oats, recipe, snack

Looking for more healthy mug cake recipes? Try one of these!
Blueberry Banana Bread Mug Cake
Oatmeal Cookie Dough Mug Cake
Healthy Two Minute Brownies
Chocolate Banana Minute Muffin
Chocolate Chip Cookie Dough Mug Cake