So much better than store-bought! These honey almond granola bars are made without any refined sugars or oils, with just the perfect touch of honey and almond flavour! They're gluten-free, vegan, and easily made nut-free if you need them to be. The perfect easy and healthy snack!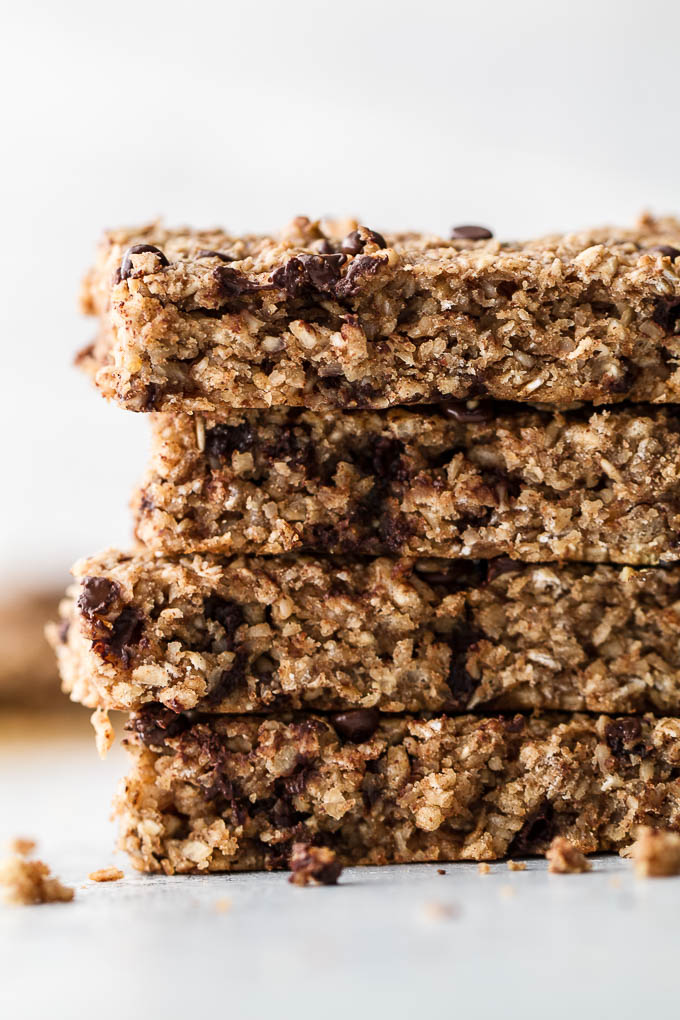 Honey almond granola bars!! Because I haven't posted a granola bar recipe here on Spoons in… uhh… long enough that I can't even remember what the last one was. I've done a tonne of flourless brownies and bars, but I'm pretty sure a true granola bar hasn't graced these halls in well over a year and a half. Which is craziness considering they're one of my favourite things to snack on. Or at least I go through phases where they're my favourite thing to snack on… because you guys know I like to eat the crap out of one thing and then not touch it for… well… a year and a half, apparently.
But I'm all over this recipe today. And possibly for the next week while I try to deal with the craziness that is prepping for a trip. Have I mentioned that going on vacation stresses me out basically up until the second I'm sitting on the plane ready to take off? After that it's nothing but YOLO, whatever happens, happens. But until then? Oi.
Good thing I have healthy granola bars to stress snack on? As I break off another corner piece…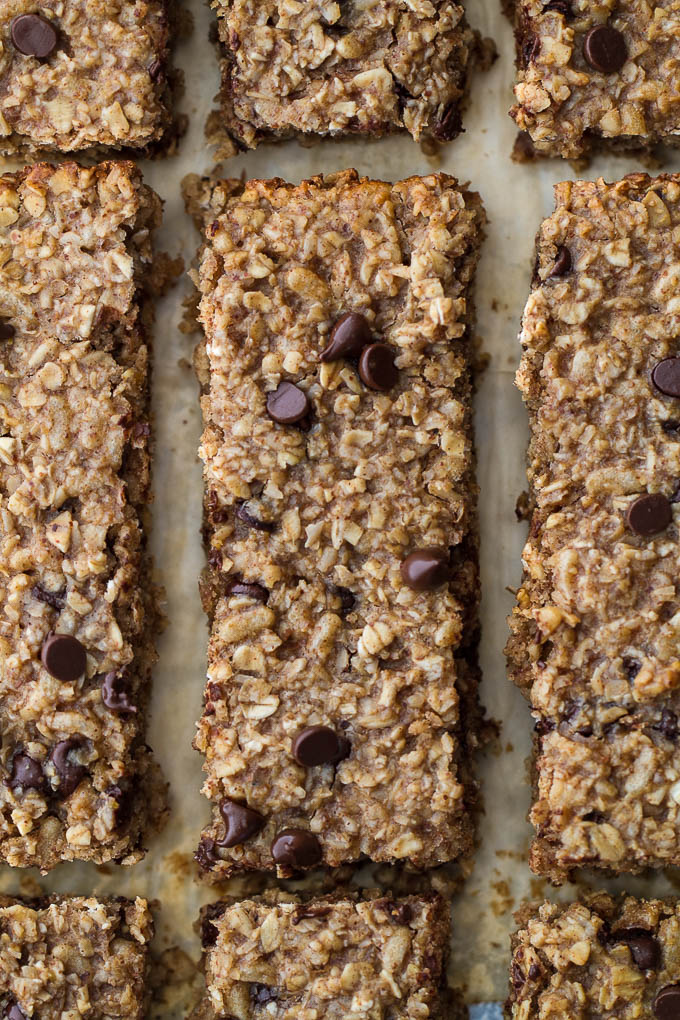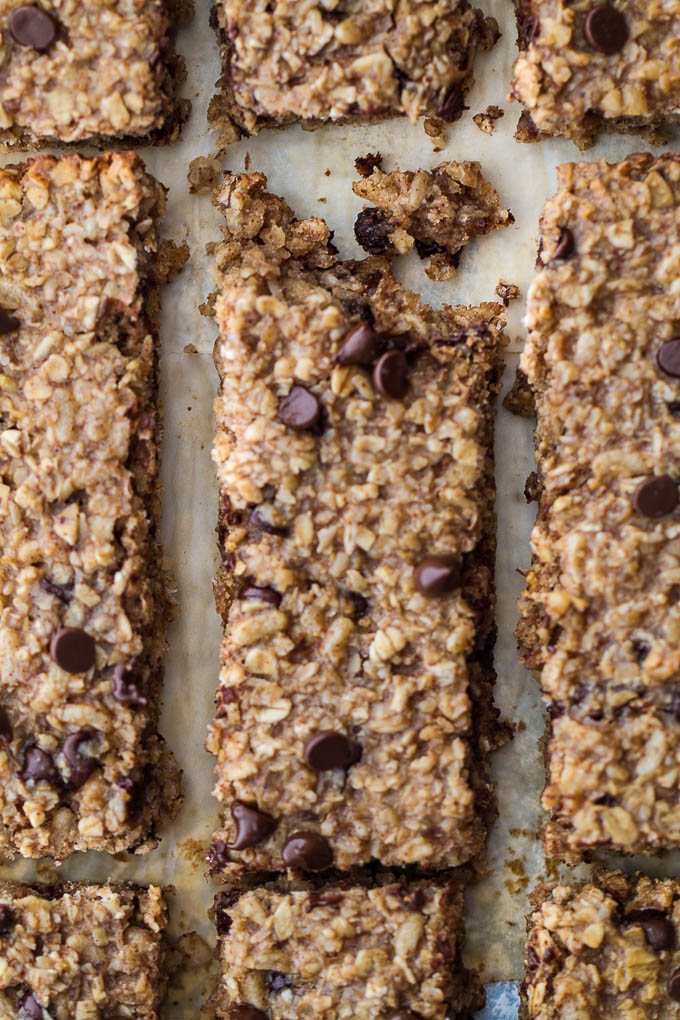 So okay. This is my first time going to Mexico since I was a tiny little thing that was too innocent and carefree to know about all the things you could potential pick up while travelling to warmer, tropical places. But I've heard the stories. I've seen the Sex and the City movie where Charlotte opens her mouth while taking a shower and ends up not being able to go more than a few steps away from the bathroom for the rest of the trip. And while I know there are hundreds of happy stories for every horror story you hear, I'm not even going to pretend that I'm not putting "I will not get sick" vibes out into the universe hardcore. That and making sure I pack a good amount of anti-sick meds in my suitcase… even though "I will not get sick." Obviously.
And I probably shouldn't be talking about stomach bugs in a post that's meant to entice you to make these awesome granola bars, but it's what's been on my mind lately (read: since I knew I was going to Mexico), so you guys get to listen to me ramble on about my travel fears. Even though "I will not get sick." Obviously.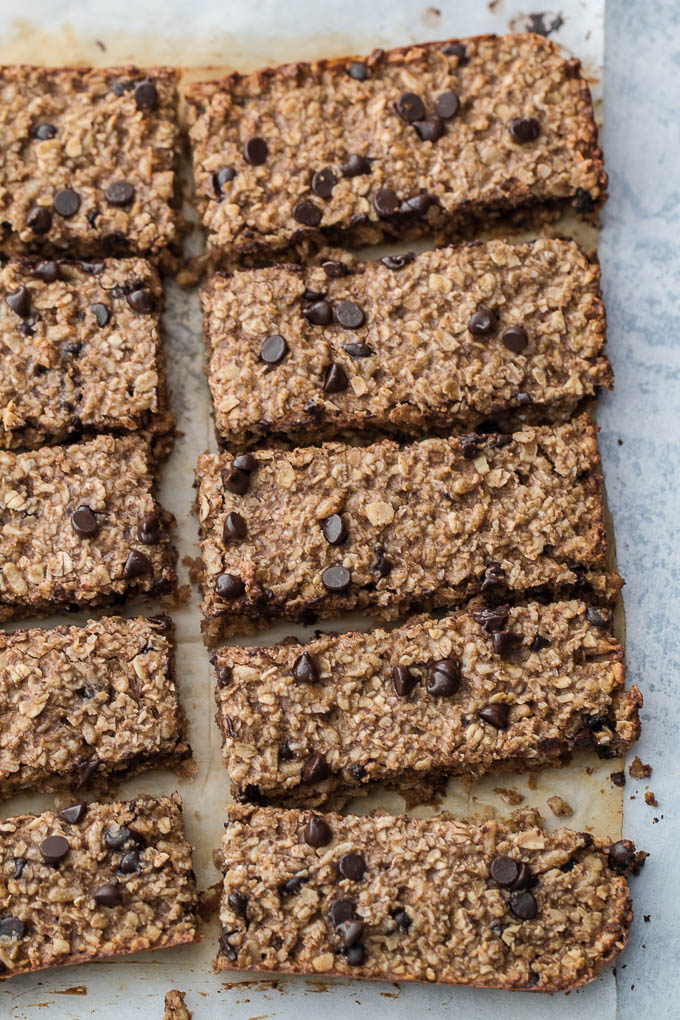 Okay! So these honey almond granola bars are based off my soft and chewy protein granola bars because that's been my go-to granola bar recipe for… well… since I wrote that post over 3 years ago (!!!!). I was so obsessed with them at one point that I'd make a new batch as soon as I ran out of my old one and probably ended up making the recipe over 40 times. No joke. They're just that good.
And these new bars are too! With the main difference being that they don't have any protein powder. Instead, I added some crispy rice cereal… mostly because I found a bag in my pantry and thought "hey, why not." But if you don't have any of that on hand, you can definitely just add another 1/2 cup of oats and call it good. Or switch over to the protein granola bar recipe and make those. Both work!
And if you're packing school lunches and need these to be nut-free? Sub out the almond butter for soy nut butter and the almond milk for another non-dairy milk like rice or soy. No matter which way you spin it, you'll end up with a batch of soft and chewy homemade granola bars with no sketchy ingredients. Perfect for snacking!
Happy eating!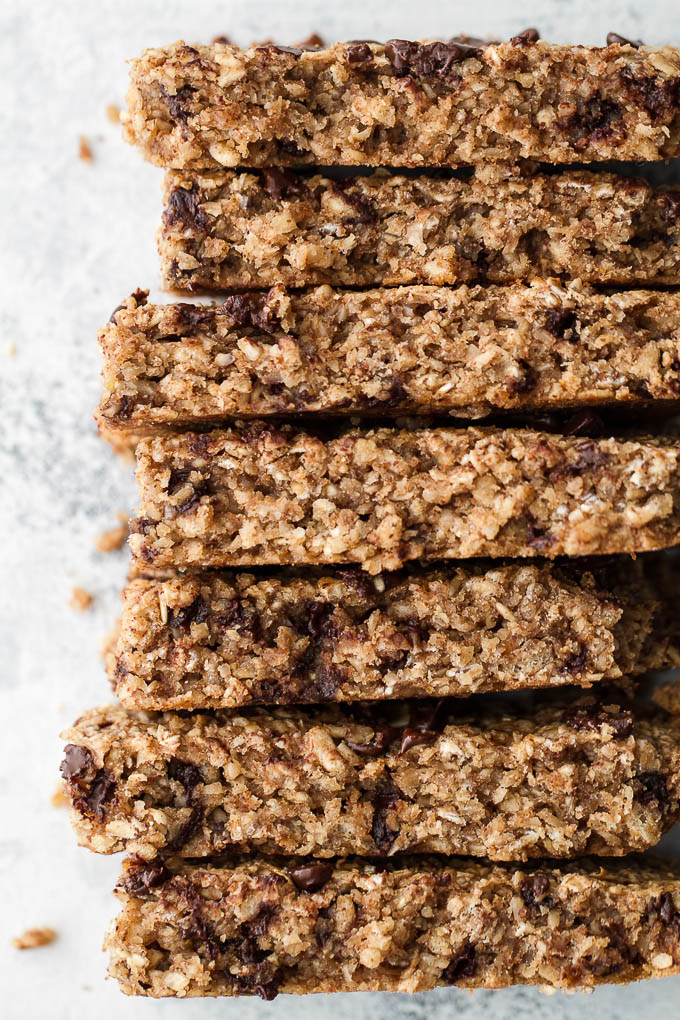 I'd love to know if you make this recipe! Leave a comment and rating down below to let me know what you think, and subscribe to our mailing list to receive new recipes in your inbox!
Print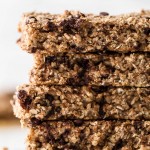 Honey Almond Granola Bars
---
Author:

Total Time:

25 mins

Yield:

10

–

12

bars

1

x
---
Instructions
Preheat your oven to 350F (175C) and prepare an 8×8 (20x20cm) baking pan by lining it with a sheet of parchment paper, leaving a few inches of overhang on the sides to allow for easy removal. Set aside.
In a large mixing bowl, combine the oats, crispy rice cereal, cinnamon, and salt. Add the almond milk, honey, almond butter, and vanilla, mixing until well combined. Stir in the chocolate chips.
Transfer the mixture into your prepared baking pan, using a spatula to spread it evenly and slightly pack it down.
Bake for 18 – 20 minutes, until the edges begin to turn golden brown. Remove the bars from the oven and let them cool in the pan for 10 minutes before cutting. Store them in an airtight container at room temperature for up to a week.
Notes
* If you don't have any cereal on hand, just use an extra 1/2 cup (40 g) of oats. ** You can sub the honey out for brown rice syrup if you need these to be vegan. *** You can use any nut/seed butter you have on hand. *** Or you can use 1 tsp of vanilla extract.
Prep Time:

5 mins

Cook Time:

20 mins
Keywords: almond, baking, gluten-free, granola bar, healthy, homemade, honey, recipe, snack, vegan

Looking for more healthy granola bar recipes? Try one of these!
No Bake Sweet and Salty Trail Mix Granola Bars
No Bake Almond Fudge Protein Bars
Double Blueberry Muffins Bars
Strawberry Banana Oat Bars
Strawberry Almond Oat Bars

*Disclosure: Some of the links included in this post may be affiliate links, meaning I'll earn a small commission if you purchase through them, at no additional cost to you. I only recommend products I personally use and believe will add value to my readers. Thank you so much for helping support Spoons!