Chocolate lovers rejoice! Take overnight oats to a whole new level of deliciousness with this thick and creamy chocolate banana oatmeal smoothie bowl. It's got that stick-to-your-ribs feeling of a bowl of oats and will keep you satisfied for hours with plenty of fiber, plant-based protein, and healthy fat. The perfect vegan and gluten-free breakfast or snack!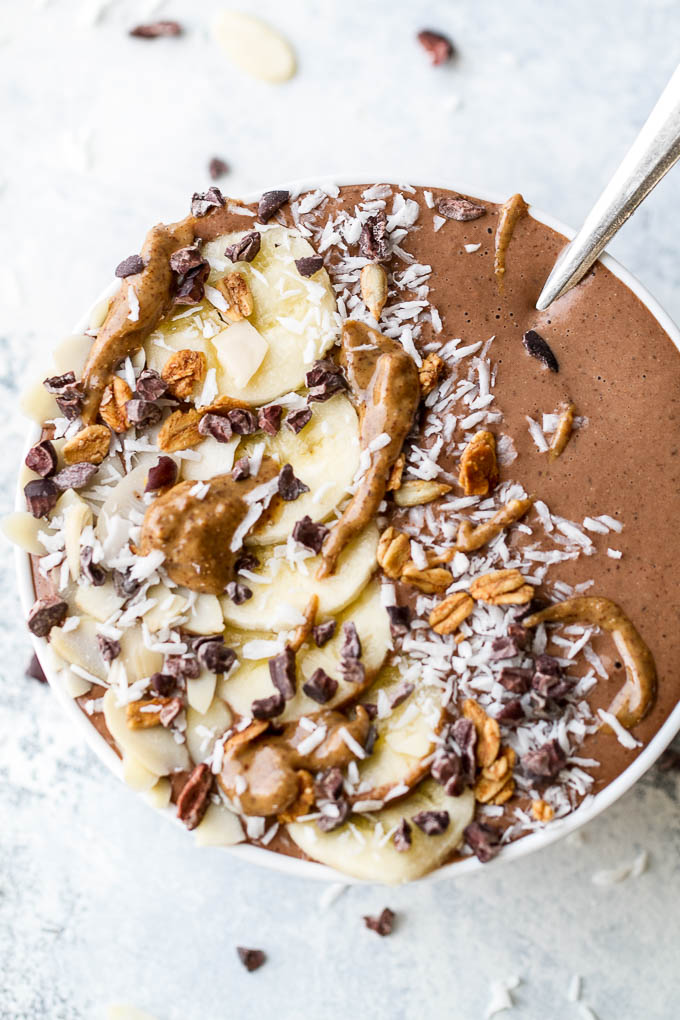 Chocolate ice cream for breakfast!! Kind of.
Not actual chocolate ice cream, but a smoothie that tastes and feels so much like it, that you'd swear you were eating a bowl of melted chocolate ice cream. If that's actually a thing. 'Cause I don't know about you guys, but I usually finish my ice cream before it goes completely liquid on me. Then again, there are always those last few spoonfuls of [mostly] melted ice cream, and those are freaking heavenly. Or that last bite of cone where the ice cream is melty at the bottom and makes the cone all soft. So GOOD.
ANYWAYS! We're not talking ice cream today. We're talking smoothies. Or smoothie bowls, I guess, since this is most definitely the kind of thing you eat with a spoon and load with toppings…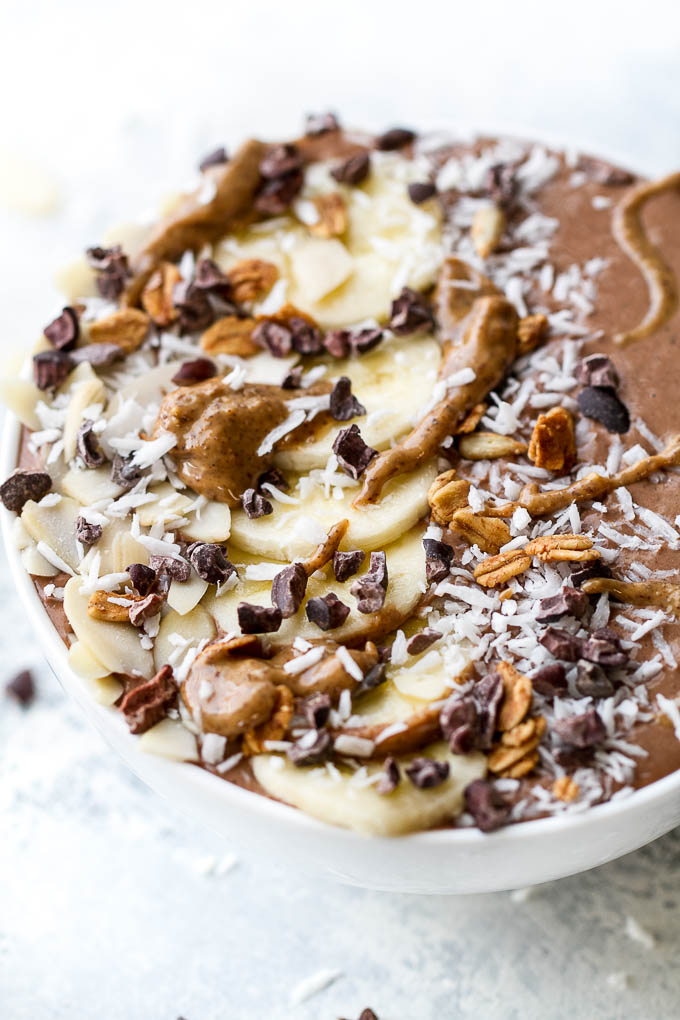 … which I think we can all agree is the best part.
And here's where the whole bowl thing shines. Because by putting your smoothie in a bowl instead of a glass, you're increasing the surface area you have to work with, and more surface area = more toppings. And more toppings = more happiness. It's simple math, really.
The only thing is, when you really want to load up on toppings, you really gotta make sure your smoothie can handle it. This means it has to pass the floating spoon test… which this one totally does, by the way.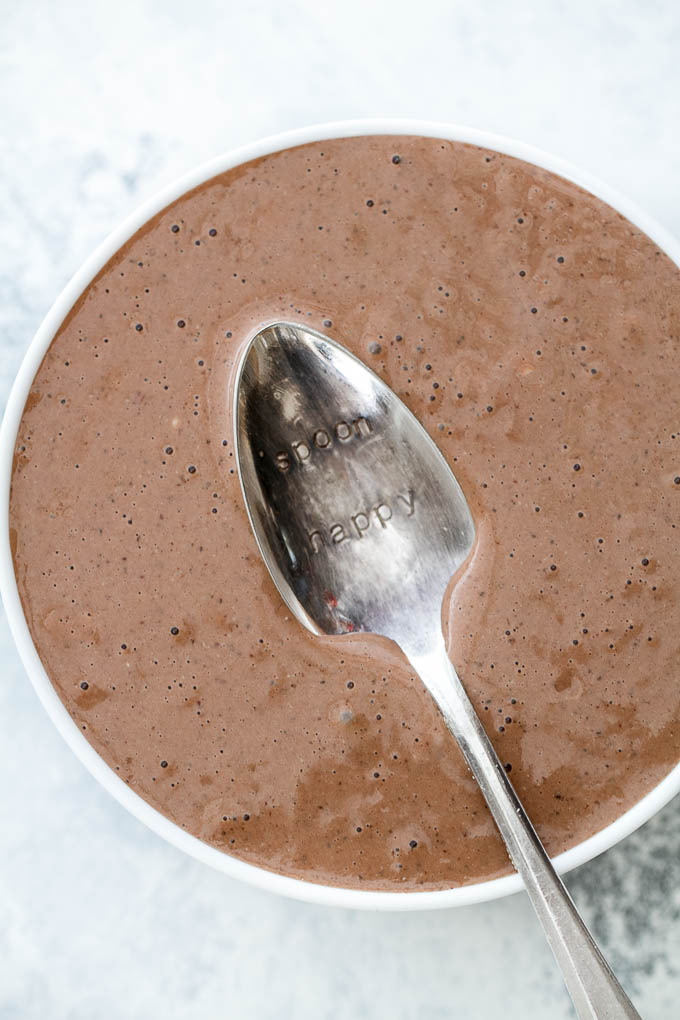 And not only is a thicker, creamier smoothie awesome for holding up those toppings, but it feels way more satisfying and filling! So if you feel like smoothies never seem to keep you full for more than 30 minutes, you might want to look into adding some ingredients that help bulk them up… like oats, nut butter, and chia seeds. Not only do these little guys do amazing things for the texture, but they add a nice amount of fibre, minerals, healthy fats, plant based proteins, and omega 3's too. It's win-wins all around.
Because how could it not be? I mean, you've got yourself a deliciously silky and creamy chocolate smoothie base (that just so happens to be gluten-free and vegan), which you can LOAD with toppings until you can't see the actual smoothie anymore. Might I suggest banana slices, shredded coconut, granola, cacao nibs, and nut butter? Because then it really feels like dessert for breakfast.
Happy eating!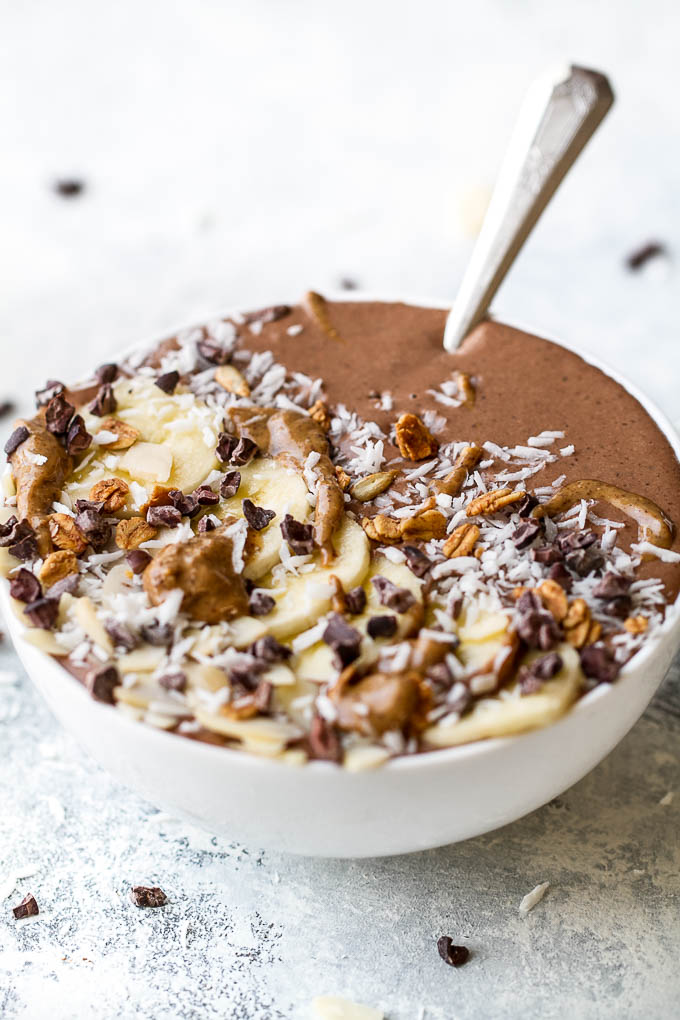 I'd love to know if you make this recipe! Leave a comment and rating down below to let me know what you think, and subscribe to our mailing list to receive new recipes in your inbox!
Print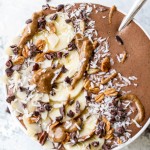 Chocolate Banana Oatmeal Smoothie Bowl
---
Author:

Total Time:

3 hours 5 mins

Yield:

1

serving

1

x
1/2 cup

(

40 g

) rolled oats, gluten-free if needed

1 tbsp

(

13 g

) chia seeds

2 tbsp

(

10 g

) unsweetened cocoa powder

1 cup

(

240

ml) unsweetened almond milk**

1

medium-size (100 g) ripe banana, frozen
---
Instructions
The night before, add all the ingredients except for the frozen banana to the bowl of your blender and give it a stir to ensure that everything is well combined. Cover and place in the fridge for at least 3 hours, preferably overnight. This step isn't absolutely necessary, but allowing the oats and seeds to soak for a few hours will make them easier to blend and give you a smoother, creamier smoothie.
When ready to eat, add the frozen banana and blend on high until oats are fully broken down and a smooth and creamy consistency is reached, adding more milk if the smoothie is too thick. Transfer it to a bowl, garnish with toppings of choice, and enjoy!
Notes
* Cook time refers to chilling time. ** You can use any non-dairy milk, or even dairy milk if you don't need this to be vegan or dairy-free. Also, if your smoothie is too thick, add a few extra splashes of milk to the blender.
Prep Time:

5 mins

Cook Time:

3 hours
Keywords: breakfast, chocolate, gluten-free, healthy, overnight oats, recipe, smoothie, smoothie bowl, vegan

Looking for more cookie dough smoothie recipes? Try one of these!
Blueberry Avocado Smoothie
Black Forest Smoothie
Salted Caramel Cookie Dough Smoothie
Banana Cream Pie Overnight Oatmeal Smoothie
Strawberry Banana Oat Breakfast Smoothie

*Disclosure: Some of the links included in this post may be affiliate links, meaning I'll earn a small commission if you purchase through them, at no additional cost to you. I only recommend products I personally use and believe will add value to my readers. Thank you so much for helping support Spoons!