Pass on dessert? Never! These healthy chocolate lover's blender brownies are so fudgy, moist, and chocolatey that you'd never be able to tell they're made without flour, butter, or oil. The perfect way to satisfy a chocolate craving in a vegan, gluten-free, and paleo treat that's super easy to make.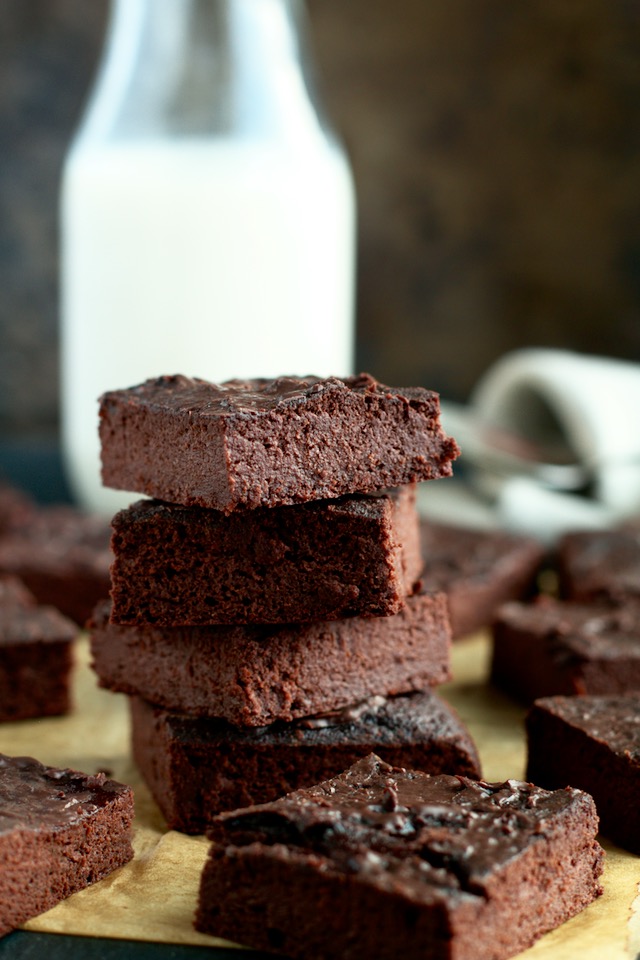 "You post too many chocolate recipes" <– said no one ever. I hope ?
So I know that today's brownie recipe is hot on the heels of these Healthy 2-Minute Brownies that I shared with you guys last week, but the recipes I post tend to reflect things that I've been craving/eating (otherwise I have a hard time getting excited about them), and what I've been craving/eating lately has been chocolate.
Lots and lots of chocolate…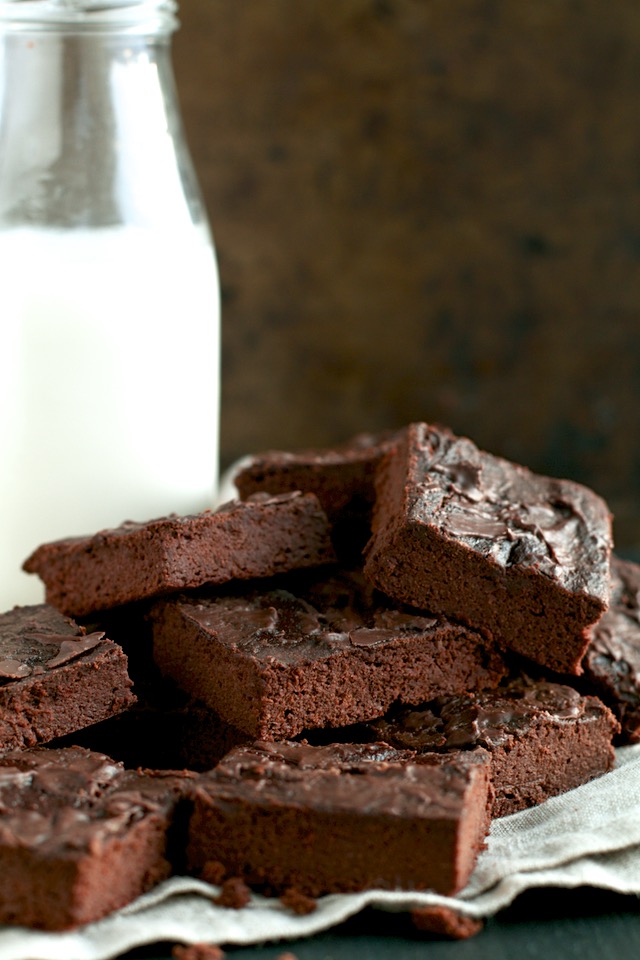 I know that January is typically a time where people try to clean up their diets and eliminate things like chocolate and sweets, but that approach has never worked for me. I need to have some kind of dessert or sweet treat daily, or I risk heading into bender territory. And if you've ever taken a walk been dragged through bender territory, you know it can leave you feeling pretty darn crappy… both mentally and physically.
SO! I like to take the proactive approach and have dessert daily. It's a tough life ?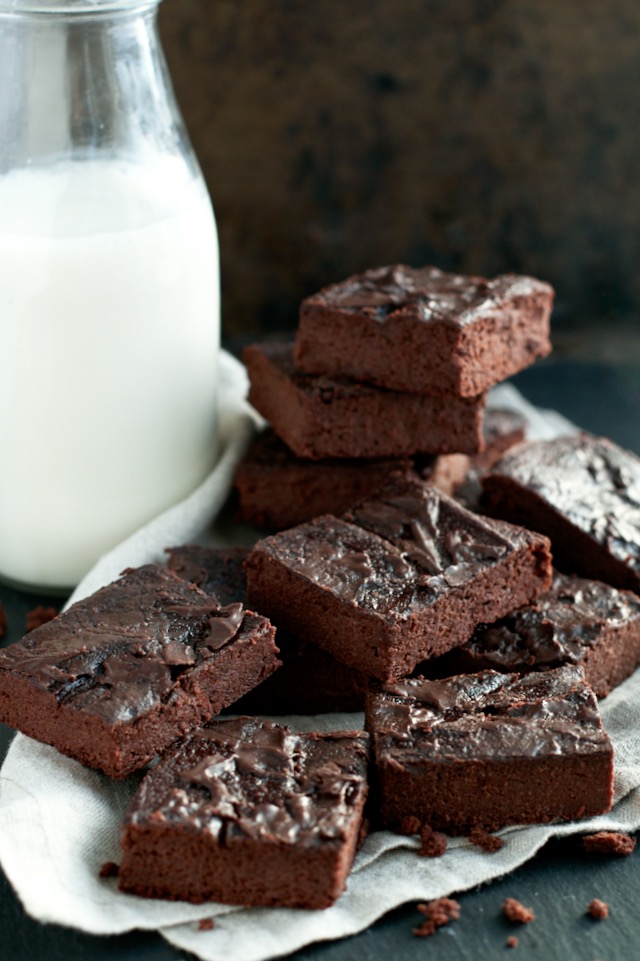 In all seriousness, though, it works. At least for me. I know some people prefer the cold turkey/elimination approach, but I've never been able to maintain that sort of thing in the long run, and that's what I'm looking for here. A sustainable lifestyle rather than a never-ending cycle of restriction and bingeing… no matter how subtle it might appear.
That being said, I'm not exactly chowing down on Twinkies and Ding Dongs over here. Actually, I don't think I've ever eaten a Twinkie or a Ding Dong in my life… but that's besides the point.
What I'm trying to say is that I try to make smart(er) choices when it comes to the sweets I eat since they're a pretty regular part of my diet. And a smart(er) choice, for me, means something that'll satisfy the tastebuds/cravings/sugar fairies but won't put me on a blood sugar rollercoaster…
Something like these Healthy Chocolate Lover's Blender Brownies, for example…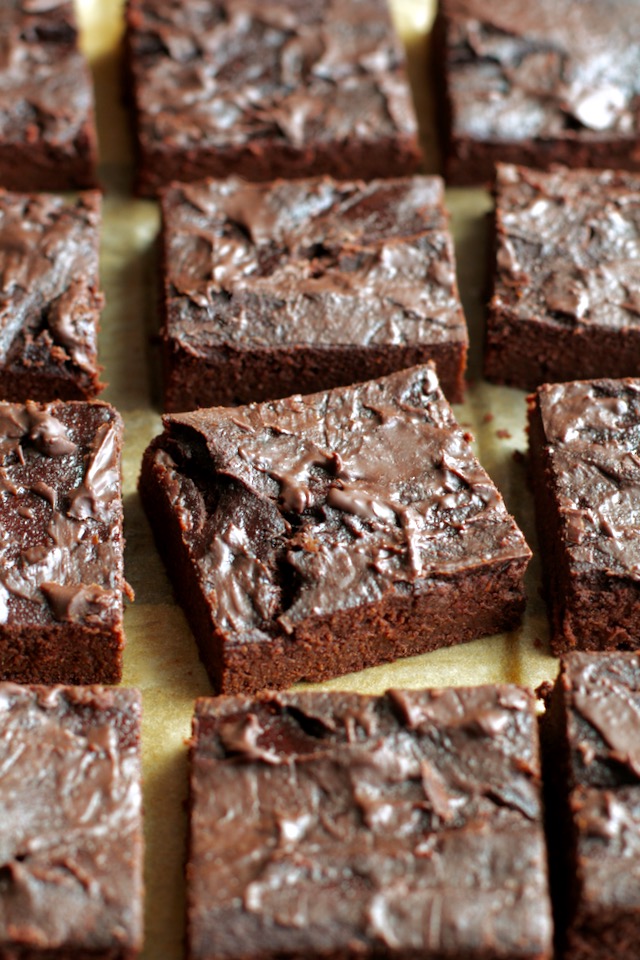 Oh.Man.
So let's talk about these brownies. They're actually the full-pan version of the 2-minute brownies that I posted last week, which is beautiful because I had a handful of people ask me if it was possible to make those 2-minute brownies in the oven, and the answer issss… YES! Only in this case they become 30-minute brownies… with 12-ish servings instead of 1.
BUT! They're just as fudgy, moist, and chocolatey as the single-serve version, only now you can whip up a bigger batch sans microwave and keep them on hand to share or store (hint: they're AMAZING from the freezer!!!). And while I don't normally look into this sort of thing, I checked out the nutritional stats and each brownie comes out to about 90 calories based on 12 servings.
I'd definitely call that a smart (and delicious) way to satisfy that sweet tooth.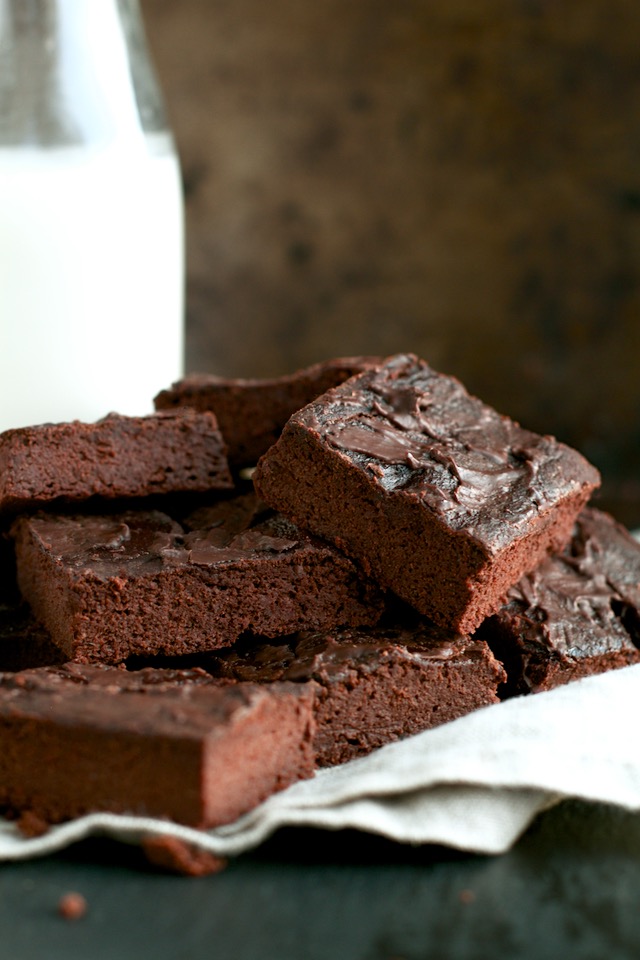 I'd love to know if you make this recipe! Leave a comment and rating down below to let me know what you think, and subscribe to our mailing list to receive new recipes in your inbox!
Print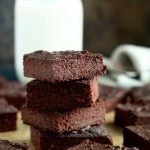 Healthy Chocolate Banana Brownies
---
Author:

Total Time:

40 mins

Yield:

9

brownies

1

x
3

medium-sized ripe bananas (

300g

or

1 1/2 cups

)*

2 Tbsp

(

32 g

) nut/seed butter of choice**

1/4 cup

(

48 g

) coconut palm sugar***

2 tsp

vanilla extract

6 Tbsp

(

42 g

) coconut flour

1/2 cup

(

40 g

) unsweetened cocoa powder

1 1/2 tsp

baking powder

1/2 cup

(

125

ml) unsweetened almond milk****
sprinkle of dairy-free chocolate chips (optional)
---
Instructions
Preheat your oven to 350F (176C) and prepare an 8×8 (20cm x 20cm) baking pan by lining it with a sheet of aluminum foil or parchment paper, leaving a few inches of overhang on the sides to allow for easy removal. Lightly grease the foil and set aside.
Add the bananas, nut/seed butter, sugar, and vanilla extract to the bowl of a food processor or high-speed blender and process until all of the ingredients are fully combined and the mixture is smooth, about 3 minutes.
Add the coconut flour, cocoa powder, and baking powder, and pulse a few times until the dry ingredients begin to incorporate into the wet ones. Add the almond milk and process on high until the batter becomes smooth, about 2-3 minutes.
Pour the batter into your prepared baking pan and use a spatula to spread it evenly throughout the pan.
Bake for 30-35 minutes, until the top has set and a toothpick inserted into the centre comes out clean.
Remove the pan from the oven, sprinkle with chocolate chips (if desired)*****, and let the brownies cool in the pan for ~10 minutes before transferring them to a cooling rack to cool completely. Use your spatula to "spread" the melted chocolate chips over the top of the brownies, and then use a sharp knife to cut them into individual servings. Store them in a sealed container at room temperature for up to 5 days, in the fridge for up to 2 weeks, or in the freezer for up to 3 months.
Notes
* You can easily sub out the banana for 1 1/2 cups of pumpkin puree or mashed sweet potato. OR make a combination of 2 or 3, as long as it comes out to 1 1/2 cups. You may have to add additional sweetener if not using bananas – try the batter before baking and adjust to taste. ** I've used roasted almond butter and soy nut butter, but feel free to use any nut/seed butter you have on hand. *** You could also sub this with regular brown sugar or granulated sugar. **** If you don't have almond milk, or you want to make this nut-free, use any milk (rice, soy, dairy, etc.) you have on hand. ***** You want to add the chocolate chips after baking or the brownies might not rise as well. They'll still be hot enough coming out of the oven to melt the chips.
Prep Time:

10 mins

Cook Time:

30 mins
Keywords: blender brownies, brownies, chocolate, Dessert, easy, gluten-free, grain-free, healthy, paleo, recipe, vegan

Looking for more healthy chocolate recipes? Try one of these!
Healthy Two Minute Brownies
Brownie Batter Breakfast Bake
Chocolate Overnight Oatmeal Smoothie
Flourless Chocolate Banana Bread
No Bake Brownie Batter Truffles