These delicious gluten free vegan chocolate chip cookies will please even gluten-eaters and non-vegans! Soft, chewy, and loaded with chocolate chips, they're a healthier cookie that everyone will love!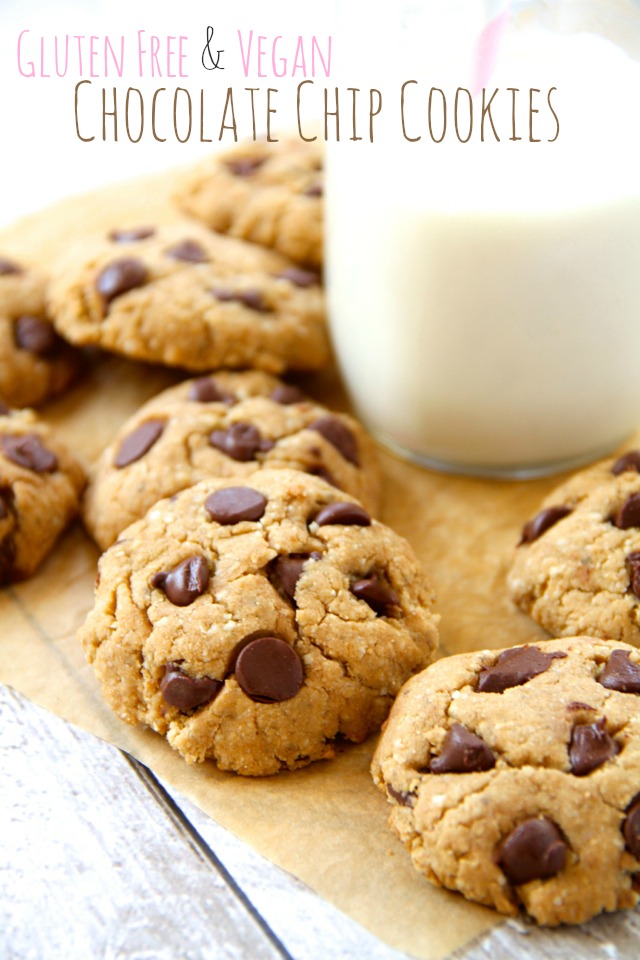 Honey, I'm home! And I brought gifts of the edible variety!
Read: I'm sorry I've been gone, but look! I made you cookies! And not just any cookies, but soft and chewy chocolate chip cookies that also happen to be gluten-free and vegan…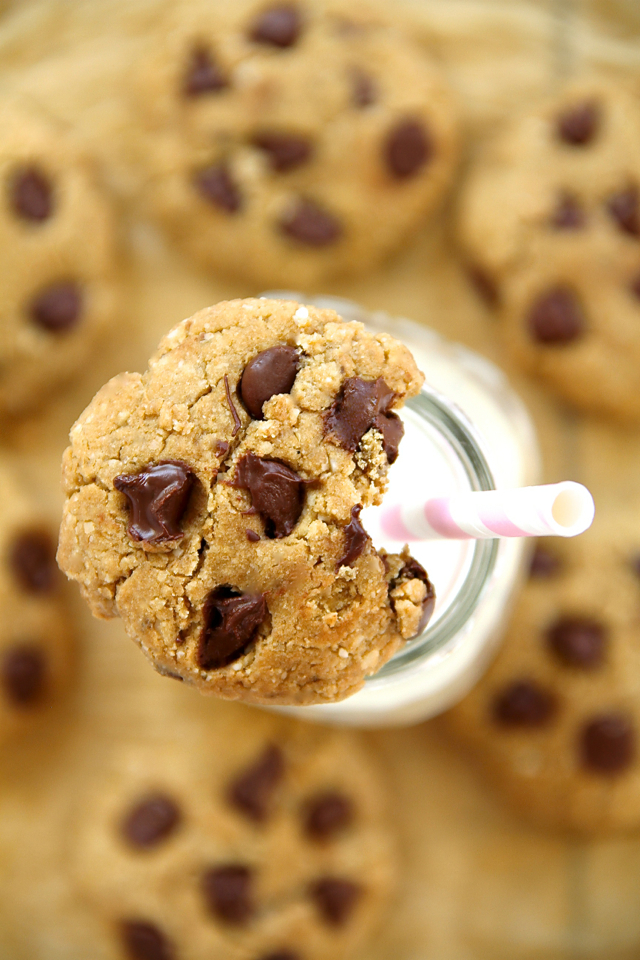 Oh.my.word. Where was I? Oh. Right…
Hi guys! I feel like it's been forever since I posted, when really… it's only been 2 days. I try to stick to a pretty regular posting schedule here on Spoons, but sometimes… sometimes you just need to take a mental health day. Or two.
I mean, I love blogging and I'm super lucky to be able to make an income from it, but I never, ever want it to feel like a job or a chore. Ever. I do this because I love writing and photography (and you guys, obviously), and I'm passionate about helping people get happier and healthier… which thankfully involves things like sharing recipes for healthy chocolate chip cookies.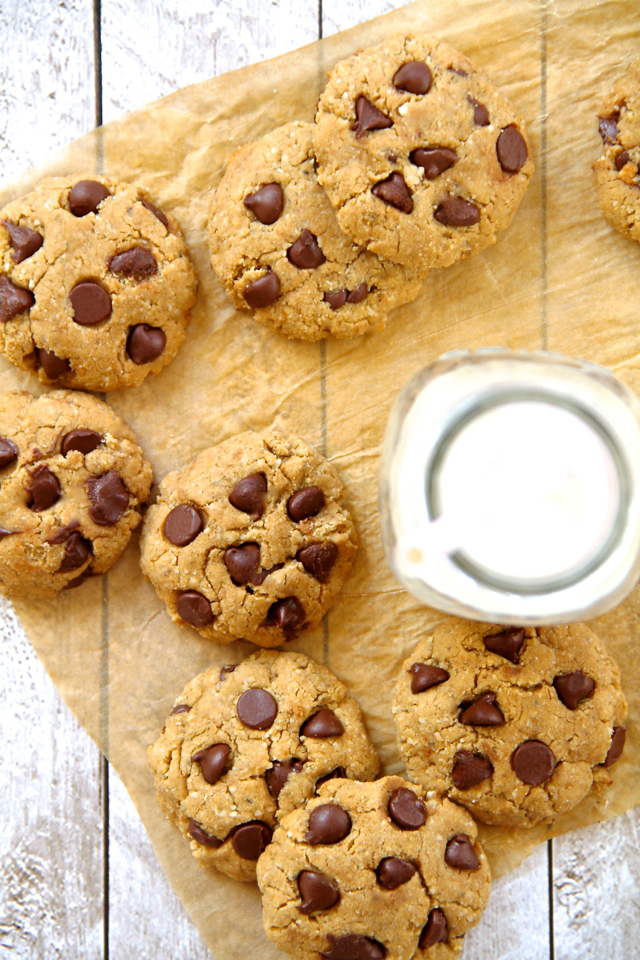 Despite the fact that I don't personally eat a gluten-free diet (being peanut-free is a big enough pain in the butt, thank you very much), I still do a lot of gluten-free baking… partially because a lot of my clients and readers eat gluten-free, and partially because I like the challenge. Just don't ask me how I feel about it when I'm standing over the kitchen counter crying over a 4th failed batch of cookies — my answer might be a tad less enthusiastic.
Thankfully, this recipe only took me three attempts, although some tears were still nearly shed when the roof of my mouth discovered the fiery inferno that is the melted chocolate chip.
It hurts so good. And it tastes even better.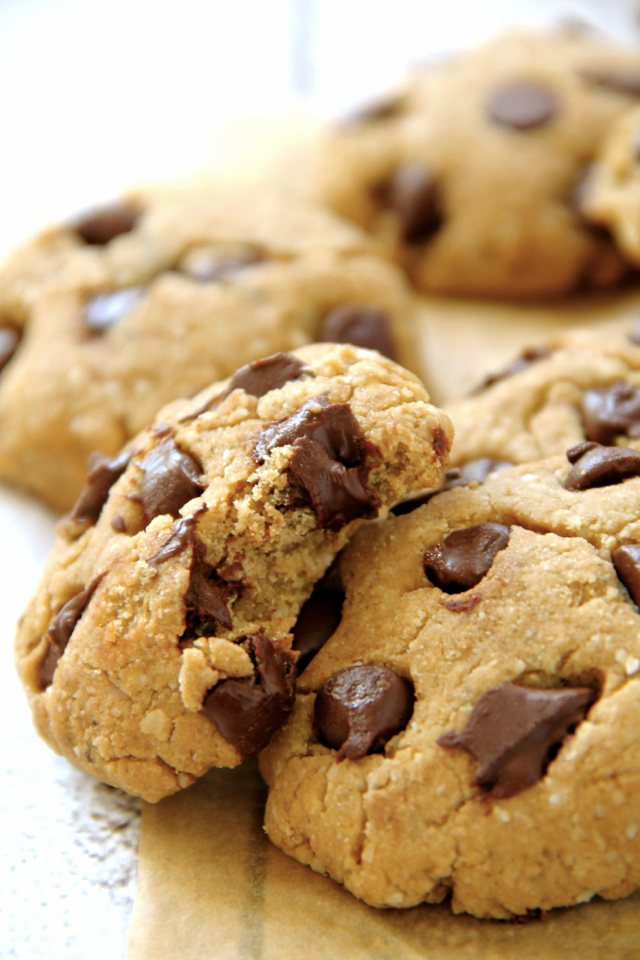 Buttery and sweet like a cookie should be, without any actual butter and only minimal amounts of sugar. I thought about going the natural sugar (read: maple syrup/honey) route, but cookies really do need that brown sugar (or coconut palm sugar, in this case) to give them that traditional cookie taste, and since I was already messing with so much by making them GF and vegan, I decided to leave the sugar alone.
For flour, I went with a mix of brown rice, almond, and oat. I've found that mixing GF flours tends to lead to the best results, but you could easily simplify things by just using two of the three flours (see recipe notes). And what you'll get is a soft and chewy cookie that even gluten-eaters and non-vegans will love.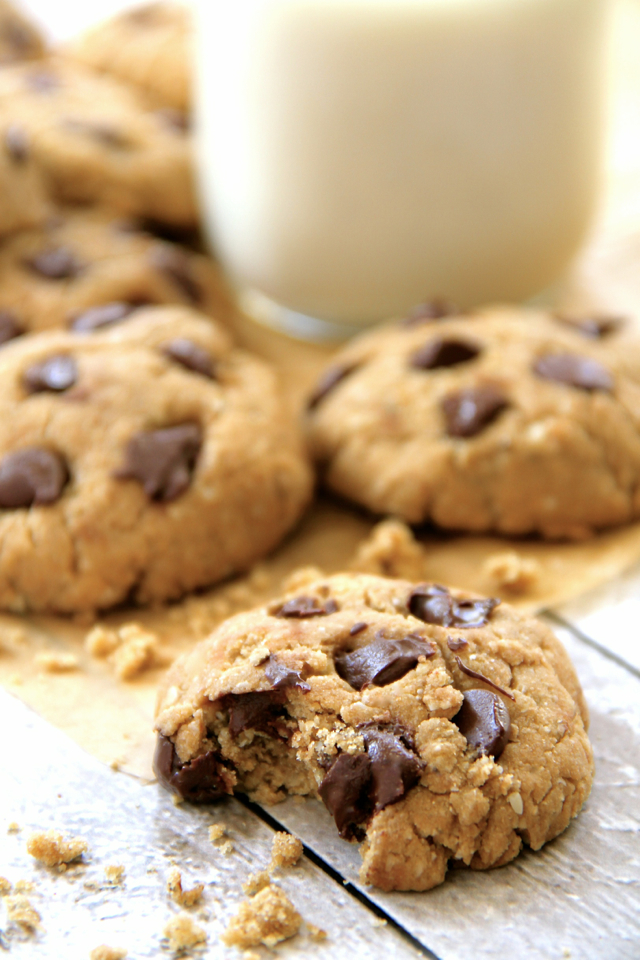 That's always the true test, isn't it? Seeing if "normal" people still enjoy a recipe with all the substitutions and tweaks. And the good news is that this recipe passes that test — even my normies loved it! But then again, it's hard to say no to soft and chewy cookies… especially when chocolate is involved.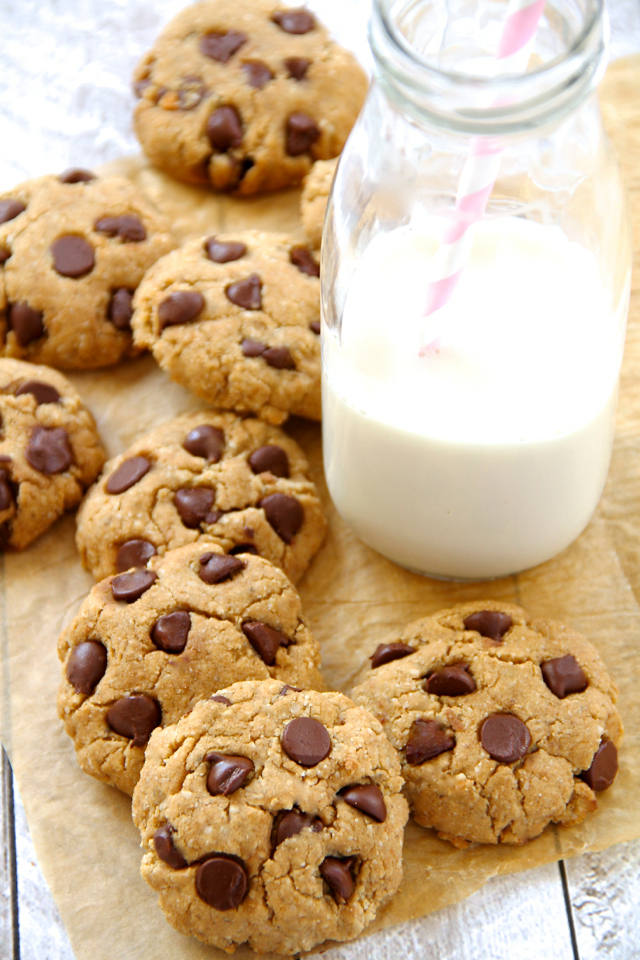 I'd love to know if you make this recipe! Leave a comment and rating down below to let me know what you think, and subscribe to our mailing list to receive new recipes in your inbox!
Print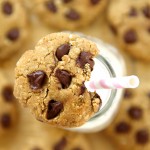 Gluten Free Vegan Chocolate Chip Cookies
---
Author:

Total Time:

20 mins

Yield:

12

cookies

1

x
3/4 cup

brown rice flour

1/4 cup

oat flour*

1/4 cup

almond meal**

1/4 tsp

. baking soda

1/4 tsp

. sea salt

2 Tbsp

. coconut oil, melted

2 Tbsp

. unsweetened applesauce

1/4 cup

coconut palm sugar***

1 tsp

. ground chia or flax, mixed with 2 Tbsp. water****

1 tsp

. vanilla extract

1/4 cup

dairy-free chocolate chips
---
Instructions
Preheat oven to 350F and line a cookie sheet with parchment paper or a non-stick baking mat. Set aside.
In a large mixing bowl, combine rice flour, oat flour, almond meal, baking soda, and sea salt, whisking until fully incorporated.
In a smaller mixing bowl, combine coconut oil, applesauce, coconut palm sugar, flax "egg," and vanilla, whisking until everything is fully combined and smooth.
Add wet ingredients to dry ingredients and mix until well combined. If the dough seems a bit dry, use your hands to make sure everything is well mixed. Fold in chocolate chips.
Using a generous tablespoon, scoop out dough and roll it into balls. Place the balls on your prepared baking sheet, and use your palm to flatten them. These cookies don't spread much, so make them the shape you want before baking them.
Bake for 8-10 minutes, or until the edges begin to turn golden brown. The less you bake them, the chewier they'll be, so feel free to remove them as early as 7 minutes.
Remove from oven and allow to cool on sheet for ~5 minutes before transferring to a cooling rack to cool completely. Store in an air-tight container.
Notes
* You can make your own oat flour by processing 1/4 cup rolled or quick oats in your food processor or blender until they reach a flour consistency. Make sure to use certified GF oats if you need these to be GF. ** You could also replace the oat flour and use 1/2 cup of almond meal instead. OR replace the almond meal and use 1/2 cup of oat flour, but you may have to add a tad more liquid/oil if you solely use oats, since they absorb more liquid. *** You can also sub the coconut sugar with brown sugar. **** Make sure to check that your chia/flax doesn't contain any traces of wheat. One reader commented that her brand did.
Prep Time:

10 mins

Cook Time:

10 mins
Keywords: baking, chocolate chip cookies, dessert, gluten-free chocolate chip cookies, healthy, recipe, snack, vegan chocolate chip cookies

Looking for more gluten-free vegan recipes? Try one of these!
Cookie Dough Protein Granola Bars
Strawberry Banana Oat Bars
Vegan Flourless Banana Bread Muffins
Flourless Vegan Banana Muffins
Strawberry Almond Oat Bars