I think we can all agree that a warm kitchen is one of the most comforting places to be around this time of the year. The darker days melt away in the soft glow of a kitchen light, while the colder weather becomes an afterthought in the warmth that radiates from an oven. And if you're not using an oven, as is the case in today's recipe? Well then you can take advantage of the ease and convenience of no-bake baking and enjoy your treat alongside a warm drink while you're curled up on the couch. It's what I would do (read: what I did) anyways.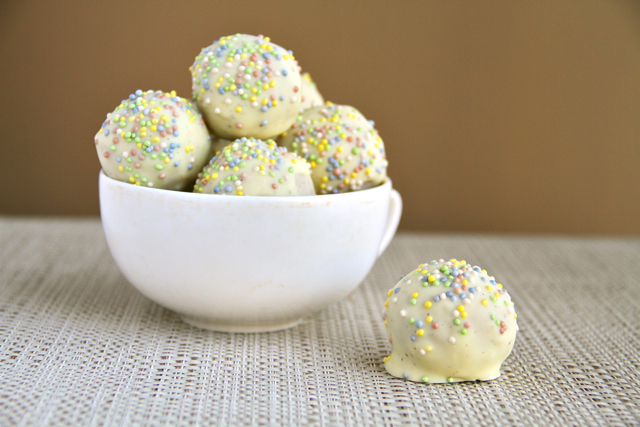 I hope you don't mind me posting a recipe that's probably better suited for the spring or summer, but I got the idea of truffles in my head and didn't want to wait until next spring to make them — I even walked to the store in close to freezing temperatures just to pick up a bar of white chocolate, and it was so.very.worth it. I suppose I could've used more seasonally appropriate sprinkles, but this was the only available option at the store I was at, and I wasn't about to make another trek through the Arctic to find different ones.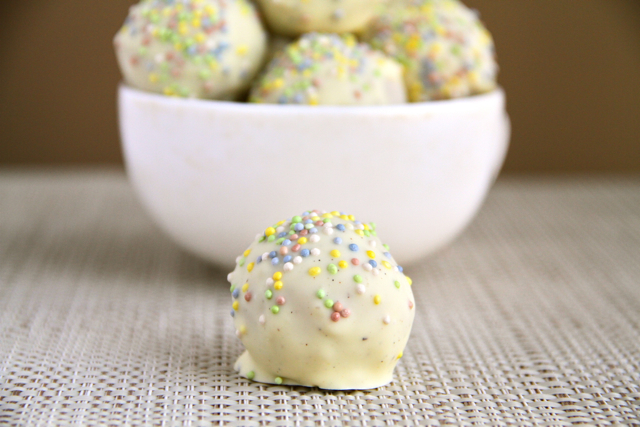 Besides, snickerdoodles have cinnamon, and cinnamon is a fall food, so I'm not completely off the mark… right?? And even if I am, I have a feeling you'll forgive me my flippant treatment of seasonal eating after just one bite…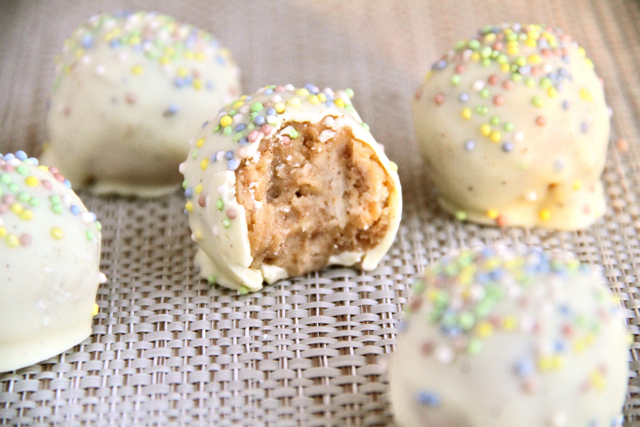 I'd love to know if you make this (or any!) recipe! Tag @runwithspoons on Instagram and Twitter, and be sure to subscribe to our mailing list to receive more healthy and delicious recipes straight to your inbox!
Print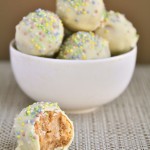 Gluten-Free Snickerdoodle Truffles
---
Author:

Total Time:

15 mins

Yield:

12

truffles

1

x
1.5 cups

of crumbled gluten-free snickerdoodle cookies (I used Udi's)

3.5 oz

cream cheese, softened to room temperature

3.5 oz

white chocolate
gluten-free sprinkles
---
Instructions
Line a baking sheet with parchment paper and set aside.
Using a blender, food processor, or your hands (depending on how soft your cookies are), process snickerdoodles until they become very fine crumbs. Add in cream cheese and mix until fully combined. The dough should be moist enough to hold together when you press it into a ball.
Using a tablespoon, shape the dough into 1-inch balls and place onto parchment lined baking sheet. Freeze for ~30 minutes.
Melt white chocolate in a microwave-safe bowl, stirring periodically to ensure no clumps remain.
Using a toothpick, dip each ball into melted white chocolate, gently tapping side of bowl to remove any excess. Place back onto parchment-lined baking sheet and immediately top with sprinkles. Repeat until all truffles have been coated.
Refrigerate for ~15 minutes, or until the chocolate has set.
Store truffles in an airtight container in the fridge for up to 2 weeks, or freeze for up to 1 month.
Keywords: baking, Fall, gluten-free, recipe, snickerdoodles, truffles,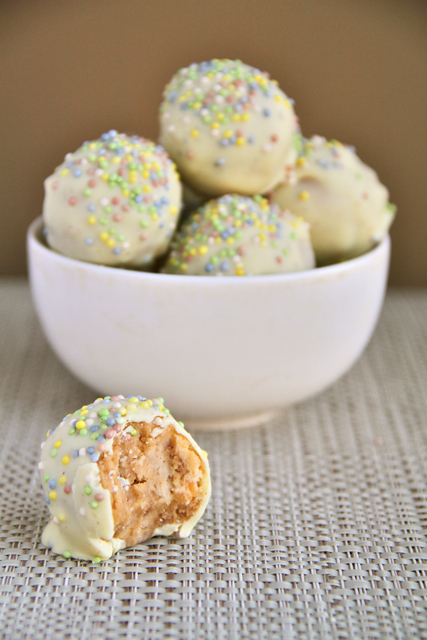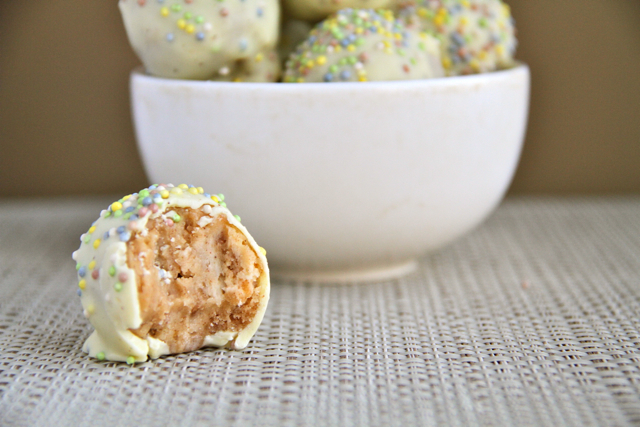 I have to be honest with you guys — this may just be the most dangerous recipe I've ever made. Between"quality testing" both the pre-coated dough and the final product, I somehow managed to make at least 1/4 of the batch disappear within the span of… an hour? And I think I deserve a pat on the back for being able to stop at that! I mean, between the smooth and creamy interior, and the subtly crunchy chocolate shell, I basically stood no chance. None at all.
I used gluten-free cookies (Udi's snickerdoodles) for these, but feel free to use any kind of snicker doodle or sugar cookie if you don't need them to be gluten-free. I also opted for white chocolate for the shell because I didn't want the taste of cocoa overpowering the taste of cinnamon and sugar. Good choice. I wasn't sure I'd liked white chocolate, but dang — it tastes better than I remember! And if you don't have sprinkles, you can combine 1 Tbsp. of sugar with 1/2 tsp. of cinnamon and sprinkle the truffles with that, but I have to say that I highly recommend the sprinkles — they just make life better 😀
Happy Tuesday, friends! This week has been crazy so far, but I'm glad to be rid of the funk that was hanging over met last week. I hope you guys are doing well too!

Disclaimer: This recipe was made as a part of Udi's Fall Comfort campaign. Udi's sent me the Fall Comfort package free of charge. All thoughts/opinions expressed are my own.