Flourless Sweet Potato Brownies made in the blender with only 7 ingredients! They're grain-free, oil-free, dairy-free, and refined-sugar-free, so they make a deliciously healthy gluten-free treat for when those chocolate cravings hit.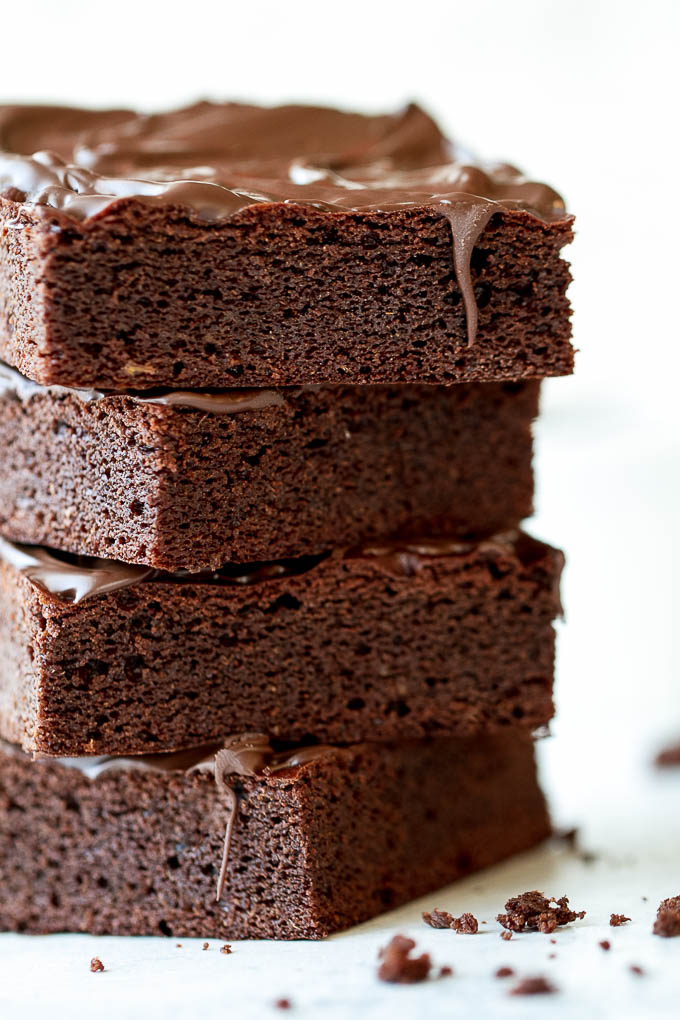 "My kitchen smells amazing," is literally the only thing I could think about while making these brownies. Well, that and "hurry up and finish so I can eat like 5 of you."
And yes, we're making brownies in January, smack dab in the middle of resolution season. Or would it be in the beginning…? Either way! We're making brownies during resolution season, and feeling pretty darn good about ourselves. For two reasons.
First, because giving up chocolate should never be part of anyone's resolutions. I mean, you're supposed to make realistic ones, and I feel like swearing off all treats is just asking to fail. Either that or asking to go on a downward binge spiral a few weeks down the road… neither of which are desirable!
Second (or did you forget I said two reasons?), if you did happen to make any diet/health related goals this year… good on you!! That's awesome. And you'll be happy to know that these flourless sweet potato brownies fit super comfortably into those resolutions, because despite their deceptively decadent looks, they're actually pretty darn good for you!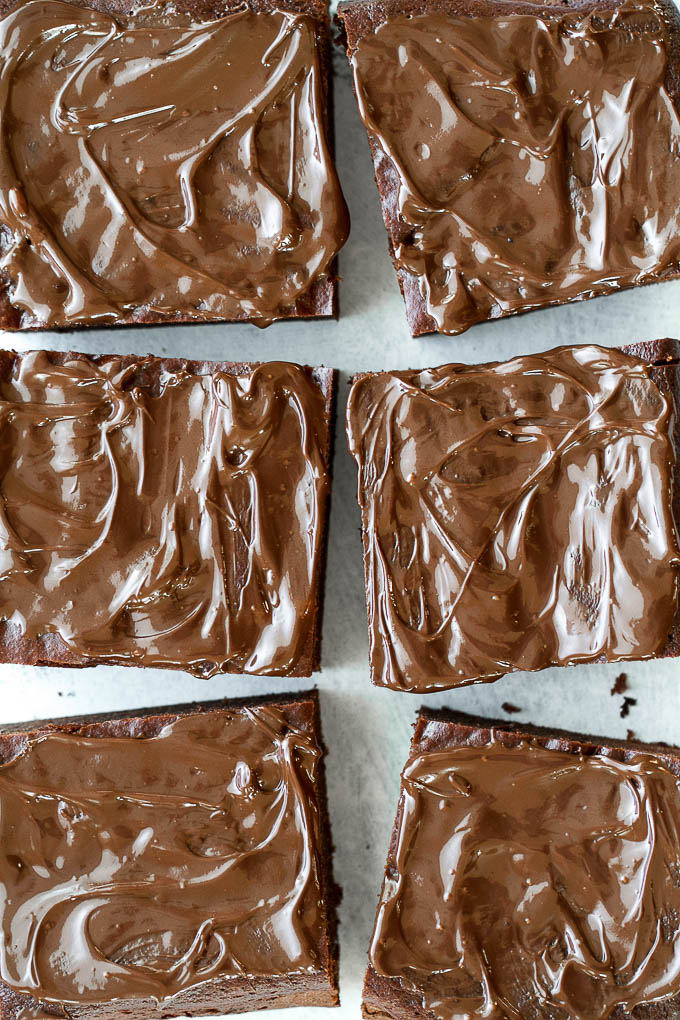 Also, allow me to apologize in advance for the excessive use of exclamation points in this post. I'm a little excited. Or hyper. Or just plain happy. And that makes me overly expressive. I also tend to start talking with my hands when I get this way, but you can't see that and I'm digressing. Onwards!
So… flourless sweet potato brownies. Does that sound like it shouldn't be a thing? Because I can't decide. I thought about calling these flourless blender brownies to make it sound a little less weird, but then it sounded a little deceitful… even though it's technically not false advertising since they are made in the blender. But they're also made with sweet potato. And almond butter. And cocoa. And honey. So I guess we could skip all formalities and just call them deliciously healthy squares of chocolatey heaven.
Yeah. That works.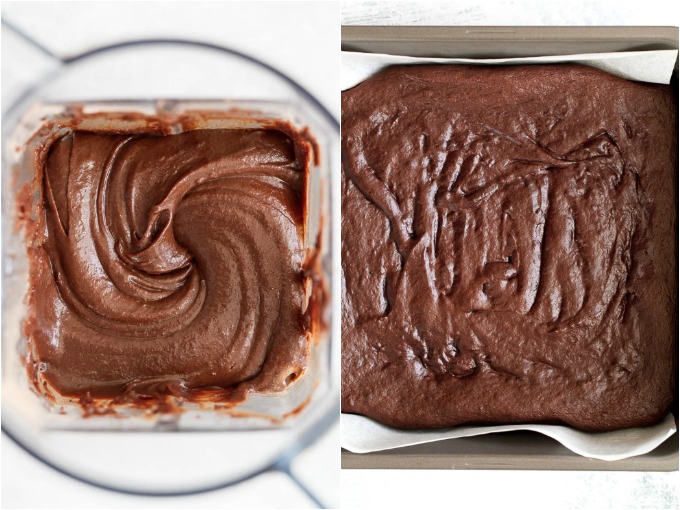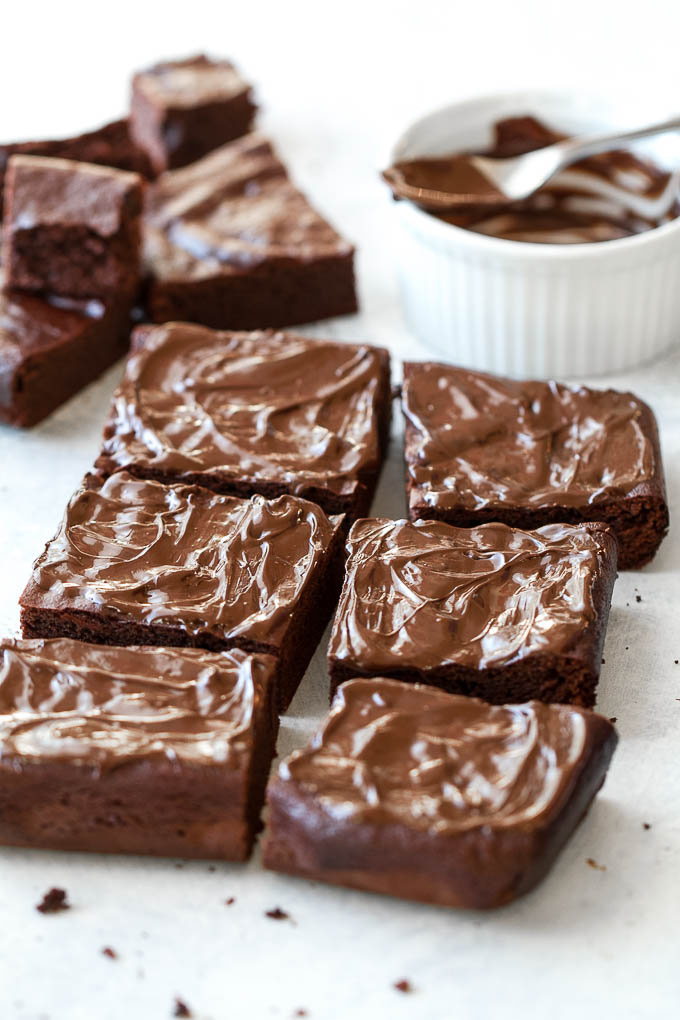 But see what I mean about "pretty darn good for you?" An ingredients list made up of mostly almond butter, sweet potato, honey, and cocoa powder makes these brownies grain-free, oil-free, dairy-free, and refined-sugar-free, so they make a deliciously healthy treat for when those chocolate cravings hit. They're not 100% exactly like a traditional super rich, extra fudgy brownie, but they're also not made with lots of butter, sugar, and flour, so you need to take them for what they are -> deliciously healthy squares of chocolatey heaven.
And! they have the added bonus of being super quick and easy to make. All you do is toss all the ingredients into a blender, transfer the batter to a baking pan, and voila! You've got yourself some delicious flourless brownies in about 30 minutes. And I think that's all there is to say about that. Oh wait…
Happy eating!!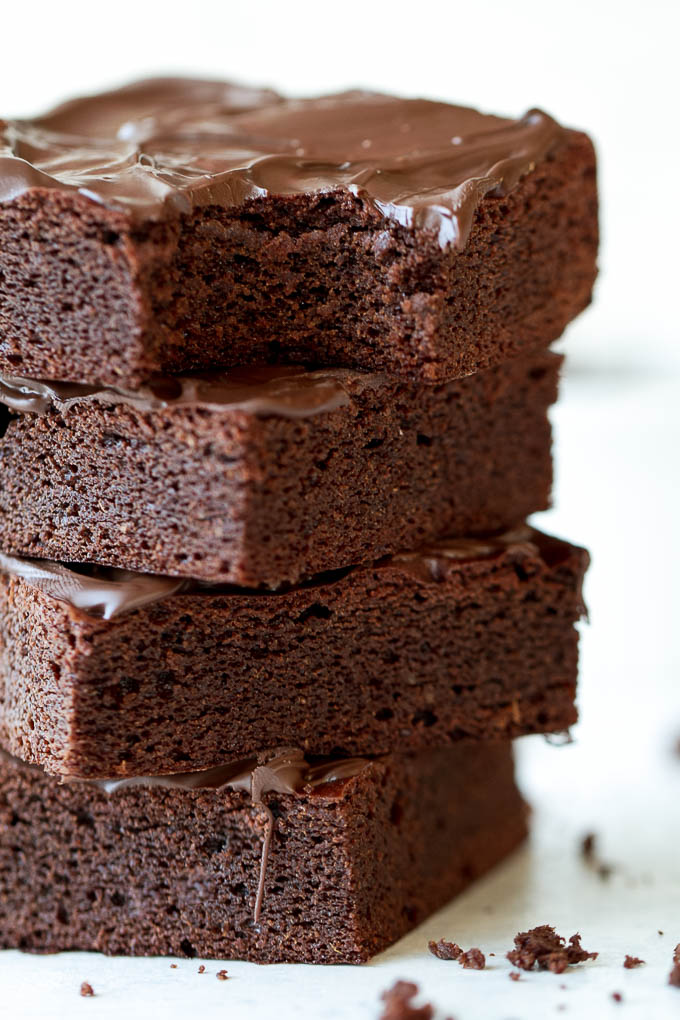 I'd love to know if you make this recipe! Leave a comment and rating down below to let me know what you think, and subscribe to our mailing list to receive new recipes in your inbox!
Print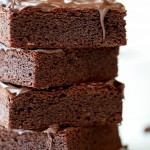 Flourless Sweet Potato Brownies
---
Author:

Total Time:

40 mins

Yield:

9

brownies

1

x
---
Instructions
Preheat your oven to 350°F (176°C) and prepare an 8 x 8 (20 x 20 cm) baking pan by lining it with a sheet of parchment paper, leaving a few inches of overhang on the sides to allow for easy removal. Set aside.
Add all the ingredients except for the chocolate chips to a high-speed blender or food processor in the order listed, and process on high until the batter becomes smooth and creamy, taking care to scrape down the sides if necessary.
Pour the batter into your prepared baking pan, using a spatula to distribute it evenly. Bake for 25 – 30 minutes, until a toothpick inserted into the center comes out clean. Remove the brownies from the oven and let them cool in the pan for about 15 minutes before transferring them to a wire rack to cool completely.
If you want to add the melted chocolate topping, place the chocolate chips in a microwave-safe dish, and nuke them in 30 second intervals until they're completely melted. Then, pour the chocolate over the brownies and use a spoon or spatula to spread it around.
Store the brownies in an airtight container at room temperature for up to 5 days.
Notes
* I like using almond butter because of its mild flavour, but you can sub it out for whatever nut butter you have on hand. Or, use a soy nut butter to make these nut-free. ** You can either measure out 1/2 cup of mashed sweet potato or just toss 120g of cooked sweet potato straight into the blender.
Prep Time:

10 mins

Cook Time:

30 mins
Keywords: brownies, chocolate, dairy-free, dessert, flourless, gluten-free, grain-free, healthy, paleo, snack

Looking for more healthy chocolate recipes? Try one of these!
Flourless Double Chocolate Brownies
Healthy Two Minute Brownie
Flourless Double Chocolate Zucchini Brownies
Fudgy Double Chocolate Mug Cake
No Bake Brownie Batter Truffles

*Disclosure: Some of the links included in this post may be affiliate links, meaning I'll earn a small commission if you purchase through them, at no additional cost to you. I only recommend products I personally use and believe will add value to my readers. Thank you so much for helping support Spoons!