These chocolate chip banana oat muffins are so soft and tender that you'd never guess they're made without butter or oil! They make a deliciously healthy breakfast or snack, and they're super easy to whip up using just one bowl.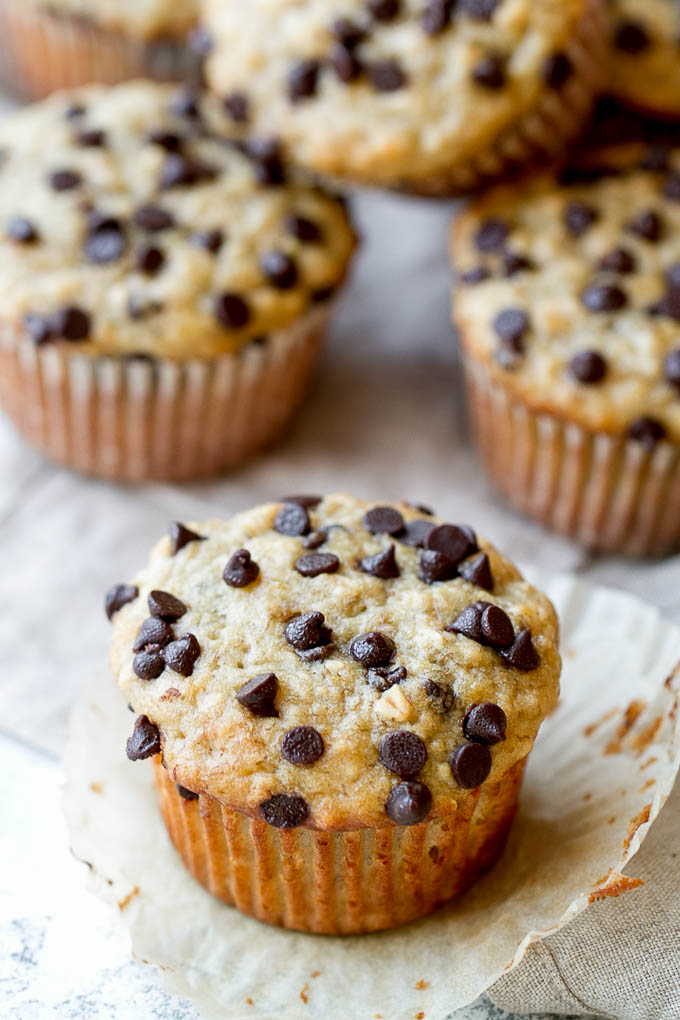 Getting back to my roots today with some deeeeeee-liciously healthy banana oat muffins!
Made in one bowl, [obviously], because ain't no one got time for washing multiple mixing bowls. Or spoons. Or even measuring cups. Actually, I'm not sure if I've ever told you guys this, but I stated using a food scale for baking many years ago, and it changed.my.LIFE.
Not only does it get rid of a lot of the clean up since it completely removes the need for measuring cups, but it's a whole heck of a lot more accurate. Take something like flour, for example. It's so easy to measure out a cup of flour incorrectly, and what ends up happening is that you usually add way more without even knowing it. This changes the overall proportions of the recipe and can give you a completely different end product from what the recipe creator intended. BUT! if a recipe calls for 180 grams of flour then you can just use a food scale to measure out 180 grams of flour and be that much more likely to not experience any recipe flops.
And since we're on the topic of kitchen hacks, let me share one that relates specifically to muffins… since that's kind of what we're supposed to be talking about anyways.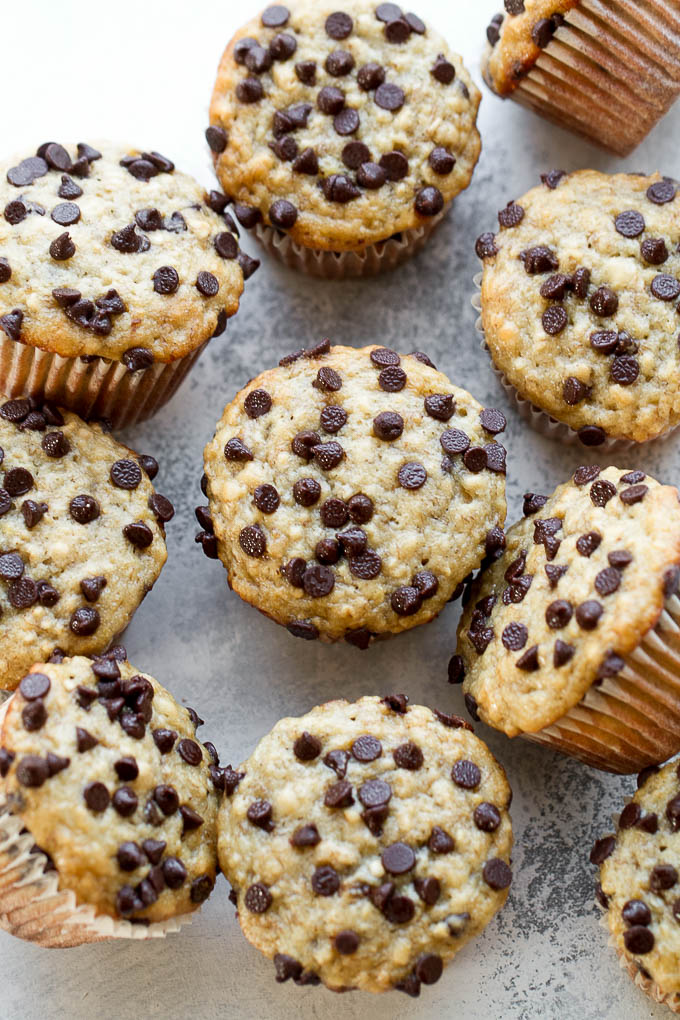 Three words -> parchment paper liners.
If you're using paper liners and struggling with half your muffin stump getting stuck to them, then these parchment ones will change your life. Just scroll alllllll the way up to the first picture and look at how cleanly the muffin comes off the liner. It might not be a huge deal if you're making muffins where the recipe calls for a good amount of oil, but for oil-less muffins like today's recipe? It's night and day. Believe me. I ran out of parchment paper liners once and decided to use regular ones that I had lying around. Disaster.
And as far as just greasing up the muffin pan goes…. remember what I said about not wanting to wash a second mixing bowl? You better believe I don't want to be washing a muffin pan. That's like washing 12 tiny bowls all stuck to one huge unwieldy board. No thank you.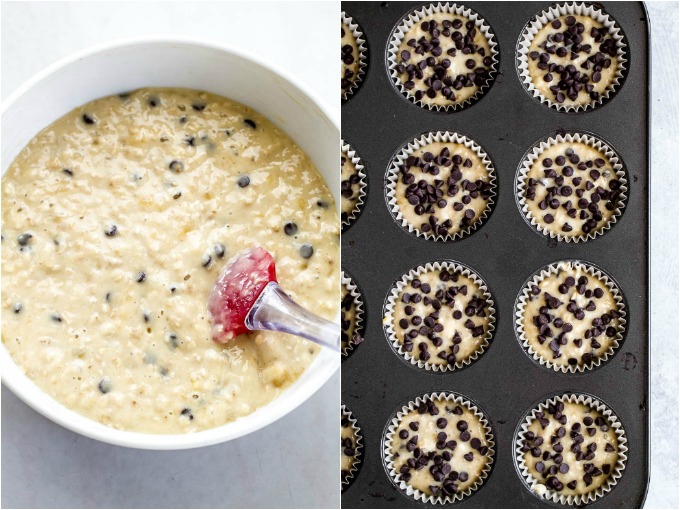 Kitchen hack #3. Well, this one isn't a hack as much as it is just simple preference, but… mini chocolate chips. I've found that mini chocolate chips distribute chocolateness way more evenly than huge regular chocolate chips. AND! they're way better for sprinkling… which is something I've been kind of obsessed with lately.
What I'll do is only add about half of the chocolate chips to the actual batter and save the other half for sprinkling on top. Now this is 100% preference, but I just like that I have about half of the muffin with a big concentration of chocolate, while the other half is mostly muffin-y. Like… does that make any sense? Because it does in my head, but sometimes things get lost in translation.
Either way! The sprinkle method also has the added bonus of looking extra pretty.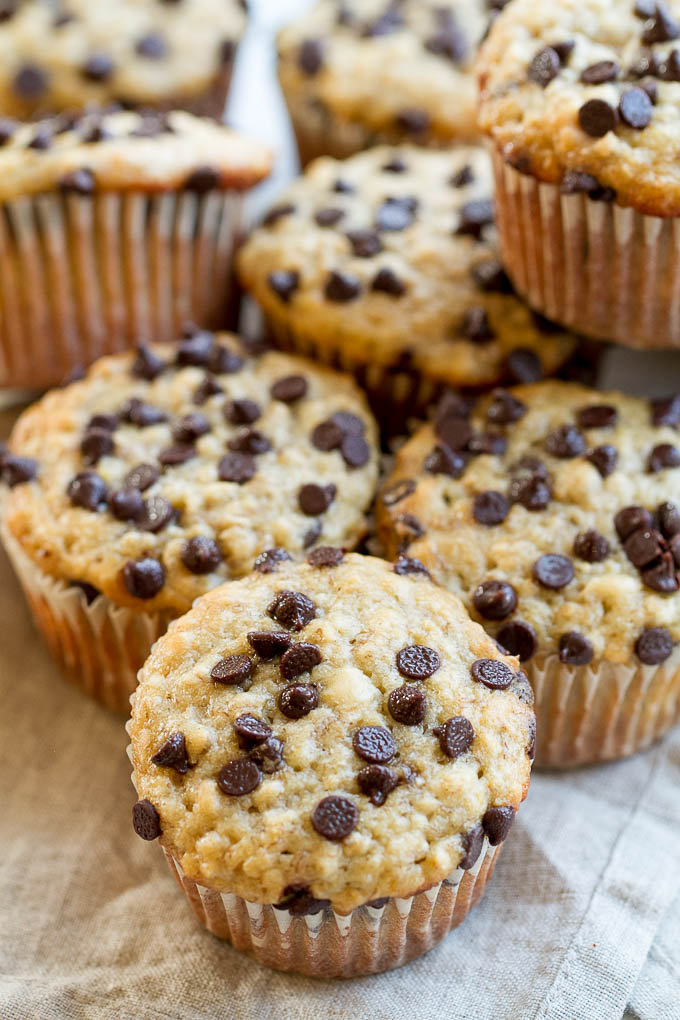 But they're way more than just a pretty face!
These particular banana oat muffins and super light, fluffy, and tender… like biting into a little chocolate-y banana pillow. And they get that way without any butter or oil. I know I say this about all of my oil-less muffins, but you literally would never be able to tell that it's just Greek yogurt and bananas that keeps them so moist.
If you wanted to make them even healthier, I suppose you could swap out the chocolate chips for some dried fruit, or nuts, or berries, but chocolate is good for the soul, so it's 100% it's own version of healthy for me. I hope you love these guys!
Happy eating!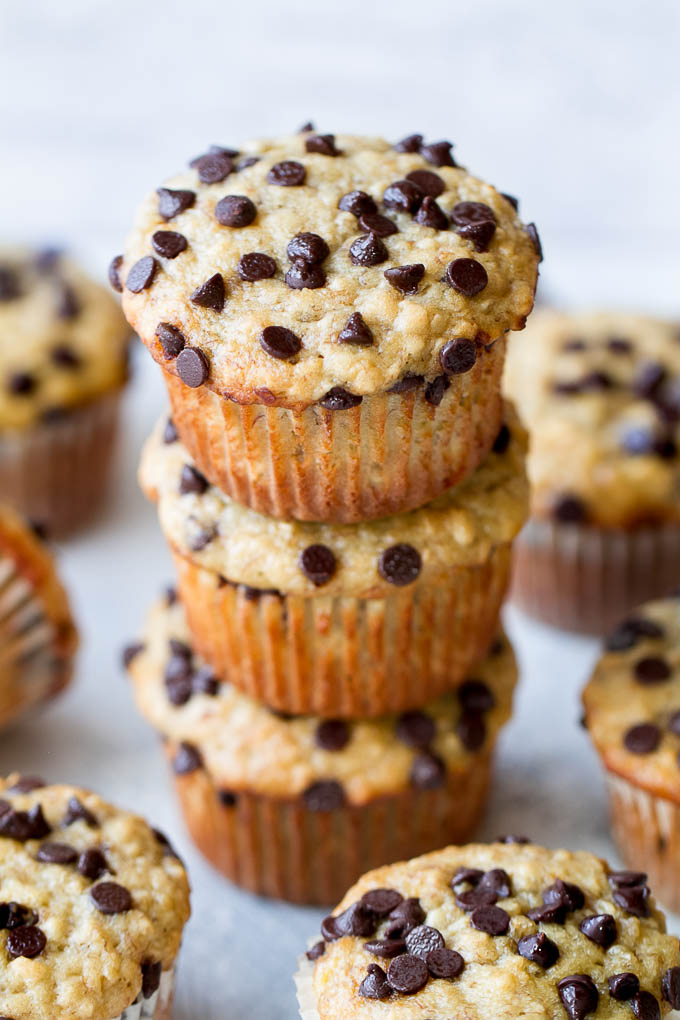 I'd love to know if you make this recipe! Leave a comment and rating down below to let me know what you think, and subscribe to our mailing list to receive new recipes in your inbox!
Print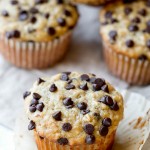 One Bowl Chocolate Chip Banana Oat Muffins
---
Author:

Total Time:

30 mins

Yield:

12

muffins

1

x
2

large eggs

1/2 cup

(

115 g

) plain 2% Greek yogurt*

2

medium-size, ripe bananas, mashed (

200 g

or

1 cup

)

1/2 cup

(

100 g

) coconut palm sugar**

1 tsp

vanilla extract

1 tsp

baking powder

1/2 tsp

baking soda

3/4 cup

(

60 g

) quick oats

1 cup

+ 2 Tbsp (

135 g

) whole wheat pastry flour***

1/2 cup

(

80 g

) chocolate chips
---
Instructions
Preheat your oven to 350ºF (176ºC) and prepare a muffin pan by spraying the cavities with cooking spray or lining them with parchment paper liners. Set aside.
In a large mixing bowl, lightly beat the eggs until the yolks break apart. Whisk in the yogurt, bananas, sugar, vanilla, baking powder, baking soda, and oats, mixing until smooth.
Spoon in the flour and gently stir it in until just combined. Fold in the chocolate chips, reserving some to sprinkle on top.
Divide the batter evenly among the 12 muffin cups, filling almost to the top. Sprinkle on more chocolate chips, if desired.
Bake for 20 – 22 minutes, or until the tops of the muffins begin to turn golden and a toothpick inserted into the centre comes out clean. Allow the muffins to cool in the pan for ~5 minutes before transferring them to a wire rack to cool completely. Store them in an airtight container at room temperature for up to 5 days, or freeze for up to 3 months.
Notes
* Regular yogurt works fine too, just try to avoid adding too much of the liquid that settles on top. ** You can also use brown sugar. *** You can also use all-purpose flour or a mix of AP and whole wheat. I would probably go 1/2 cup + 1 Tbsp AP and 1/2 cup +1 Tbsp whole wheat.
Prep Time:

10 mins

Cook Time:

20 mins
Keywords: banana, breakfast, chocolate chip, easy, healthy, muffins, oatmeal, one bowl, recipe, snack

Looking for more healthy muffin recipes? Try one of these!
Flourless Banana Bread Muffins
Banana Oat Greek Yogurt Muffins
Flourless Apple Cinnamon Muffins
Chocolate Chip Oatmeal Cookie Muffins
Blueberry Oat Greek Yogurt Muffins

*Disclosure: Some of the links included in this post may be affiliate links, meaning I'll earn a small commission if you purchase through them, at no additional cost to you. I only recommend products I personally use and believe will add value to my readers. Thank you so much for helping support Spoons!