Flourless oatmeal waffles that are crispy on the outside, fluffy on the inside, and crazy easy to make!
I made you breakfast! And not just any breakfast, but flourless oatmeal waffles!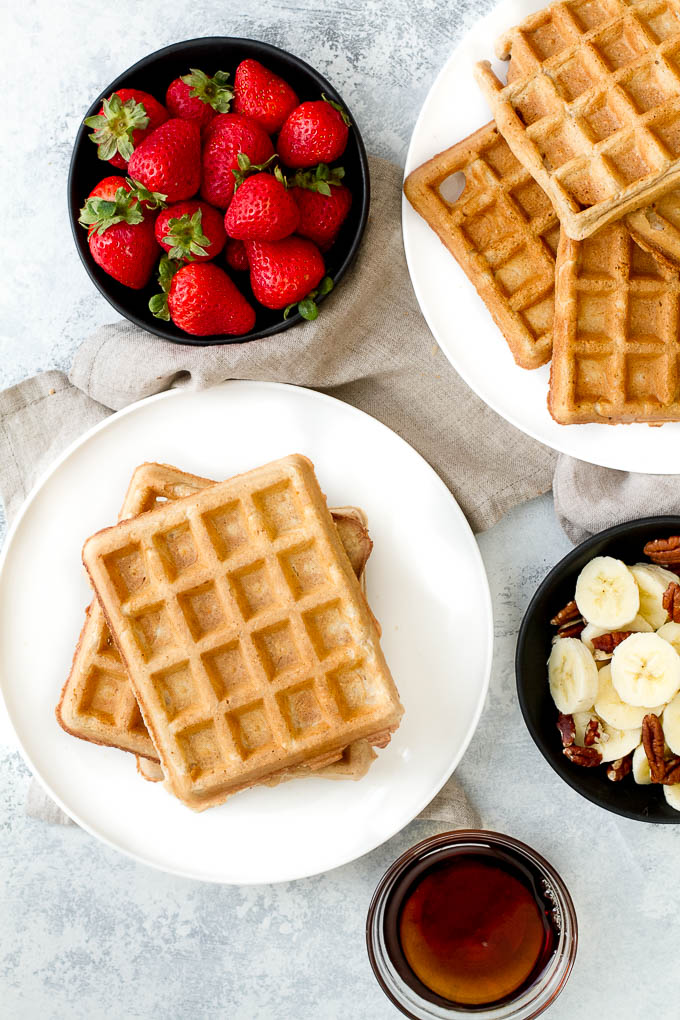 So I'm not sure if I told you guys this, but I'm currently dealing with a bit of a situation. A situation that involves a broken oven and a 1.5 week wait time to get a new one.
Well, we're down to about 4 more days at this point, but I've been without an oven since the end of October, and I.am.DYING.
No roasted potatoes, no ready-made pizza, no muffins. The dang thing actually crapped out on me while I was in the process of making muffins, and the worst part is that I only realized it wouldn't turn on when I went to put the loaded muffin pan in the oven and couldn't figure out why it was still cold.
And to add insult to injury (I'm almost done with the woe-is-me part, promise), my parents are currently reno-ing their kitchen, so I can't exactly go over there and "borrow" their oven. I do have a little toaster oven that does a surprisingly good job when it comes to baking and roasting, but I wouldn't trust it when making recipes for the blog because it's so much smaller than a regular oven and probably wouldn't give the most accurate results since the heat distribution is so different.
BUT! It's not all doom and gloom. Not having an oven has forced encouraged me to look into making different kinds of recipes for the blog, hence the applesauce and now these flourless oatmeal waffles.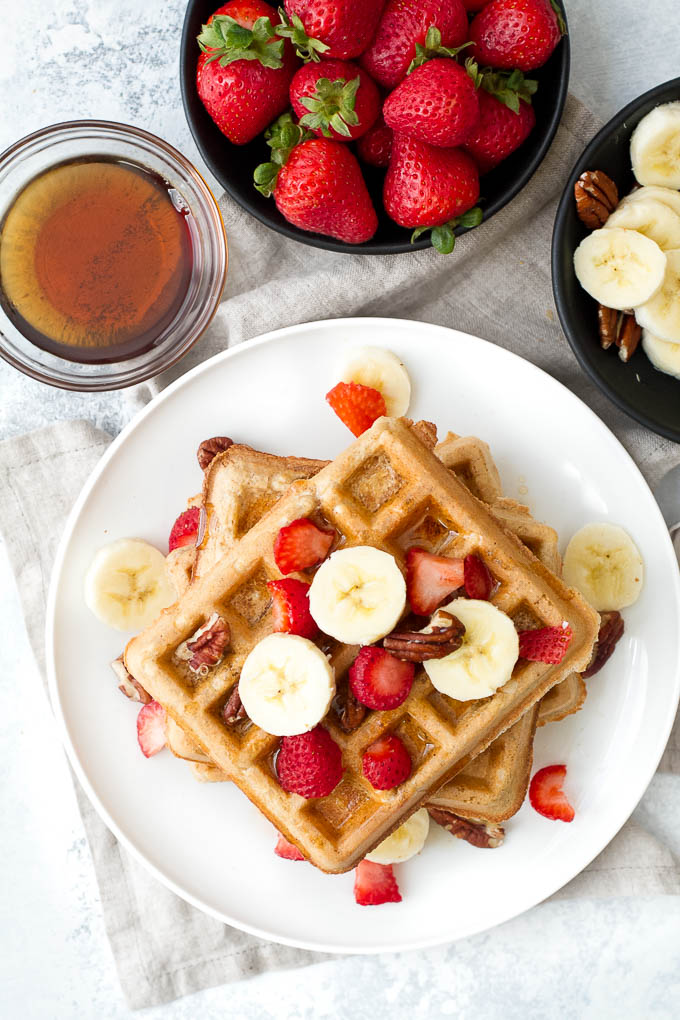 Do you have any small appliances at home that are so old you don't even know what brand they are or how long they've actually been with you?
I don't have any of those guys in my own kitchen since I restocked from scratch when I moved out 5 years ago but my parents have two that immediately come to mind.
The first is a food processor that's probably as old as I am. If not older. There's no brand on it [anymore?], but despite its age, I'm pretty sure it could still grind rocks into a fine powder. They just don't make 'em like they used to.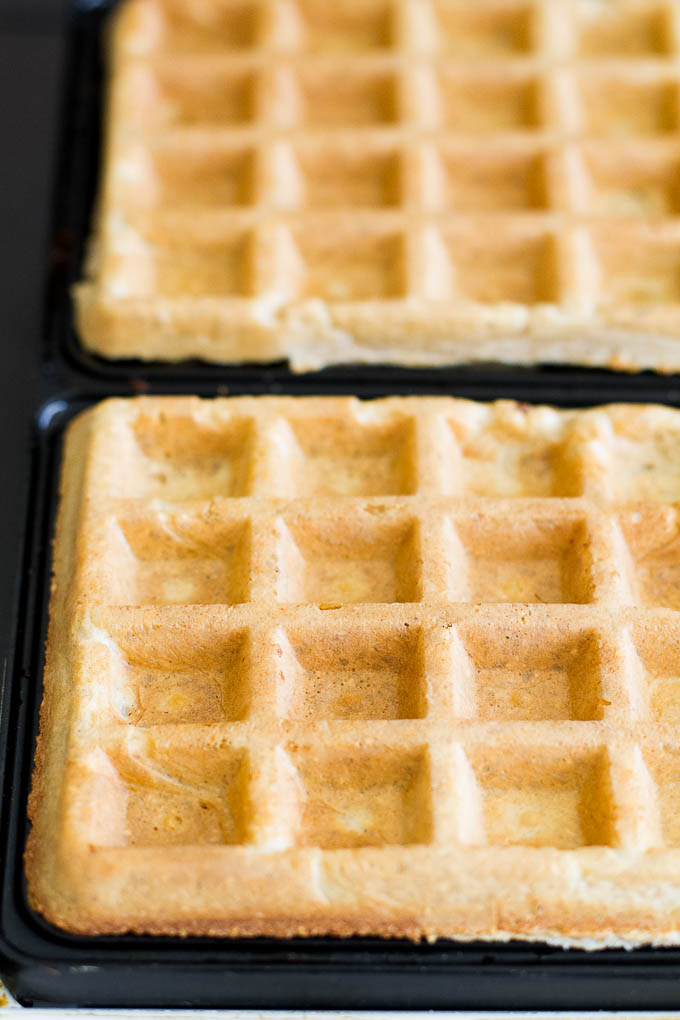 The second is a waffle iron that's not quite as ancient as the food processor (in that I actually have some vague recollection of this thing joining the family), but still old as dirt.
Again, there's no brand on it (it literally just says "Waffle Maker"), but… it still makes waffles? Like, I don't know what more you want from a waffle maker. I have a newer/fancier one at home with all these bells & whistles, but it's a little too much. I mean, just give me a waffler that pumps out waffles without me having to fiddle with the settings for 15 minutes, and I'm a happy camper… which just goes to show you that you don't need a crazy expensive waffle iron to make perfectly good waffles. I made these ones on my parents' old-as-dirt "Waffle Maker" (because I prefer square waffles to round ones – don't ask), and they came out perfectly.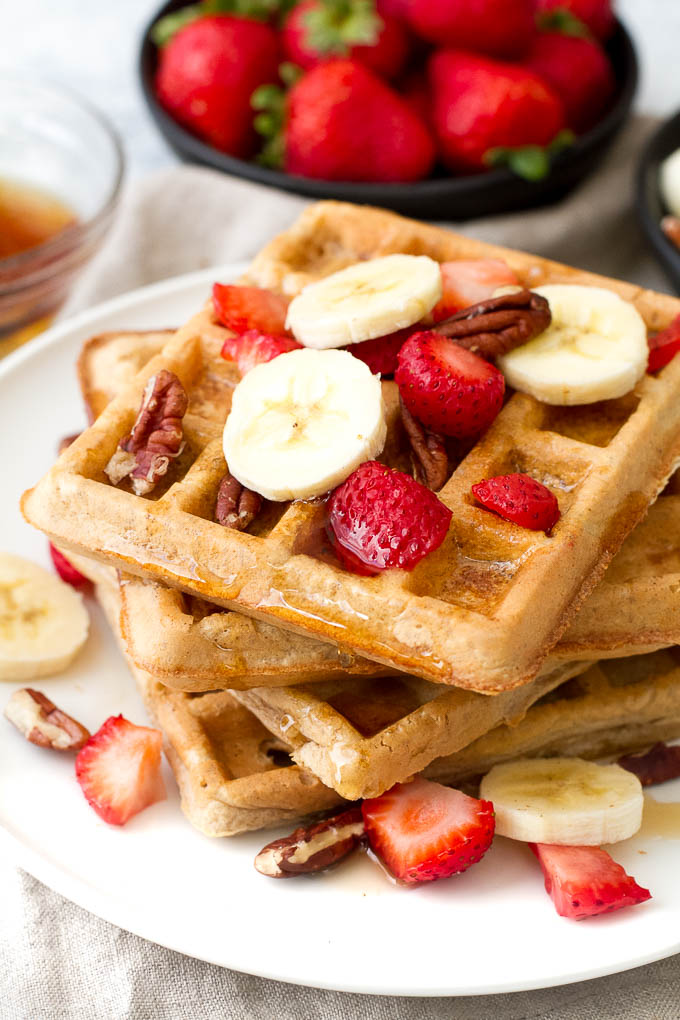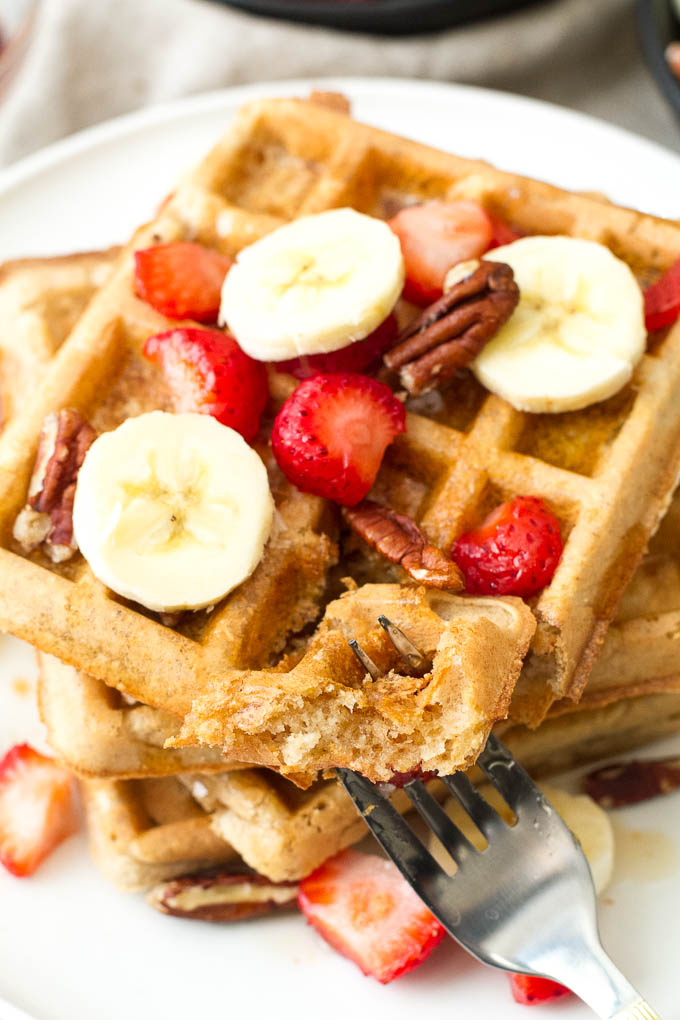 Granted, they came out perfectly after a few failed trials, but the whole process taught me some helpful tricks to getting your waffles to come out light and crisp.
First, a touch of oil and sugar. It doesn't have to be a lot (I used less than 1 Tbsp of each for the whole batch), but both of these help with browning and crisping. Without them, you end up with waffles that are kind of… limp.
Second, some recipes call for separating the eggs and beating the whites until they're stiff before folding them into the batter. I've made a few recipes like this and it does work, but it's also a few extra steps that I wanted to avoid since I was set on making these in the blender.
Which brings us to the secret ingredient – cornstarch. Adding a bit of cornstarch to the batter not only ensures waffles that are fluffy on the inside and crispy on the outside, but waffles that stay crispy even after they've been sitting for a while. Granted, that might change if you freeze your waffles and reheat them later, but all you have to do in that case is pop them in a toaster and they'll crisp right up.
So there you have it! An oven-less inspired recipe for gluten-free flourless oatmeal waffles that are crispy on the outside, fluffy on the inside, and crazy easy to make!
Happy eating!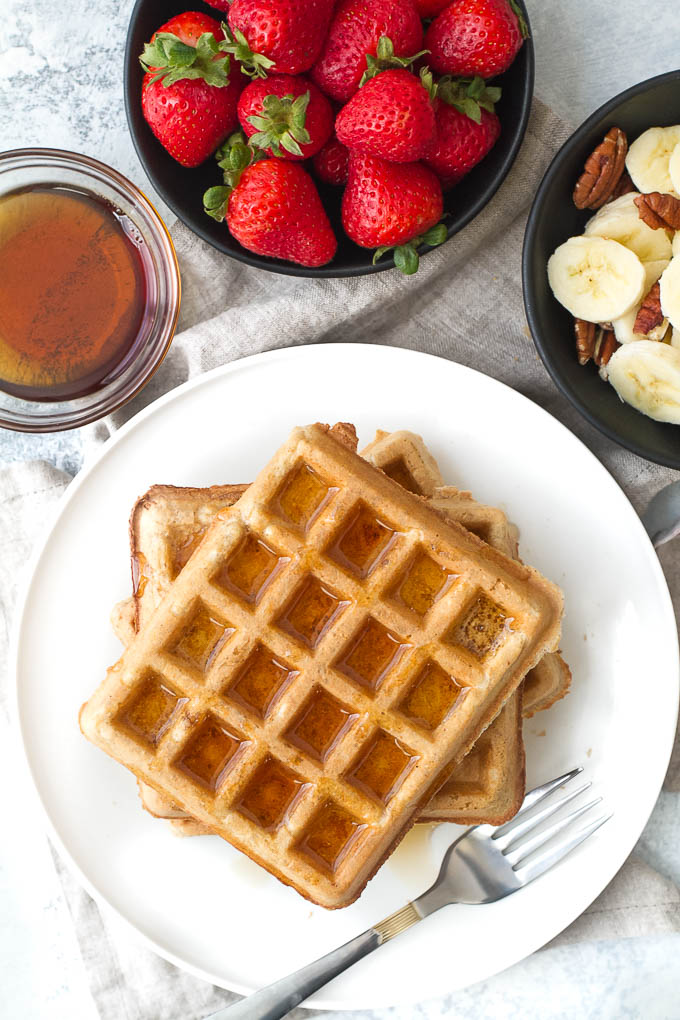 I'd love to know if you make this recipe! Leave a comment and rating down below to let me know what you think, and subscribe to our mailing list to receive new recipes in your inbox!
Print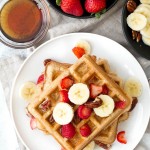 Light & Crisp Flourless Oatmeal Waffles
---
Author:

Total Time:

12 mins

Yield:

8

waffles, about

4

servings

1

x
1 1/2 cup

(

120 g

) rolled oats

1/4 cup

(

40 g

) cornstarch

1 Tbsp

(

12 g

) coconut palm sugar*

1 1/2 tsp

baking powder

1/2 tsp

ground cinnamon

1/2 cup

(

110 g

) plain Greek yogurt

1/4 cup

(

60

ml) unsweetened almond milk

2

large eggs

1 Tbsp

(

15

ml) oil**

1 tsp

vanilla extract
---
Instructions
Preheat your waffle iron. You want to make sure it's nice and hot before you start cooking your waffles.
Add all the ingredients to a blender in the order listed and process on high until the oats have fully broken down and the batter is smooth and frothy.
Coat your waffle iron with plenty of cooking spray or oil and pour the batter in according to manufacturer's instructions.*** Cook your waffles until they're crisp and golden brown on the outside, then repeat with the remaining batter.
Serve the waffles warm with toppings of choice, or wrap them up tightly and freeze them for a quick breakfast option. Just pop them in the toaster when you're ready to eat.
Notes
* You can also use brown sugar. ** You can use any oil you have on hand. If using coconut oil, you might want to make sure the rest of your ingredients are at room temperature to prevent the coconut oil from solidifying into chunks. *** Because waffle makers come in so many different sizes, I can't give you exact measurements or cook times. Consult the manufacturer's instructions to determine the specifics of your particular waffle iron.
Prep Time:

5 mins

Cook Time:

7 mins
Keywords: blender, breakfast, flourless, gluten-free, Greek yogurt, healthy, oats, waffles

Looking for more oat-y breakfast recipes? Try one of these!
Banana Oat Greek Yogurt Pancakes
Chocolate Banana Oatmeal Smoothie Bowl
Blueberry Oat Greek Yogurt Muffins
Banana Oat Greek Yogurt Muffins
Hot Chocolate Breakfast Smoothie

*Disclosure: Some of the links included in this post may be affiliate links, meaning I'll earn a small commission if you purchase through them, at no additional cost to you. I only recommend products I personally use and believe will add value to my readers. Thank you so much for helping support Spoons!