These flourless chocolate zucchini muffins are gluten-free, grain-free, oil-free, dairy-free, and refined sugar-free, but so soft and chocoately that you'd never be able to tell they're healthy! Whipped up in the blender in under 5 minutes flat, they make a delicious breakfast or snack!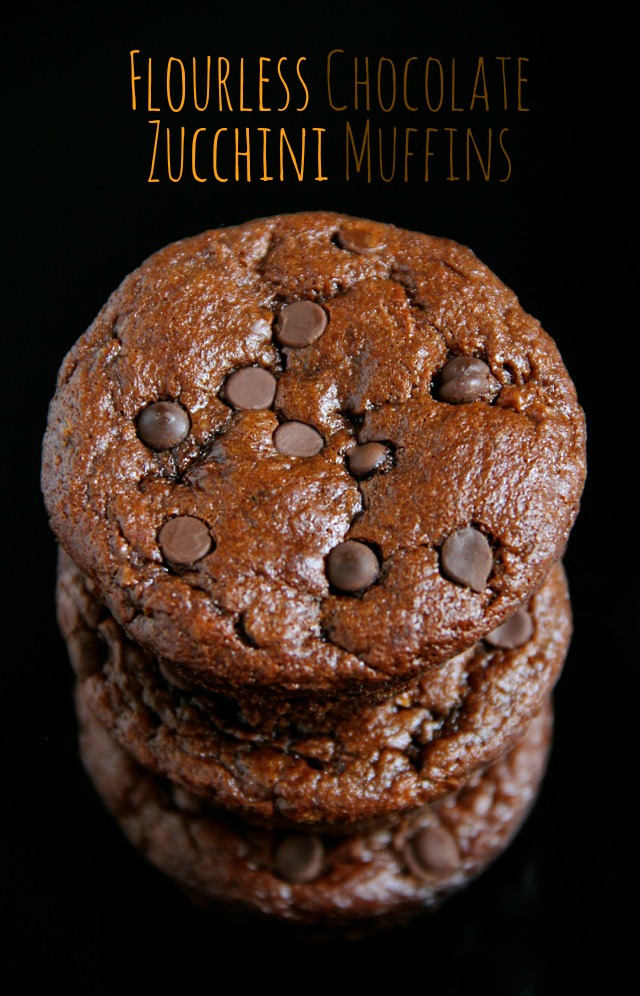 This probably isn't the best time to admit that I'm not a fan of zucchini.
And when I say "not a fan," what I really mean is that I hate it with a vengeance. As in… it's on my hit list, and you will be too if you try to feed it to me. So please don't.
I have a feeling that my disdain for the squishy summer squash has something to do with the handful of really bad experiences I had with things like zucchini noodles and soggy baked zucchini "fries" that I experimented with back in the day before I had any sort of idea as to what I was doing in the kitchen. Those recipes should come with warning labels. Seriously.
Needless to say, zucchini and I didn't start off on the right foot and I've been giving it the stank eye ever since.
That's why I've never been able to understand why people would put it in things like loaves and muffins. Never. Like… why on earth would you ruin a perfectly good dessert by lacing it with a squishy squash?
Well, friends, I think I've figured out why…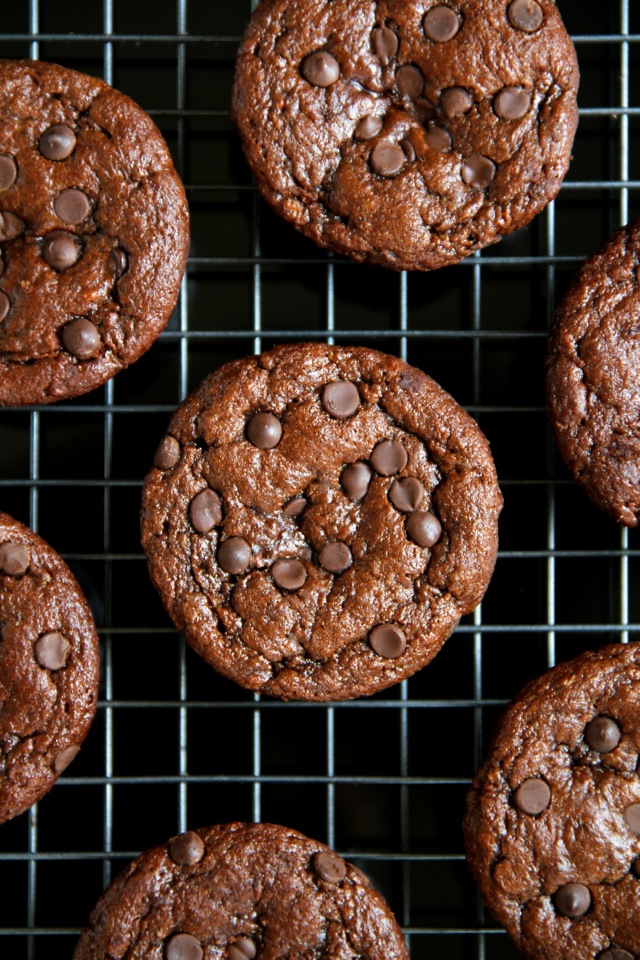 Say hello to the newest batch of flourless muffins to grace my kitchen counters — flourless chocolate zucchini muffins. Yes, zucchini.
I can't really tell you what prompted me to throw a zucchini into these guys, other than the fact that: a) I believe in second chances, b) we're going into summer and zucchini is in season, and c) I wanted to see what all the fuss was about.
Well… I get it. I do. And I'm, quite literally, eating my own words…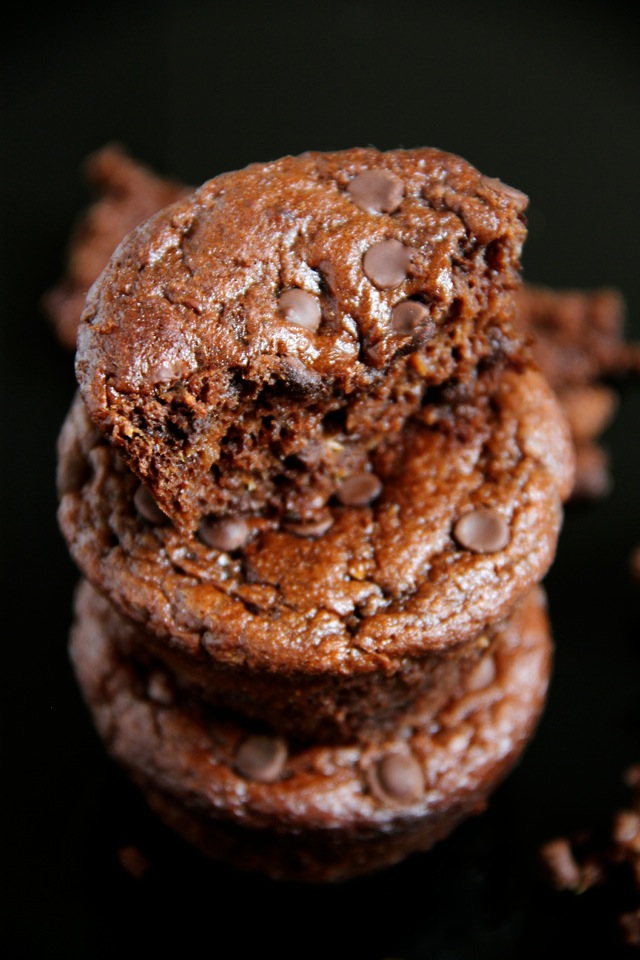 These may just be some of the softest muffins I've ever had the pleasure of eating.
And the best part is that they're loaded with chocolate flavour without even a hint of zucchini. Trust me. I was looking for it. I wanted to be all "HAHAHAHA! I knew it! It tastes like squishy squash!" But nope. Not a trace. Heck, I couldn't even see it in there, which means you could easily sneak some extra veggies into someone's diet by feeding them some of these delicious muffins…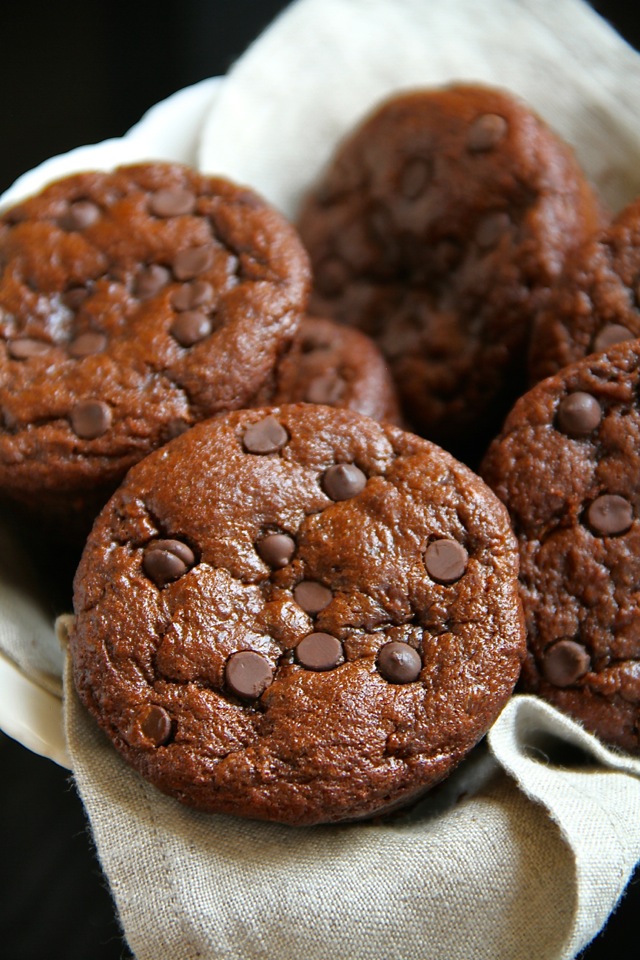 That being said, I don't recommend being sneaky. I mean, you're looking at a girl who still has trust issues stemming from the fact that the cookies her mom told her were chocolate chip actually turned out to be raisin. Mmm hmm. Like I wasn't supposed to notice that one… I know it's hard to get kids to eat healthier and all, but you don't lie about chocolate. You just don't.
Then again, I'm probably not one to talk, seeing as I may have omitted the 'zucchini' part when I told my taste-testers what I was giving them, but that's only because I wanted to see if it really was as undetectable as I thought. And it was.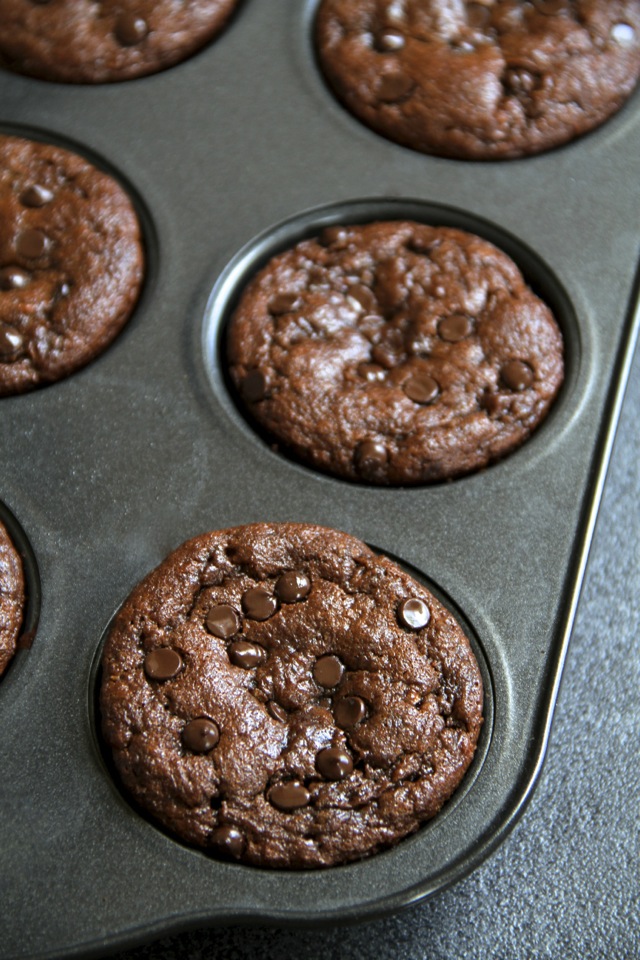 These muffins are super soft and super chocolatey. They're a little denser and fudgier than your average muffin because of the fact that they don't have any flour to fluff them up, but that just puts them somewhere between a muffin and a brownie, which is never a bad thing in my books.
They're gluten-free, grain-free, dairy-free, oil-free, refined sugar-free, and 100% crazy delicious. And the best part is that you only need about 5 minutes and a blender/food processor to whip them up, followed by 20 minutes of delicious smells wafting out of your kitchen.
So whether you're looking to get some more veggies into your diet, or you're just in desperate need of a soft and chocolatey muffin, then I definitely recommend giving these flourless chocolate zucchini muffins a try!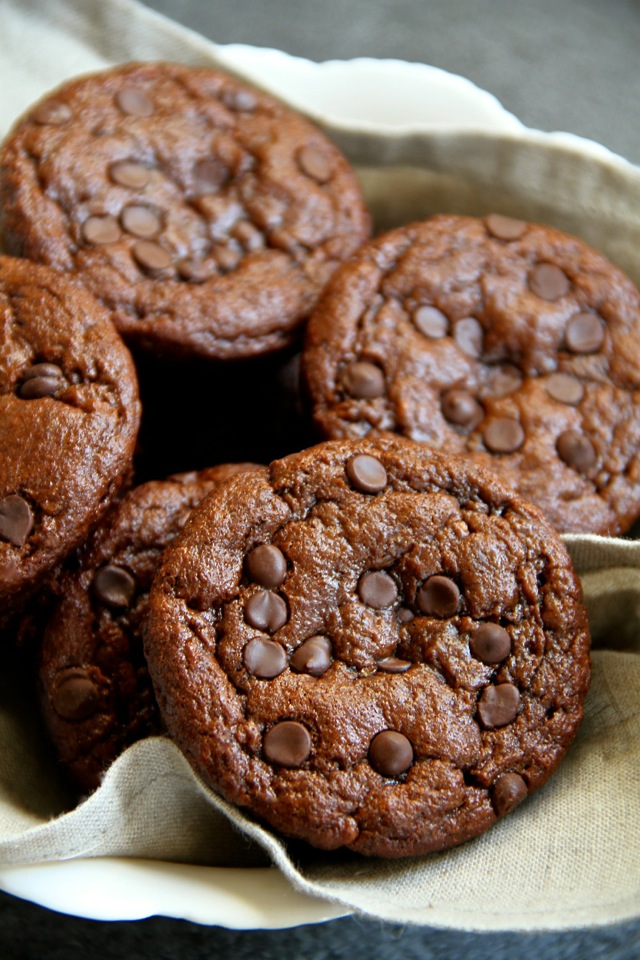 I'd love to know if you make this recipe! Leave a comment and rating down below to let me know what you think, and subscribe to our mailing list to receive new recipes in your inbox!
Print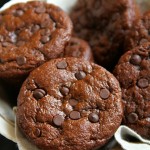 Flourless Chocolate Zucchini Muffins
---
Author:

Total Time:

25 mins

Yield:

9

muffins

1

x
1/2 cup

(

128 g

) almond butter*

1

ripe medium-sized banana (

100 g

or

1/2 cup

mashed)

1

large egg

1/4 cup

(

80 g

) honey

1/4 cup

(

20 g

) unsweetened cocoa powder

2 Tbsp

(

14 g

) ground flaxseed

1 tsp

vanilla extract

1/2 tsp

baking soda

1 cup

(

100 g

) zucchini, shredded and squeezed of excess liquid

1/4 cup

(

60 g

) chocolate chips, plus more for sprinkling on top
---
Instructions
Preheat oven to 375F and prepare a muffin pan by spraying 9 cavities with cooking spray. Set aside.
Add all ingredients except for zucchini and chocolate chips to a blender and blend on high until batter is smooth and creamy. Stir in shredded zucchini and chocolate chips by hand.
Pour batter into prepared muffin pan, filling each cavity until it is about ¾ full. Sprinkle with additional chocolate chips, if desired.
Bake for 20 minutes, until the tops of your muffins are set and a toothpick inserted into the middle comes out clean. Allow muffins to cool in pan for ~10 minutes before removing. Store in an air-tight container for up to a week.
Notes
* You can sub almond for your favourite nut butter, OR use a sunflower seed or soy nut butter to make these nut-free.
Prep Time:

5 mins

Cook Time:

20 mins
Keywords: chocolate muffins, chocolate zucchini muffins, flourless chocolate zucchini muffins, flourless muffins, gluten-free muffins, healthy chocolate zucchini muffins, recipe
Looking for more flourless muffin recipes? Try one of these!
Flourless Banana Bread Muffins
Flourless Double Chocolate Chip Muffins
Flourless Apple Cinnamon Muffins
Flourless Vegan Banana Muffins
Banana Oat Greek Yogurt Muffins