Flourless chocolate chip zucchini banana muffins that are so tender and flavourful, you'd never know they were made without flour, oil, or refined sugar. Gluten free and made with wholesome ingredients, they make a healthy and delicious breakfast or snack.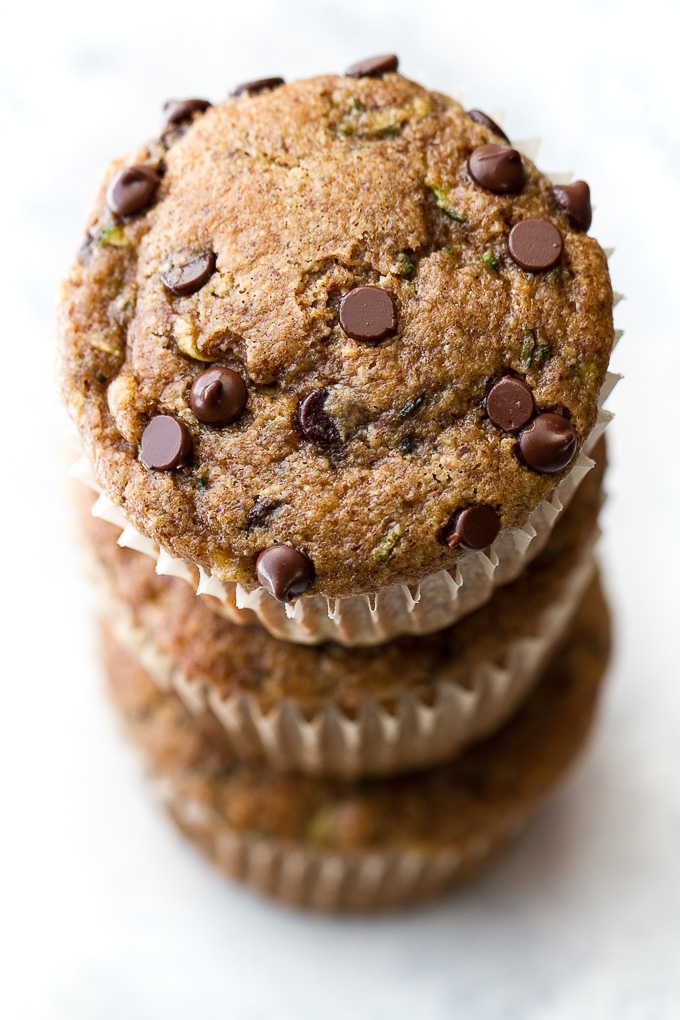 I can't even tell you guys how happy I am to -finally- be sharing another flourless muffin recipe here on Spoons.
I kind of fell in love with these super easy blender muffins after posting my first batch all the way back in January 2014, so not being able to share any new ones for over a year while I worked on recipes for the book was kind of torture. I mean, I was making a tonne of them (literally), but what good was having so many when I couldn't share? Especially since those guys tend to be the more popular recipes here on the blog.
But the drought is over! I got the go-ahead to give you guys a taste of the kinds of recipes you can expect to see in my new flourless cookbook, and I decided to go with these flourless zucchini banana muffins found on page 50.
Because it's totally zucchini season…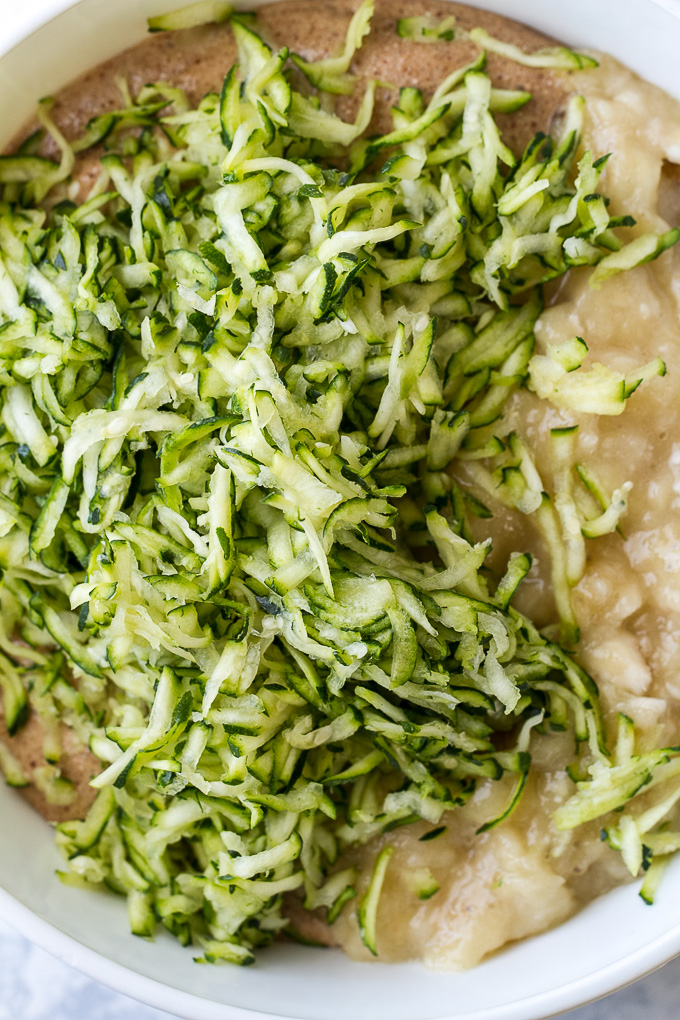 … except it isn't at all.
I just really needed to use up a couple of overripe bananas, and I decided to toss some zucchini in there as well because a) it sounded more interesting than straight-up banana muffins (which I already have), and b) I love the extra moisture that zucchini adds to baked goods.
I know, I know. This coming from a girl who put zucchini on top of her veggie hit list, but in my defense, I did add chocolate chips to this batch… which I feel balances everything out. You don't have to add them to yours, but I'm craving chocolate in a bad way, so in they went.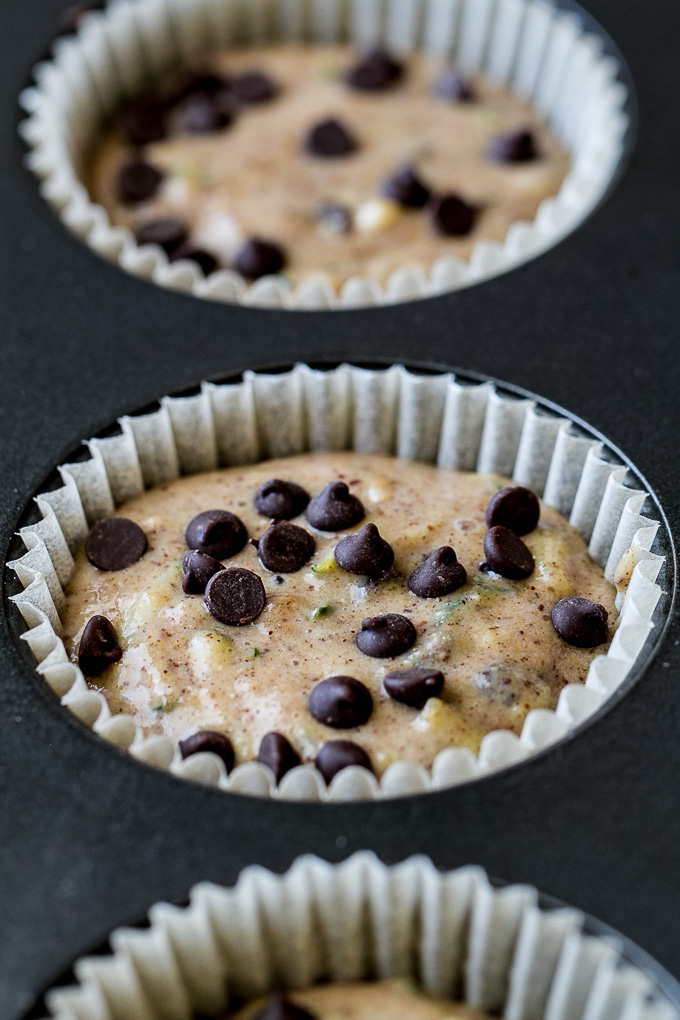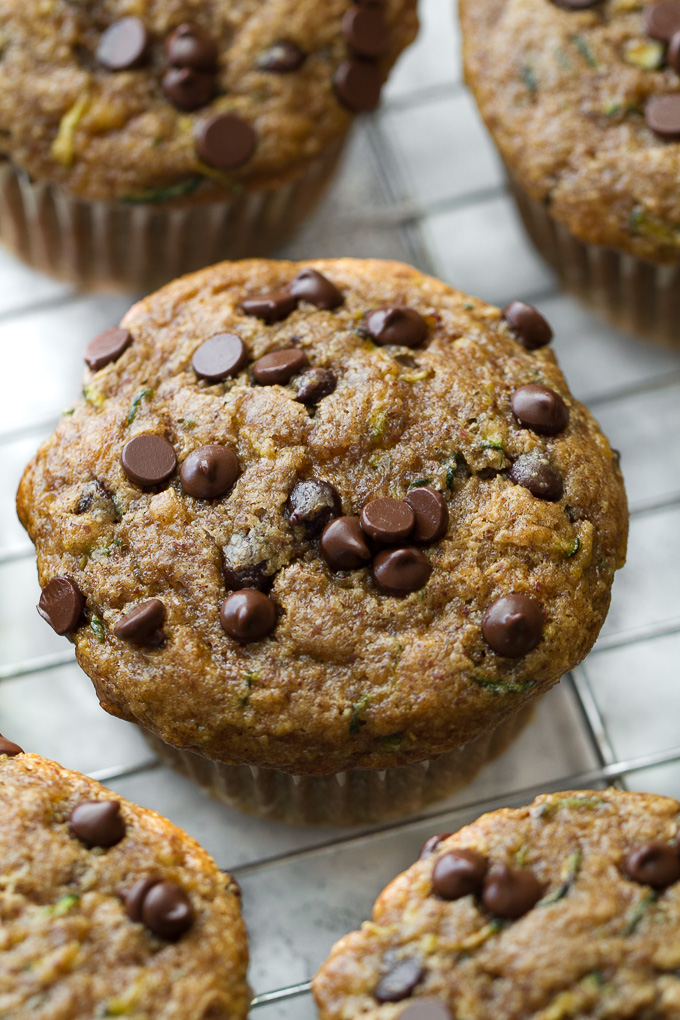 Okay! So let's talk about the process of making flourless muffins in a blender, since I've had a decent amount of questions about it and never really went into any detail.
First up is the blender. I use a Vitamix* for all my mixing needs, and while you can definitely use one that's less powerful, I can't recommend a high-speed blender enough. I know it's a bit of an investment, but I've had mine for over 10 years now and it still works as good as new.
It also makes the process of making muffins (and tonnes of other things) super easy since all you're doing is tossing everything into a blender and hitting the switch. I actually split the blending process into 2 stages this time around – first come the dry ingredients to make sure the oats get fully broken down into a fine flour, and then come all the wet ingredients to make the final batter.
You could also skip the whole blending process altogether and use pre-ground oat flour* so that you can mix everything by hand. I give a handy dandy conversion for oats to oat flour in the book if you want to go that route.
The batter itself should be slightly on the thicker side – enough so that you have to spoon it into the muffin cups. And for those, I recommend either greasing your muffin pan or using parchment paper liners* since the lack of flour and oil could cause these muffins to stick to regular paper liners.
And for these particular muffins, I also recommend transferring the batter to a large mixing bowl when it's time to stir in the banana and zucchini. This isn't a necessary step for all the recipes in the book, but I've found that bananas release extra liquid when they're pulverized, which ends up making the batter a little wetter than it should be when combined with zucchini. Alternatively, you could just toss both into the blender bowl and mix by hand, but that can get a little tight.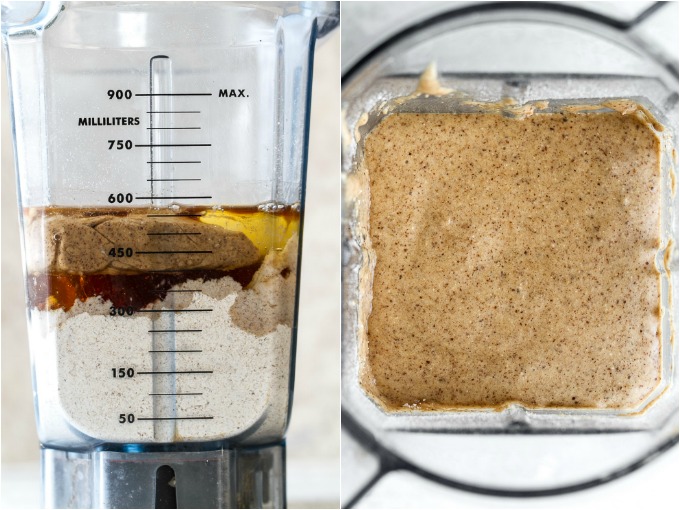 The muffins themselves are light and fluffy and subtly sweet with plenty of banana flavour. They're gluten-free as long as you use certified GF oats, and loaded with wholesome ingredients like oats, almond butter, eggs, flax, honey, bananas, and zucchini… which means they're basically like a bowl of oats in a conveniently portable form and you can enjoy them as a healthy snack at any time of the day.
Oh, and if you want to see more recipes like this one, you should totally check out my cookbook, which has another 79 flourless recipes for you to love. You can find it on Amazon, Barnes & Noble, or Indiebound.
Happy eating!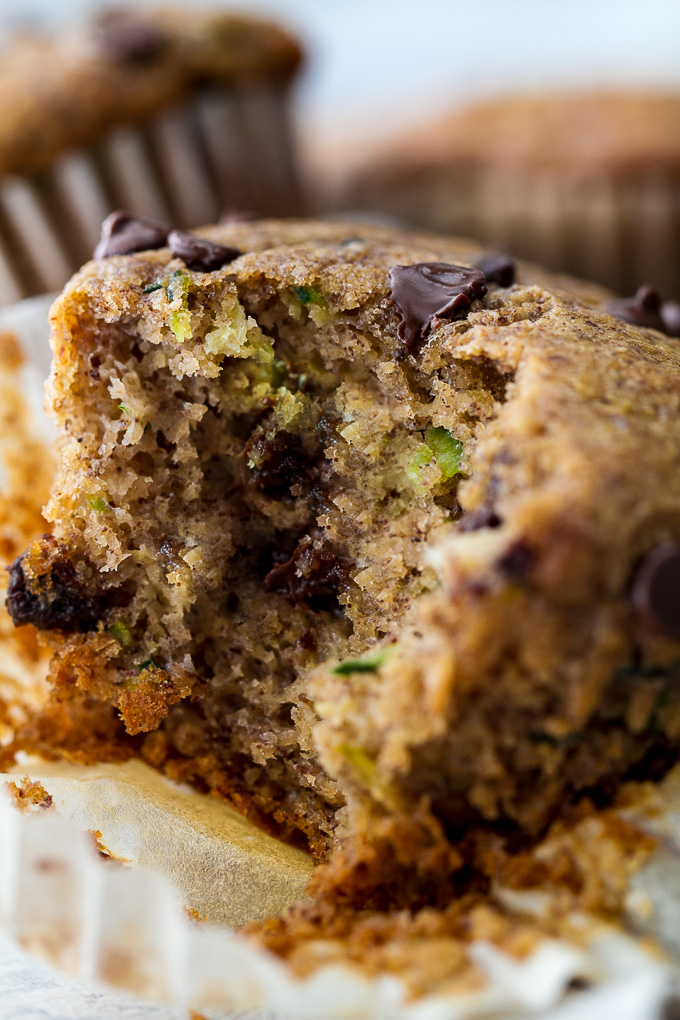 I'd love to know if you make this recipe! Leave a comment and rating down below to let me know what you think, and subscribe to our mailing list to receive new recipes in your inbox!
Print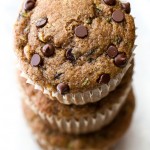 Flourless Chocolate Chip Zucchini Banana Muffins
---
Author:

Total Time:

30 mins

Yield:

12

muffins

1

x
1 1/2 cups

(

120 g

) rolled oats

2 tbsp

(

14 g

) ground flaxseed

1/2 tsp

ground cinnamon

2 tsp

baking powder

1/2 tsp

baking soda

1/4 tsp

salt

2

large eggs

6 tbsp

(

96 g

) almond butter

6 tbsp

(

120 g

) honey

2 tsp

(

10

ml) vanilla extract

2

medium-size ripe bananas, mashed (

200 g

or

1 cup

)

1 cup

(

115 g

) shredded zucchini, squeezed of excess liquid*

1/2 cup

(

80 g

) chocolate chips
---
Instructions
Preheat your oven to 350F (176C) and prepare a muffin pan by lining the cavities with parchment paper liners. Set aside.
Add the oats, ground flaxseed, cinnamon, baking powder, baking soda and salt to a high-speed blender, and process on high until the oats have broken down into the consistency of a fine flour, about 10 seconds.
Add all of the remaining ingredients except for the bananas and zucchini, and process on high until the batter becomes smooth and creamy, about 30 seconds. Periodically stop and scrape down the sides of your blender, if necessary.
Transfer the batter to a medium-size mixing bowl (this makes it easier to mix in the remaining ingredients), and fold in the bananas, zucchini, and chocolate chips by hand.
Spoon the batter into the prepared muffin cups, filling each one about 3/4 of the way full.
Bake for 18-20 minutes, until the tops of your muffins begin to turn golden brown and a toothpick inserted into the center comes out clean. Allow the muffins to cool in the pan for 10 minutes before transferring them to a wire rack to cool completely. As soon as they've cooled, transfer them to an airtight container and store them at room temperature for up to 5 days, or freeze for up to 3 months.
Notes
* I like to place a handful of shredded zucchini between two paper towels and squeeze it over the sink. This drains it of just the right amount of liquid to allow the muffins to cook properly.
Prep Time:

10 mins

Cook Time:

20 mins
Keywords: banana, breakfast, flourless, gluten-free, healthy, muffins, recipe, snack, zucchini


*Disclosure: Some of the links included in this post may be affiliate links, meaning I'll earn a small commission if you purchase through them, at no additional cost to you. I only recommend products I personally use and believe will add value to my readers. Thank you so much for helping support Spoons!