Homemade applesauce that's so delicious and easy to make, you'll never want to buy store-bought applesauce again! Perfect to use in recipes, as a topping, or just to eat on its own.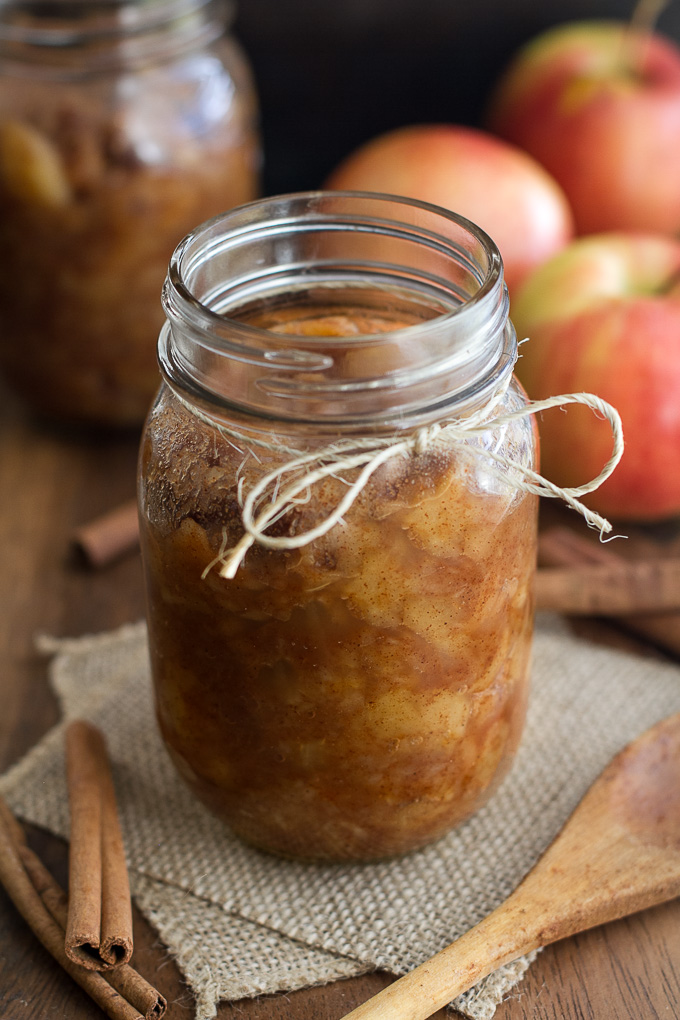 Confession: I've been meaning to share this homemade applesauce recipe with you guys for something like 4 years now.
Not even kidding.
I actually published a page for it waaaaaay back in December of 2012 (you can find it if you dig), and I've been meaning to write a legit recipe post with updated pictures/SEO every fall since then… only it never happened.
I guess I was worried that the recipe was just too simple to share. That no one would be interested in a basic homemade applesauce since it's not exactly creative or original. And I do this all.the.time. All the time! I'll love a recipe but ultimately decide that it's too #basic for the blog. Because the world doesn't need another recipe for chocolate chip cookies. Or banana bread. Or applesauce.
But yes it does, dammit! I adore this stuff and actually consider it to be a pretty big kitchen staple. Not just applesauce in general, but this applesauce. This chunky, unsweetened, stovetop applesauce that's perfect in recipes, as a topping to oatmeal or yogurt bowls, or eating straight from the jar with a spoon. I'm so obsessed with it that I could easily eat 3 – 4 apples worth just by randomly snacking on it throughout the day.
So I'm sharing it with you guys. Basic or not.
Alright. First thing's first. We gotta talk 'bout them apples.
There are a bajillion* (slight exaggeration) different apple varieties out there, but not all of them make good applesauce.
I mean, you can ultimately go with whatever kind of apples you have on hand, but I've found that Ambrosia, Gala, and Golden Delicious work really well. Google also tells me that Braeburn, Cortland, Crispin, Fuji, Gravenstein, Liberty, Jonamac, Ida Red, and Rome apples are good for applesauce, but I've heard of, like… one of those… so there's that.
Personally, I'm a huge fan mixing Golden Delicious with either Gala or Ambrosia apples. Sometimes even Pink Lady. I find that combining a few different varieties yields a better tasting applesauce than just using one kind of apple. That and I also recommend avoiding really tart apples like Granny Smith since we're not adding any sweetener.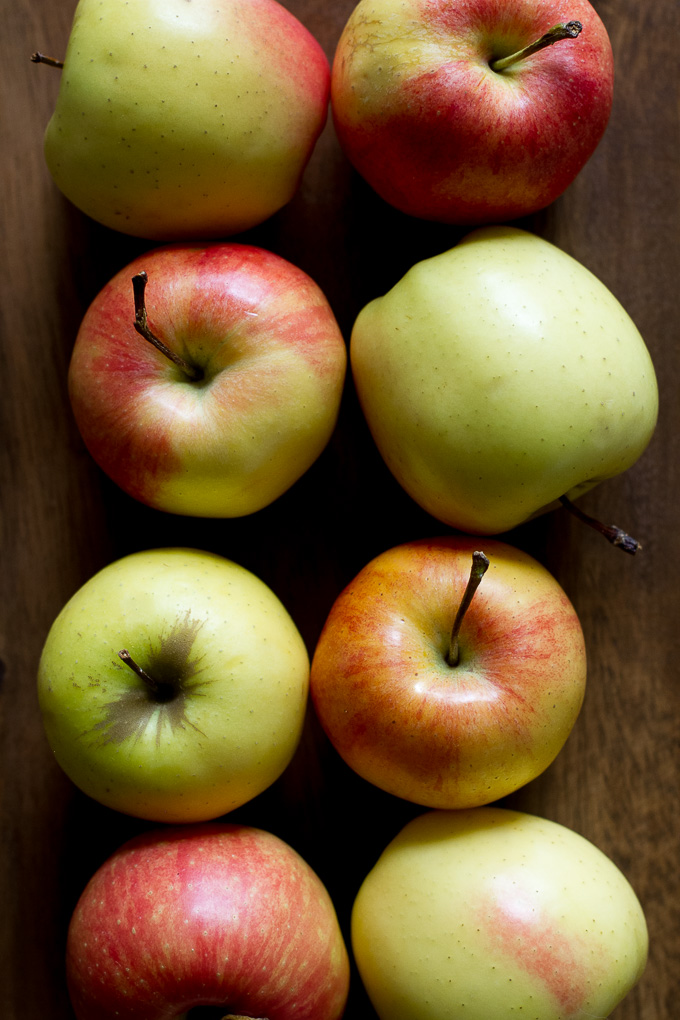 Okay. We've got our apples. Now we peel them, core them, and chop them up into pieces.
Full disclosure -> I'm not the least bit particular about how I chop my apples, meaning they all end up being different shapes and sizes. It's never been an issue for me since I like my homemade applesauce to have a lot of texture, but I guess you could be all precise with them if you have the patience for that sort of thing?
Personally, I just randomly slice the apples straight into the pot and call it a day.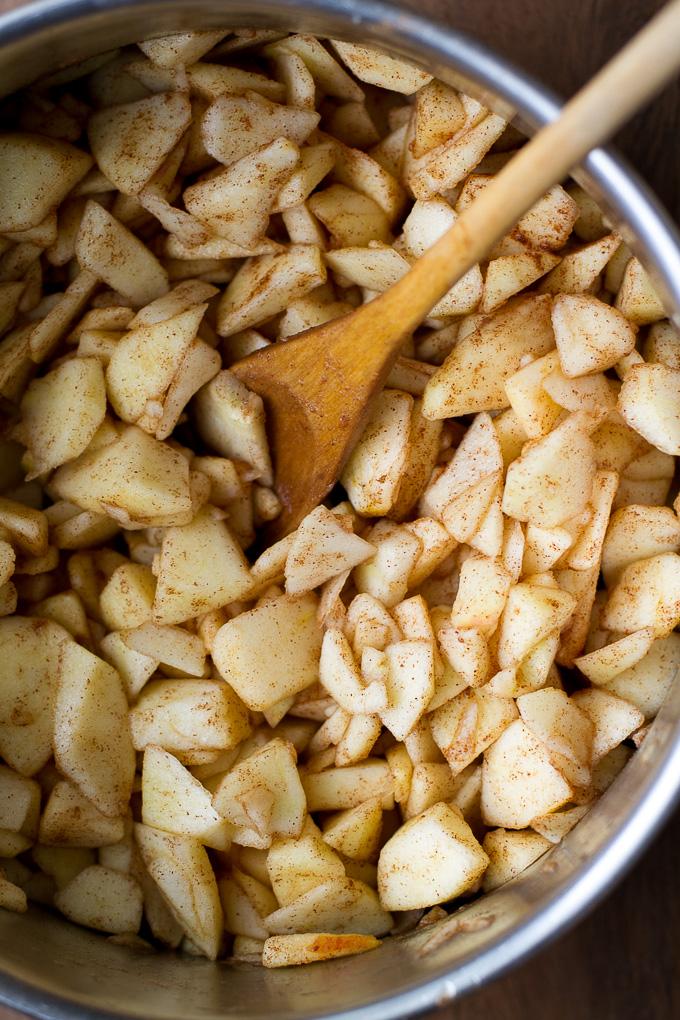 And that's about as hard as it gets!
From here on in, it's about 20 – 25 minutes of letting the applesauce simmer while breathing in the intoxicating aroma of cooked apples. Like, forget fancy expensive candles – just toss a pot of apples on the stove and your house will smell amazing.
And as an added bonus, you'll also have a batch of pretty freaking amazing homemade applesauce that tastes SO GOOD, you'll never be able to go back to the store-bought stuff again.
Oh! And you can totally customize the texture depending on what you enjoy best. I like mine chunkier so I leave it as is, but you can also use a potato masher to make it slightly smoother while still maintaining some texture, OR you can use a blender or immersion blender to make the applesauce completely smooth… which is perfect for using in recipes.
Happy eating!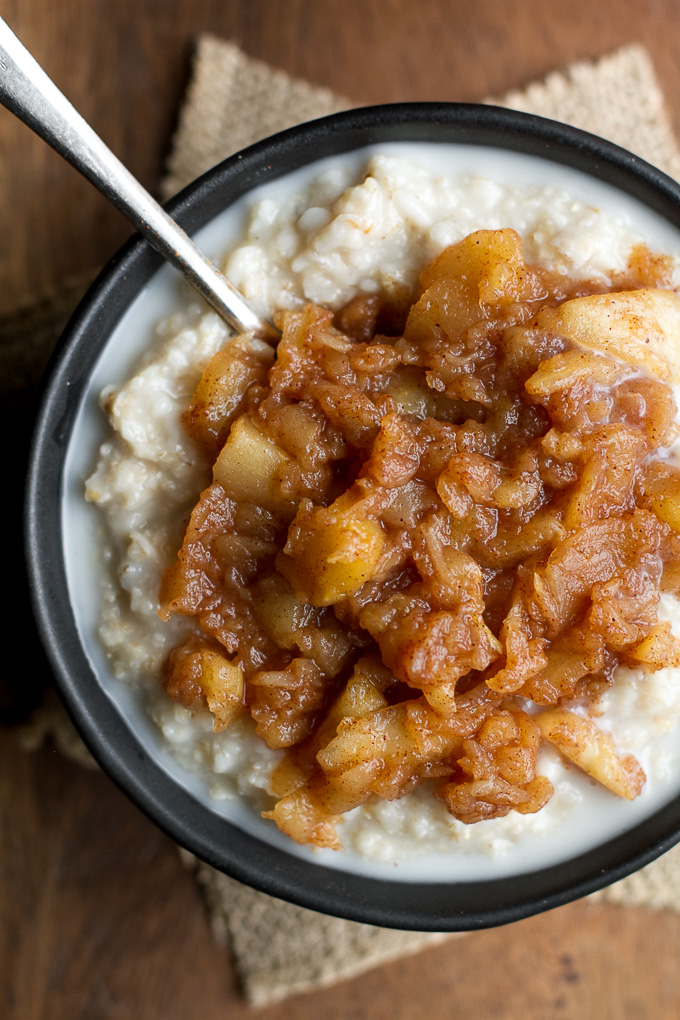 I'd love to know if you make this recipe! Leave a comment and rating down below to let me know what you think, and subscribe to our mailing list to receive new recipes in your inbox!
Print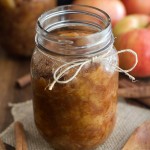 Easy Homemade Applesauce
---
Author:

Total Time:

35 mins

Yield:

4 cups

, about

8

servings

1

x
6

apples, peeled, cored, and chopped*

1 cup

(

240

ml) water

2 tsp

lemon juice

1 tsp

ground cinnamon, to taste
---
Instructions
Combine all the ingredients in a large saucepan set over medium heat.
Bring the apples to a boil, then reduce the heat to medium-low and allow the apples to continue simmering for about 20 minutes, stirring occasionally.
Remove the saucepan from the heat. Depending on what kind of texture you like, either enjoy the applesauce as is, use a potato masher to break the apples up a bit, or use a blender or immersion blender to make the applesauce completely smooth.
Store it in a sealed container in the fridge for up to a week.
Prep Time:

15 mins

Cook Time:

20 mins
Keywords: apple, applesauce, cinnamon, DIY, easy, Fall, healthy, homemade, stovetop

Looking for more easy apple recipes? Try one of these!
One Bowl Greek Yogurt Apple Oat Bread
Caramel Apple Protein Smoothie
Caramel Apple Overnight Oatmeal Smoothie
Apple Oat Greek Yogurt Muffins
Flourless Apple Cinnamon Muffins