Made with no flour, butter, or oil, these gluten-free Double Chocolate Greek Yogurt Muffins are a great way to satisfy a chocolate craving! They're super soft, easy to whip up, and make for a healthy and delicious breakfast or snack!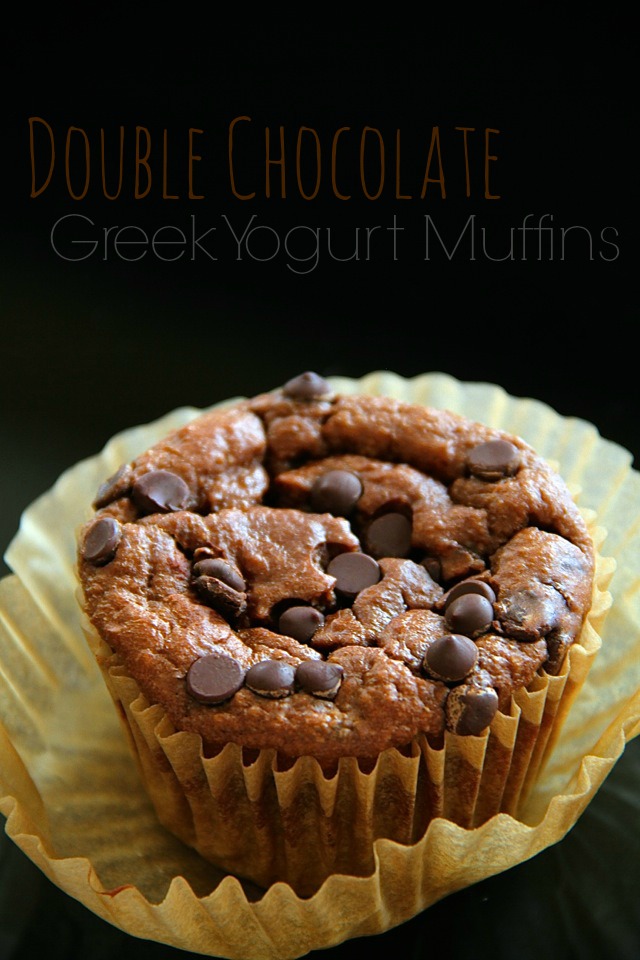 You guys seriously cracked me up yesterday with all your reactions to the snow we got up here a few days ago (love you). I kept wanting to reply with something like "it's really not that bad," but I'm pretty sure I wouldn't have convinced anyone that snow in May could possibly be a good thing… even though it's mostly gone at this point.
But it really wasn't that bad! Maybe not the kind of weather that I'd personally choose for spring if I had a say in the matter, but it was just one of those things where it's like, you can't change it, so why make it worse with a bad attitude… ya know? Besides, it gave me an excuse to spend more time in the kitchen, which is never a bad thing — because when life hands you lemons snow in May, make lemonade Double Chocolate Greek Yogurt Muffins…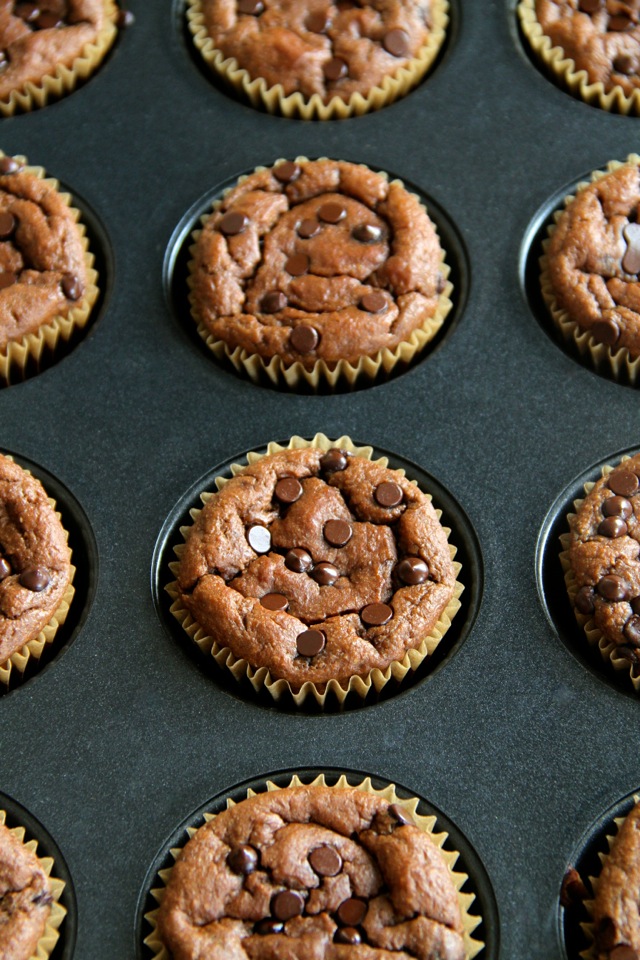 But we'll get to those in a second because I wanted to spend a little more time talking about attitude.
I'm pretty sure that I've become annoyingly optimistic over the past couple of years. That's not to say that I never have my bad days or bad moods, but for the most part, I'm almost always chipper… and I'm not entirely sure how the shift happened considering I spent a good chunk of my life battling depression, anxiety, low self-esteem, and a pretty serious eating disorder.
To be perfectly honest, though, I'm pretty sure it was the eating disorder that really did it… which is why I always say that if I could go back and change things, I wouldn't. That's not to say that I enjoyed it while I was going through it (that would be crazy), or that I would recommend it as a path of enlightenment for others (also crazy), but I'm a much happier, healthier, and more confident person coming out of it than I was going into it, which is why I'm a firm believer in the idea that a lot of good can come out of a bad situation — even if we can't see it at the time — and that it's possible to change a bad reality with a good attitude. Or a chocolate muffin.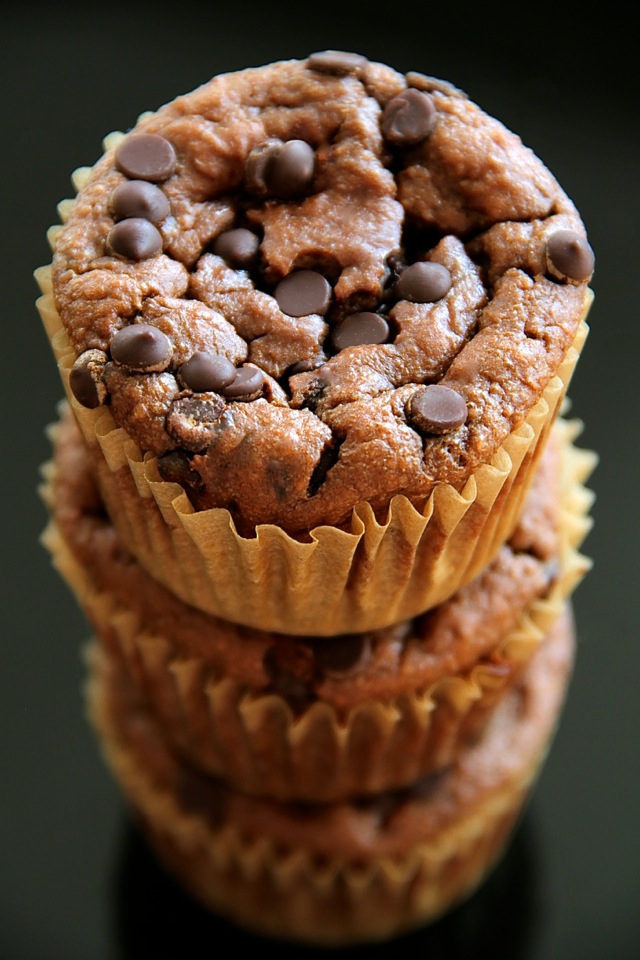 Sorry, I had to throw that last part in there because this was getting WAY too heavy for a recipe post, for which I apologize. But it's something that I've been thinking about a lot lately, and I just needed to get it off my chest.
The only problem is that now I'm trying to figure out how to make a smooth transition into talking about double chocolate Greek yogurt muffins, and it's just not happening. So… muffins!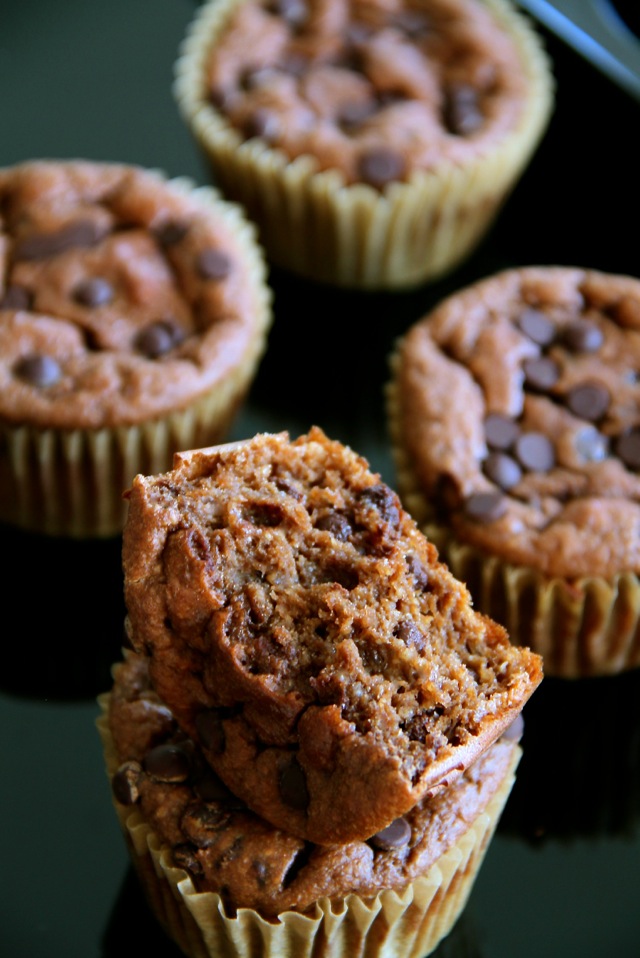 These muffins are based off my much-loved banana oat Greek yogurt muffins, and just like those, this batch is made without any flour, butter, or oil. Instead, there's oats and bananas to give them shape, and yogurt and bananas to keep them moist. Yes, you can still pick up on a slight banana-y taste, but since when is chocolate and bananas a bad combination? Since never, that's when.
So whip these up if you're looking for a healthier way to satisfy a chocolate craving. Or if you want chocolate for breakfast. Or if you're just a fan of soft and pillowy double chocolate muffins in general. Or if it snows in May.
Happy eating!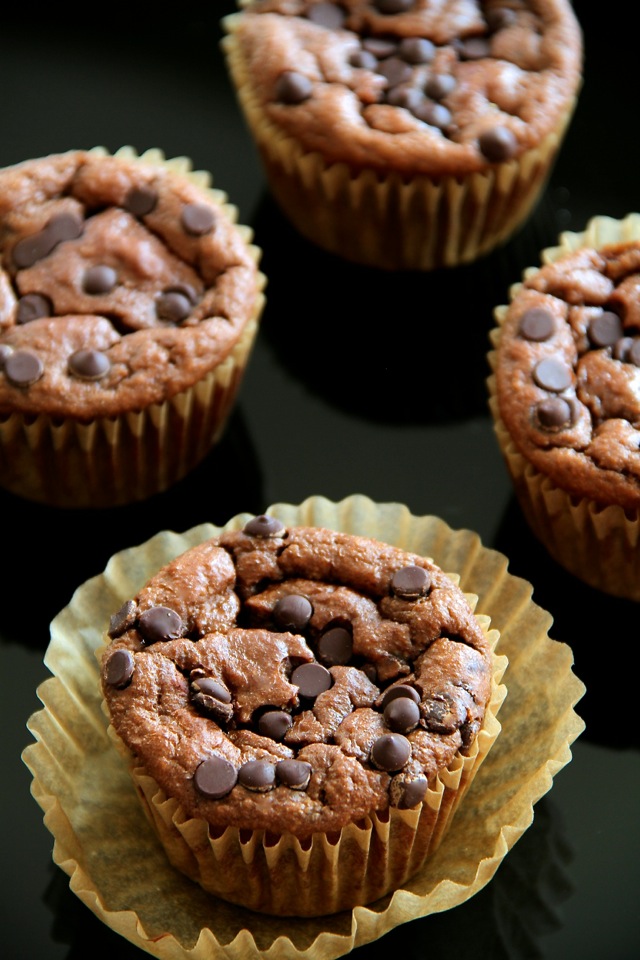 I'd love to know if you make this recipe! Leave a comment and rating down below to let me know what you think, and subscribe to our mailing list to receive new recipes in your inbox!
Print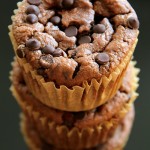 Double Chocolate Greek Yogurt Muffins
---
Author:

Total Time:

20 mins

Yield:

12

muffins

1

x
1 cup

(

225 g

) plain or vanilla Greek yogurt

2

medium-size ripe bananas (

200 g

or

1 cup

mashed)

2

large eggs

1 1/2 cups

(

120 g

) rolled oats*

1/4 cup

(

20 g

) unsweetened cocoa powder

1/4 cup

(

50 g

) brown sugar

1 1/2 tsp

baking powder

1/2 tsp

baking soda

1/2 cup

(

85 g

) mini chocolate chips
---
Instructions
Preheat oven to 400F (205C) and prepare a muffin pan by spraying cavities with cooking spray or lining them with paper liners**. Set aside.
Add all ingredients except for chocolate chips to a blender or food processor and process on high until oats are broken down and batter is smooth and creamy.*** Stir in chocolate chips by hand.
Pour batter into prepared muffin pan, filling each cavity until it is about ¾ full. Optional: sprinkle a few chocolate chips over the top of each muffin.
Bake for 15-20 minutes, until the tops of your muffins are set and a toothpick inserted into the middle comes out clean. Allow muffins to cool in pan for ~10 minutes before removing. Store in an air-tight container for up to a week.
Notes
* Make sure to use certified gluten-free oats if you need these to be gluten-free. ** If using paper liners, you'll want to spray them with cooking spray as well, since the lack of oil in these muffins could make them stick to the liners after baking. *** If you don't have a high-speed blender, you might want to start by grinding the oats into a flour before tossing in all the other ingredients.
Prep Time:

5 mins

Cook Time:

15 mins
Keywords: breakfast, chocolate Greek yogurt muffins, chocolate muffins, chocolate oat muffins, gluten-free chocolate muffins, Greek yogurt muffins, healthy, recipe, snack

Looking for more healthy muffin recipes? Try one of these!
Banana Oat Greek Yogurt Muffins
Flourless Double Chocolate Chip Muffins
Flourless Banana Bread Muffins
Chocolate Chip Oatmeal Cookie Muffins
Blueberry Oat Greek Yogurt Muffins