Perfectly sweet with DOUBLE the blueberry flavour, these blueberry muffin bars pack the fluffier texture of a muffin into a DELICIOUS gluten-free and vegan bar that makes a great breakfast or snack.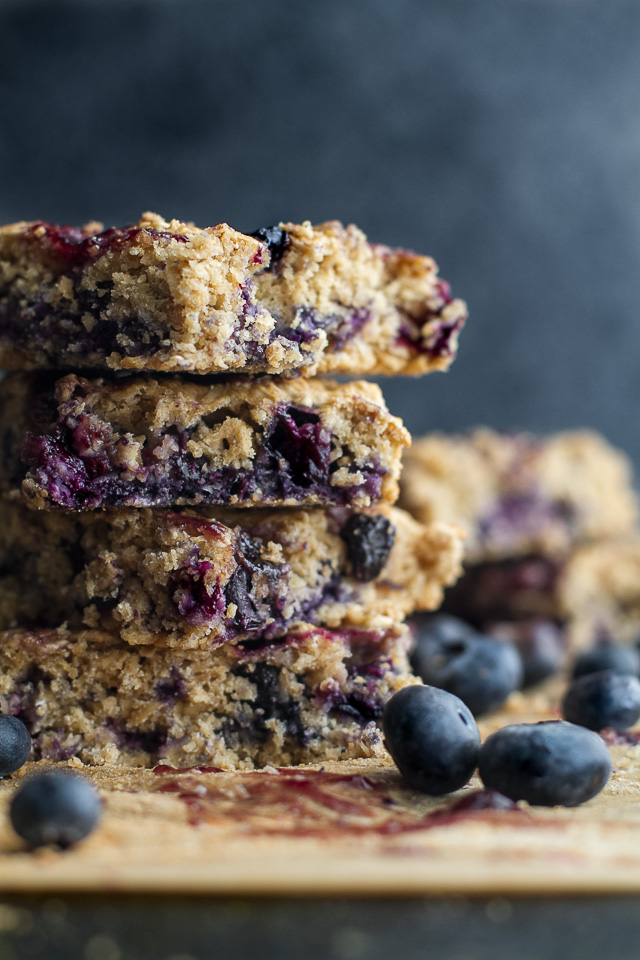 Holy.SNAP. Okay. Before I tell you how ridiculously obsessed I am with these blueberry muffin bars, we need to talk about blueberry jam. I promise it's not as boring/strange as it sounds.
So I always thought blueberry jam was pretty high up there as far as popular jam flavours go, but my 10pm trip to the grocery store on Thursday night taught me otherwise.
And, yes… I was shopping for food when I probably should have been sleeping, but the sun doesn't set until after 10pm, and these longer [almost] summer days have me feeling pretty energetic until at least midnight… What better way to use all that extra consciousness than to knock some shopping off the ol' to-do list?!
No, seriously… that's, like, my favourite time to go grocery shopping. I'm not a fan of traffic and crowds (is anyone?!), so I try to run my errands during off-peak hours to avoid spending an hour+ doing something that should only take 20 minutes. This is why I don't think I'd last long in a really big city, and why I'm in complete awe of people who can maintain their sanity while dealing with daily commutes that are 2+ hours long.
But I digress… back to the blueberry jam!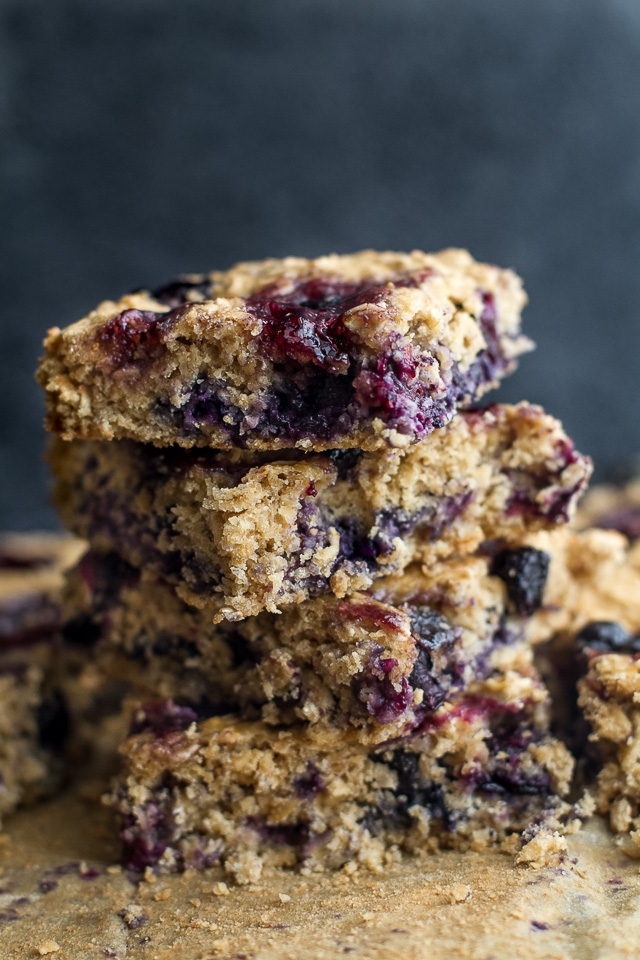 So the [first] store I visited didn't have any. I know.
I mean, they did, but there were only a few jars in a wall FULL of strawberry, raspberry, blackberry, field berry, apricot and grape, and each one was loaded with added sugars and preservatives… which, if I'm going to eat, I'd rather have in jelly bean form, thank you very much.
So that was confusing. I mean, you're looking at a girl who puts blueberry jam above all other jams, so learning that it's actually one of the least popular flavours made me realize that people have no taste was a bit of a shocker.
Thankfully, no one was around to hear my angry mutterings (another reason why I shop at off-times), and I had just recently gotten some new music that was perfect for evening cruises, so I didn't mind making the trek to another store… and then taking the scenic route home so that I could play my song a few more times.
I'll share that obsession with you guys tomorrow, though, because today is all about these double blueberry muffin bars…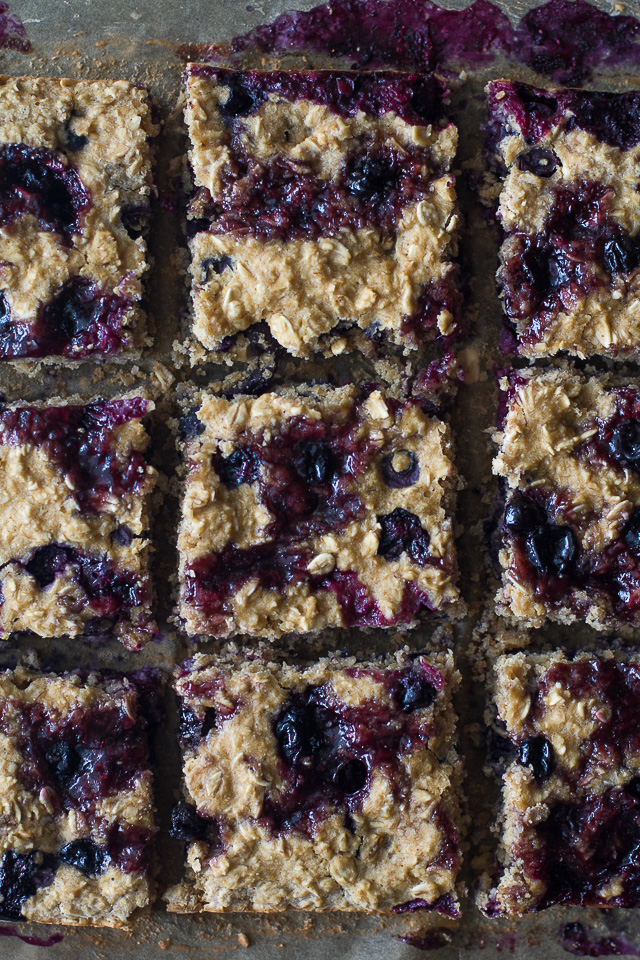 What's this double blueberry business? Well, it means that these tasty bars have a double shot of blueberry goodness.
First, we've got fresh blueberries mixed right into the batter. You could use frozen berries as well, but you might want to toss them in a tablespoon of flour and very gently fold them into the batter to prevent your bars from turning blue. Unless you like blue bars – in which case, mix those frozen berries as crazily as you like!
Second, we've got a few spoonfuls of blueberry jam dolloped on top. Not only does this add a little bit of extra sweetness (use jam sweetened with fruit juice to avoid added refined sugars), but it intensifies the blueberry flavour even more and creates a bar that's pretty darn irresistible…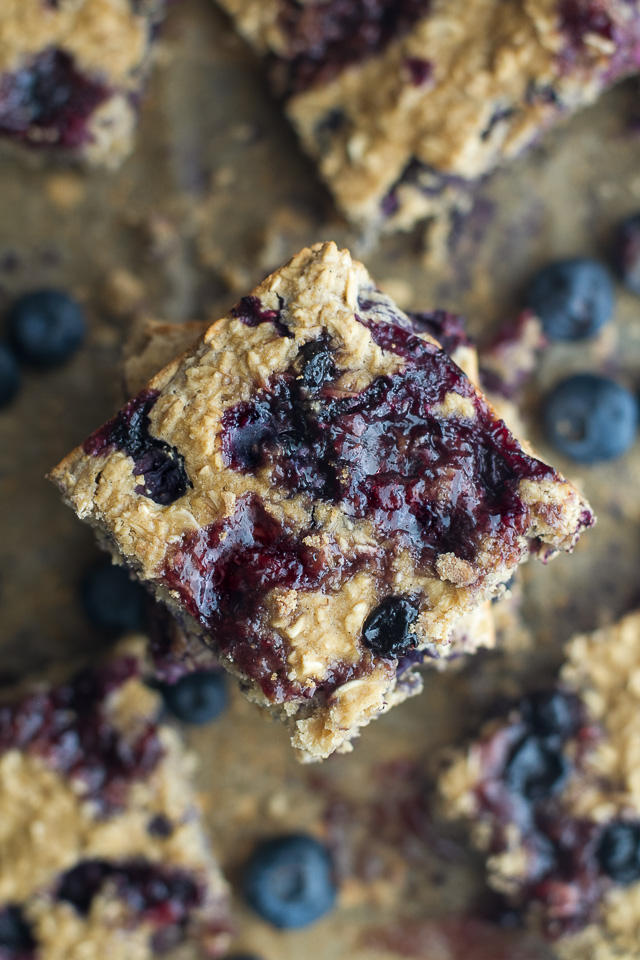 Texture-wise, these blueberry muffin bars are basically muffins in bar form. They're light and fluffy with a tender crumb, but still have a touch of that wonderful granola bar-esque chewiness thanks to the rolled oats and oat bran.
They also happen to be vegan, oil-free, AND easily made gluten-free if you need them to be – all you have to do is use a gluten-free flour and you're good to go! Oh, and you get to mix everything in one bowl so clean up is super quick and easy.
Happy eating!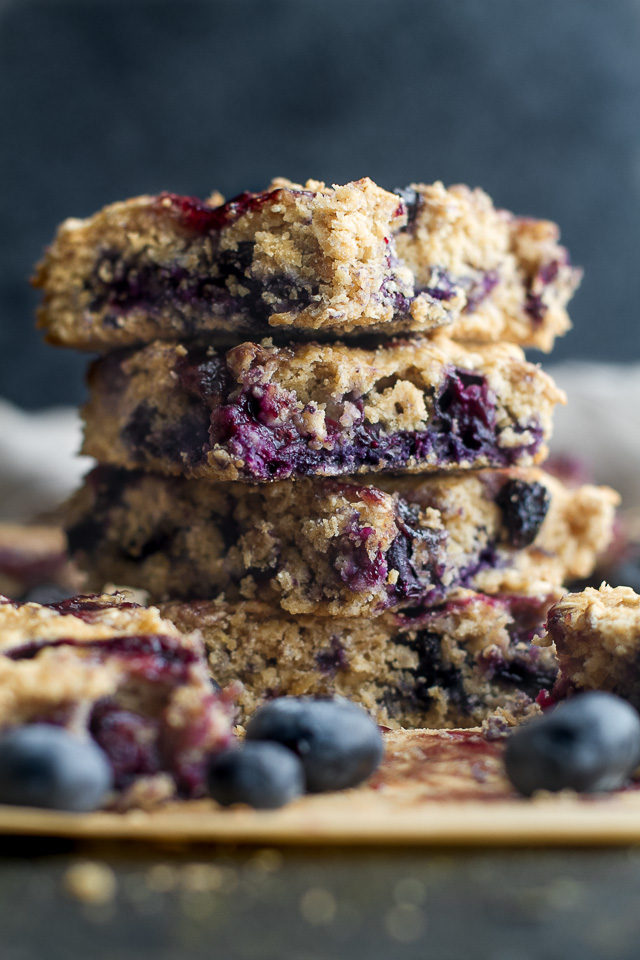 I'd love to know if you make this recipe! Leave a comment and rating down below to let me know what you think, and subscribe to our mailing list to receive new recipes in your inbox!
Print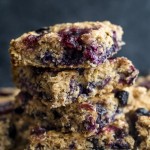 Double Blueberry Muffin Bars
---
Author:

Total Time:

30 mins

Yield:

9

–

12

bars

1

x
1 cup

(

80 g

) old fashioned rolled oats

1/2 cup

(

56 g

) oat bran

1/2 cup

(

60 g

) flour of choice*

1 tsp

baking powder

1/4 tsp

salt

1/2 cup

(

120

ml) unsweetened almond milk

1/4 cup

(

60

ml) maple syrup**

2 Tbsp

(

25 g

) coconut palm sugar***

2 tsp

vanilla extract

1 cup

(

140 g

) blueberries, fresh or frozen****

3 Tbsp

(

45

ml) blueberry jam
---
Instructions
Preheat your oven to 375°F (190°C) and prepare an 8×8 (20x20cm) baking dish by lining it with a sheet of aluminum foil or parchment paper, leaving a few inches of overhang on the sides to allow for easy removal. Lightly spray with cooking spray and set aside.
In a large mixing bowl, combine the oats, oat bran, flour, baking powder, and salt. Add the almond milk, maple syrup, coconut sugar, and vanilla, mixing until well combined. Gently fold in the blueberries.
Transfer the batter to your prepared baking pan, using a spatula to ensure that it is evenly distributed. Drop the jam in small dollops across the entire surface, and use a toothpick to swirl them around a little.
Bake the bars for 20 minutes until the top has set and a toothpick inserted into the centre comes out clean. Remove them from the oven and allow them to cool in the pan for about 20 minutes before removing and cutting into bars.
Notes
* You can really use any flour you want here, depending on your dietary needs. I've made these with all-purpose, GF all-purpose, and almond flours, and each one was delicious. The only thing I would advise against is coconut flour. ** You can also use agave nectar, or honey if you don't need these to be vegan. *** You can also use brown sugar. **** If using frozen berries, toss them in 1 tbsp (7 g) of flour before gently folding them into the batter to prevent them from bleeding.
Prep Time:

10 mins

Cook Time:

20 mins
Keywords: blueberry, blueberry oat bars, breakfast, breakfast bars, easy, gluten-free, healthy, oat bars, quick, recipe, snack, vegan

Looking for more healthy blueberry recipes? Try one of these!
Blueberry Banana Greek Yogurt Pancakes
Blueberry Muffin Breakfast Bake
Blueberry Oat Greek Yogurt Muffins
Blueberry Almond Oat Bars
Blueberry Avocado Smoothie