This naturally sweetened, dairy-free peppermint mocha coffee creamer is a healthy alternative to store-bought creamers. It's vegan, gluten-free, paleo-friendly, refined sugar-free, and super easy to make. A delicious way to spruce up your morning coffee without the artificial flavours and preservatives!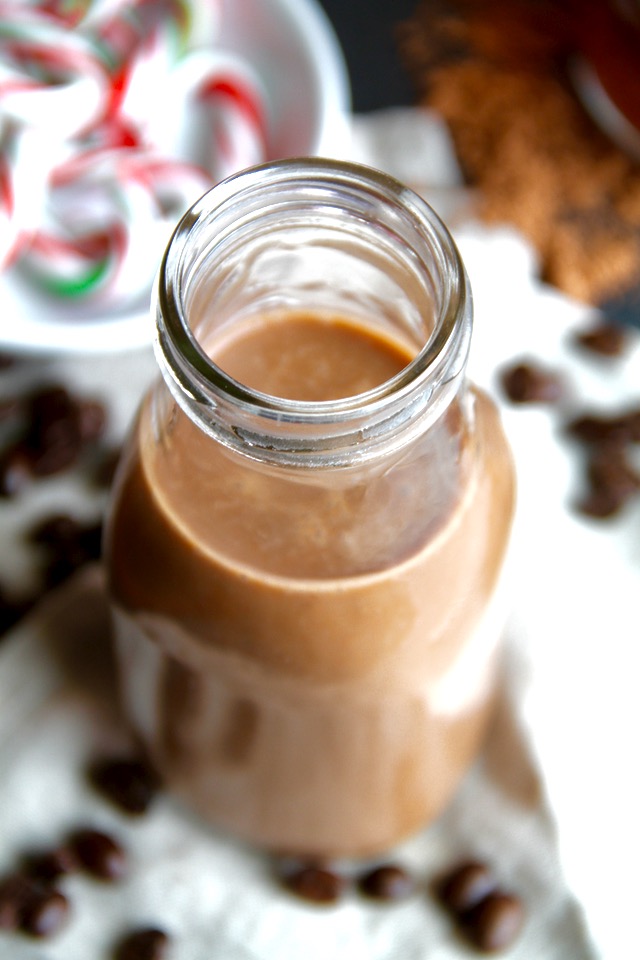 You know you have a slight problem on your hands when you're standing over your kitchen counter holding a bottle of coffee creamer and fighting hard to resist the temptation to drink the entire thing down. Sans coffee.
But that's exactly the kind of situation I found myself in the other night, and the only thing that stopped me was the fact that I still had to photograph the recipe for you guys. So thank you. Love you. Owe you.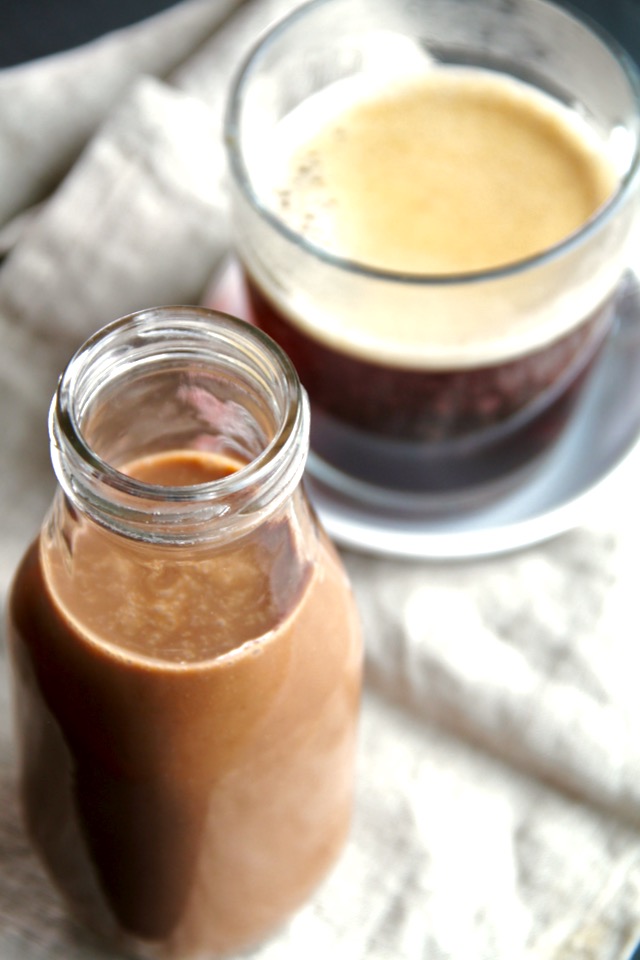 I mean, it wouldn't have been that horrible if I downed the entire thing, considering it was homemade and packed with healthy ingredients [like dates, coconut/almond milk, peppermint, and cocoa powder], but it was around 8pm and I'm pretty sure it would have left me pretty darn wired. Sans coffee or not.
Besides, I used up my last can of coconut milk, and I wasn't about to go running out to the store to buy more. Turns out the joke was on me, because while I saved myself the late night run for coconut milk, I ended up having to make an two early morning runs for mini candy canes — just because I thought they'd make a cute little addition to the pictures…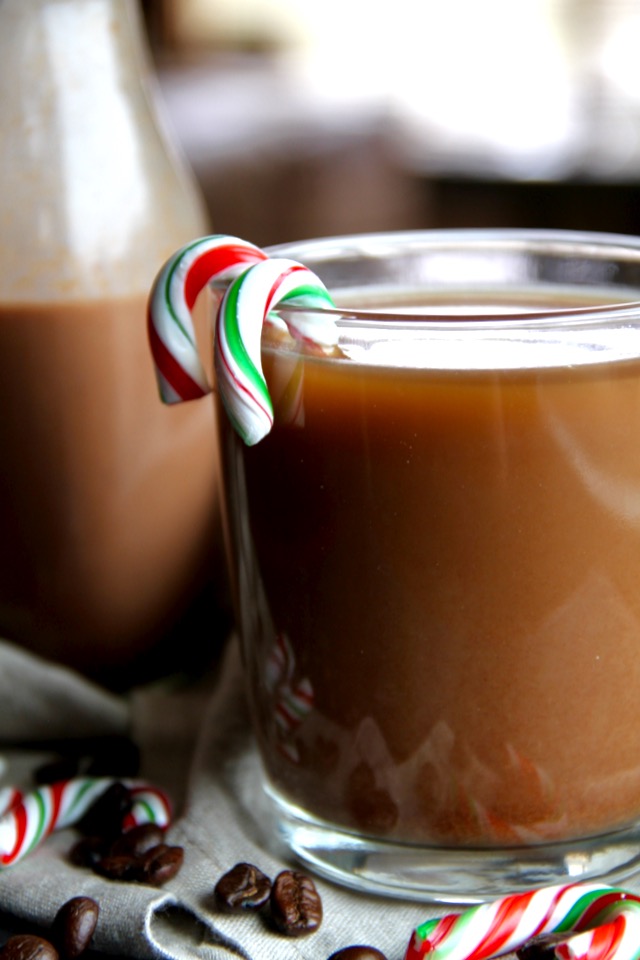 … which you have to admit, they do.
The whole thing did teach me a very important lesson, though –> hold on to those sad-looking mini candy canes that you randomly pick up during the holiday season, because you never know when you might need them.
Truth be told, I'm not overly crazy about peppermint… probably because it reminds me of toothpaste, which I don't make a habit of eating. Pair that peppermint with chocolate, though, and I will gladly jump through hoops for you. As long as they're not on fire.
But enough idle banter — let's get to the good stuff! With "the good stuff," in this case, being dairy free peppermint mocha coffee creamer.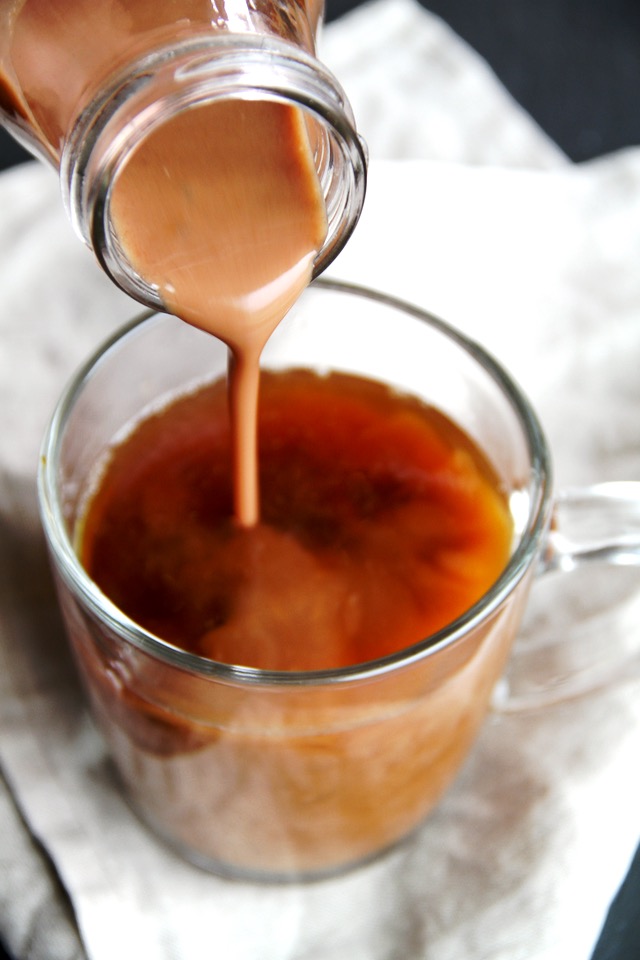 While I'll always and forever like black coffee best, black coffee with a splash of homemade creamer is pretty freaking epic as well… especially when said creamer is made from a base of dates and coconut milk. I don't know what it is, but there's something about that combination that just amplifies the effects of my morning coffee x10. Maybe it's the caffeine + natural sugar + MCTs. Or maybe it's all a placebo stemming from my excitement. Either way, it's delicious.
And healthy! Have you ever taken a look at the ingredients list of store-bought creamers? Hydrogenated oils, artificial flavours, colours, preservatives. Basically a whole lot of stuff you don't want to be putting in your body, especially when it's so easy to whip up your own using just a handful of healthy ingredients! And when those healthy ingredients include peppermint and cocoa? Day equals made.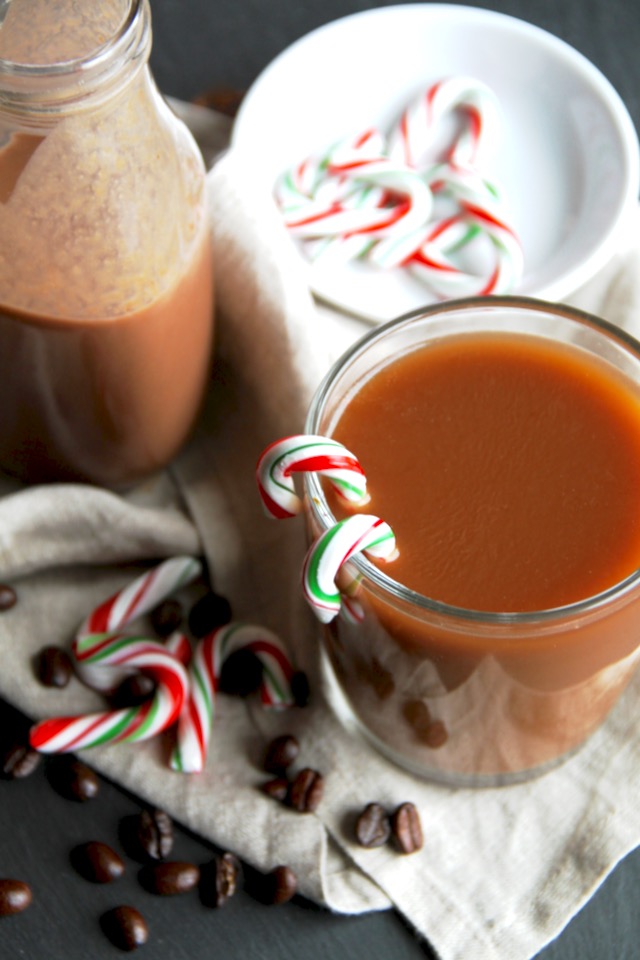 I'd love to know if you make this recipe! Leave a comment and rating down below to let me know what you think, and subscribe to our mailing list to receive new recipes in your inbox!
Print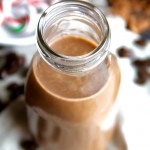 Dairy Free Peppermint Mocha Coffee Creamer
---
Author:

Total Time:

5 mins

Yield:

2 cups

1

x
1/2 cup

of dates, pitted (~

100g

or 6 large dates)

1/2 cup

hot water

1/2 cup

light canned coconut milk*

1/2 cup

unsweetened vanilla almond milk*

1/4 tsp

. peppermint extract**

1 1/2 Tbsp

. unsweetened cocoa powder
---
Instructions
Add dates and hot water to a high-speed blender or food processor. If your dates are a little dry, allow them to soak for 10 – 15 minutes so that they'll be easier to blend. Otherwise, process until dates have broken down and turned into a smooth paste, scraping down the sides of your blender as necessary.
Add the remaining ingredients, and continue processing until everything is fully combined and mixture becomes smooth. Adjust peppermint and cocoa to taste.
Transfer creamer to an airtight container. You can run it through a fine mesh strainer to ensure no bigger pieces of dates remain, but it shouldn't be necessary with a high-speed blender or food processor. Store in fridge for up to a week. Creamer will thicken as it sits.
Notes
* You can play around with the milk quantities depending on how creamy you want your creamer. Use all coconut milk to make it extremely creamy, or all almond milk to make it lighter. If going with the latter, add 1/4 tsp. of xanthan gum to help thicken it up. ** You can add up to 1/2 tsp. of mint extract, depending on how much you want the mint flavour to shine through. Just be careful you don't add too much, or you'll end up with a creamer that tastes like toothpaste or mouthwash. Start with 1/4 tsp. and adjust from there.
Keywords: coffee, coffee creamer, dairy-free, gluten-free, healthy, homemade coffee creamer, peppermint mocha, recipe, vegan

Looking for a healthy dairy-free snack to enjoy with your coffee? Try one of these!
Strawberry Banana Oat Bars
Chocolate Chip Banana Bread Oatmeal Cookies
Banana Bread Mug Cake
Blueberry Almond Oat Bars
Grain Free Vegan Chocolate Chip Cookies