No dairy? No problem! This cookies & cream milkshake has a cashewmilk froze dessert base that's so ridiculously creamy that you'd never guess it was dairy-free and vegan. The perfect summer treat, with a little boost of nutrition and a chocolate option too!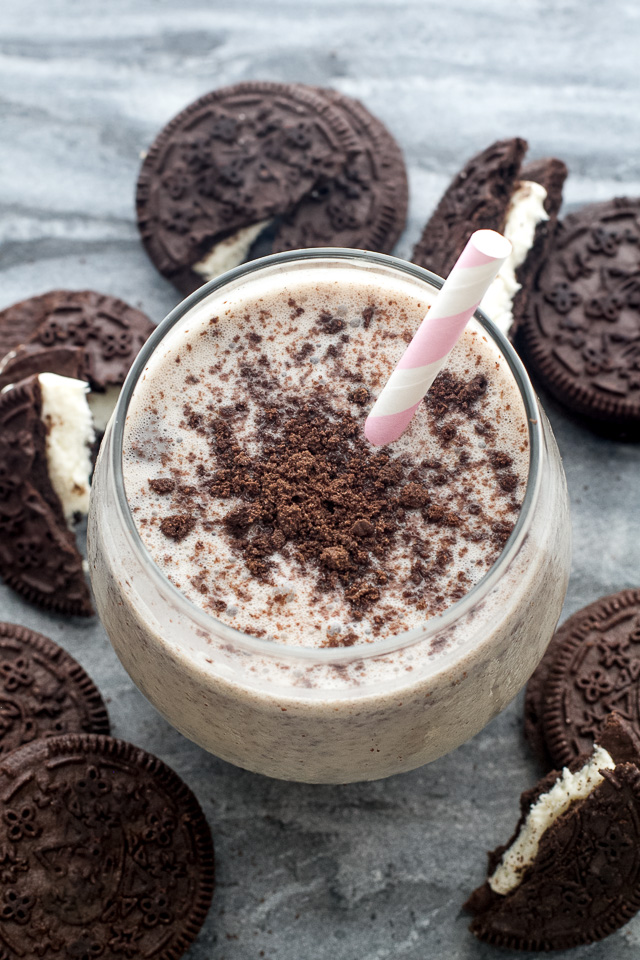 Is a milkshake still a milkshake if it doesn't technically contain any milk? 🤔
Google tells me that dairy-free milkshakes are indeed a thing, so despite not giving me a straight up yes/no answer, I'm going to use my amazing powers of deduction to say that, yes, a milk-less milkshake is still a milkshake.
And it's flippin' delicious…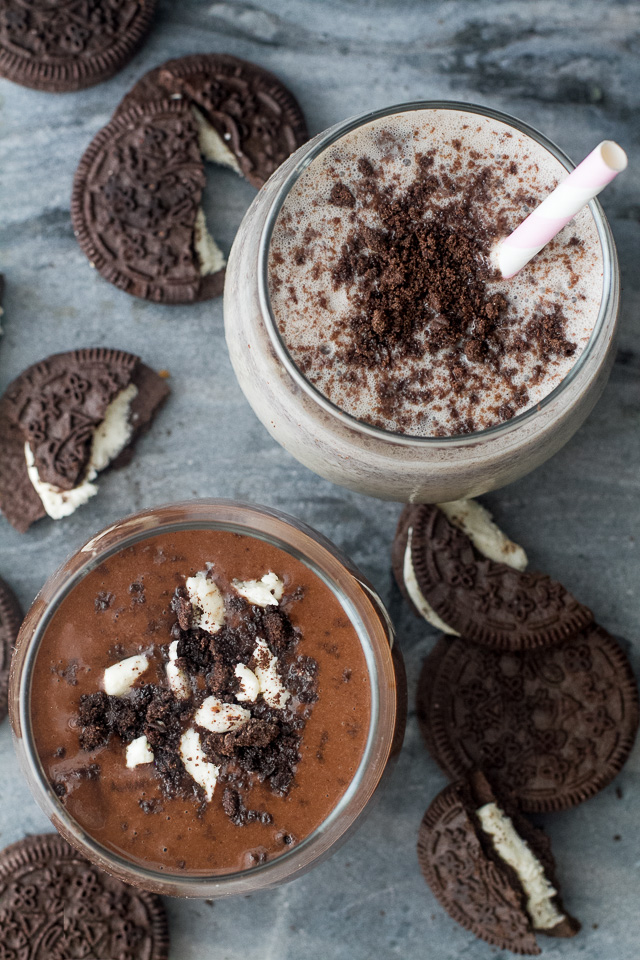 Say hello to the first official milkshake (read: not smoothie) posted here on Spoons courtesy of the fab people over at So Delicious!!
Oh man. This takes me back, but I still remember having to Google the difference between a milkshake and a smoothie before posting my first one waaaaaaay forever ago because I wasn't entirely sure what to call it. It was thick like a milkshake (you guys know how I like 'em), but it wasn't made with ice cream or syrup… which is apparently what a milkshake needs.
I ended up going with "smoothie," but to this day I'm not 100% sure what I'm supposed to call my smoothies that have a base of oats… That's a question for another day, though, because today's dairy-free cookies & cream milkshake is unarguably 100% milkshake thanks to a deliciously creamy cashewmilk frozen dessert base…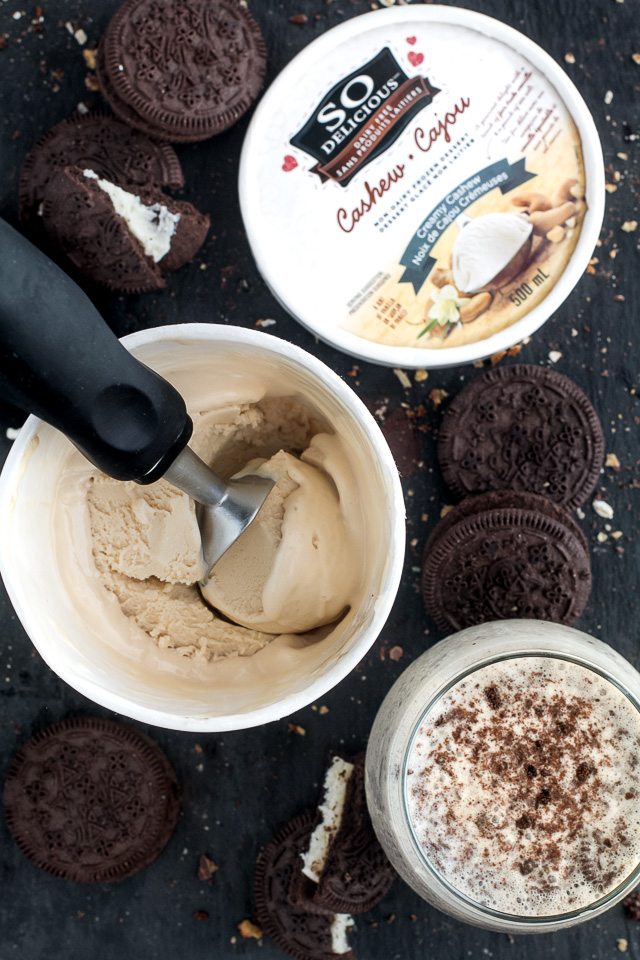 I'm swooning. Are you swooning?
And moreover, are you ready to run out and pick up a pint (or two) of your own and be amazed at how rich and creamy a dairy-free frozen dessert can be? Because in addition to the taste and texture being on point, I love that all the flavours are non-GMO, vegan, soy free, gluten free, AND made without any artificial colors, flavors, or sweeteners. Uhm… heck yes?!?
I really, really recommend the Salted Caramel Cluster if you just want to enjoy it on its own, and the Creamy Cashew or Very Vanilla if you want to make this smoothie milkshake… which you should most definitely treat yourself to this summer. It's got cookies, and "cream," and even an option to go the double chocolate route if ya like…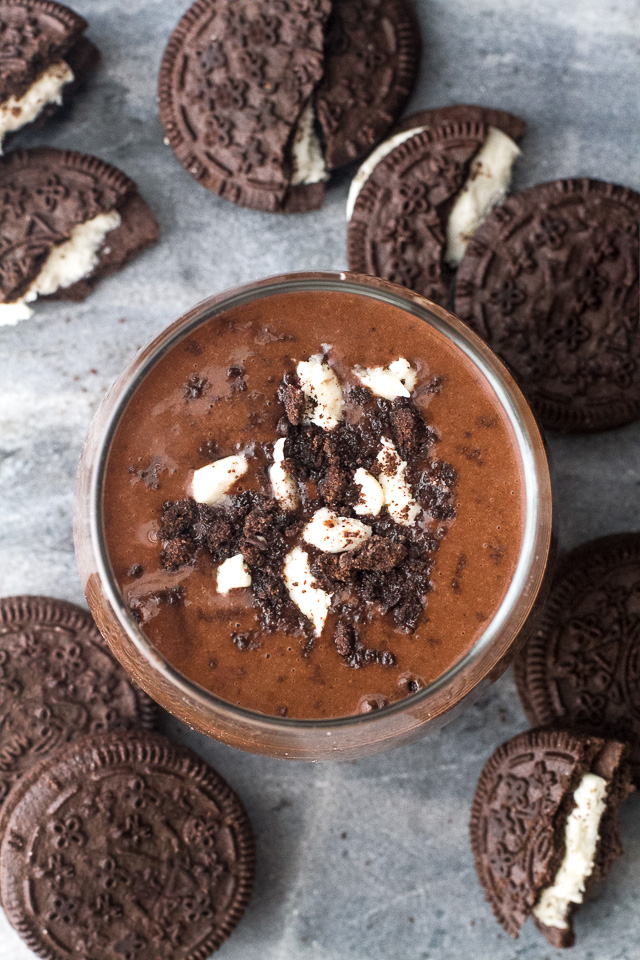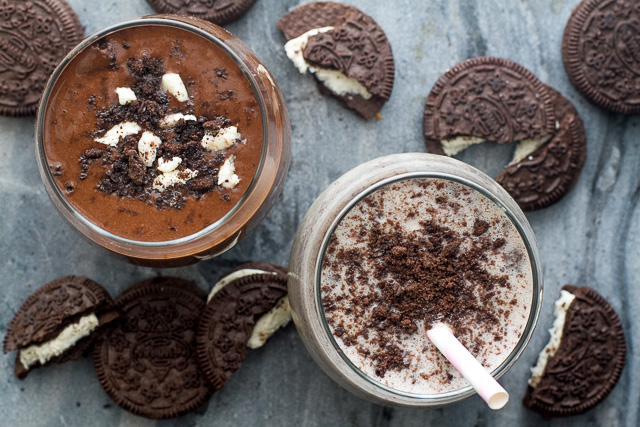 … but (and I can't believe I'm saying this), I think I prefer the non-chocolate version.
I know. I'm normally all about that chocolate life and I wanted to include the option just in case you reeeeeeally needed to satisfy a cocoa craving, but I feel like the original version lets the cookies shine through a little better… which is pretty darn delicious, if you ask me.
For the "cookie" part of the equation, I just used the wafers from some GF cream filled chocolate cookies… which I was surprised to learn don't actually contain much sugar. It's all in the cream filling, which you could probably include in your milkshake too, but I feel like the cashewmilk frozen dessert more than covers the "cream" part.
I also included half a scoop of plant-based protein powder juuuuuust to sneak a little extra nutrition in there… which I know might sound a little strange at first glance, BUT! I made this for myself after a couple of really hard trail rides, and it felt like a pretty perfect way to top off the ol' tank. That and I've found that protein powder always helps "fluff" up smoothies and shakes and give them the nicest texture.
Either way! It's sweet, it's creamy, and it's absolutely perfect for summer. Enjoy!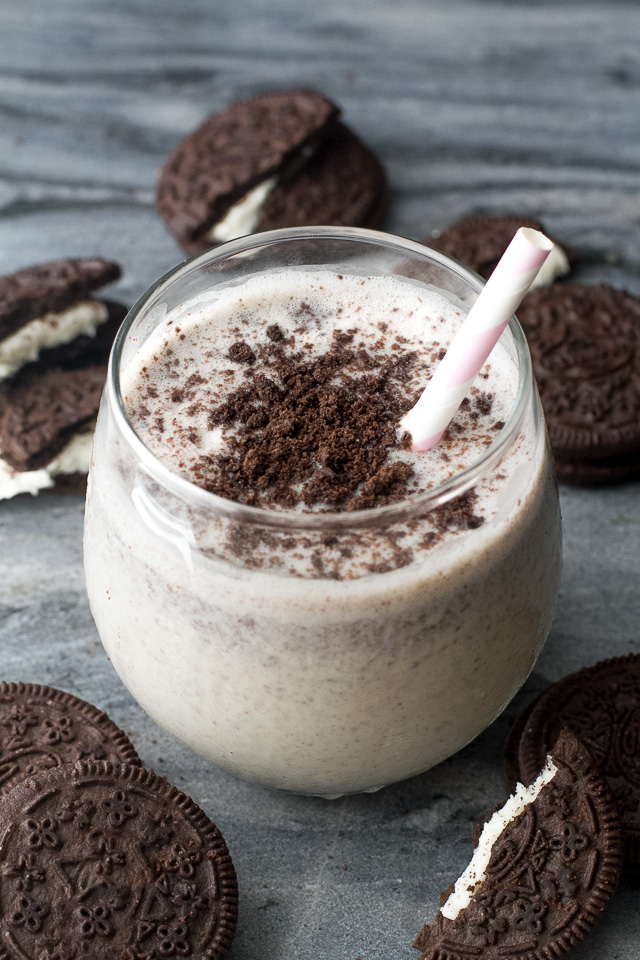 I'd love to know if you make this recipe! Leave a comment and rating down below to let me know what you think, and subscribe to our mailing list to receive new recipes in your inbox!
Print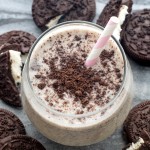 Dairy-Free Cookies & Cream Milkshake
---
Author:

Total Time:

5 mins

Yield:

1

milkshake

1

x
1/2 cup

(

125

ml) SoDelicious Creamy Cashewmilk Frozen Dessert

1/2

scoop (~15 g) vanilla plant-based protein powder

1/4 cup

(

60

ml) unsweetened non-dairy milk of choice

1/2 cup

(~

60g

) ice
(optional) 2 Tbsp (10 g) unsweetened cocoa powder*

2

cream filled chocolate cookies, cream removed**
---
Instructions
Add the frozen dessert, protein powder, non-dairy milk, and ice to the bowl of a blender and process until the shake becomes smooth and creamy. Transfer it to a glass and set aside.
Remove the filling from the 2 cookies and place the wafers into a ziplock bag. Use a rolling pin or something flat and heavy to crush the cookies into crumbs before emptying the bag into the glass, leaving a little bit to sprinkle on the top
Gently stir the cookie crumbs into the shake, sprinkle with the remain crumbs, and enjoy immediately.
Notes
* The cocoa is for the chocolate version of the shake. Just leave it out if you want a more traditional cookies & cream flavour. * You only need the cookie wafer part for this milkshake, so scrape out the filling of 2 cookies until you're left with 4 wafers. And if you need this to be gluten-free, be sure to use gluten-free cookies.
Keywords: cashewmilk, cookies & cream milkshake, dairy-free, gluten-free, milkshake, protein, So Delicious


This is a sponsored conversation written by me on behalf of So Delicious, but all the opinions and text are my own. Lots of love for showing some love to the brands that help support Spoons!