These quick and easy sugar cookies are spiked with an extra dose of cinnamon sugar and rolled up to make cinnamon roll sugar cookies! Crispy on the outside and softer towards the middle, they may look fancy and complicated but they're super simple to make!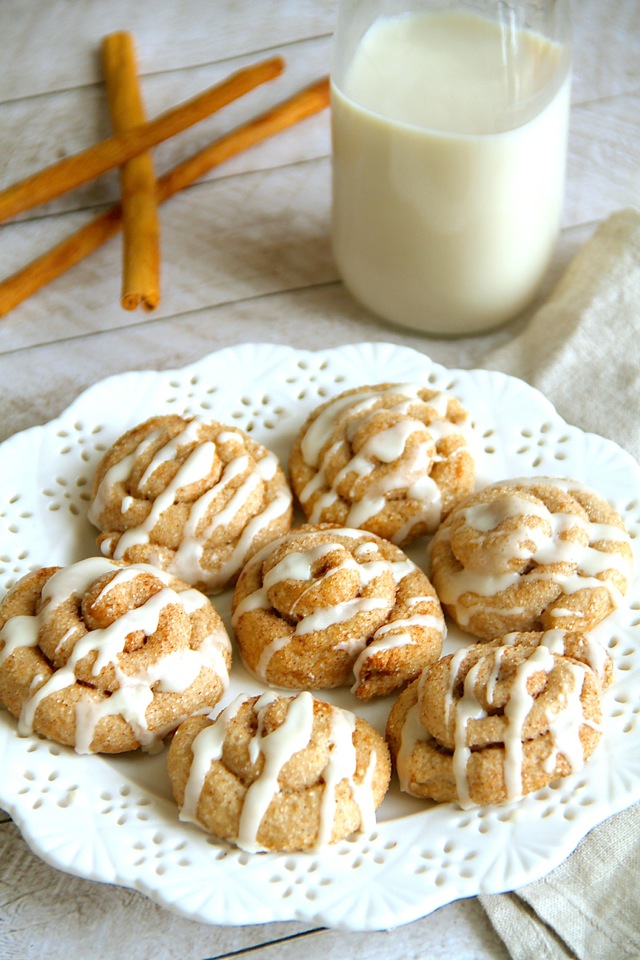 A recipe on a Monday? Whaaaaaat?
I know it's been a while since I opened up the week with a recipe post, but I'm going to try switching up my posting schedule a little so that I can start doing What I Ate Wednesdays more often since you guys really seem to like those. And by "switching up my posting schedule" I really just mean swapping Mondays and Wednesdays… so Mondays and Fridays will be for recipes, Wednesdays will be for WIAW or other random posts, Thursdays will be for Thinking Out Loud, and Sundays will be for Link Love.
Sound good? Good. Now let's talk about the really good stuff…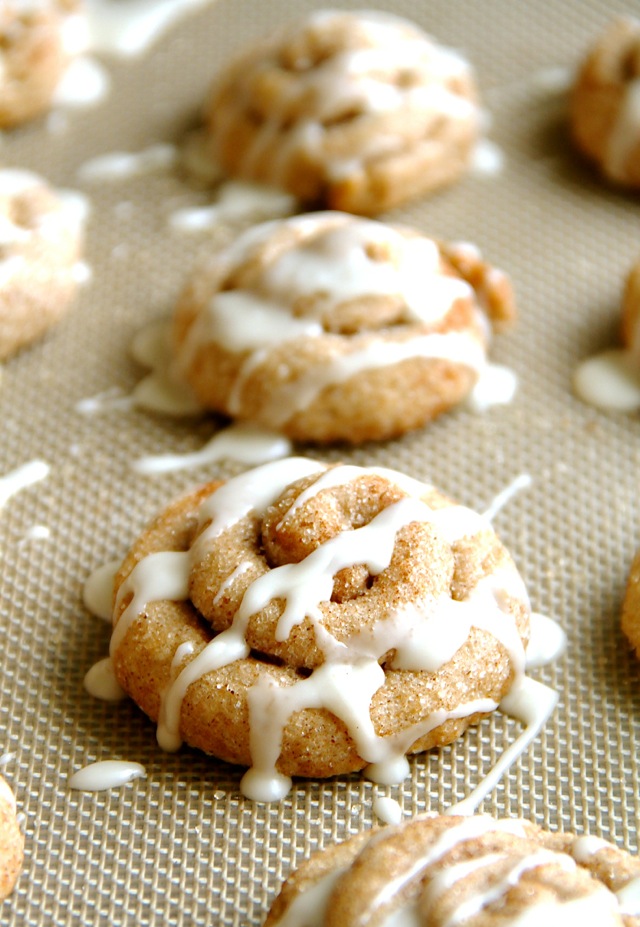 Cinnamon roll sugar cookies. Oh.my.GAWL.
I probably should have posted these before Easter, but I was planning on surprising my mom with a batch for her birthday (with cake, don't worry), and I couldn't exactly plaster them all over Spoons before then since she's kind of my #1 reader (hi, Mom!).
But you don't need a holiday or special occasion to whip up a batch of these cookies — you just need about 30 minutes and a craving for something sweet and cinnamony…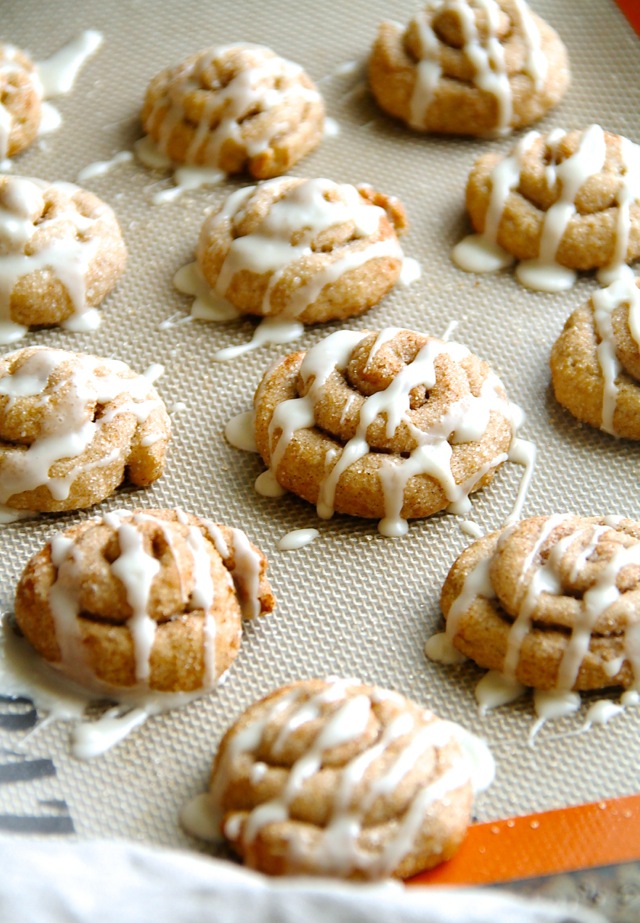 I know these might look like they take a tonne of time and effort to make, but that couldn't be further from the truth.
I mean, you know me… right? As much as I love to bake, I prefer it when the whole process is quick and easy. And as much as I love cinnamon rolls, I'm not the biggest fan of making them — especially since working with yeast kind of intimidates me. That and all the kneading, mixing, waiting, rolling… no. Just no. Maybe one day I'll feel up for tackling that world, but for now I'll stick with store-bought cinnamon rolls and homemade cinnamon roll cookies…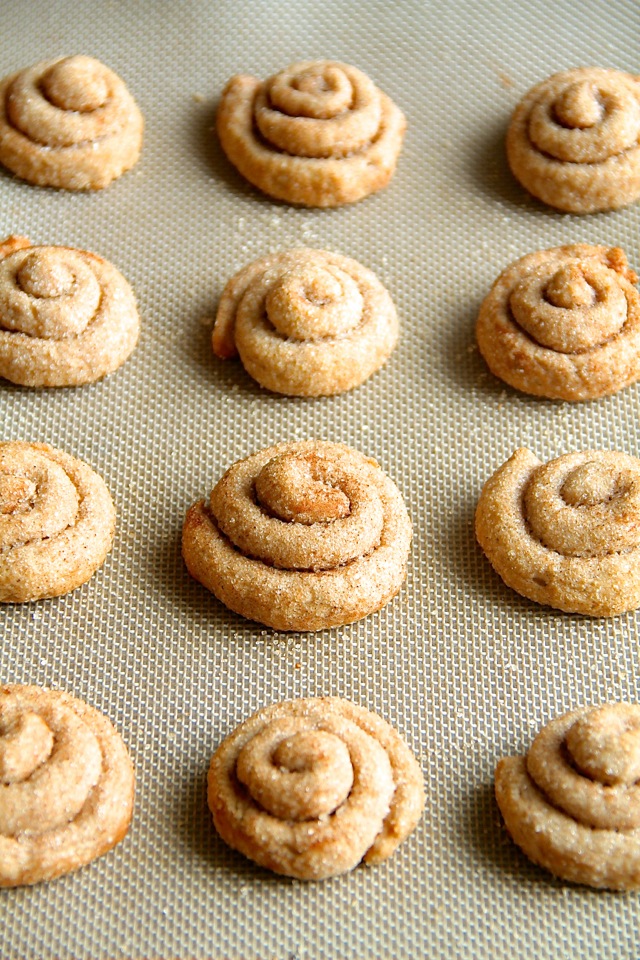 These cookies don't require any mixers, any fancy ingredients, or any special treatment. The dough is really easy to work with, so you'll get perfectly shaped cookies on your first try. Promise. My first batch came out looking perfect, and I didn't really know what I was doing… all I knew was that I wanted cinnamon roll sugar cookies that didn't require any yeast, chilling, flattening, and/or rolling. I mean, I do include a suggestion to chill the dough, but that's mostly to make it basically foolproof. I made one batch without chilling the dough first and had no problems working with it. It's that simple.
And while these cookies may not be the same as biting into a fresh cinnamon roll, they're just as good in a different kind of way.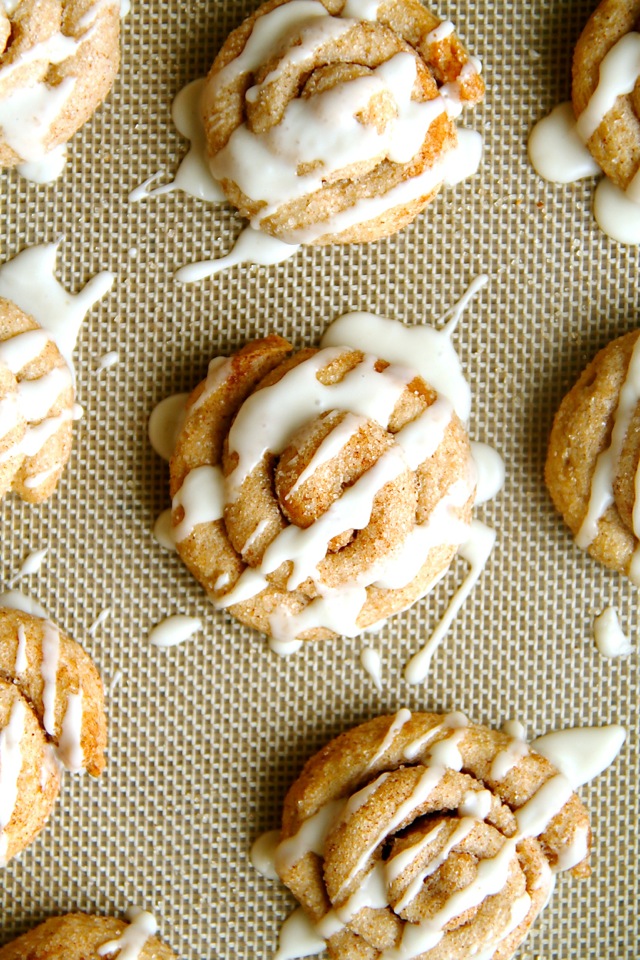 They're denser and chewier, being slightly firmer on the outside and softer towards the centre. The flavour is that of a classic sugar cookie, made better with an extra dose of cinnamon sugar. And the best part is that they look all fancy and complicated, so you can impress people with your #madskillz while secretly marvelling at how easy it was to make them.
And now that I've rambled on for way too long, I'll end it here by saying that my family loved them and I hope you will too!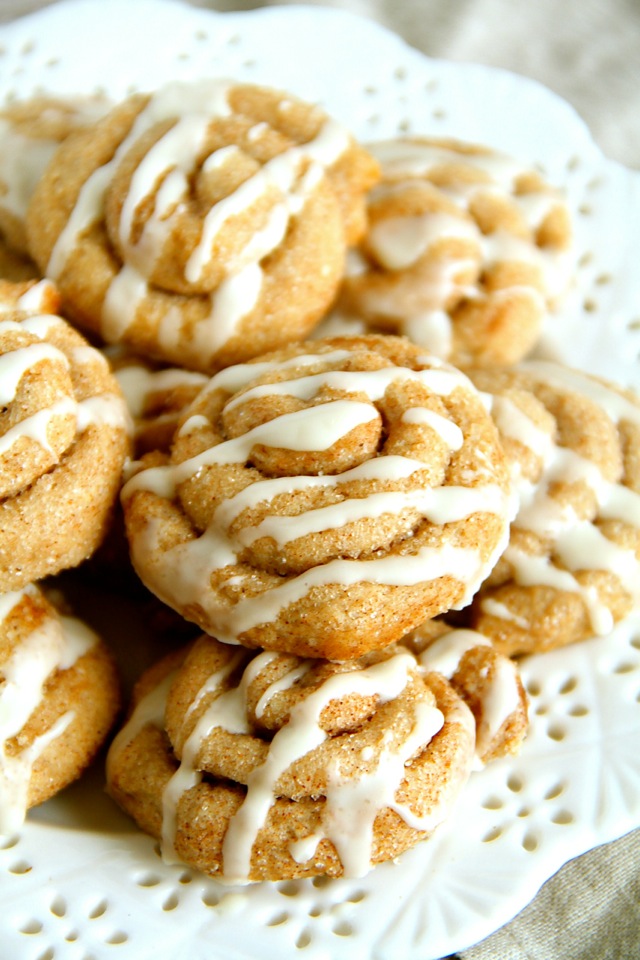 I'd love to know if you make this recipe! Leave a comment and rating down below to let me know what you think, and subscribe to our mailing list to receive new recipes in your inbox!
Print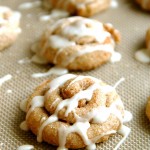 Cinnamon Roll Sugar Cookies
---
Author:

Total Time:

30 mins

Yield:

12

cookies

1

x
For the cookies:
1 cup

all-purpose flour

1/2 tsp

. baking powder

1 tsp

. ground cinnamon

1

egg, room temperature

1/4 cup

cane sugar

2 Tbsp

. coconut oil, melted

1 tsp

. vanilla extract
For the coating:
1/4 cup

cane sugar

1 tsp

. cinnamon
For the glaze:
1/2 cup

powdered sugar

1 Tbsp

. vanilla almond milk
---
Instructions
In a large mixing bowl, combine flour, baking powder, and cinnamon. Set aside.
In a medium-sized mixing bowl, whisk together egg, sugar, coconut oil, and vanilla extract, mixing until fully combined. Add wet ingredients to dry ingredients, mixing well until a soft dough is formed. Place bowl in fridge and chill for 20-30 minutes.*
Preheat oven to 350ºF and line a large baking sheet with parchment paper or a non-stick baking mat. Set aside. Line your working surface with a medium-sized sheet of parchment paper and combine the cinnamon and sugar in a shallow bowl.
Scoop out spoonfuls of dough (about 1 Tbsp.) and roll them on the parchment paper until they're roughly the size of a pencil – about 1/4 inch in diameter and 6 inches long. Transfer the dough to the bowl with the cinnamon sugar, and roll until fully coated before rolling up into a spiral shape, slightly pinching the end. Place on baking sheet and repeat until all the dough has been used up.
Bake 10 minutes, until edges begin to turn golden brown and cookies have firmed up. Allow to cool on baking sheet before drizzling with glaze.
For the glaze: combine powdered sugar and almond milk in a small bowl. If the glaze is too thick, add a splash of milk. If the glaze is too thin, add more sugar. When you reach your desired consistency, use a spoon to drizzle glaze over the cookies and allow to set before serving.
Notes
* Refrigeration isn't -absolutely- necessary, and you could probably get by without it if you're short on time. It just makes the cookies slightly easier to shape.
Prep Time:

20 mins

Cook Time:

10 mins
Keywords: cinnamon roll cookies, cinnamon roll sugar cookies, cinnamon sugar, cookies, recipe, sugar cookies

Looking for more delicious cookie recipes? Try one of these!
Chocolate Chip Cheesecake Cookies
Almond Joy Oatmeal Cookies
Double Chocolate Chip Oatmeal Cookies
Flourless Double Chocolate Oatmeal Cookies
Flourless Gingerbread Cookies