These chunky monkey stuffed sweet potatoes are loaded with gooey caramelized bananas and melted dark chocolate before being topped with a creamy banana nut sauce. They're a delicious gluten-free and vegan treat that tastes decadent while still being healthy!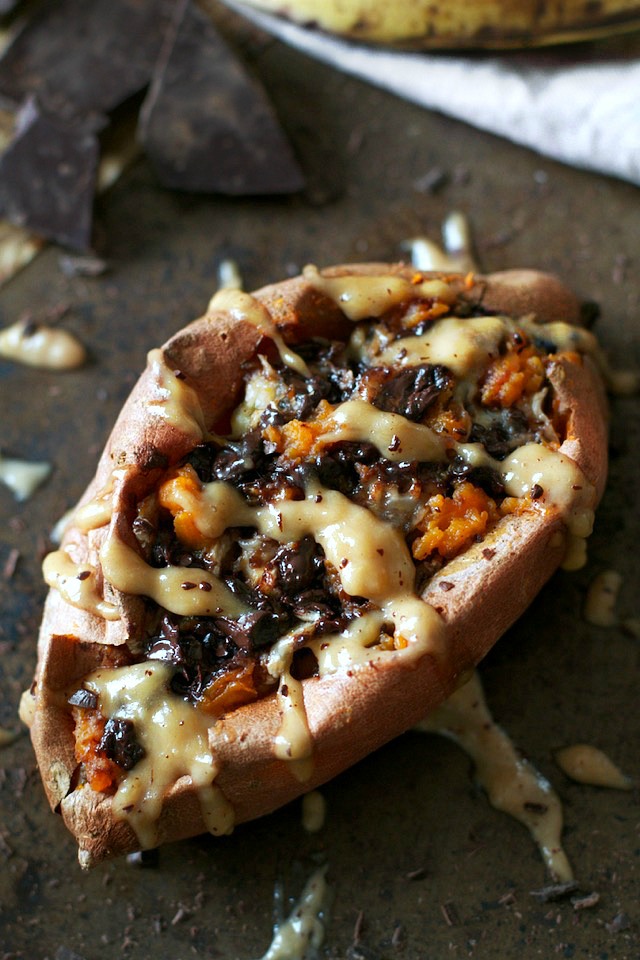 It's the first week of March and I'm posting a stuffed sweet potato recipe. But here's my line of thinking…
March has Easter. Easter has the Easter Bunny. The Easter Bunny likes carrots. Carrots are orange. I already did carrots. But sweet potatoes are orange too. Therefore, sweet potatoes belong in March.
Yeah? You totally see where I'm coming from, right?
If not, then how about this one –> I'm posting stuffed sweet potatoes in March because I didn't want to wait another *counts on fingers* seven months until fall comes around again to share this amazingness with you…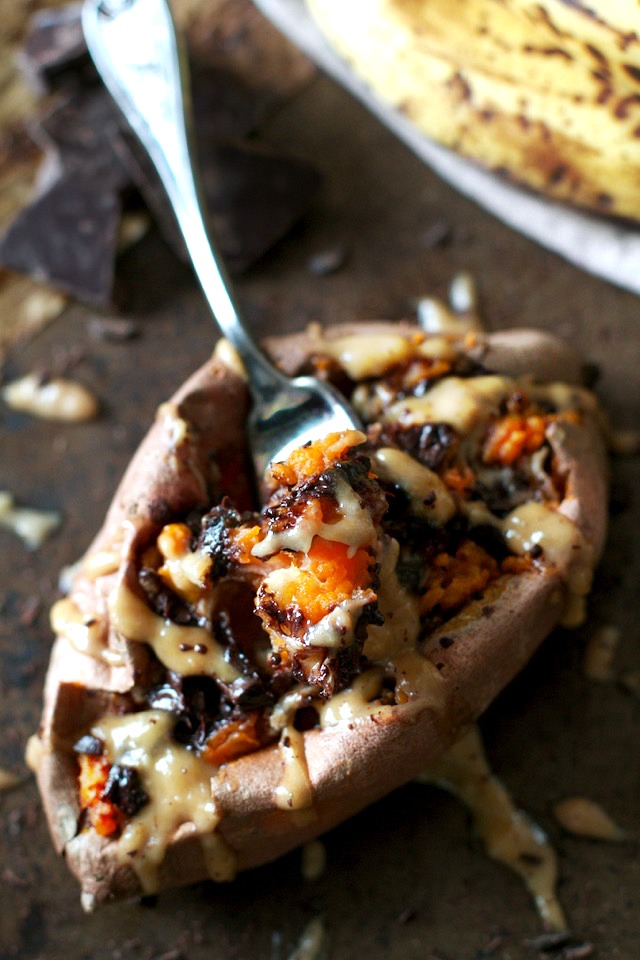 Chunky monkey stuffed sweet potatoes. Oh yes. I went there. And it blew.my.MIND.
So let's break things down nice and proper.
First, we've got our lovely baked sweet potatoes…
They're sweet, they're fluffy, and they're literally begging to be stuffed. Begging.
Now, I know most people tend to go the savoury route with their sweet potatoes and load up on things like beans, rice, and cheese, but you guys know me – you know I'm always looking for ways to sneak that sweetness in there.
Actually, the first sweet potato I ever had was sweet. It was topped with maple syrup, almond butter, and cinnamon, and I continued eating them like that for years before I learned that you can eat them in savoury dishes – I remember this because it was only something like 5 years ago that I had my first one. And while I do love them with veggies, beans, and salsa, I love them even more with chocolate, bananas, and nuts…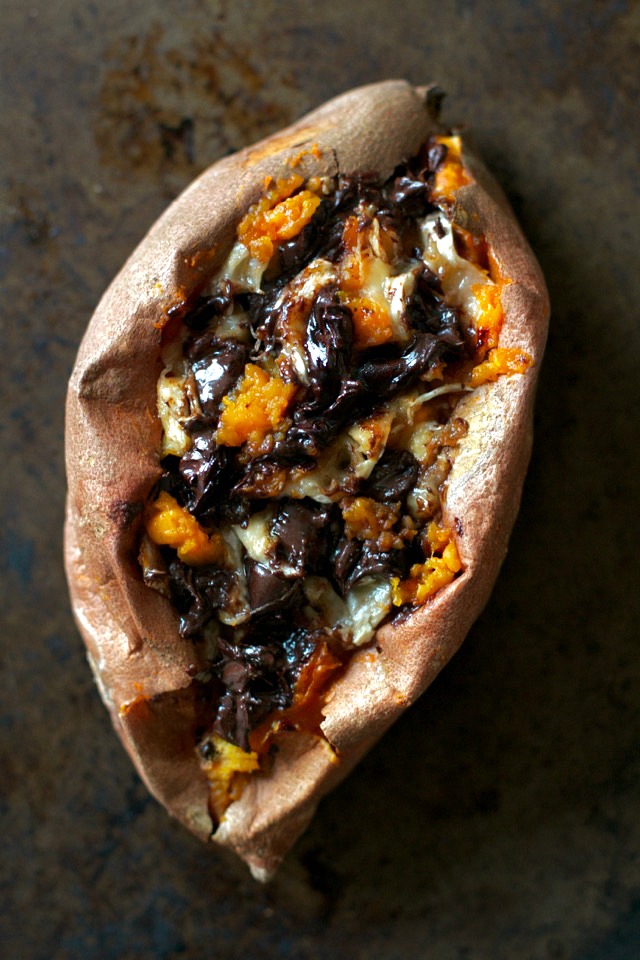 … which is why these chunky monkey stuffed sweet potatoes have been rocking my world lately.
Picture this… the light and fluffy flesh of a sweet potato paired with gooey caramelized banana and melted dark chocolate, then topped with a creamy banana nut sauce that's guaranteed to make you weak in the knees. It might not exactly be something you'd whip up for lunch or dinner (confession: I totally have), but as far decadent-but-still-healthy treats go? This one's a winner – a podium finisher, even.
It's naturally gluten-free, can easily be made vegan, and can even be nut-free if you replace the nut butter in the sauce with something like soy nut or sunflower. These guys are ridiculously easy to make for how fancy they taste, and while there is a bit of wait time involved, the actual hands-on and cleanup time is minimal.
Now this is the part where I ask you why you're still here reading this and not in your kitchen making these… hmmmmm?!?
Happy eating!
I'd love to know if you make this recipe! Leave a comment and rating down below to let me know what you think, and subscribe to our mailing list to receive new recipes in your inbox!
Print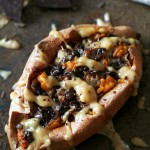 Chunky Monkey Stuffed Sweet Potatoes
---
Author:

Total Time:

1 hour

Yield:

2

servings

1

x
For the stuffed sweet potatoes:
2

medium sweet potato (~

150 g

each)

1

medium, ripe banana, thinly sliced (about

100 g

or

1/2 cup

of slices)

1 Tbsp

. (

15 g

) dark chocolate chips/chunks
For the banana nut sauce:**
1 Tbsp

(

16 g

) nut butter*

1/2

medium, ripe banana, mashed (

50 g

or

1/4 cup

mashed)
splash of almond milk
---
Instructions
Preheat your oven to 400F (205C). Wash and dry your sweet potatoes, and prick them all over with a fork before placing them onto a parchment-lined baking sheet and baking for 45 minutes, or until soft and tender. Remove the sweet potatoes from your oven and let them stand for about 10 minutes, or until they're cool enough to handle.*** Reduce oven temp. to 350F (175C).
Use a sharp knife to put a deep slice in each sweet potato, cutting lengthwise and making sure not to cut all the way through. You want to create a little "bowl," so leave enough of the bottom in tact so that it can support your fillings. Use a fork to "fluff up" the flesh.
Divide the banana slices between the two sweet potatoes, making sure the slices are sitting in there nice and snug, and sprinkle the chocolate chips on top. Place them on a baking sheet lined with parchment paper and bake for an additional 15-20 minutes, until the banana slices have caramelized and the chocolate chips are all melty.
Meanwhile, make the sauce by mashing the banana in a small bowl before adding a spoonful of nut butter. Mix until smooth, adding a splash of almond milk to reach your desired consistency.
When sweet potatoes are done, remove them from the oven and allow them to cool slightly before drizzling them with the banana nut sauce and any additional toppings of choice.
Notes
* I used a natural almond butter, but feel free to use whichever nut or seed butter is your favourite. ** If you prefer, you can skip the banana in the sauce and just use nut butter. ** You can also do this ahead of time and simply skip to step 2 when you're ready to enjoy your stuffed sweet potatoes. I like to bake up a big batch so that they're ready to go when I need them.
Prep Time:

45 mins

Cook Time:

15 mins
Keywords: banana, chocolate, chunky monkey, gluten-free, healthy, recipe, snack, stuffed sweet potatoes, sweet potatoes, vegan

Looking for more sweet potato recipes? Try one of these!
Loaded Sweet Potato Nachos
Flourless Sweet Potato Brownies
Baked Egg Stuffed Sweet Potatoes
Two Minute Sweet Potato Brownie
Sweet Potato Greek Yogurt Pancakes