You'll go bananas for these sweet and salty Chunky Monkey Cups! All you need are 5 simple ingredients to make this gluten-free and vegan dessert that combines an irresistible chocolate shell with a creamy banana nut filling.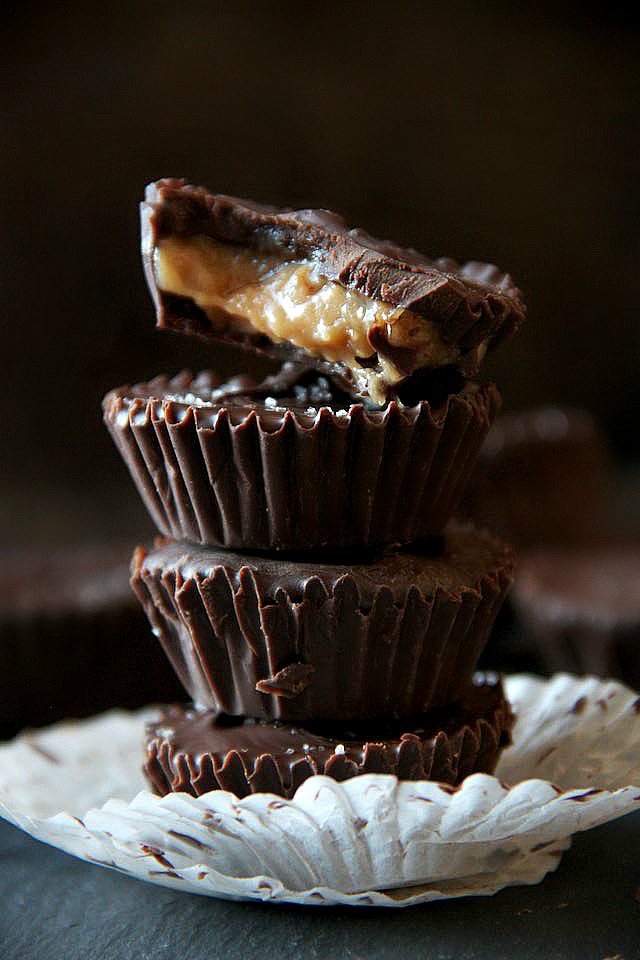 So apparently there's some big football game happening next weekend. The Super Bowl, or something? Is that right? ?
Maybe it's the Canadian blood in me, but I'll just come out and admit that I'm not the biggest fan of football. And when I say "not the biggest fan," what I really mean is that: I've never watched more than seven minutes of a single game, I have no idea what the rules are, and up until about five minutes ago (thank you Google), I didn't even know who was playing this year (the Carolina Panthers and the Denver Broncos, for those not in the know).
BUT! I hear it's a pretty big deal for a whole lot of people; and I hear there are things called "Super Bowl parties" being thrown, which my brain translates to one very simple thing — food.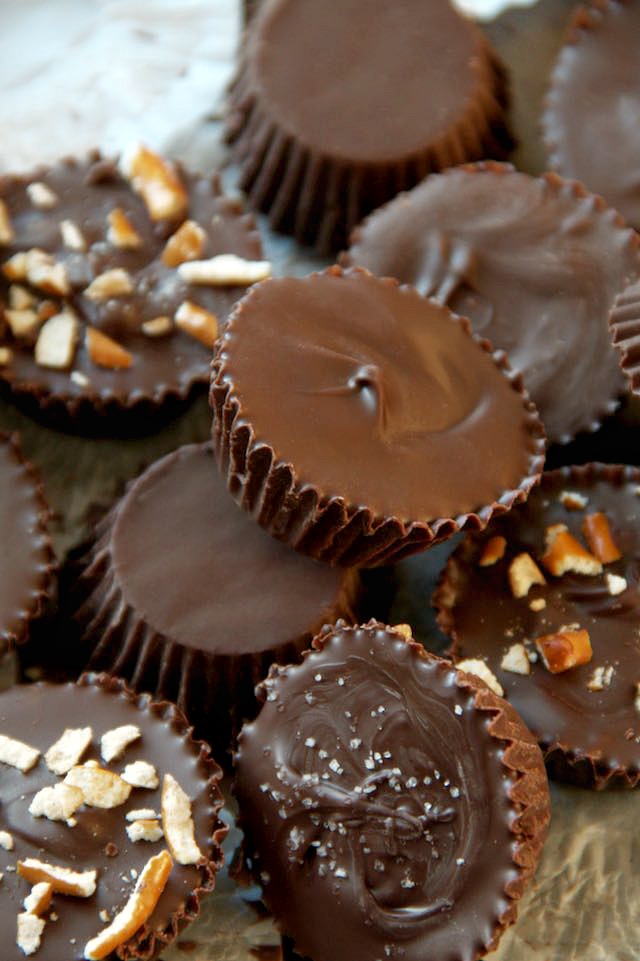 I may not know much about football, but I do know food; and going by the few Stanley Cup parties I've been to (have I mentioned the Canadian blood?), I'm going to go ahead and say that the food is just as, if not more, important than the actual game.
Or maybe that's just me.
But if you were to tell me that you'd be just as psyched to go to a party if you knew there wouldn't be any food there, I might just have to whip out the classic "liar, liar, pants on fire." Either that or I'd be accusing you of smuggling in your own snacks, movie theatre mode (<– it's okay… we all do it).
Thankfully, most hosts don't force us to stoop that low.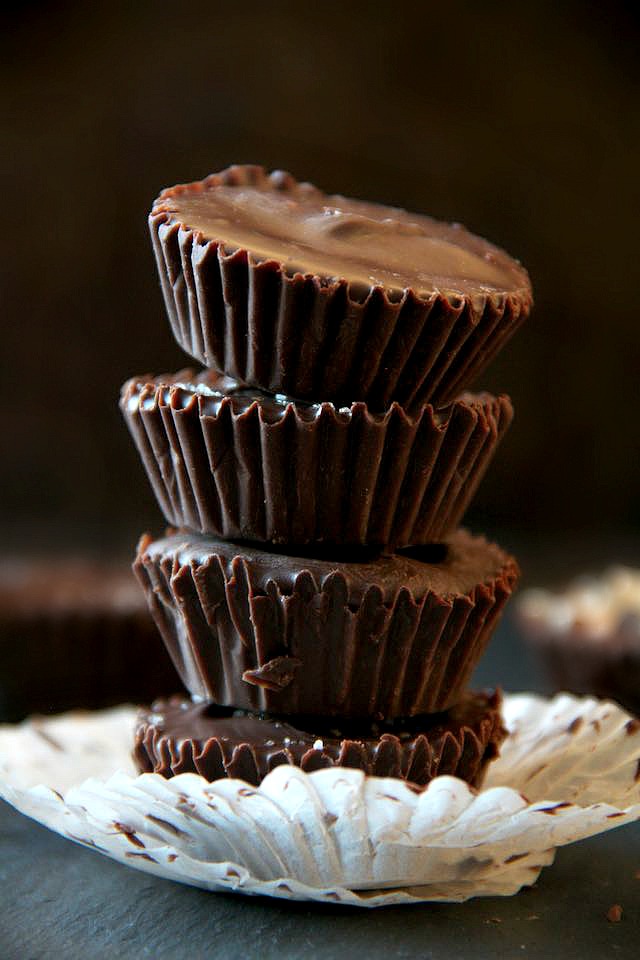 But regardless of what the food situation is or isn't, I almost always bring some sort of dessert or snack-type thing to a party… and if I said that my efforts were 100% altruistic, then you'd be able to whip out the classic "liar, liar, pants on fire."
See, I like dessert. More specifically, I like to eat dessert, not stare at it longingly while keeping my distance… which unfortunately ends up being the case at a lot of get-togethers thanks to me being allergic to peanuts and them or traces of them being in virtually anything sweet.
SO! to save myself the indignity of having to hang out by the fruit and veggie platter, I volunteer to bring dessert so that I'm guaranteed a sweet treat that I can actually eat (Dr. Seuss, eat your heart out).
And if I was coming to your party, Super Bowl or otherwise? I'd be bringing a big batch of these chunky monkey cups.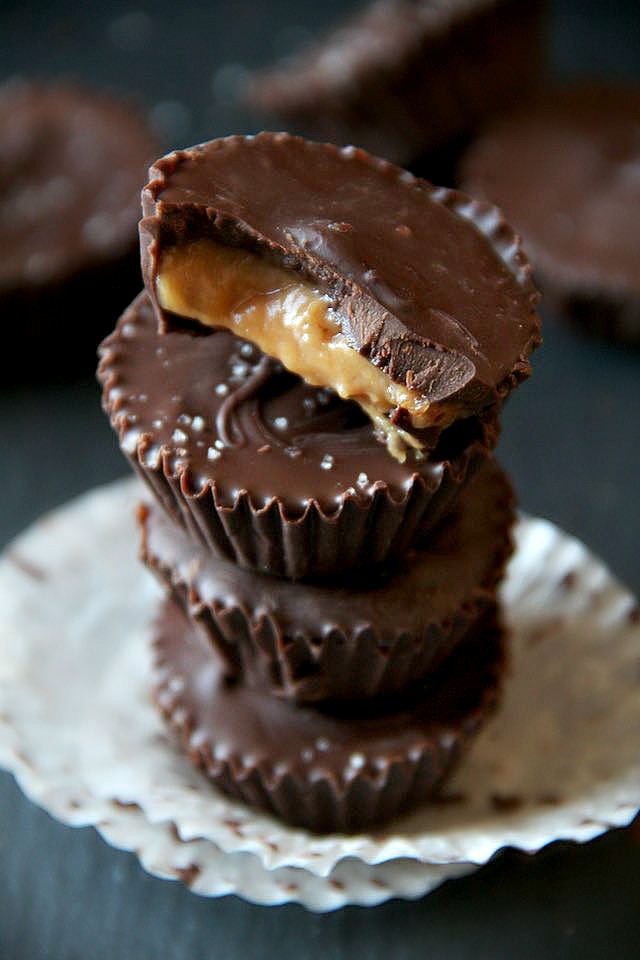 Not exactly sure what chunky monkey cups are? Well, they're essentially like a Reese's peanut butter cup minus the peanut butter (for me; you can use PB if you wish), plus some banana.
They've got that same delicious chocolate shell, only this time it's filled with a sweet and salty banana nut cream that adds just the right amount of ooey, gooey, banana-y sweetness. And I think what I love most about it is that the chocolate shell stays nice and firm, while the filling stays creamy and gooey – it's literally textural perfection. And that's saying nothing about what they're like after they've been sitting in the freezer and and allowed to thaw for a few minutes – the filling feels like an ice cream mousse ?
Oh, and do NOT skimp on the salt. Do not!! That's what takes these guys to a whole new level and makes them a snacker's absolute dream. I mean, you've got your sweet, your salty, your chocolatey, and your ooey/gooey/"I can't believe it's not butter" mouthgasm effect.
I'd call that a touchdown.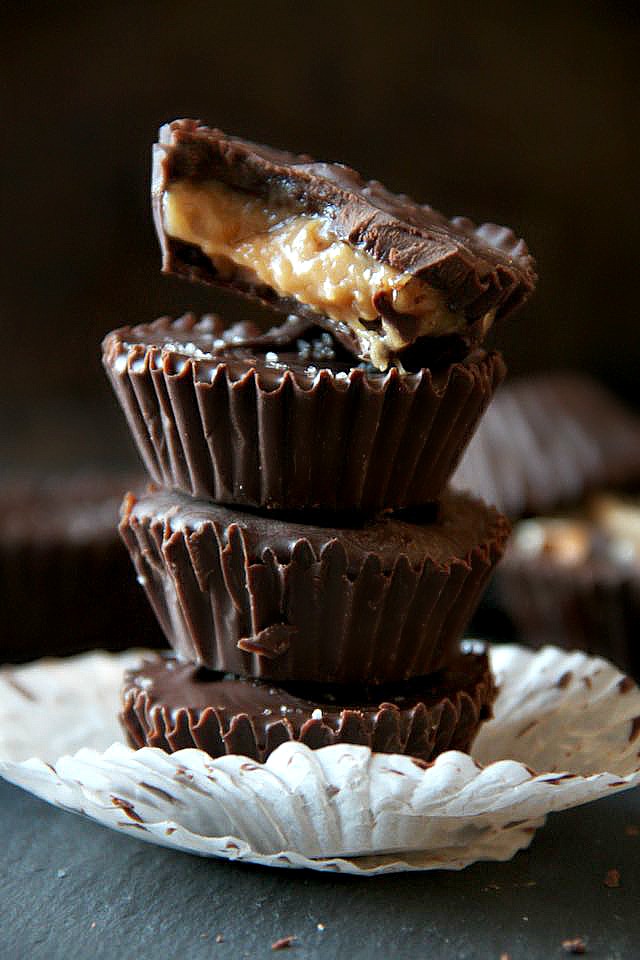 I'd love to know if you make this recipe! Leave a comment and rating down below to let me know what you think, and subscribe to our mailing list to receive new recipes in your inbox!
Print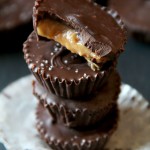 Chunky Monkey Cups
---
Author:

Total Time:

20 mins

Yield:

12

mini or

6

regular

1

x
1 cup

(

175 g

) chocolate chips of choice*

1/2 Tbsp

(

7 g

) coconut oil

1/4 cup

(

64 g

) almond butter**

1/2

medium ripe banana, mashed (

50 g

or

1/4 cup

)

1/4 tsp

salt
crushed pretzels, salt crystals, sprinkles, etc. for topping
---
Instructions
Add the chocolate chips and coconut oil to a microwave safe bowl and microwave in 30 second increments until the chocolate is fully melted, stirring between each round. Alternatively, you can add the chocolate and coconut oil to a heat-safe bowl placed in a pot of boiling water and melt it that way.
Line a mini muffin pan with 12 mini paper/silicone liners*** or arrange them on a large plate/pan. Fill each liner with about 1 tsp (5 ml) of melted chocolate, and use a spoon to bring some of the chocolate up the sides of the liners (almost to the top), coating them well to create a cup. Place them in the freezer for about 5 minutes to set.
While the chocolate is setting, prepare the filling by combining the almond butter, mashed banana, and salt in a small bowl, mixing until smooth.
Fill each chocolate cup with about 1 tsp (5 ml) of the filling and cover it with the remaining melted chocolate, using the back of a spoon to smooth out the top. Sprinkle with crushed pretzels, salt flakes, sprinkles, or any toppings of choice (if desired), and then freeze for a minimum of 10 minutes to allow everything to set. Store in the fridge for up to a week, or in the freezer for longer periods.***
Notes
* make sure to use vegan chocolate chips if you want these to be vegan, and/or gluten-free chocolate chips if you need them to be GF. ** feel free to use any nut butter you have on hand, or replace it with a sunflower or soy nut butter to make this nut free. Just try and use a no-stir variety, as the natural oils could alter the texture of the filling. ** while this recipe was made for mini muffin liners, you could easily adapt it to fit regular ones. Just double the amount of ingredients you spoon into each cup, and/or double the recipe to make 12 regular-sized cups. ***
Keywords: almond butter, banana, banana nut, chocolate, chocolate cups, chunky monkey, gluten-free, healthy, no bake, recipe, vegan

Looking for more sweet & salty snack recipes? Try one of these!
No Bake Salted Caramel Pretzel Bars
No Bake Sweet and Salty Trail Mix Granola Bars
Almond Butter and Pretzel Truffles
No Bake Sweet and Salty Trail Mix Bites
No Bake Brownie Batter Truffles