Bananas, chocolate, and nuts… oh my! This healthy chunky monkey breakfast bake combines the light and fluffy texture of a muffin with the hearty staying power of baked oatmeal. It's vegan, easily made gluten-free, and absolutely perfect for anyone who loves eating dessert for breakfast!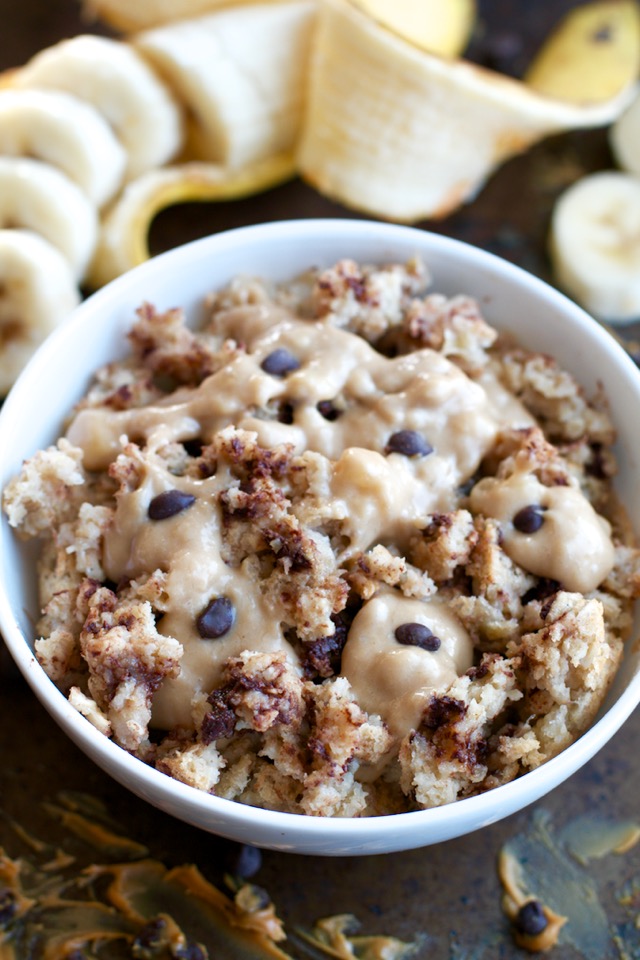 You know you're a food blogger when one of the biggest gripes you have with your peanut allergy is the fact that it prevents you from taking advantage of the recipe cash cow that is peanut butter.
Never mind the inconvenience that comes with trying to eat out or the fact that 90% of the snacks/desserts I want to buy "may contain traces of peanuts." No… what bugs me the most about my peanut allergy [these days] is that I can't use peanut butter in my recipes.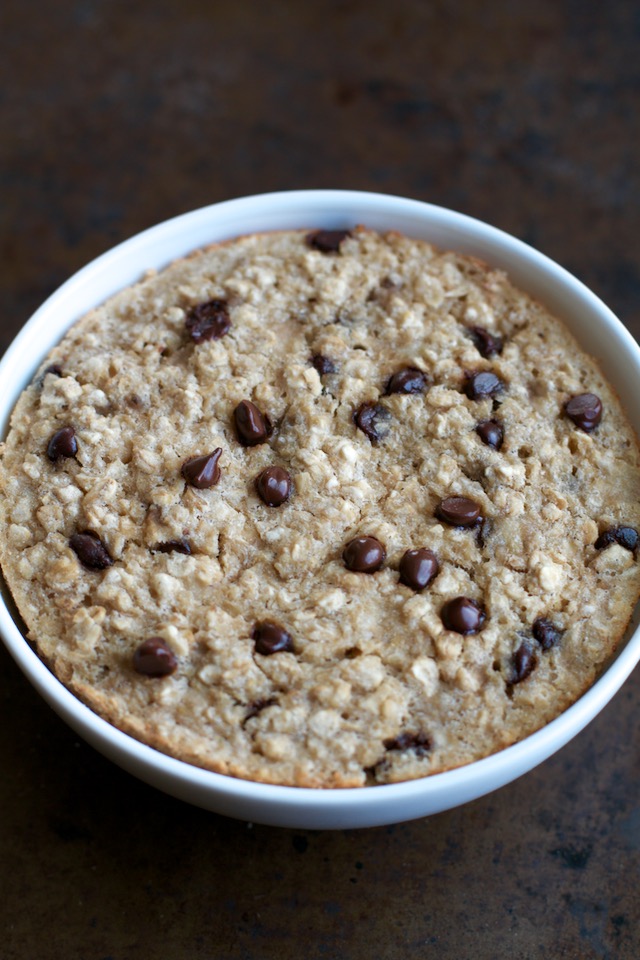 People love peanut butter!
Heck, I would probably love peanut butter if it wasn't hellbent on killing me.
Actually, I'm not even 100% sure that it is anymore. I was a little under hip-height the last time I had an allergy test done, and the doctors who treated me like a pincushion said there was a small chance that I might outgrow my allergy when I was older.
Does 31 count as older? Because 10 didn't. And 19 didn't. And 23 didn't. And as much as I'd love to slap some peanut butter on some unfortunate part of my body to see if I get a reaction, Mr. Doctor, I've made it my life's mission to stay as far away from those loathsome legumes as possible, so I'm not sure how I feel about slathering myself in something that could potentially make me pretty sick.
And if you're wondering what all that rambling has to do with today's recipe… that makes two of us. Sometimes I go off on tangents. But look! A breakfast bake!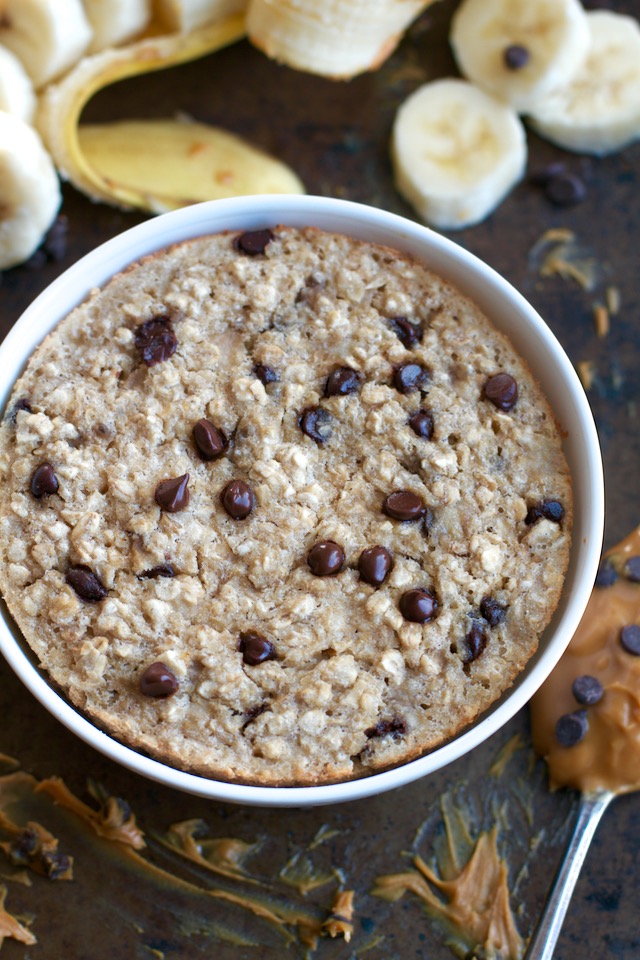 It's been a hot minute since I posted my last breakfast bake recipe, and while I try not to play favourites, I will say that I'm very, very fond of this one. Can you guess why?
Three Four words: bananas, almond butter, and chocolate. Three foods I could happily live off for the rest of my life, and three flavours that are the stars of this chunky monkey breakfast bake.
For those who don't know, a breakfast bake is kind of like baked oatmeal, but with some of the oats replaced with a couple spoonfuls of flour. This gives the finished product a lighter, fluffier, and doughier texture – almost like that of a muffin.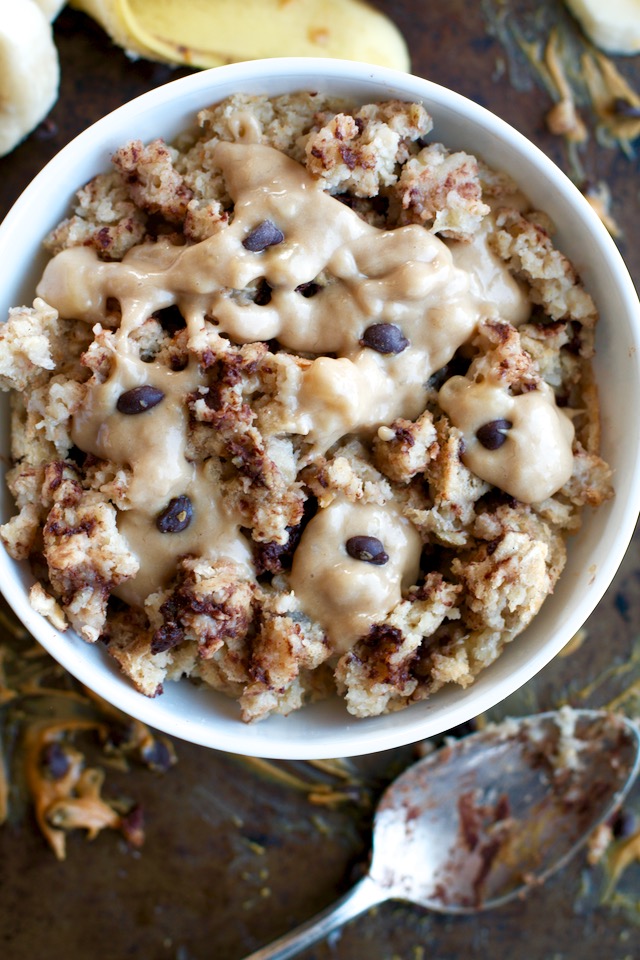 Actually, that's basically what this feels like. A bowl-sized chocolate chip banana muffin that happens to be topped with some killer banana-nut sauce. It's pretty much like eating dessert for breakfast. Only healthier. And if you think chocolate for breakfast can't be healthy, this is how I feel about that ?
So if you're a fan of [healthy] muffins the size of your face and the combination of bananas, almond (or peanut) butter, and chocolate, I think you'll love this chunky monkey breakfast bake.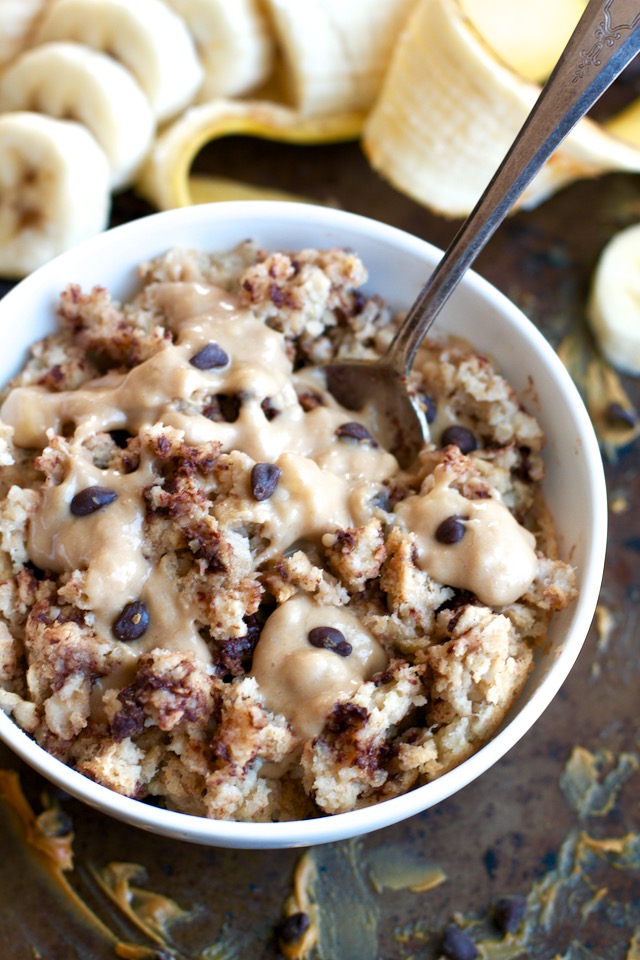 I'd love to know if you make this recipe! Leave a comment and rating down below to let me know what you think, and subscribe to our mailing list to receive new recipes in your inbox!
Print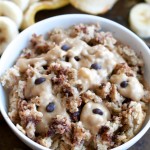 Chunky Monkey Breakfast Bake
---
Author:

Total Time:

25 mins

Yield:

1

serving

1

x
For the bake:
¼ cup

(

20 g

) rolled oats

2 Tbsp

(

14 g

) oat bran*

2 Tbsp

(

15 g

) flour of choice**

¼ tsp

baking powder
pinch of salt

1/2

medium ripe banana (

50 g

)

¼ cup

(

60

ml) unsweetened almond milk

½ Tbsp

(

8

ml) maple syrup

½ tsp

. vanilla extract

1 Tbsp

(

15 g

) mini vegan chocolate chips
For the banana nut sauce:
1 Tbsp

(

16 g

) nut butter***
other half of the banana
small splash of almond milk
---
Instructions
Preheat your oven to 350°F (176°C) and lightly spray an individual sized (~16oz./500 ml) ramekin with cooking spray or grease it with cooking oil. Set aside.
In a medium-sized bowl, combine the oats, oat bran, flour, baking powder, and salt.
In a smaller bowl, roughly mash the banana (some chunks are okay) before adding in the almond milk, maple syrup, and vanilla, mixing until well combined.
Add the wet ingredients to the dry ingredients, mixing until fully incorporated. Fold in the chocolate chips.
Transfer the dough to your greased ramekin and bake for 20 minutes, until the centre has set and the bake has reached your desired consistency.
Meanwhile, make the sauce by mashing the other half of the banana in the same small bowl you used before before and adding a spoonful of nut butter. Mix until smooth, adding a splash of almond milk to reach your desired consistency. Pour over the bake once it comes out of the oven and sprinkle with additional chocolate chips, if desired.
Notes
* If you don't have any oat bran on hand, just use an additional 2 Tbsp. of oats. ** I usually use an all-purpose or whole wheat, but this recipe works fine with most flours, including gluten-free and grain-free ones. *** I used a natural almond butter, but feel free to use whichever nut or seed butter is your favourite.
Prep Time:

5 mins

Cook Time:

20 mins
Keywords: allergies, banana, breakfast, breakfast bake, chocolate, chunky monkey, gluten-free, healthy, nuts, oats, recipe, vegan

Looking for more breakfast bake recipes? Try one of these!
Oatmeal Cookie Dough Breakfast Bake
Brownie Batter Breakfast Bake
Blueberry Muffin Breakfast Bake
Cinnamon Bun Breakfast Bake
Chocolate Chunky Monkey Breakfast Bake