Naturally sweetened with dates and maple syrup, these vegan chocolate chip cookie dough bars are a great way to satisfy those cookie cravings! Soft, sweet, and made with wholesome ingredients, they're delicious enough to enjoy for dessert and healthy enough to enjoy with breakfast.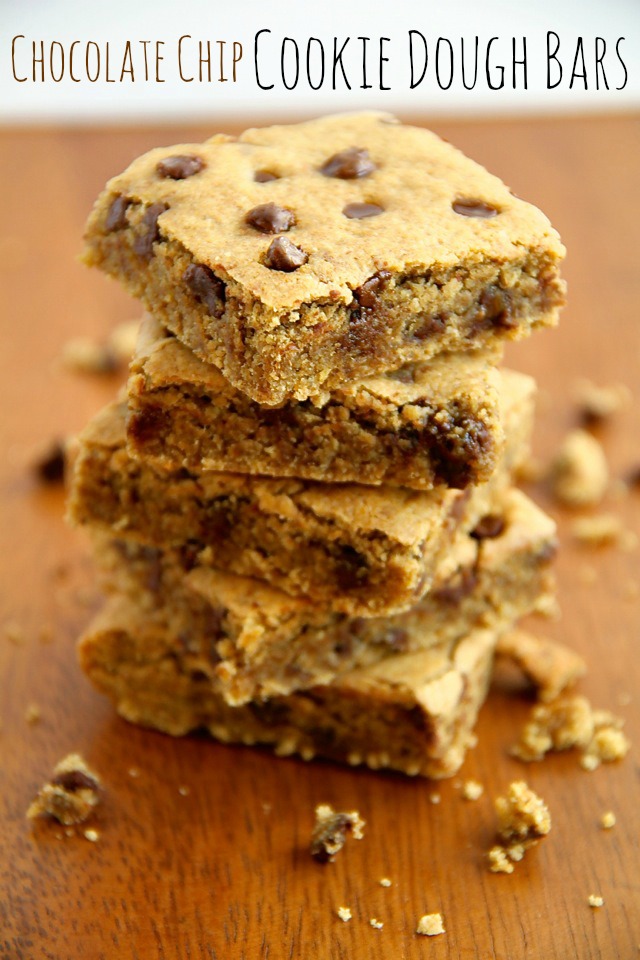 I never thought I'd say this, but I don't want to eat any more cookies. At least not for the next 2.5 weeks while I recover from the latest instalment of my kitchen shenanigans. I've eaten more cookies in the past week than I care to admit, and I can definitely attest to the fact that too much of a good thing… isn't such a good thing. Someone please pass me a carrot. Or some kale.
But you know when you get an idea in your head that you swear would be absolutely brilliant if you could just pull it off? That's how I felt about today's recipe. I wanted a chocolate chip cookie that was naturally sweetened with dates, and while the taste and texture of most of my experiments were on point, they weren't exactly going to win over the masses in the looks department…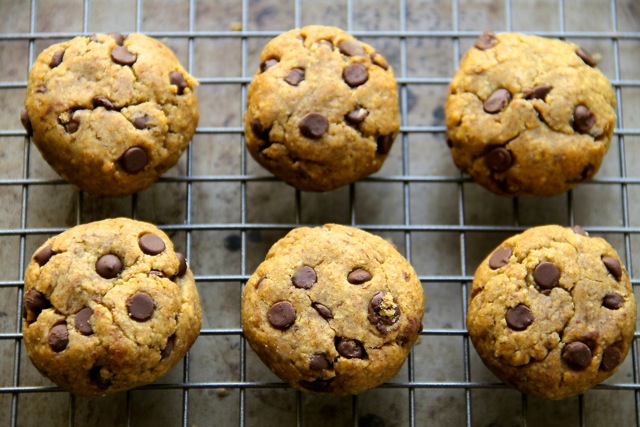 I mean, they're kind of cute, but they don't have that traditional cookie look that makes people weak in the knees. Which — let's be real — is what matters in this food blogging business. I mean, no offence to you guys, but you're a pretty shallow bunch. Eating with your eyes. Not giving ugly food a chance. Be honest — you wouldn't give a second thought to an award winning split pea soup if it looked like a bowl of upchuck, no matter how amazing the author said it tasted. But when it's dressed up all nice with the proper props and lighting, then BAM… you need that in your belly NOW.
I get it. I'm the same way. I wasn't trying to make you feel bad. The point is, the pressure is on when it comes to making food look good… which is why I scrapped the idea of making date-sweetened chocolate chip cookies and made date-sweetened chocolate chip cookie bars instead…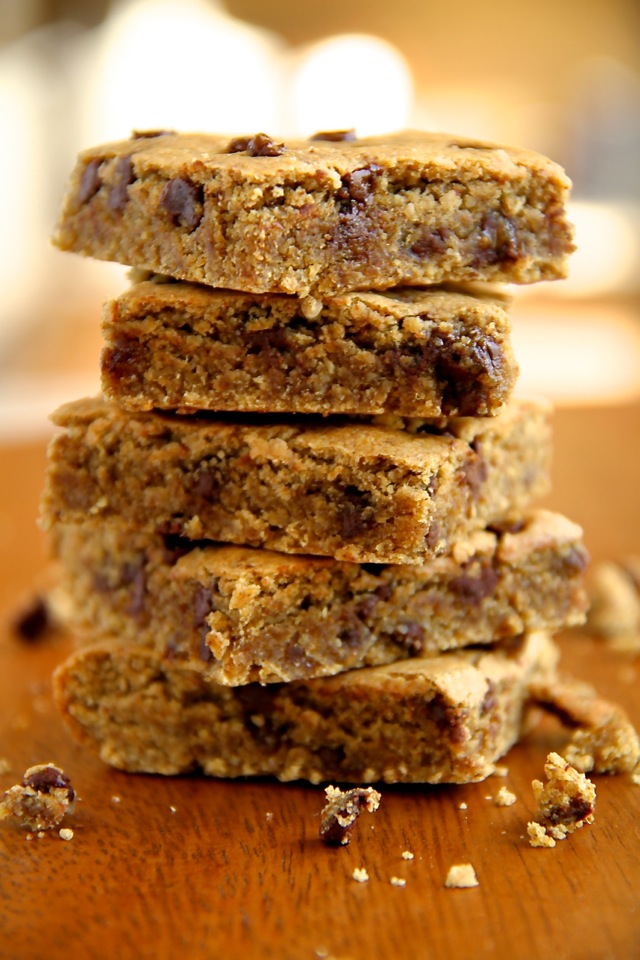 And how good do those look?!? Good enough to eat with your eyes, I hope. But let's talk substance, since looks will only get you so far.
These bars are the real deal. They taste and feel so ridiculously similar to traditional cookie bars made with butter and sugar, that my taste testers had a hard time believing they weren't made with either. Heck, I had a hard time believing it, and I was there during the whole process. But they better taste ridiculously similar considering how much recipe tweaking and consequent tasting I had to do. Like I said… I'm good on cookies for the next 2.5 weeks.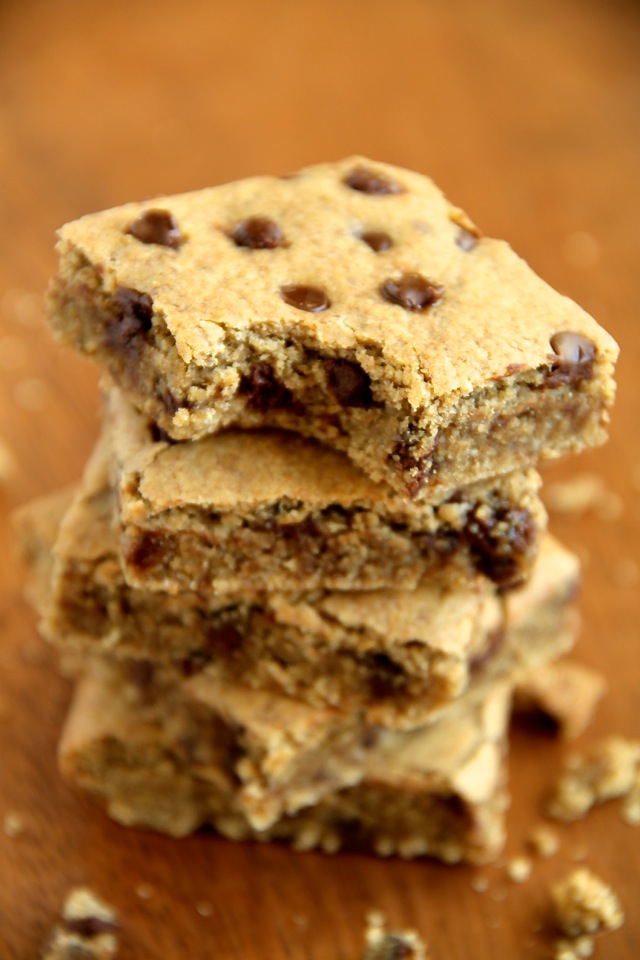 Thankfully, these cookie bars are relatively healthy as far as cookie bars go. The majority of the base is made from oat flour, which adds fiber and dense-ness, with some all-purpose flour thrown in for softness. I experimented with a few different flours (which I'll mention in the recipe notes), and they all worked just fine, but the regular flour was my favourite as far as texture goes.
For sweetness, brown and white sugars get replaced with date paste and maple syrup. Not only does that add even more blood sugar regulating fiber, but you're also taking in some minerals like iron, calcium, copper, magnesium, and potassium, which get stripped during the refinement of processed sugars.
Basically, these chocolate chip cookie dough bars are about as healthy as cookie dough bars get without actually tasting healthy. They're perfectly sweet, with a slightly firmer crust that gives way to soft and chewy center. No eggs or dairy makes these bad boys vegan, and they can can easily be made gluten-free and nut-free with simple substitutions.
Happy eating!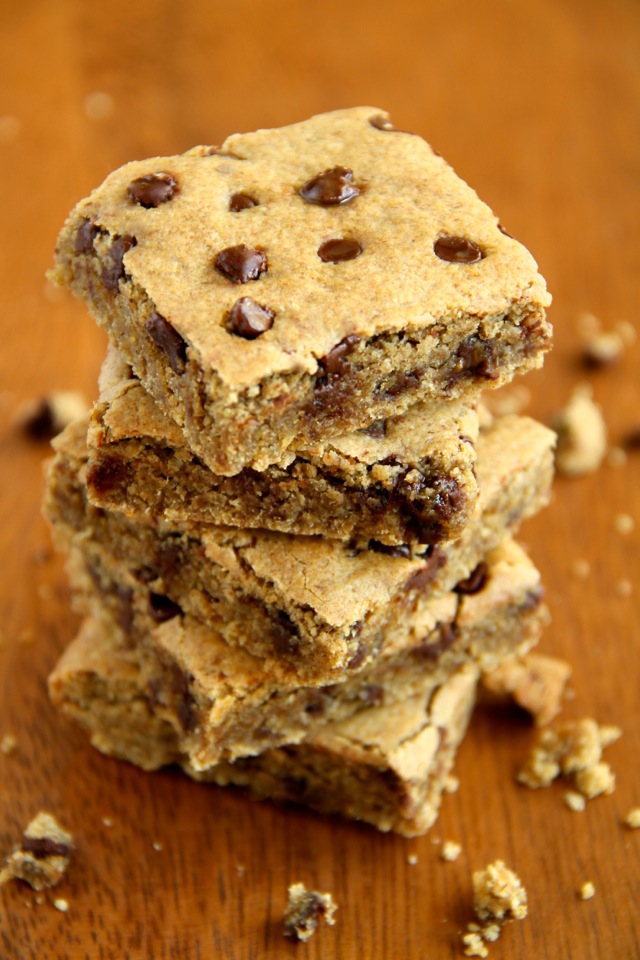 I'd love to know if you make this recipe! Leave a comment and rating down below to let me know what you think, and subscribe to our mailing list to receive new recipes in your inbox!
Print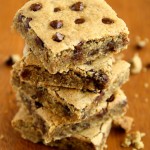 Chocolate Chip Cookie Dough Bars
---
Author:

Total Time:

30 mins

Yield:

16

bars

1

x
3/4 cup

Medjool dates, pitted (about

8

large dates)

1 1/2 cup

oats, ground into a flour*

3/4 cup

all-purpose flour**

1/2 tsp

. baking soda

3 Tbsp

. almond butter***

3 Tbsp

. maple syrup

3 Tbsp

. coconut oil, melted

1 tsp

. vanilla extract

1/3 cup

dairy-free chocolate chips
---
Instructions
Place dates in a small bowl and cover with enough hot water to fully submerge them. Set aside and let sit for about 10 minutes.
Preheat oven to 350F and prepare an 8×8 baking dish by lining it with a sheet of aluminum foil or parchment paper, leaving a few inches of overhang on the sides to allow for easy removal. Spray foil with cooking spray and set aside.
In a large mixing bowl, combine oat flour, all-purpose flour, and baking soda. Mix well until fully combined.
Drain the dates and place them in the bowl of a food processor or blender. Process until they begin to turn into a smooth paste before adding almond butter, maple syrup, coconut oil, and vanilla. Continue processing until ingredients are fully combined and mixture is smooth, scraping down the sides of the bowl as necessary. Pour wet mix into dry mix and stir until fully incorporated. Fold in chocolate chips.
Transfer mixture to prepared baking pan, and use a spatula or your hands to spread the mixture evenly in the pan, pressing down firmly.
Bake for 10-12 minutes, until edges begin to turn golden brown.
Remove from oven and let cool in pan for 20 minutes before removing and cutting into bars. Store in an airtight container for up to a week.
Notes
* To make oat flour, simply place regular oats into a food processor or blender and process until they become a fine powder. ** You can make these gluten-free by using a gluten-free flour mix or even something like almond or rice flour. The texture may be a little bit different, but they will still work. *** To make these nut-free, use something like soy nut or sunflower seed butter. However, please note that if you do use sunflower seed butter, your bars may turn green upon cooling as the chlorophyll in the seeds reacts with the baking soda.
Prep Time:

20 mins

Cook Time:

10 mins
Keywords: chocolate chip cookie dough bars, cookie dough bars, date paste, naturally sweetened, vegan cookie dough bars

Looking for more healthy bar recipes? Try one of these!
Strawberry Banana Oat Bars
No Bake Vegan Oatmeal Fudge Bars
Soft and Chewy Protein Granola Bars
Blueberry Almond Oat Bars
Soft Baked Brownie Breakfast Bars