Happy #thinkingoutloud Thursday! No idea what I'm going on about? Click here!

1. "'Cause I'm leaving on a jet plane. I don't know when I'll be back again." Actually, that totally isn't true — I'm coming back on Sunday — but that was the first thing that popped into my head when I thought about how I wanted to open this first point, so that's what we're going with. Hi, friendly faces! Depending on when you're reading this, I'm either: sitting in an airport, on aforementioned jet plane, on a shuttle, or hanging out in Boulder, CO for Blend. Woop, woop! Judging by how things went last year, I have a feeling that this weekend is going to be pretty darn epic, so be sure to follow me on Instagram if you want to see what we get up to since I'll probably be pretty absent from the blog world for the next few days.
2. Okay. So you know how I kind of, sort of said that I was good on cookies for the next 2.5 weeks in yesterday's post? Well… I lied. I'm totally not. I seriously can't get enough of these chocolate chip cookie dough bars, so it's a good thing that they're relatively healthy, because yeah… I'm not a huge fan of shopping for jeans 😆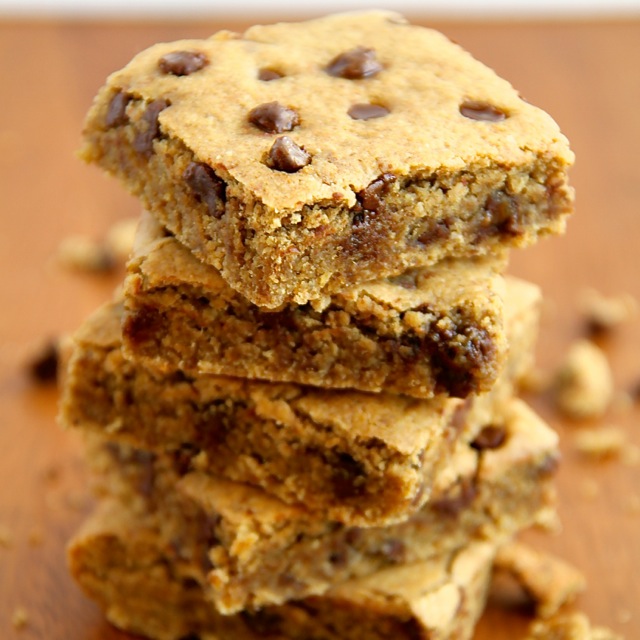 3. And because we're on the topic of good food and I can't help but tease you a little, here's a little sneak peak of a protein granola bar recipe that I'll be posting next week…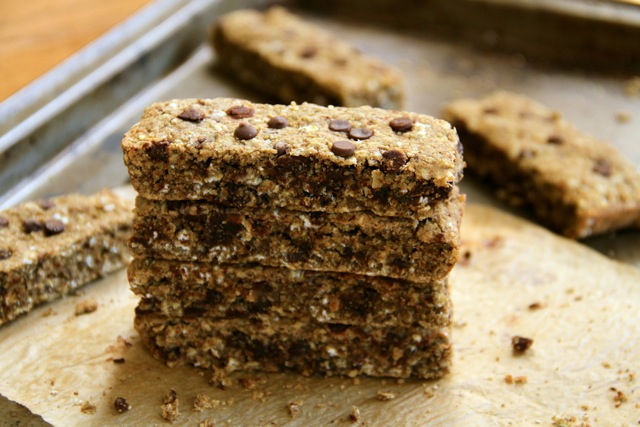 I die. I was going to try and have it up for you guys tomorrow, but I decided to take the day off so I could spend a little time unplugged at Blend. Look for it on Monday instead!
4. I don't know if I've ever told you guys this, but I almost always have a vacuum cleaner nearby when I'm shooting a recipe because those can get a little messy and it drives me crazy to have a bunch of crumbs on the floor afterwards. I also have a habit of cleaning the kitchen as I go rather than letting all the dirty dishes and ingredients pile up, because I literally can't focus when my surroundings are messy. I know, I know.
5. When it comes to laundry, though? I'll literally put it off as long as humanely possible. It's usually not until I run out of socks and/or underwear that I kind of force myself to do it. Thankfully, I only have to worry about my own stuff.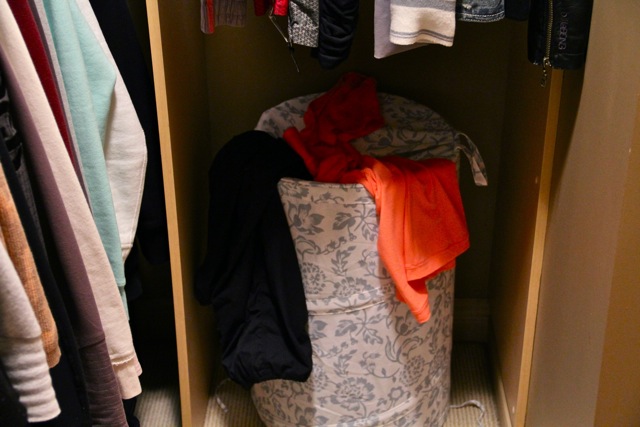 6. So I always jot down notes of things I want to mention in these ToL posts, which is all fine and good until autocorrect decides to mess with me…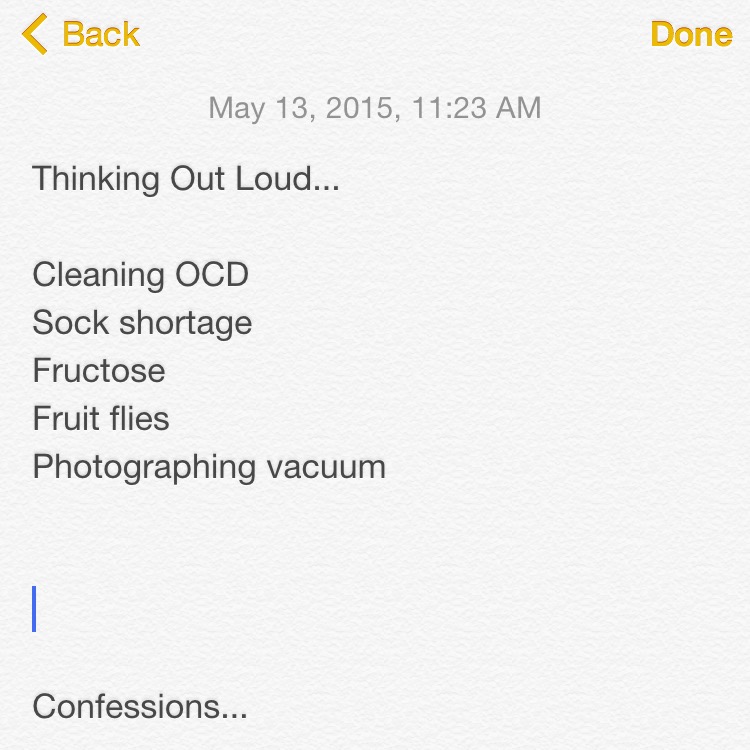 Fructose? I don't remember wanting to talk about fructose. I do, however, remember writing something that was apparently similar to the word "fructose," having autocorrect change it on me, being too lazy to go back an retype it because I was sure I'd remember it later, and not having any clue what it is that I wanted to say now that it's actually time to remember it. Bugger. This is why I always write things out in my planner. Oh well. Moving on…
7. I saw my first fruit fly of the year yesterday. Normally, I try to keep fruit off my counter in the warmer months, but hello! Edmonton hasn't exactly been balmy lately, so I have no idea where this guy came from. Little bugger better stay away from my bananas is all I'm sayin'…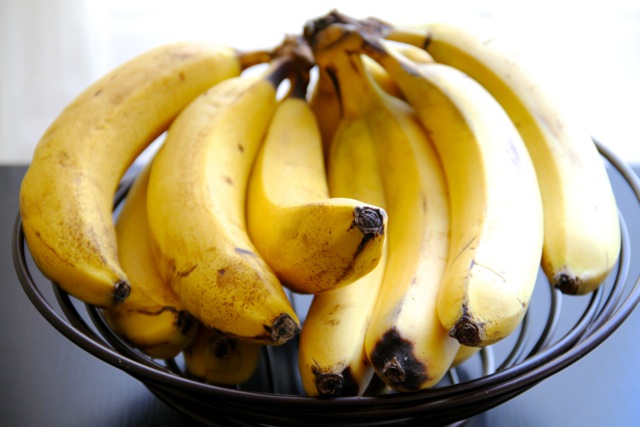 And yes, I have a lot of bananas. But I eat around 3 a day, so they go pretty quick…
8. And that's it for me, friendly faces! Like I said, I'll be more or less unplugged over the next couple of days, but you can follow me on Instagram to get a sneak peak into what's going on at Blend before my recap goes up next week, or you can e-mail me ([email protected]) if you need to get in touch with me. Other than that, see you on Sunday with some Link Love!
9. Wait! I remembered (see #6)!! It wasn't fructose, it was Fructis. My hair hasn't been all that impressed with the more natural shampoos that I've been using lately, so I decided to go old-school and try some cheaper drugstore brands for a bit. Fructis used to be my favourite all the way back in high school, so I'm curious to see how my hair likes it now…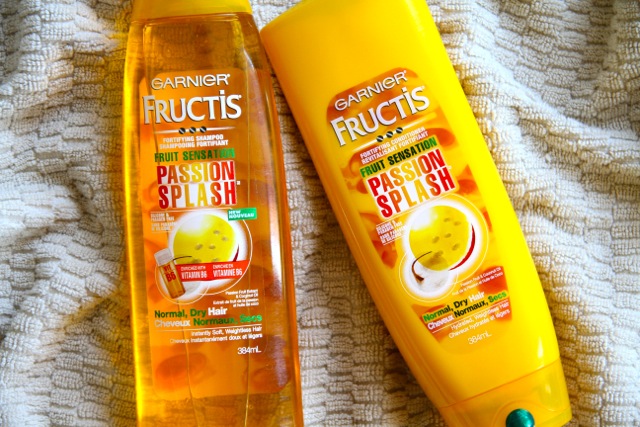 10. And just a little something to make you smile…
[youtube="https://www.youtube.com/watch?v=H9s9lrNbd9c&w=640&h=427″]
And omigosh I'm crying. Happy Thursday, friendly faces! 😀


No questions… just tell me whatever comes to your mind! 😀
More places to find me!
E-mail — [email protected]
Twitter — runwithspoons
Facebook — runningwithspoons
Pinterest — runwithspoons
Instagram — runwithspoons
Bloglovin — runningwithspoons