Flourless oatmeal cookies that are soft, chewy, and super easy to make with only one bowl and 7 healthy ingredients.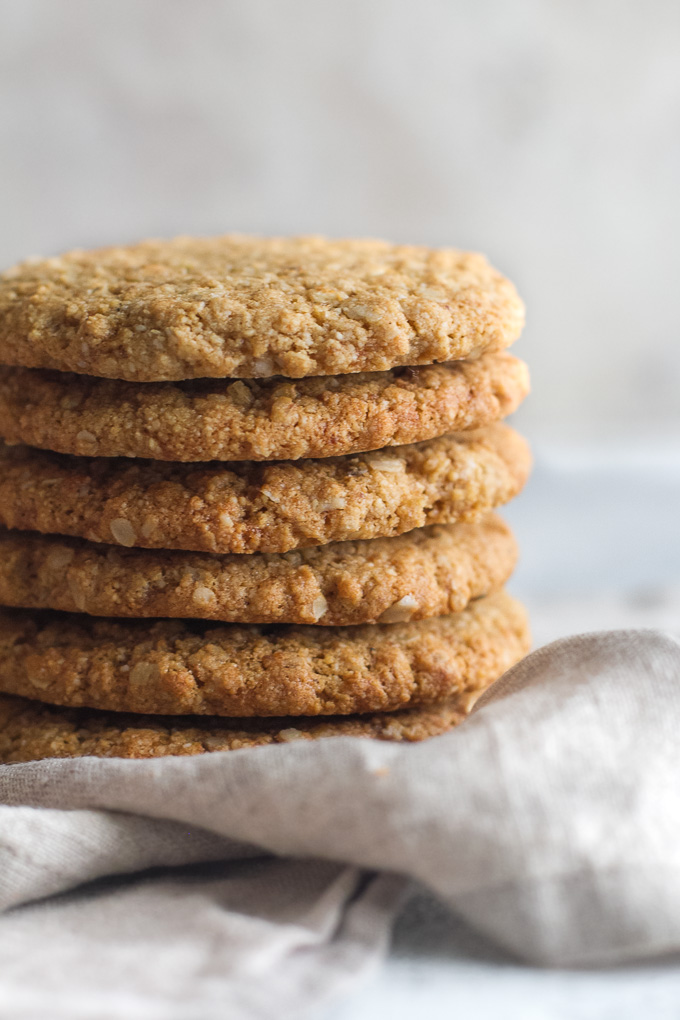 It's been a hot minute since I've shared a cookie recipe with you guys… which is kind of crazy seeing as cookies were the first thing I learned how to bake on my own, and what I made the most of before I started blogging. Well, that and chocolate cupcakes, but I'm not sure those count since they came from a box. With frosting that came from a can, obviously.
But cookies were my jam. My mom bought me a book of nothing but cookie recipes (shoutout to Mrs. Fields!) when I was around 12 years old, and I'm pretty sure I made every recipe in that book at least once, with multiple repeats on all my favourites (read: anything that included oats and/or chocolate).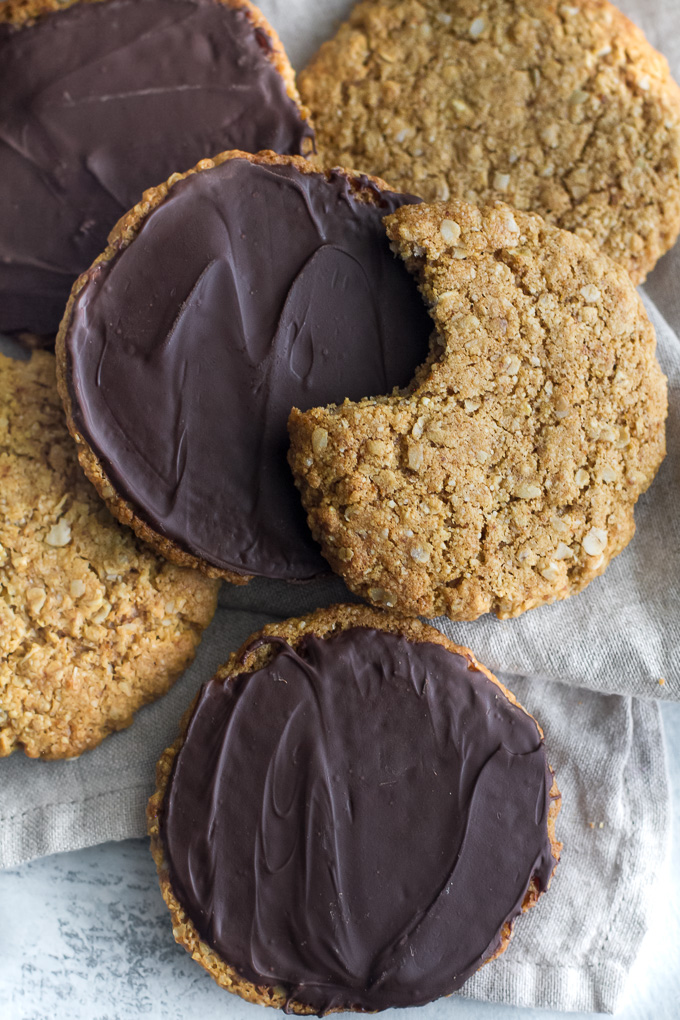 I actually have a really vivid memory of having to pause my Super Mario RPG game to remove a batch of cookies from the oven, and thinking I was so clever because I replaced the chocolate chips in the original recipe with Smarties. Funny how some random memories just stick with you, whereas a lot of the seemingly more important moments don't.
Either way, I used the heck out of that book to the point where most of the pages fell out, but it's still got an honorary spot on my kitchen shelves because I'm kind of obsessed with anything that reminds me of my childhood. Heck, I even have a handful of old Disney movies on VHS even though I don't have an actual VHS player. But giving up my original copies of Beauty and the Beast, Aladdin, Hercules, and The Lion King? Not gonna happen.
But anyways, back to the cookies!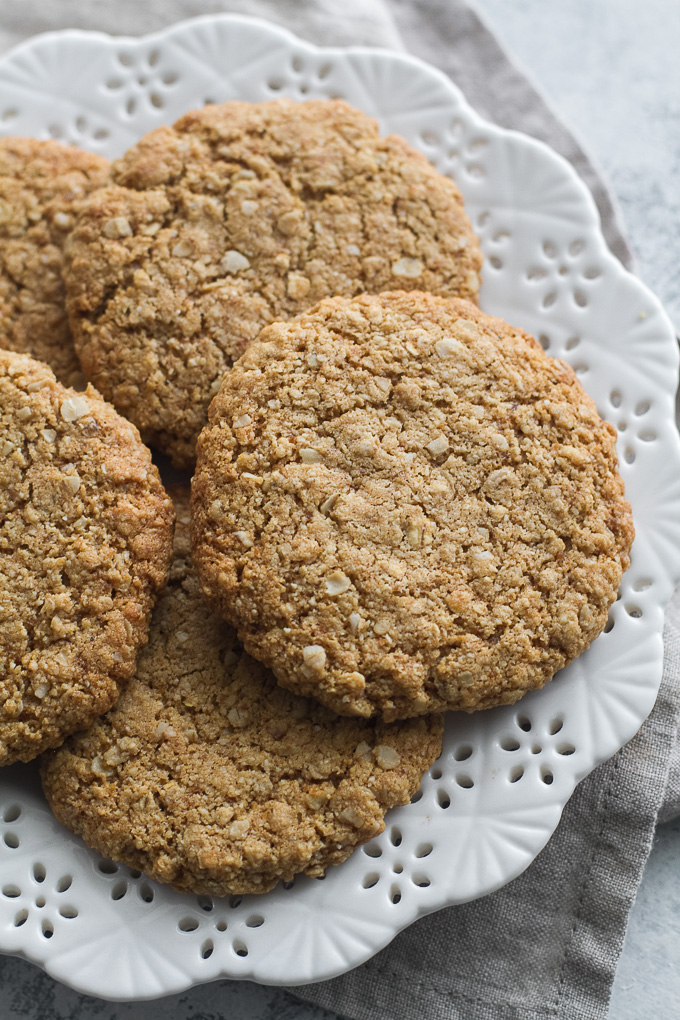 So I'm not sure if you guys have realized it yet, but there's basically one month left until Christmas. One.month.
I mean, it's more like 30-some odd days, but those last few days don't count since everyone is in full-on Christmas mode anyways.
And I know, I know… most of you are thinking about Thanksgiving right now. But us non-Americans don't have a big feast to look forward to next Thursday, so we've got our sights set on Christmas. And besides, what's wrong with serving cookies on Thanksgiving? *cough*beats pumpkin pie, if you ask me*cough* No offense to the pumpkin pie lovers.
But cookies are classic. Comforting. They're soft, and chewy, and sometimes even chocolatey…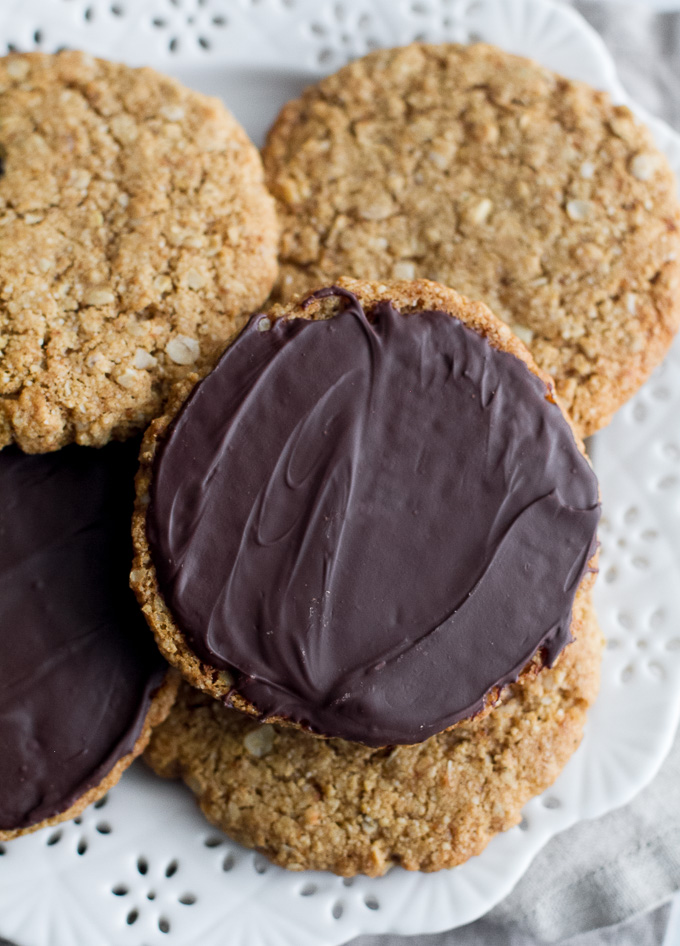 And these ones just so happen to be flourless and pretty low in sugar as well… which I realize isn't necessarily top priority during the holidays, buuuuut if you can pull it off without sacrificing on taste, then why the heck not?! Happy, healthy holidays, man!
Then there's the nostalgia factor.
I'm not sure what it is, but there's something about these cookies that makes them feel so old-fashioned and comforting. Like oaties or digestive biscuits. I was baking them at my parents' place (because I'm still sans oven), and even my dad said they made him think of his childhood despite the fact that I used more "modern" ingredients like almond flour, coconut oil, and coconut sugar.
They're soft, chewy, gluten-free, and super easy to make with only one bowl and 7 ingredients. I hope you love them!
Happy eating!
I'd love to know if you make this recipe! Leave a comment and rating down below to let me know what you think, and subscribe to our mailing list to receive new recipes in your inbox!
Print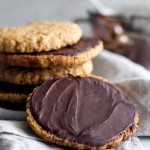 Chewy Flourless Oatmeal Cookies
---
Author:

Total Time:

17 mins

Yield:

12

–

14

cookies

1

x
1 cup

(

80 g

) quick oats

1 cup

(

128 g

) almond flour

6 Tbsp

(

72 g

) coconut sugar*

½ tsp

baking soda

½ tsp

baking powder

1

large egg

3 Tbsp

(

45

ml) coconut oil, melted**
(optional) chocolate chips, melted, for coating.
---
Instructions
Preheat your oven to 350ºF (176ºC) and line a large baking sheet with parchment paper or a non-stick baking mat. Set aside.
In a large mixing bowl, combine the oats, almond flour, sugar, baking soda, and baking powder. Add the egg and coconut oil, and mix until fully combined.
Using a rounded tablespoon, scoop out the dough and roll it into a ball between your palms. Drop the dough onto your prepared baking sheet and gently flatten it with your fingers. The cookies will spread a little bit, so leave about 2 inches of room between them and don't flatten them too thin.
Bake for 7 – 9 minutes, until the edges begin to turn golden brown.
Remove the cookies from the oven and let them cool for 10 minutes before transferring them to a cooling rack to cool completely. Store them in an airtight container at room temperature for up to a week.
Optional: melt some chocolate chips and use a knife or the back of a spoon to spread some chocolate on one side of the cookies. Place them in the fridge to set before enjoying.
Notes
* You can also use brown sugar. ** You can also use melted butter.
Prep Time:

10 mins

Cook Time:

7 mins
Keywords: cookies, flourless, gluten-free, healthy, holidays, oats, recipe

Looking for more flourless cookie recipes? Try one of these!
Almond Joy Oatmeal Cookies
No Bake White Chocolate Cranberry Cookies
Grain Free Snickerdoodles
Perfect Paleo Chocolate Chip Cookies
Flourless Pumpkin Oatmeal Cookies

*Disclosure: Some of the links included in this post may be affiliate links, meaning I'll earn a small commission if you purchase through them, at no additional cost to you. I only recommend products I personally use and believe will add value to my readers. Thank you so much for helping support Spoons!