Healthy plant-based comfort food at its finest! This cheezy apple cranberry quinoa stuffed squash is packed with sweet & savoury flavours and topped with an ooey, gooey, dairy-free cheeze. An easy and delicious vegan and gluten-free meal!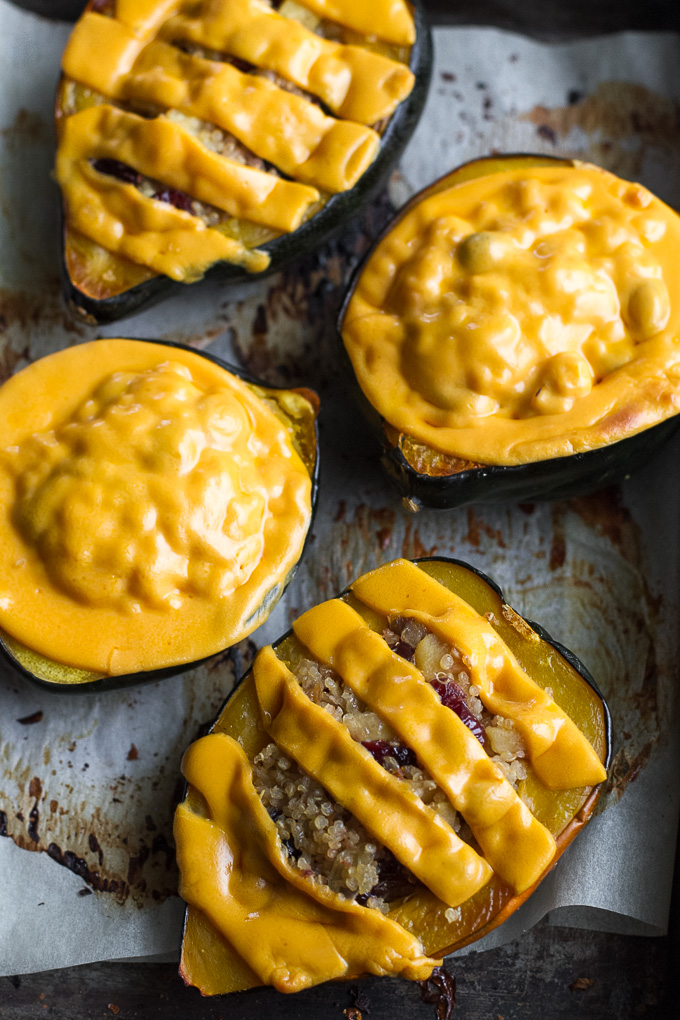 So we're doing something today that we've never done here on Spoons – we're stuffing a squash! And we're doing it with all manner of delicious things.
I've actually been meaning to try my hand at squash stuffing for… ever?… but it was always an idea in the back of my head, and by the time it came to the front, it was the middle of spring and not exactly a prime time to share a stuffed squash recipe. Not that I have any qualms with eating things that don't make seasonal sense (hi, ice cream in January), but Google Trends tells me that people tend to search for "stuffed squash" from the beginning of October to the end of November, so it's basically now or never. And by never I mean this time next year.
So let's stuff this squash.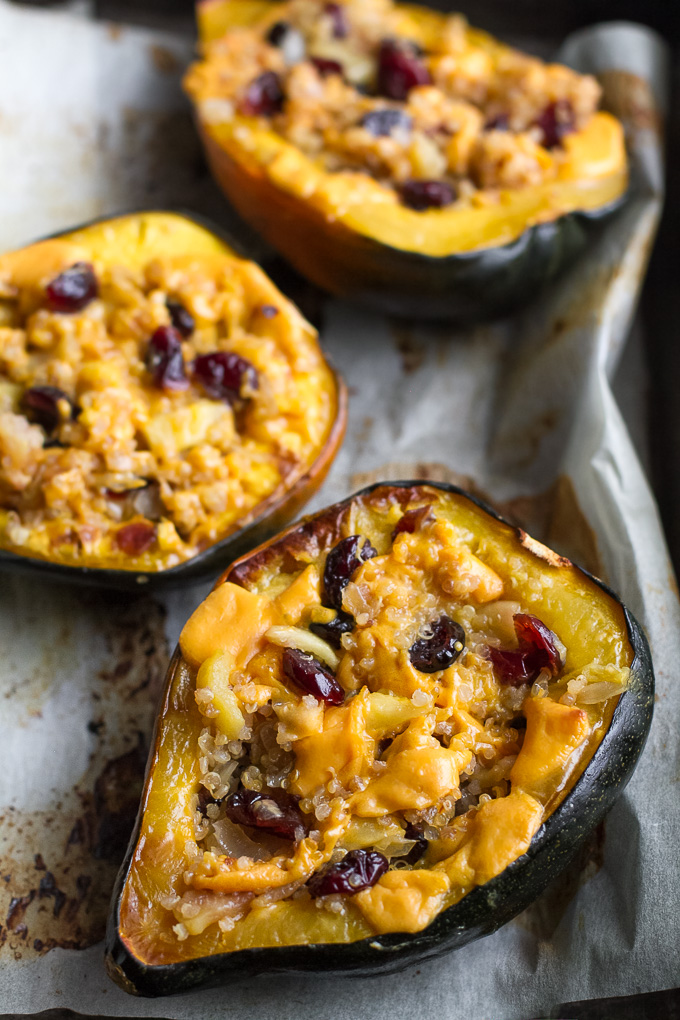 Now I'm no expert when it comes to the art of stuffing, but from what I gather, the sky is basically the limit as far as your ingredients of choice go. I mean, I'd imagine that things like cereal, protein powder, or jelly beans don't usually find their way into a squash, but if that's the route you want to take then who am I to judge? I've eaten plenty of questionable combinations in my time… a lot of which were surprisingly delicious.
But for this particular recipe? We're keeping things traditional and comforting with a mix of caramelized onions, apples, cranberries, quinoa, and cheezy Daiya Slices.
And, yes. That's cheezy with a "z."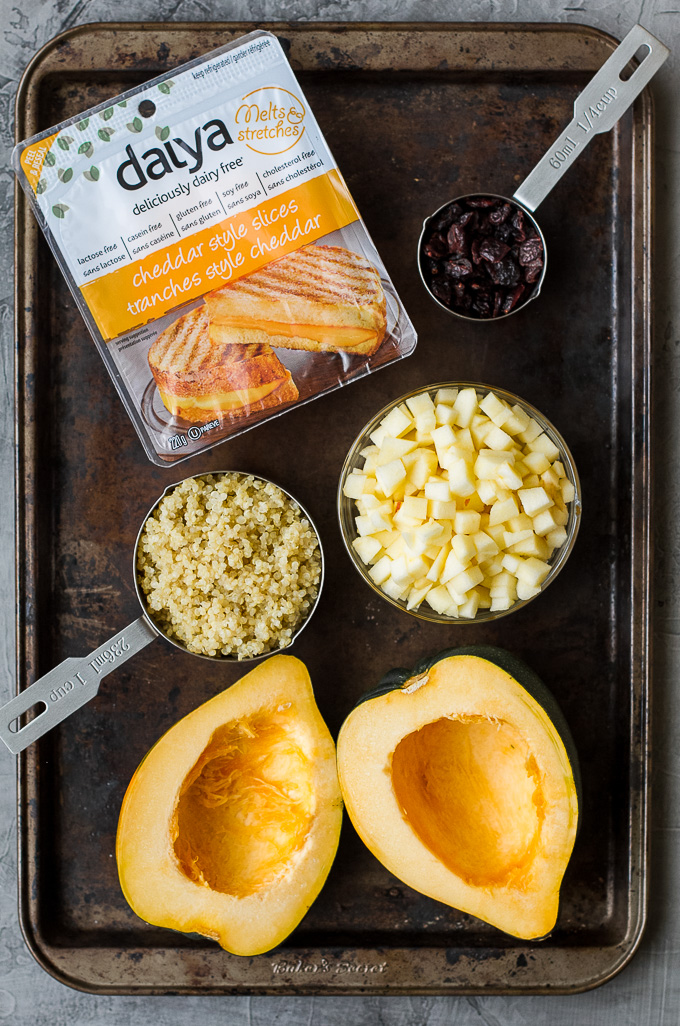 Can I please just take a moment to say thank goodness for cheezy with a "z."
Long-term readers might know that I try to avoid dairy because of how badly it aggravates my eczema, and while it can definitely be a pain in the butt at times, I honestly can't complain because of the major improvements I've seen in my skin since going [mostly] dairy-free… especially with all the amazing dairy-free alternatives out there these days.
Enter Daiya, makers of delicious, plant-based dairy alternatives that are perfect for anyone who's intolerant, allergic, vegan, or simply trying to cut back on dairy and eat better overall.
I was pretty jazzed when they reached out and asked me if I'd like to create a recipe using their cheezy Daiya Slices, and super curious to see how the Slices would compare to traditional cheese. How they tasted. If they melted. Whether or not they'd get all stretchy… You know, all the important stuff.
And the verdict isssss…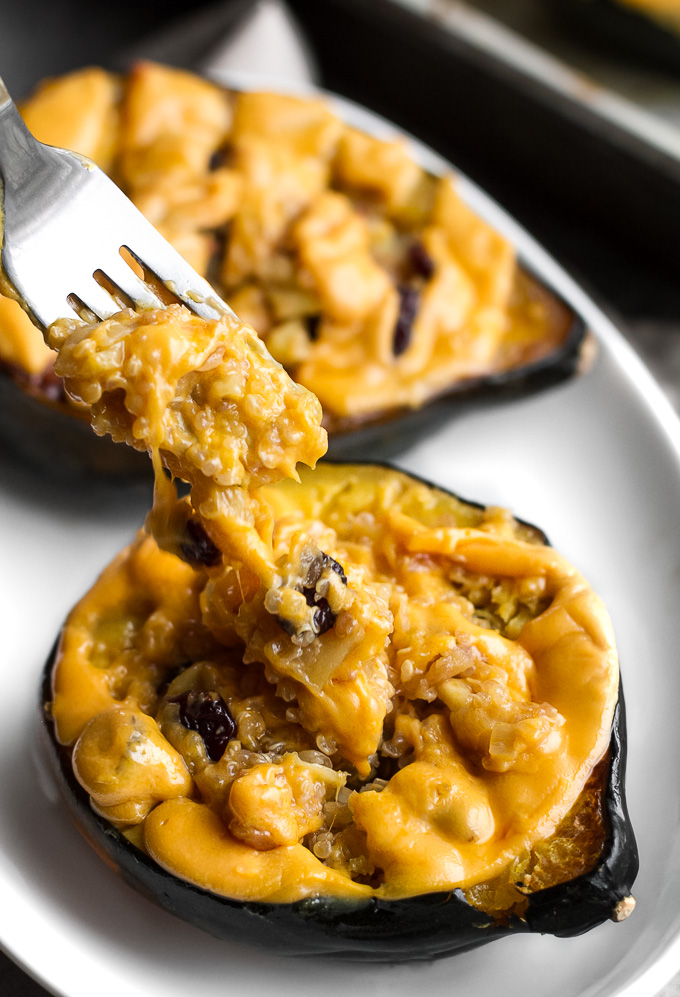 … wow.
These are really, really good. They taste and behave so much like cheese that I'd honestly have a tough time telling the two apart if I wasn't the one putting the recipe together.
These Slices not only melt and stretch like the real stuff, but they taste super, duper cheesy and compliment the other flavours in this stuffed squash perfectly. Trust me – apples and cheese are a match made in heaven, and the caramelized onions and cranberries just take it to a whole new level of deliciousness. So if you're a fan of the sweet & salty combo, I think you'll really love this stuffed squash.
So much flavour, so much gooey-ness, and so much comfort in a deliciously healthy plant-based, gluten-free meal.
Happy eating!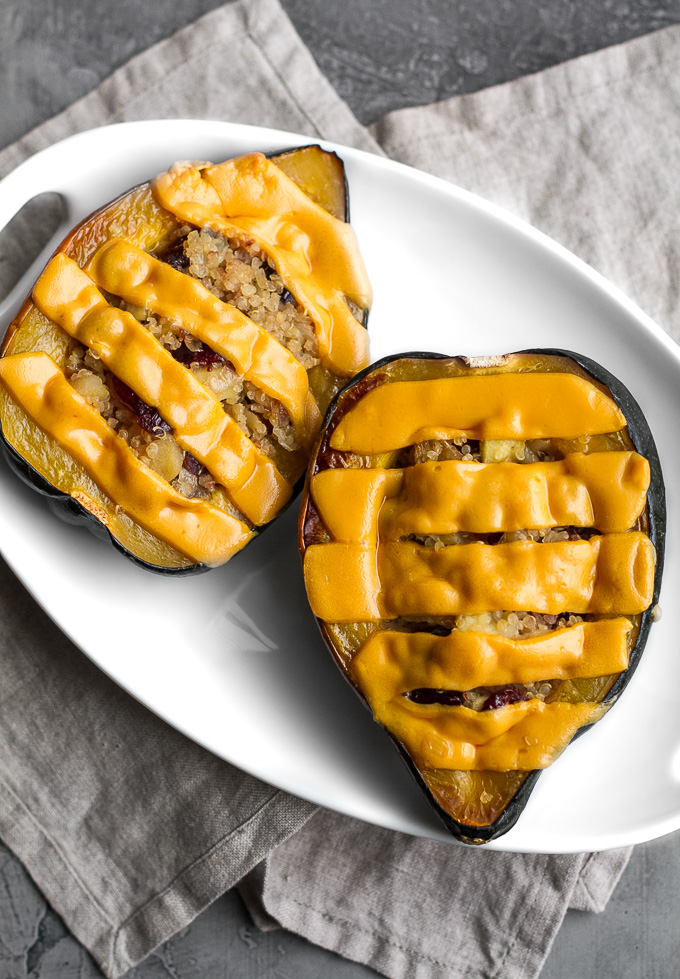 I'd love to know if you make this recipe! Leave a comment and rating down below to let me know what you think, and subscribe to our mailing list to receive new recipes in your inbox!
Print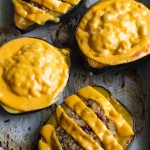 Cheezy Apple Cranberry Quinoa Stuffed Squash
---
Author:

Total Time:

50 mins

Yield:

4

servings

1

x
2

medium-size acorn squash, halved lengthwise and seeded

2 tsp

(

10

ml) coconut oil

1

large onion, thinly sliced (~

110 g

)

1

medium-size apple, peeled, cored, and diced (~

130 g

)

1 cup

(

115 g

) prepared quinoa

¼ cup

(

40 g

) dried cranberries
salt and pepper, to taste
---
Instructions
Preheat your oven to 400F (204C) and line a large rimmed baking sheet with parchment paper or lightly grease it with oil.
Place the squash halves, cut side down, on the baking sheet and bake for 30 – 40 minutes, or until the halves are tender and golden brown around the edges.
While the squash roasts, prepare the stuffing. Melt the coconut oil in a large skillet over medium heat and add the onions once the oil is nice and hot. Decrease the heat and continue cooking until the onions have turned golden brown, about 20 minutes, stirring every few minutes to prevent burning. Add the diced apple and continue cooking until soft, about 5 minutes. Stir in the cooked quinoa, cranberries, and salt. Set aside.
Once the squash is done, turn each piece cut side up on the baking sheet and fill it with stuffing. Top with one Daiya Slice (either whole or sliced) and return to the oven for about 10 minutes, or until the cheese has melted. Allow the squashes to cool a bit and serve warm.
Prep Time:

10 mins

Cook Time:

40 mins
Keywords: apples, cheezy, dairy-free, Daiya, plant based, quinoa, Slices, stuffed squash, vegan


*Disclosure: This is a sponsored conversation written by me on behalf of Daiya Foods, but all opinions and text are my own. Lots of love for showing love to the brands that help support Spoons!