You guys rock my socks off. Seriously.
Thank you so much for helping me make Momma Spoons' birthday that much more special. She read all of your guys' comments and told me that she had never gotten so many birthday wishes before – she was seriously gushing.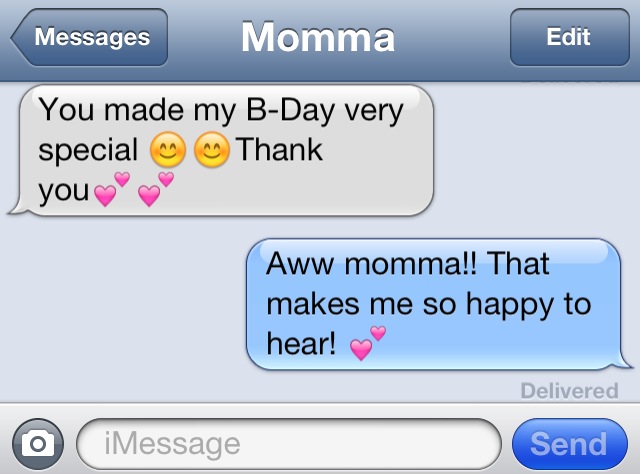 And to make things even better, the cupcakes I made for her were a huge hit as well…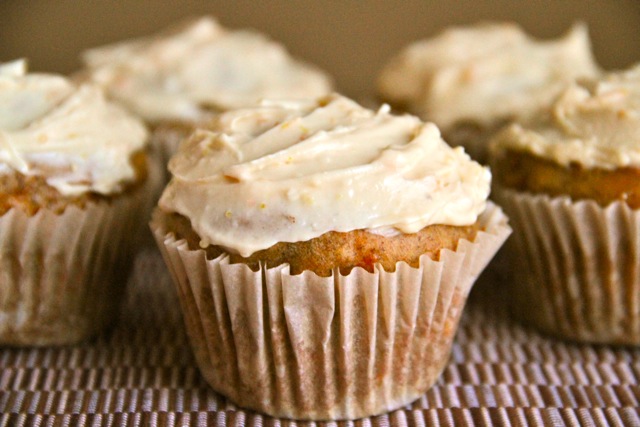 Or should I be calling them muffins… ?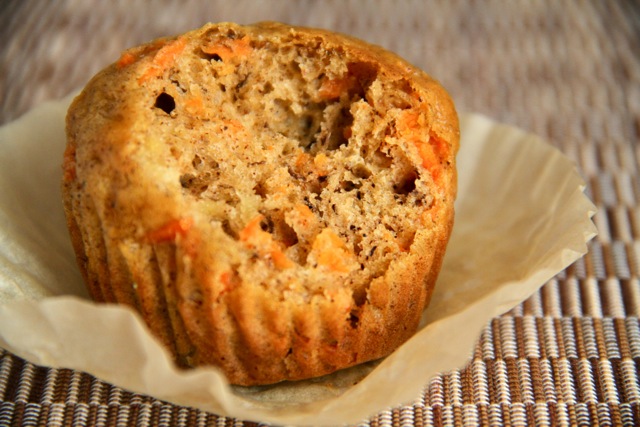 The reason I ask is because, while sweet and frosting-topped, naked they feel rather muffin-y…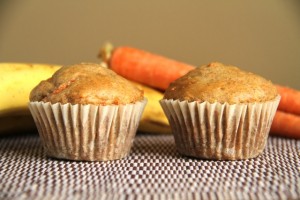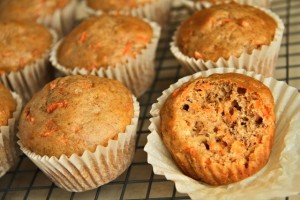 And it doesn't help that they're made with ingredients like this…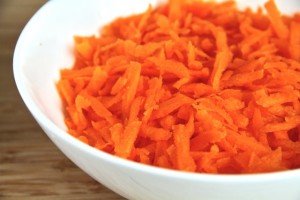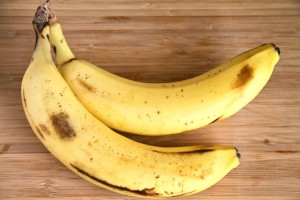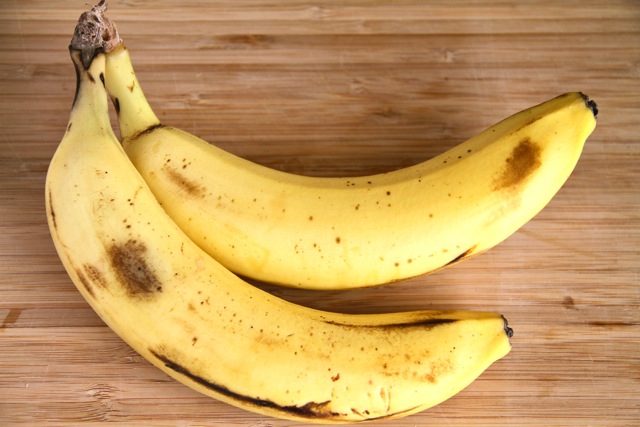 To be honest, I've never really known what the difference between a muffin and a cupcake is. I've always thought of cupcakes as a frosting-covered dessert, with muffins being slightly healthier, frosting-less versions that you could eat for breakfast. I know there are probably more concrete differences that have to do with ingredients and preparation, but I think I'll stick to my frosting vs. no frosting classification for now.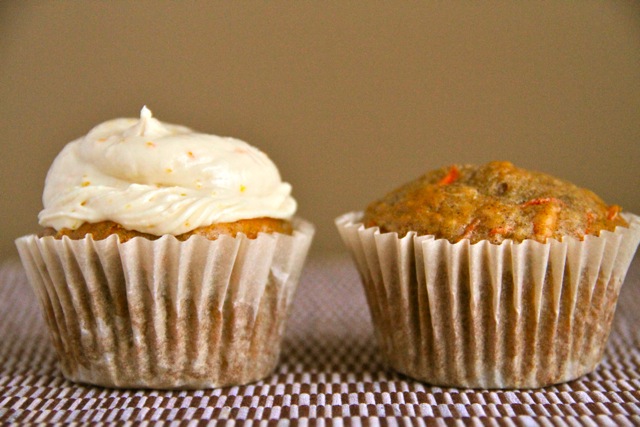 Cupcake on the left, muffin on the right.
Either way, whatever you choose to call them doesn't change the fact that these little things are delicious. They're healthy enough to enjoy for breakfast [as muffins], but throw some frosting on them and you have yourself a delightful [cupcake] dessert that's worthy of a birthday celebration. Actually, I very much recommend throwing some frosting on them even if you want them for breakfast – you don't want to miss out on a flavor combination like this…
That being said, I think it's time I shared the recipe, no?
. – . – . – .
. carrot cake banana cupcakes .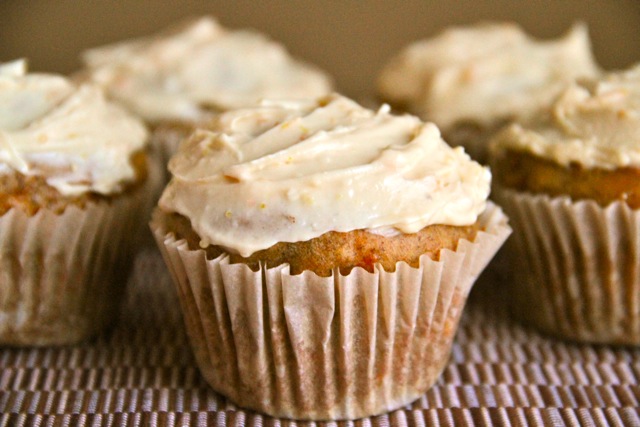 Ingredients (makes 12)
For the Cupcakes
1½ cup all purpose flour
1 tsp. baking soda
1 tsp. cinnamon
¼ tsp. nutmeg
¼ tsp. salt
1 egg
½ cup granulated sugar
2 Tbsp. coconut oil, melted
½ cup mashed banana

½ cup plain Greek yogurt
1 tsp. vanilla extract
1 heaping cup shredded carrots
For the Frosting
1 8 oz. block of cream cheese
¼ cup honey
1 tsp. orange zest
1 tsp almond or vanilla extract
Instructions
For the Cupcakes
1. Preheat oven to 350ºF and lightly oil a muffin tray, or line it with 12 paper/silicone liners.
2. In a large bowl, combine flour, baking soda, cinnamon, nutmeg, and salt. Set aside.
3. In a medium sized bowl, whisk together the egg and sugar until fully combined. Add the coconut oil, mashed banana, yogurt, and vanilla. Mix well.
4. Combine wet and dry ingredients slowly by adding the flour mixture in 2 or 3 increments, stirring gently each time until just incorporated. Finally, stir in carrots. Do not overmix.
5. Use a spoon to divide batter evenly among the 12 muffin cups. Bake muffins for 20 minutes. When finished, remove them from the muffin tray and allow to cool on a wire rack.
For the Frosting
1. In the bowl of an electric mixer, beat cream cheese and honey on medium-high speed until smooth.
2. Add orange zest and almond (or vanilla) extract.
3.
Continue beating for 3-4 minutes until light and creamy.
. – . – . – .
I have to admit that I'm not the biggest fan of carrot cake, and it's not even because it doesn't taste good (although I don't necessarily see anything special about it), but because the idea of putting vegetables into sweet baked goods is something that just doesn't sit well with my mind. But… Mom requested it, and since it was her birthday I couldn't exactly say no. I did cheat a little by adding the banana though, which was actually a great idea because not only did it add a wonderful flavor and sweetness, but it helped make these cupcakes (muffins?) even more moist. The best part was definitely the frosting, though…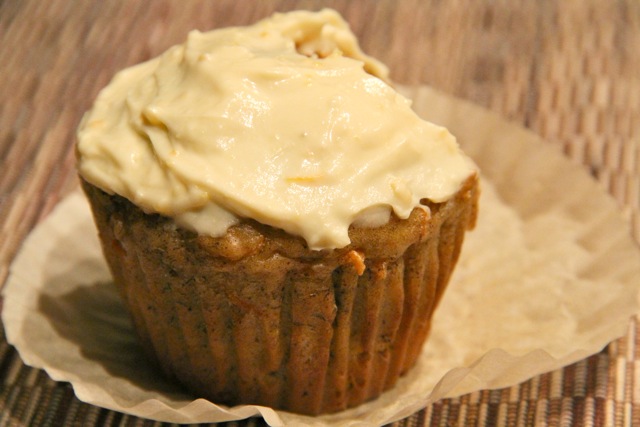 The combination of honey and orange zest is to die for, and when paired with the tang of cream cheese? Well… let's just say that all forms of self-restraint went out the window while frosting these bad boys. Although I have to admit that the cake part isn't half bad either… even if it does have a veggie in it.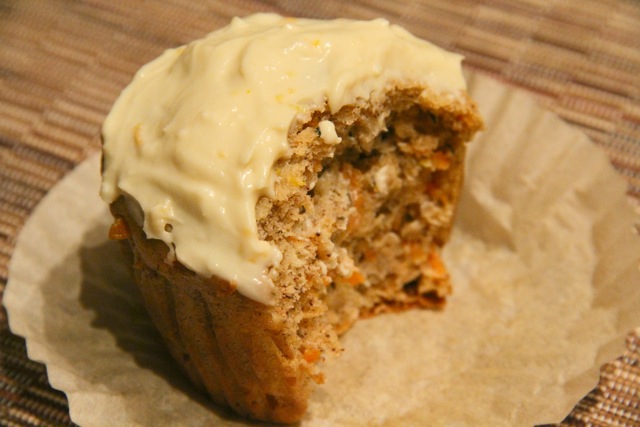 Happy Sunday, friends!
. – . – . – .
Do you like veggies in your baked goods?
What's the difference between muffins and cupcakes?
Do you prefer the cake or frosting?