Today was a rainy day…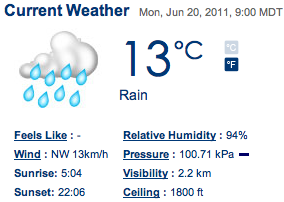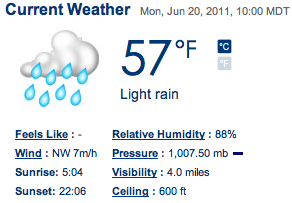 … the I've-already-lost-track-of-how-many-days-it's-been rainy day in a row.
When I was little, a rainy day meant a day spent inside driving my mom crazy playing with coloring books, puzzles, and Legos. God I really miss Legos… These days, I'm still known for whipping out the Crayolas when the mood strikes, but my rainy days have shifted away from playful and moved towards productive. I clean. I cook. I bake. I clean some more. And I've gotta say that after a week and a half of miserable weather, my house has never been cleaner, nor smelled better… especially after this morning…
I woke up on this murky Monday with an inexplicable craving for some freshly baked goodies. Well, okay, that's not entirely true – I woke up with the usual craving for hot coffee and oats…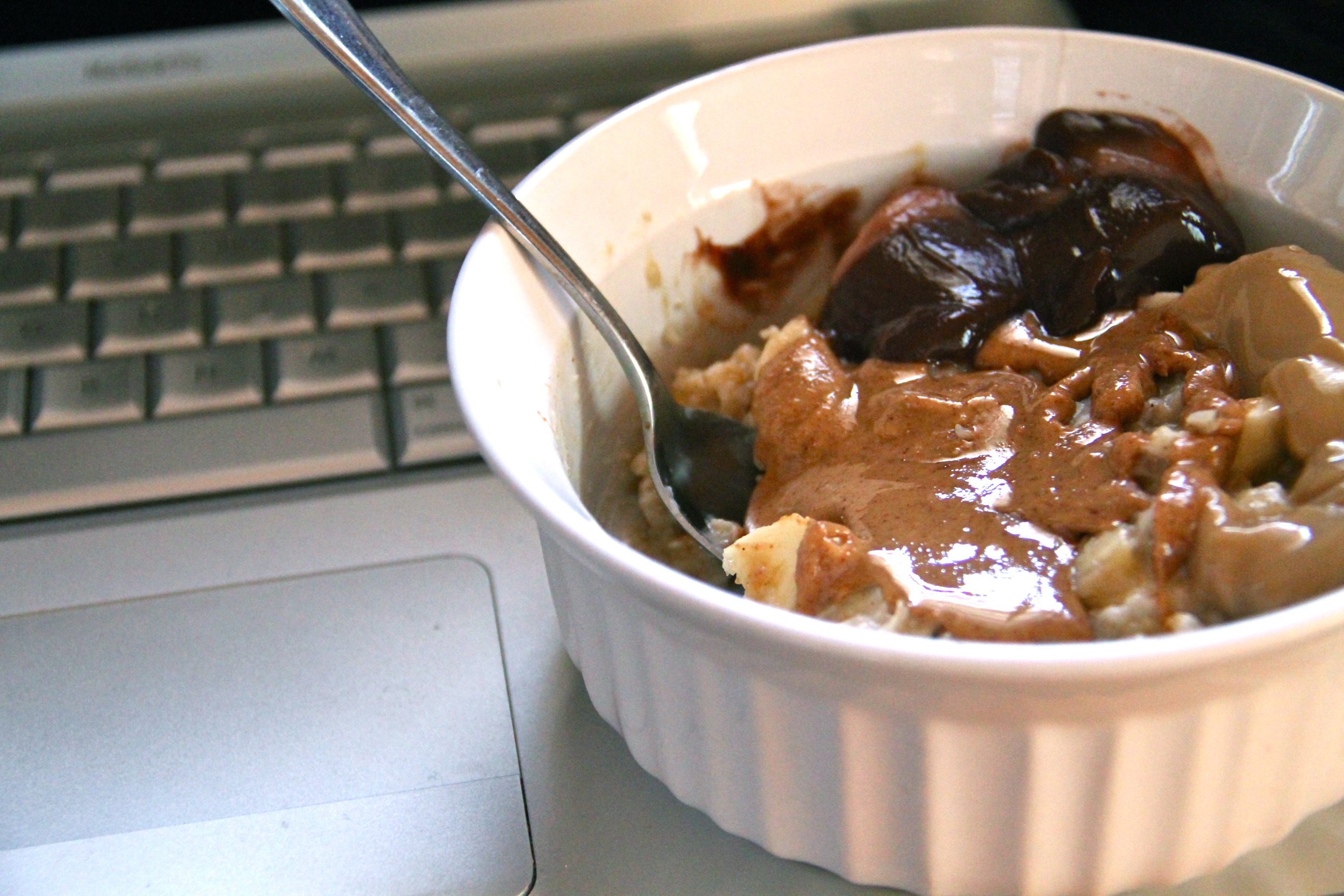 … which I promise are buried under that hot mess of almond butter and pudding…
Once that was taken care of, and my belly and caffeine addiction were fully satisfied, I was free to address the all important question – what do I feel like baking today? Well that was an easy one. Cookies. Warm and chewy oatmeal raisin cookies sounded perfect. Then again, so did spiced coconut muffins…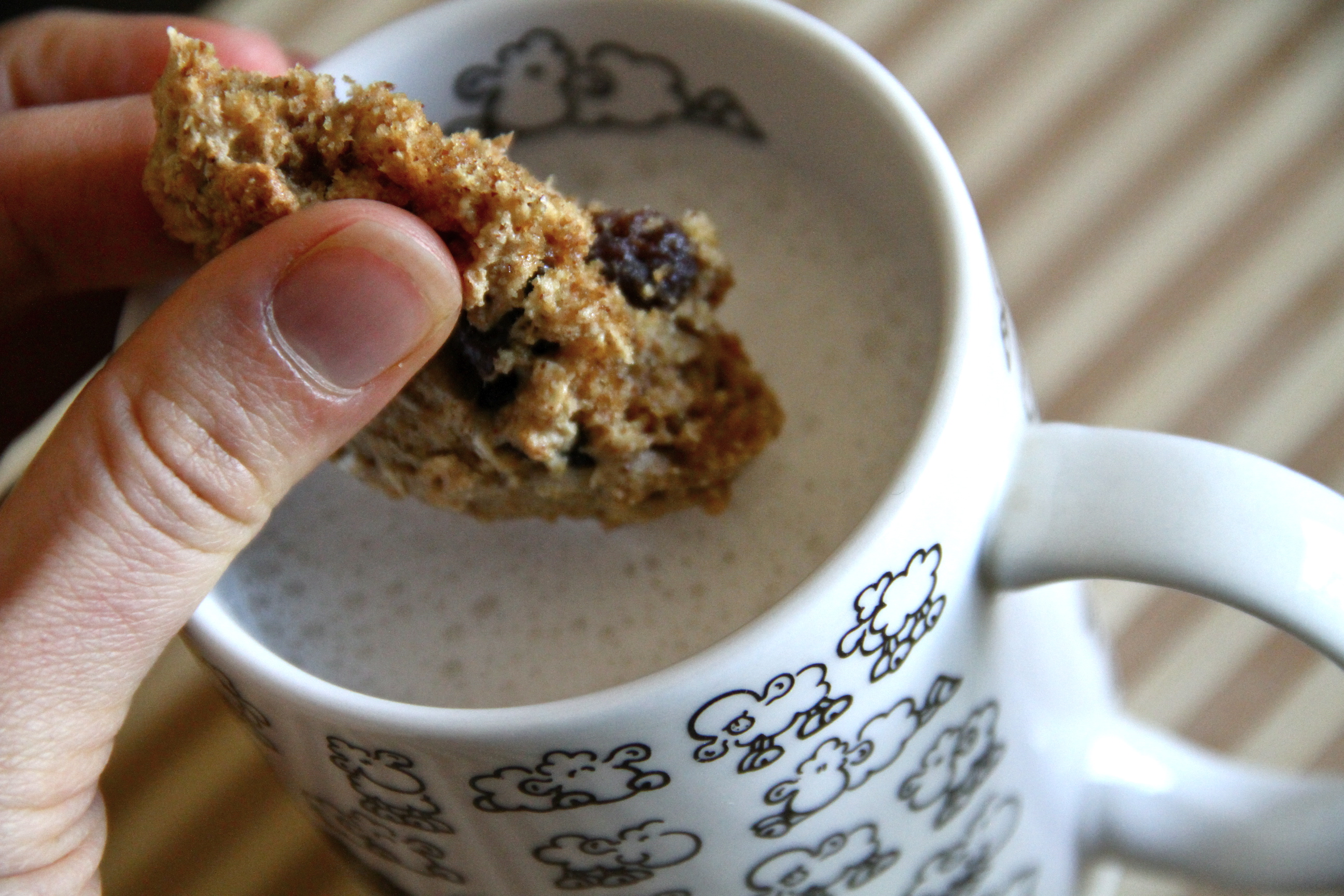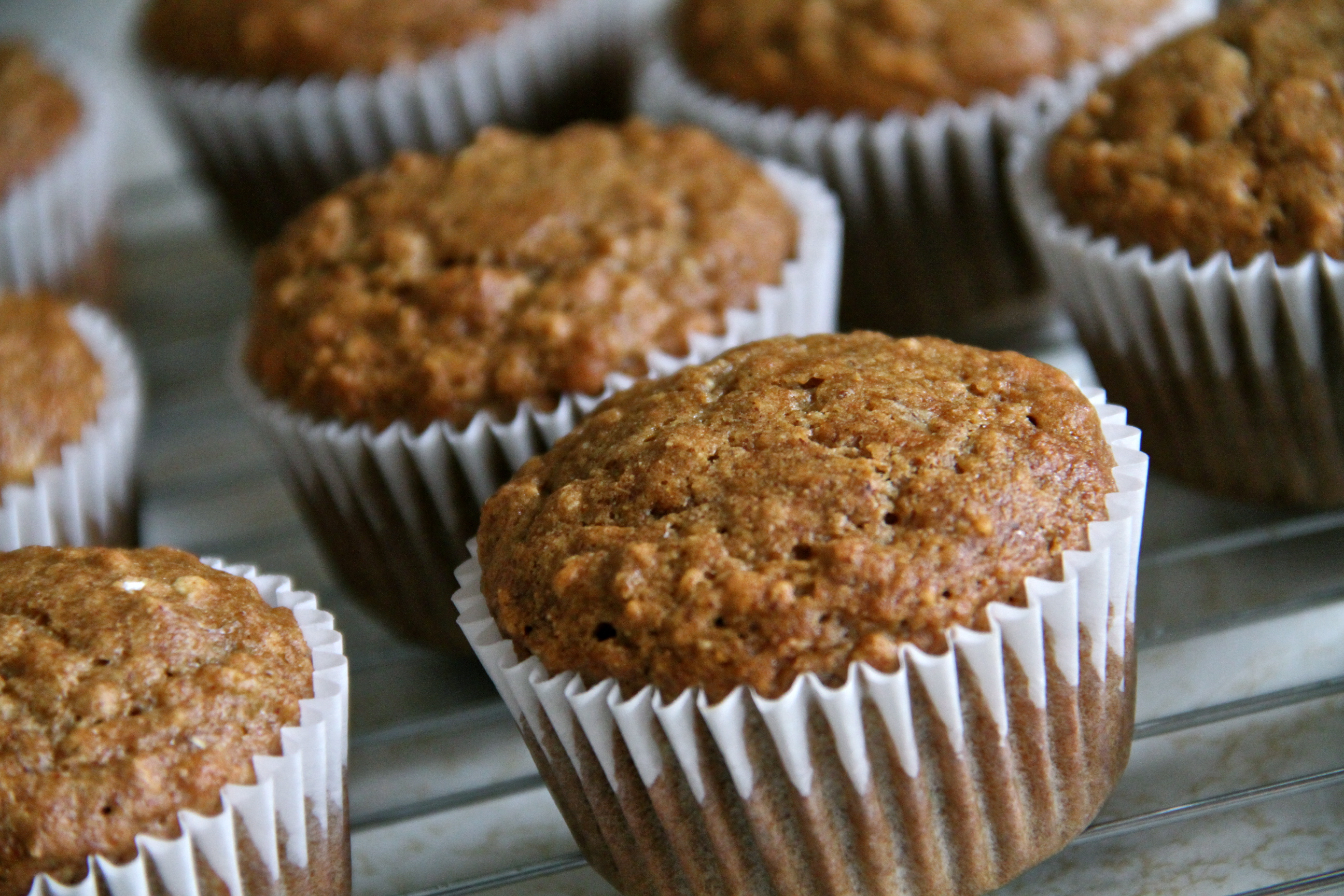 Cookies always hit the spot, though…
But so do muffins…
Err… damn.
Half an hour and several coin tosses later, and I was no closer to an answer than when I started. Indecisive much? Yes… err no. Wait, maybe? I'll get back to you on that one…
In any case, because I couldn't decide between the two, I did what any reasonable person would do and decided to go with both. Problem solved. But because I didn't wanna clean up twice the mess, I did what any lazy person would do and decided to combine two recipes that only existed in my head into one recipe that might have been better off only existing in my head… I decided to make muffies.
Cookies + Muffins = Muffies
Could it be done? Only time would tell…

Dun, dun, dun.
. . .
Alright, alright. I'll cut the drama and just tell you… Yes it can be done, yes it is delicious, and yes I've already eaten three. Oh wait; that last one was supposed to be kept a secret. Damn.
The recipe, however, was meant to be shared. Enjoy!
. – . – . – .
. caramel coconut raisin muffies .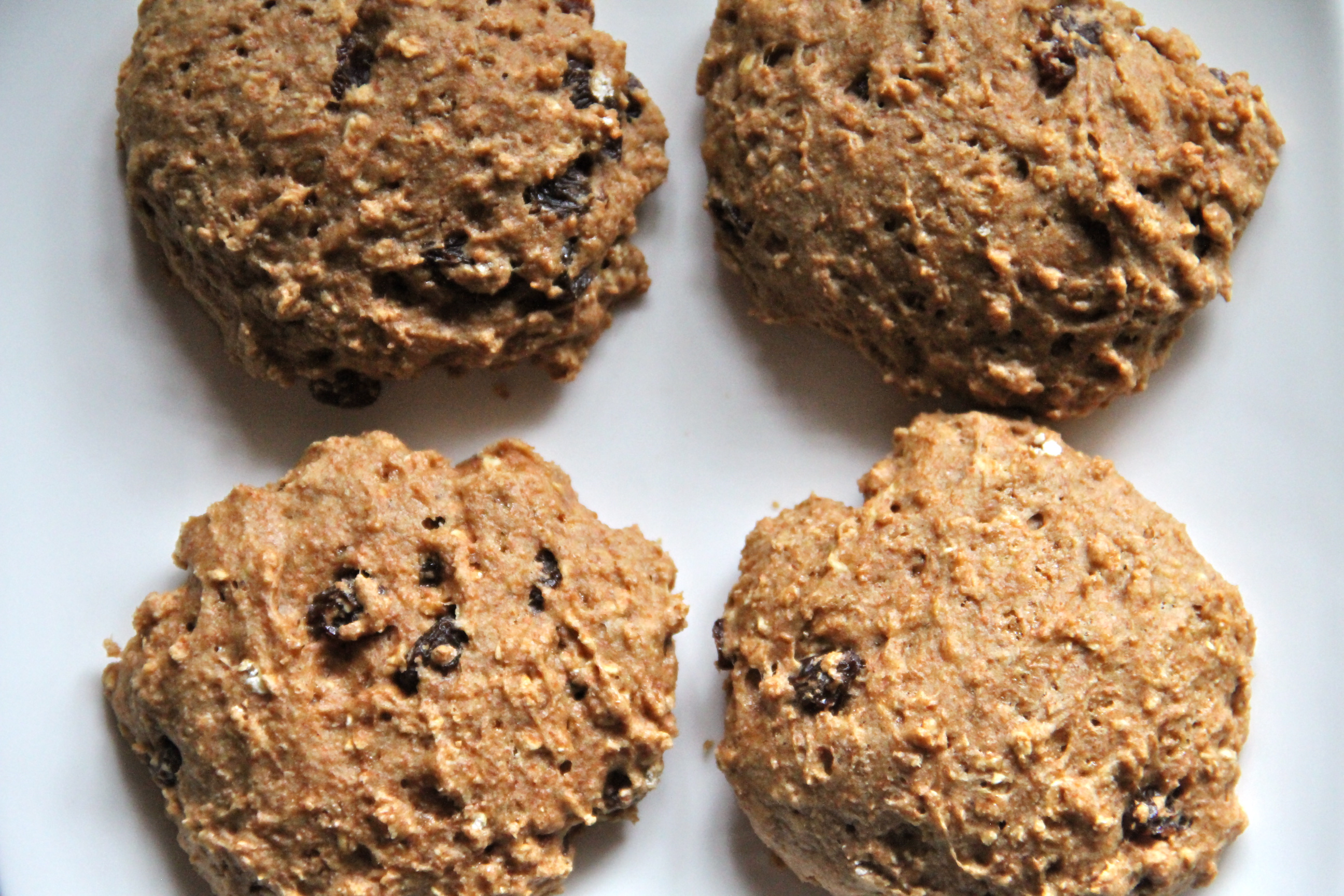 Ingredients (makes 10 muffies)
¾ + 2 Tbsp. spelt flour
½ cup quick oats
¼ cup unrefined sugar
1 tsp. baking powder
¼ tsp. baking soda
¼ tsp. salt
½ tsp. cinnamon
¼ tsp. nutmeg
¼ cup raisins
2 Tbsp. shredded coconut
¼ cup vanilla almond milk
1 Tbsp. melted coconut oil
1 tsp. vanilla extract
Instructions
1. Preheat your oven to 350ºF, and line a cookie sheet with parchment paper.
2. In a large bowl, combine all the dry ingredients. Mix well until fully combined and set aside.
3. In a separate bowl, combine pudding, milk, and vanilla. Melt the coconut oil in a microwave or toaster oven and an oven safe dish. Add the melted oil to the pudding mixture and stir until fully incorporated.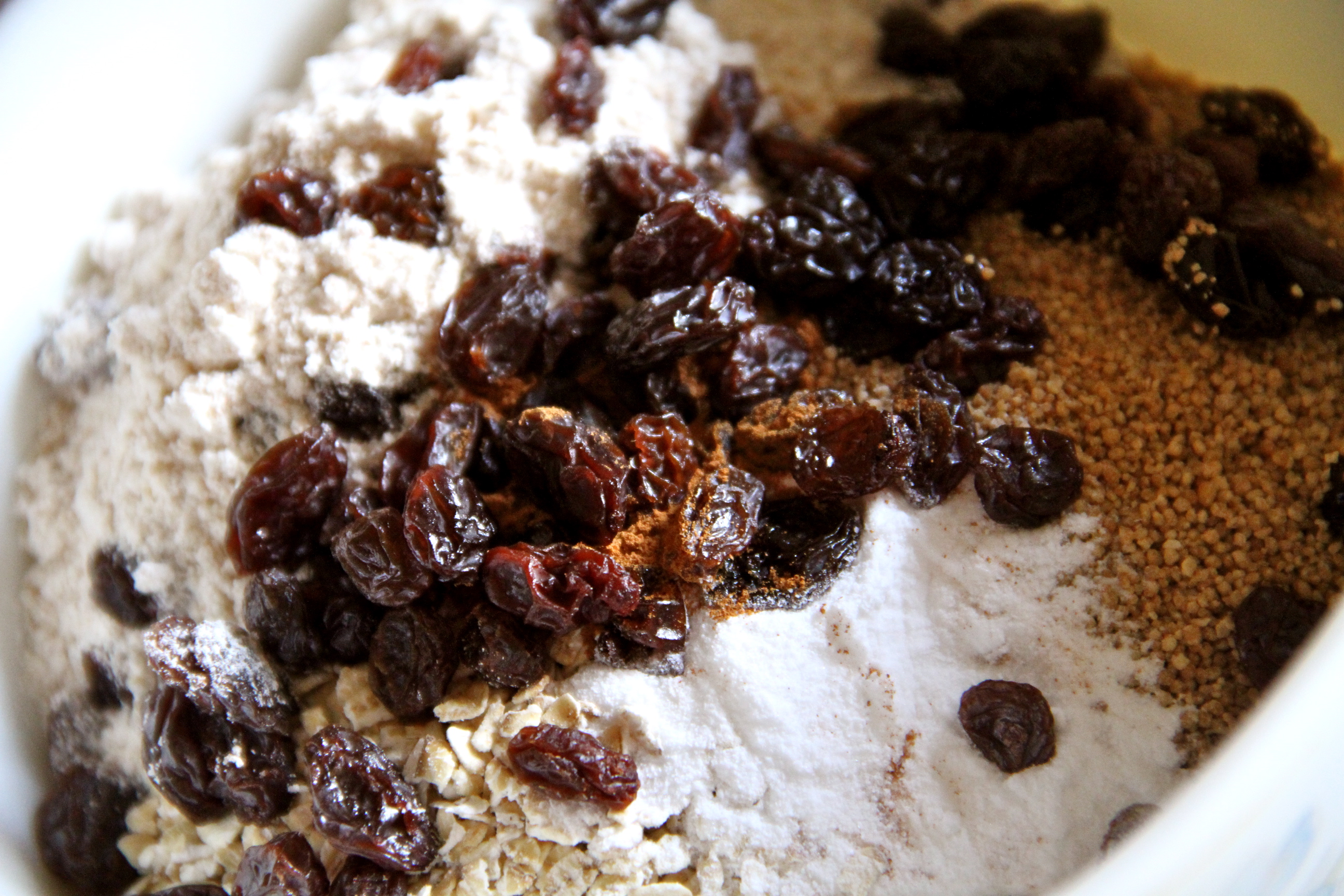 4. Add the wet ingredients to the dry ingredients, and stir gently. Do not overmix.
5. Spoon dough onto the cookie sheet as you would if you were making cookies. Use a heaping tablespoon of dough for each muffie, and flatten slightly.
6. Bake for 12 minutes. Remove from oven and transfer to a wire rack to cool.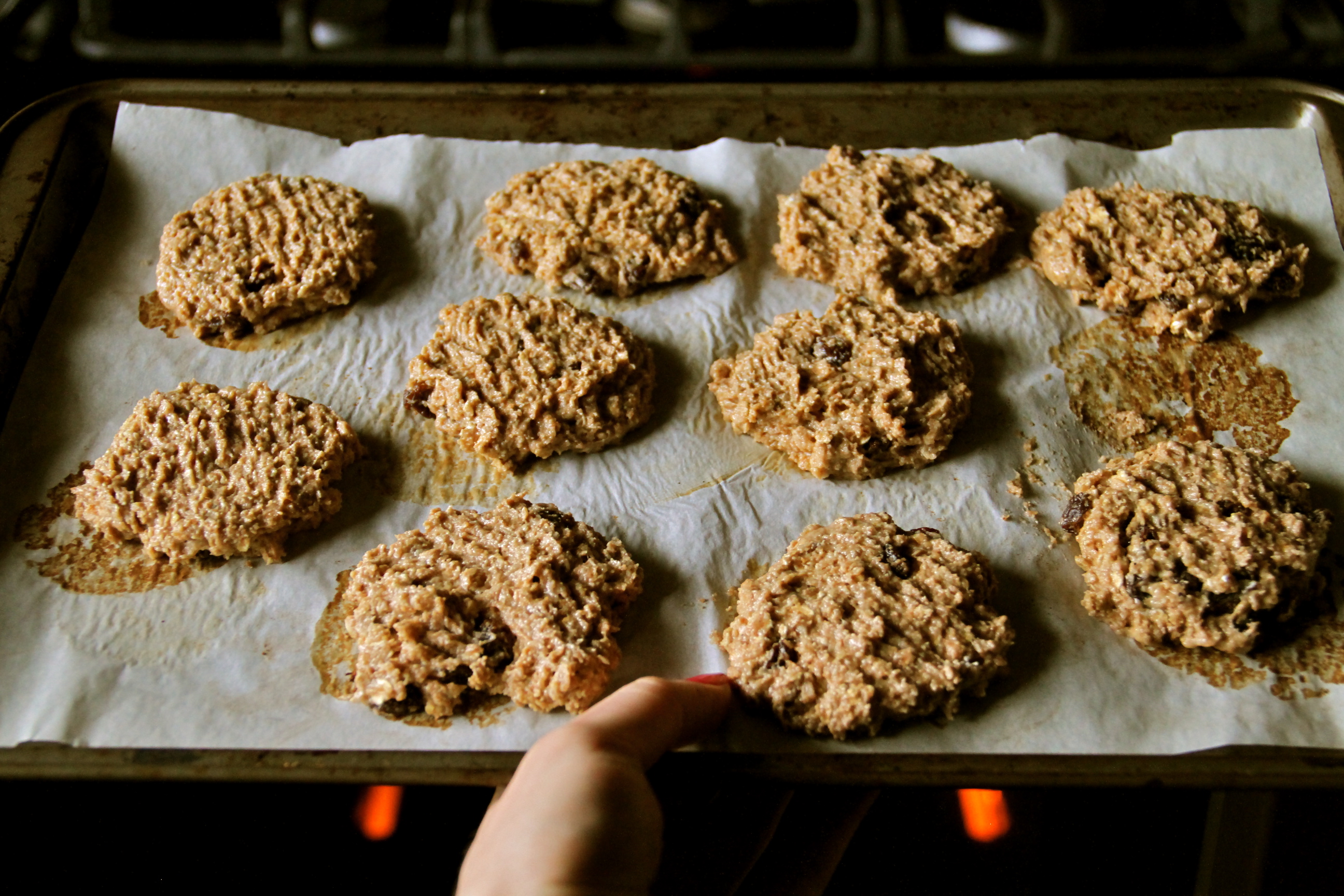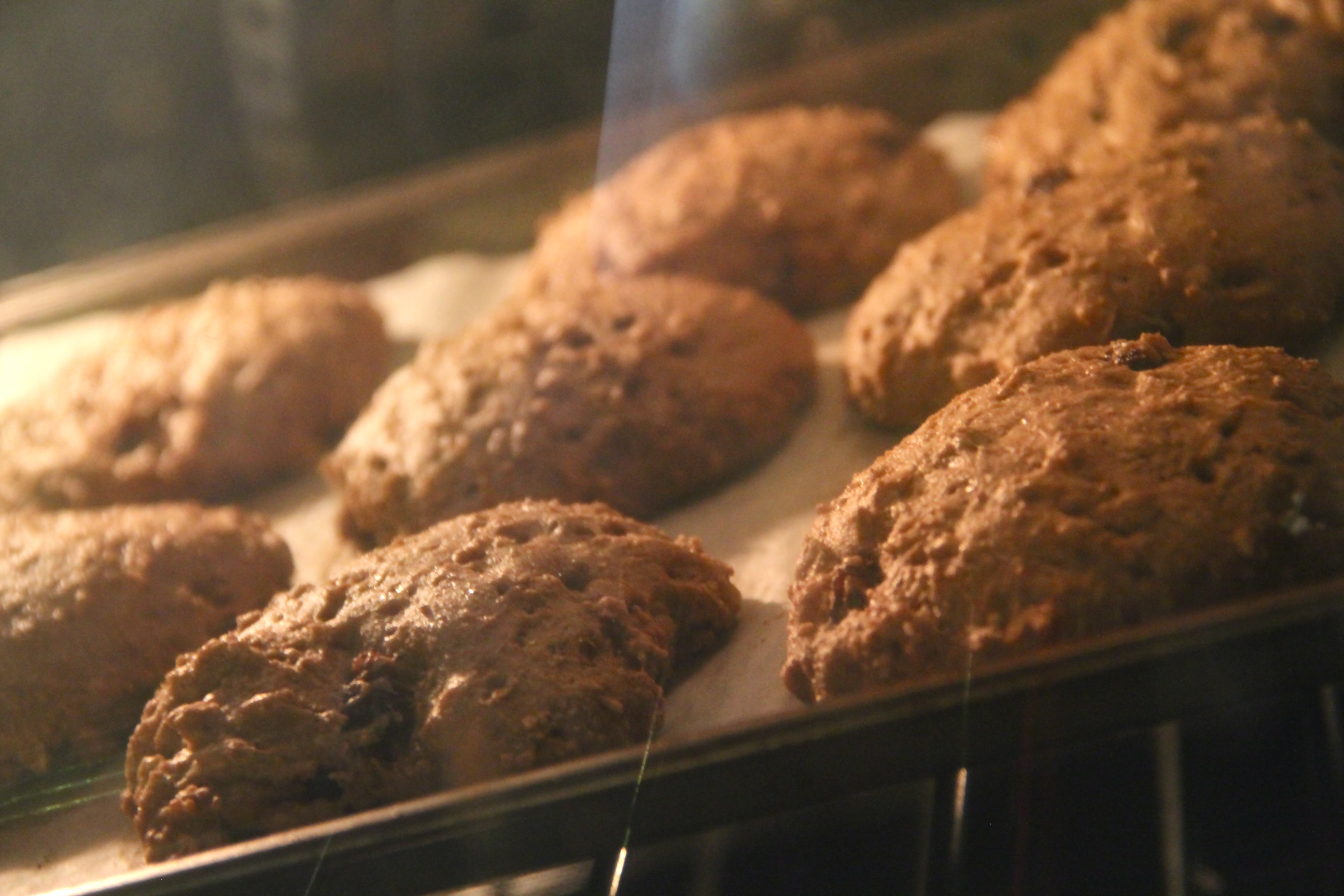 Happy Eating!
. – . – . – .
I'm not usually one to toot my own horn, but these. were. dee. vine. Shaped like cookies with the spongier consistency of a muffin top – it was the best of both worlds. And the perfect blend of flavors to boot.
Love at first bite.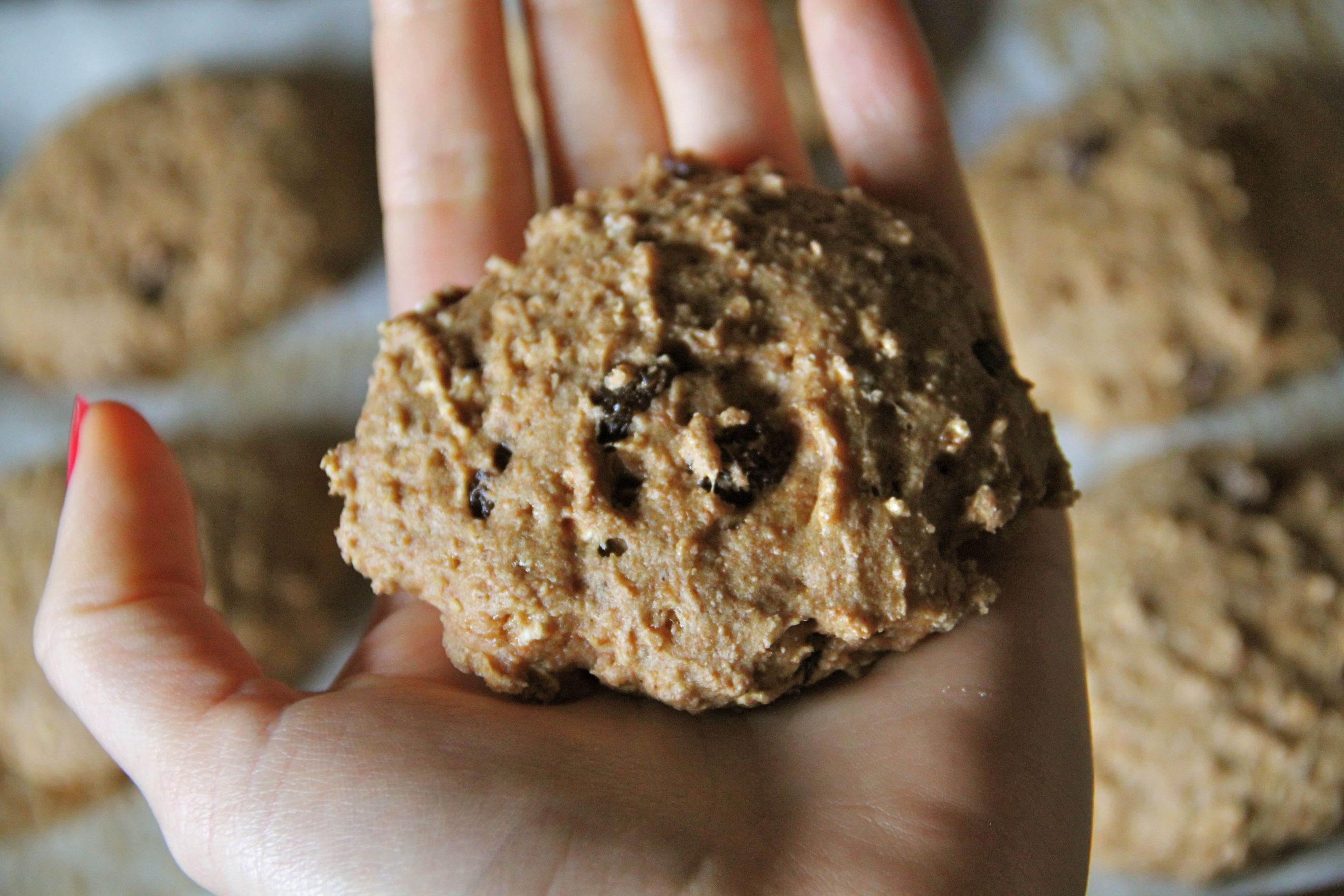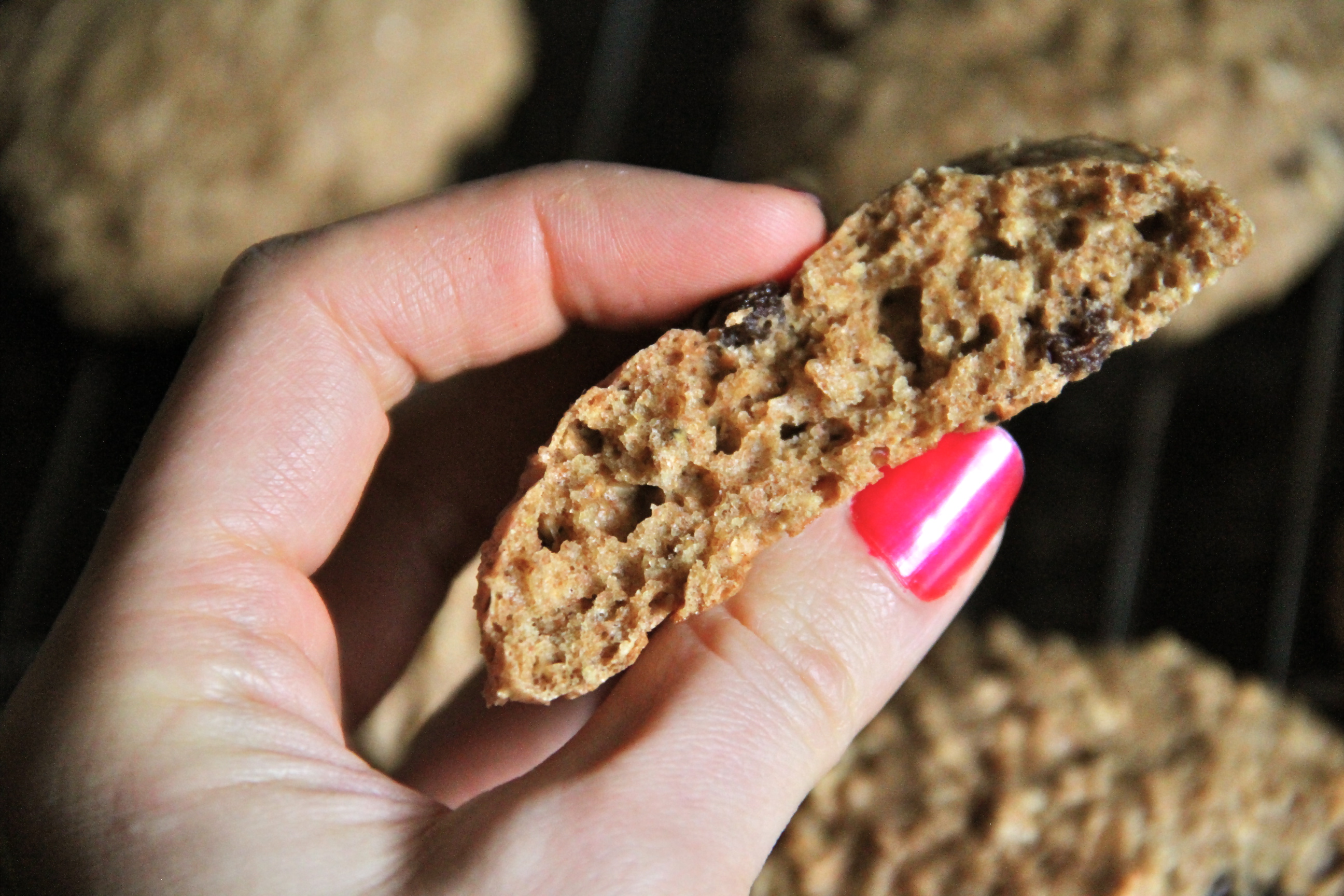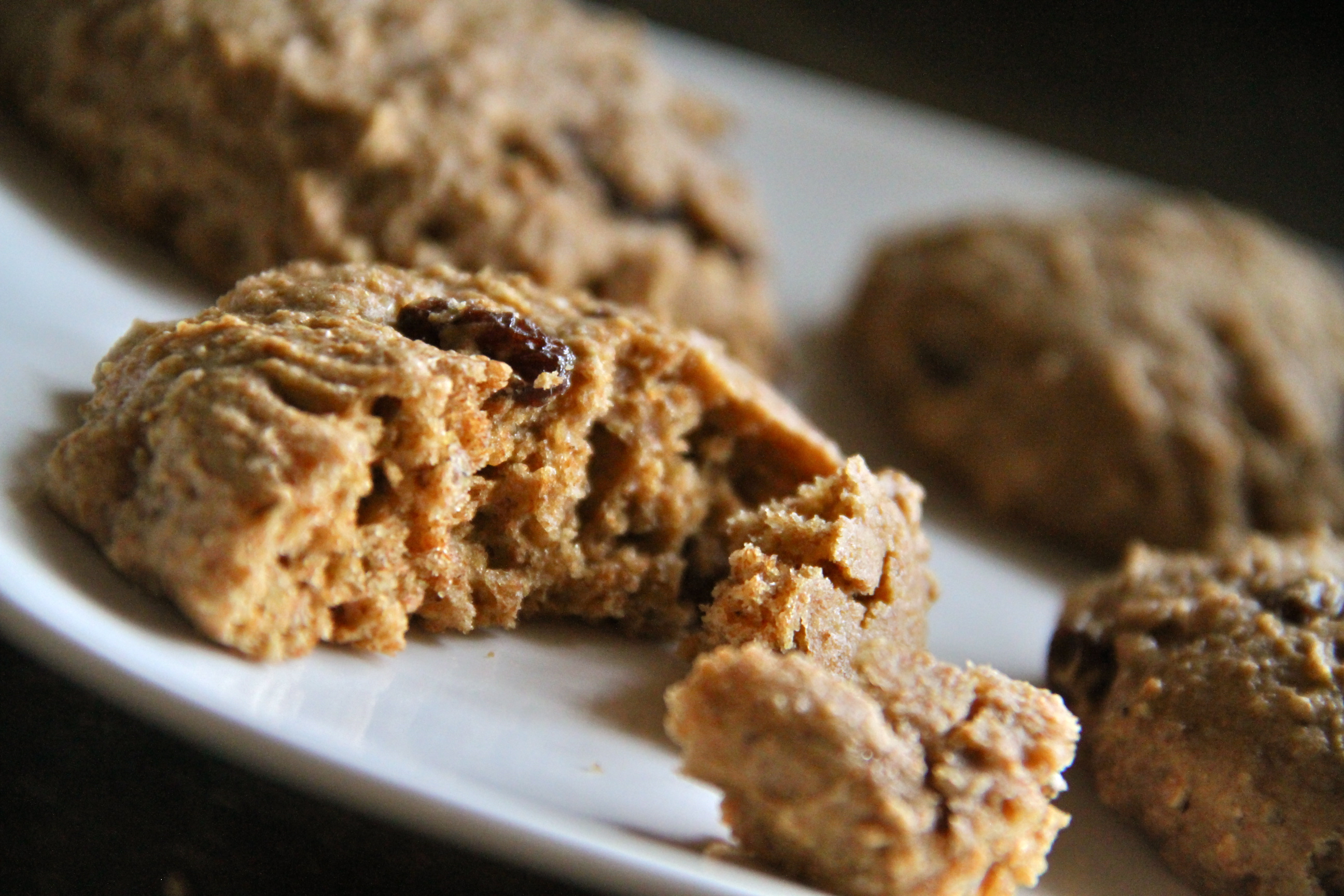 Cookies? Muffins? If you ever find yourself unable to decide between the two, try these out. I promise you won't be disappointed!
. – . – . – .
Cookies or Muffins? And what kind?
What toys did you play with as a child? I was never one to play with dolls – actually, I don't think I've ever even owned a Barbie… Some of my favorite toys were puzzles, board games, teddies, Lego, Hot Wheels, Play-doh, Playmobil, My Littelest Petshop, My Little Pony… Ahh, good times…