Enjoy the taste of brownies for breakfast in this single-serve vegan breakfast bake that's loaded with fibre, healthy fats, and plant-based protein. Naturally sweet and loaded with chocolate flavour, it's a healthy and delicious way to start your day.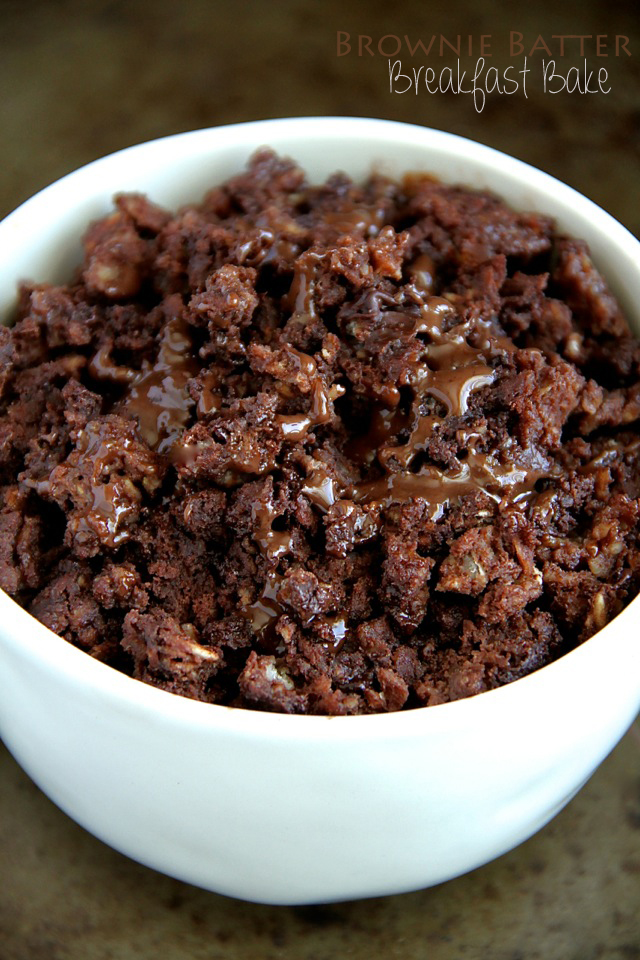 All those in favour of eating brownie batter for breakfast, say "I." All those opposed. . .
. . .
. . .
. . . please reconsider your life choices!
Awwr I'm just kidding. Kind of. I don't actually recommend eating brownies for breakfast [on a regular basis], but I do recommend eating things that are slightly (read: quite a bit) healthier and make you feel like you're eating brownies for breakfast.
Things like this brownie batter breakfast bake, for example…
Tell me you don't want to face plant right into that. Actually, don't — I might judge you.
I know I said that I'd stop with the breakfast recipes after bombarding you with them in January, and I will… after today. I just really, really wanted to share this last one with you guys, and I figured that chocolate for breakfast was the perfect way to transition into February and set the mood for Valentine's Day.
So let's talk deets. Actually, let's take a closer look at what we're working with and then talk deets…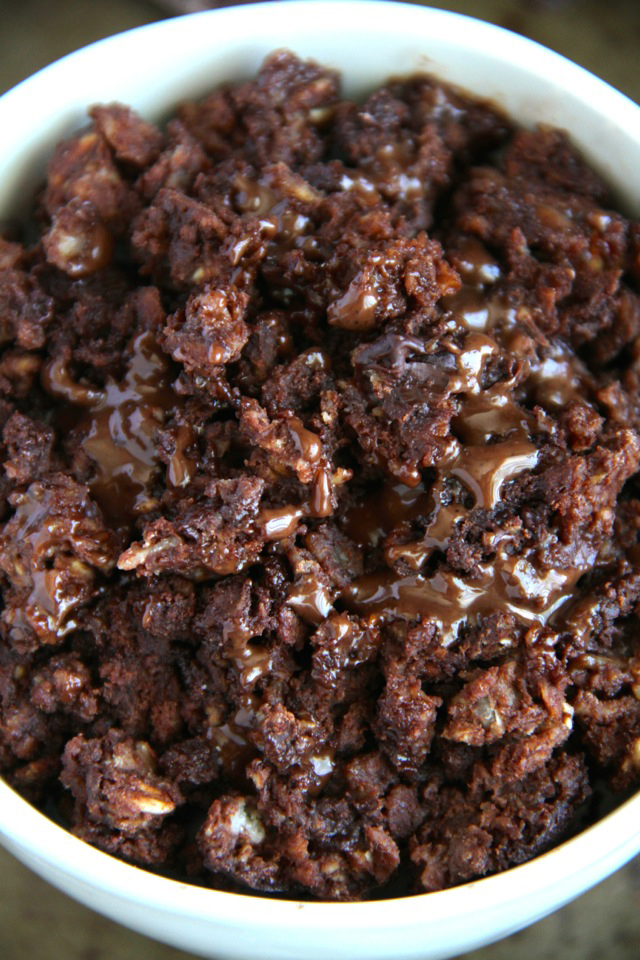 Oh.Glory. Okay. Focus. Focusing. Breathe.
To say this breakfast bowl tastes exactly like a brownie would be a lie, but it also wouldn't be too far from the truth. Obviously we're dealing with a different texture here since I'm pretty sure most brownies don't come equipped with the awesome nutrition power of oats, but as far as taste goes? It's pretty darn close.
You've got your sweetness. Your chocolatey-ness. Your… actually, that's pretty much it. I don't know how to describe the taste of brownies other than "sweet and chocolatey," and that's basically the answer I got when I Googled it, too. Which, by the way, is a question that I wasn't the only one asking. Apparently, "how does a brownie taste?" is something a lot of people want the answer to. But I digress.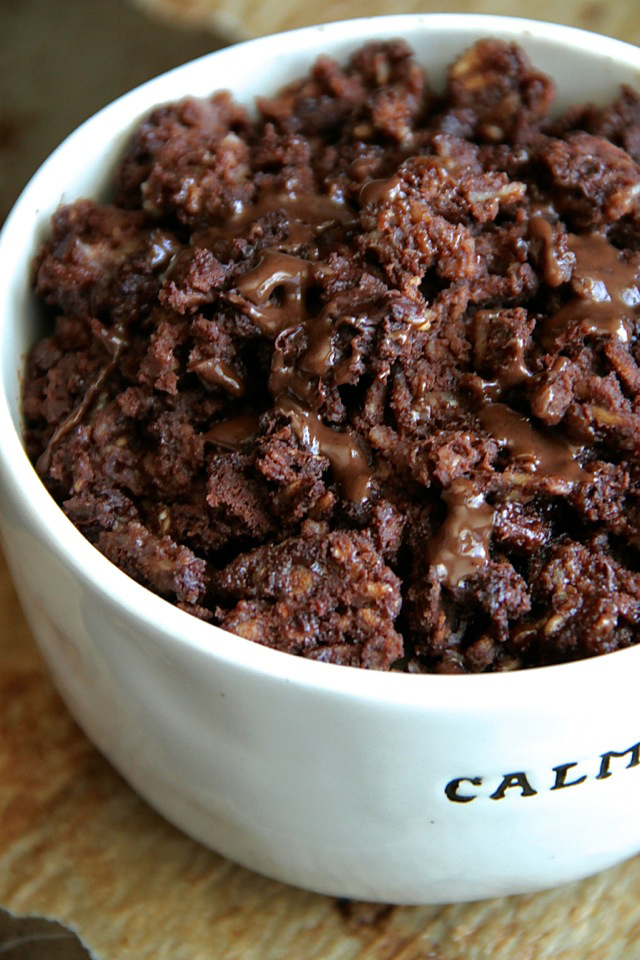 So we've got sweet and we've got chocolatey. Sound good so far? I thought so too. We've also got chewy, ooey, gooey, and "ohhhh my god how is this actually good for me?" That last one is a direct quote, by the way.
But despite being hard to believe, this little guy really is healthy enough to enjoy for breakfast. And yes, I realize chocolate chips don't exactly fall into the "health food" category, but I'd argue that they're good for the soul and therefore good for overall health. You can always leave them out or replace them with some nuts if you prefer, but I'm personally not huge fan of nuts in my brownies, so I'd prefer to keep them out of my brownie batter oats.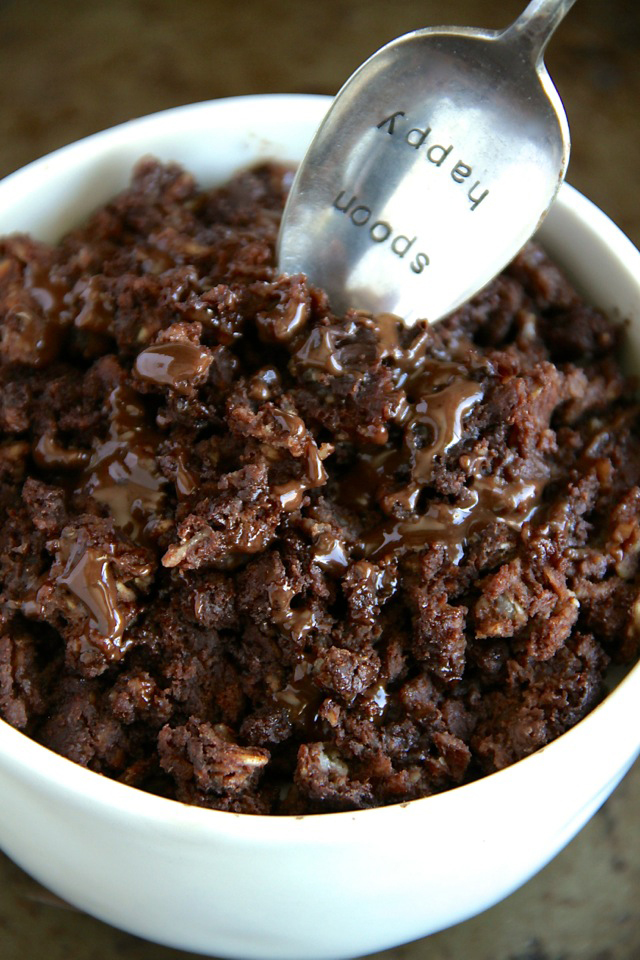 Chocolate chips aside, this breakfast bowl is packed with a good dose of fibre, healthy fat, and plant-based protein. It's vegan as long as you use dairy-free chocolate chips, and can easily be made gluten-free by using a gluten-free flour. I've made various breakfast bakes with all-purpose, whole wheat, spelt, rice, coconut, and almond flours before, and never really noticed a huge difference between them. It's all up to you and your individual needs.
Oh, and as an added bonus, baking this makes your house smell like brownies… which is way better than waking up to the smell of coffee. Just saying.
Happy eating!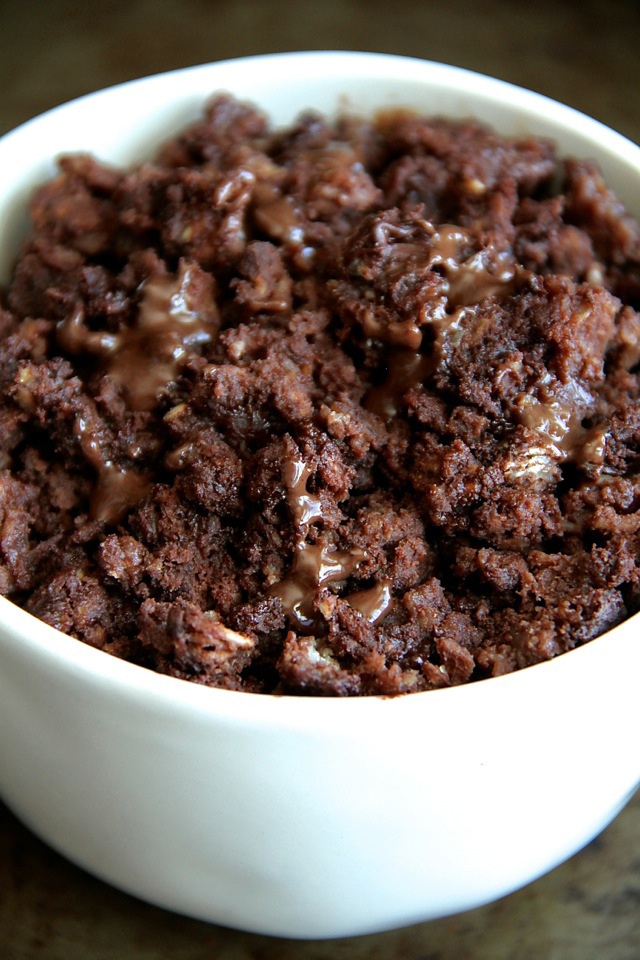 I'd love to know if you make this recipe! Leave a comment and rating down below to let me know what you think, and subscribe to our mailing list to receive new recipes in your inbox!
Print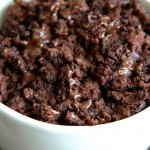 Brownie Batter Breakfast Bake
---
Author:

Total Time:

20 mins

Yield:

1

serving

1

x
1/3 cup

(

30 g

) rolled oats

2 Tbsp

(

15 g

) flour of choice*

1 Tbsp

(

5 g

) unsweetened cocoa powder

1/4 tsp

baking powder
pinch of salt

1/3 cup

(

80

ml) unsweetened almond milk

1/2

–

1

Tbsp (

8

–

15

ml) maple syrup, to taste

1 tsp

(

5

ml) coconut oil, melted

1/2 tsp

vanilla flavor

1 Tbsp

(

10 g

) dairy-free chocolate chips
---
Instructions
Preheat oven to 325°F, and lightly coat an individual sized ramekin or oven-safe bowl with cooking spray or oil.
In a medium-sized mixing bowl, whisk together oats, flour, cocoa powder, baking powder, and salt. Add almond milk, maple syrup, coconut oil, and vanilla, mixing until well combined. Fold in chocolate chips, reserving a few to sprinkle on the top.
Transfer batter to your greased ramekin, topping with a few extra chocolate chips if desired. Bake for 15-20 minutes, depending on desired consistency.
Remove from oven and allow to cool for about 5 minutes before adding any additional toppings and digging in!
Notes
* I usually use an all-purpose or whole wheat, but this recipe works with most flours, including gluten-free ones
Prep Time:

5 mins

Cook Time:

15 mins
Keywords: breakfast, breakfast bake, brownie batter, chocolate, healthy breakfast, oatmeal bake, recipe, vegan

Looking for more breakfast bake recipes? Try one of these!
Oatmeal Cookie Dough Breakfast Bake
Blueberry Muffin Breakfast Bake
Pumpkin Pie Breakfast Bake
Cinnamon Bun Breakfast Bake
Blueberry Banana Breakfast Bake