Alrighty! Now that we've got the best part of HLS covered, we can move on to the nitty gritty, blogging-related details of the actual conference itself. While I can't deny that my main motivation for attending was definitely getting a chance to meet some of my favourite bloggers, I was also really looking forward to picking up some new blogging tips, and that's what the majority of Saturday was all about…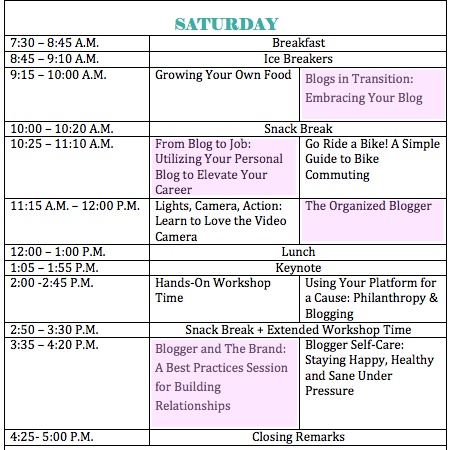 We had a pretty packed schedule, and I ended the day with those four highlighted sessions under my belt. Each one was full of some pretty good info, which I dutifully took down so I could share with you guys…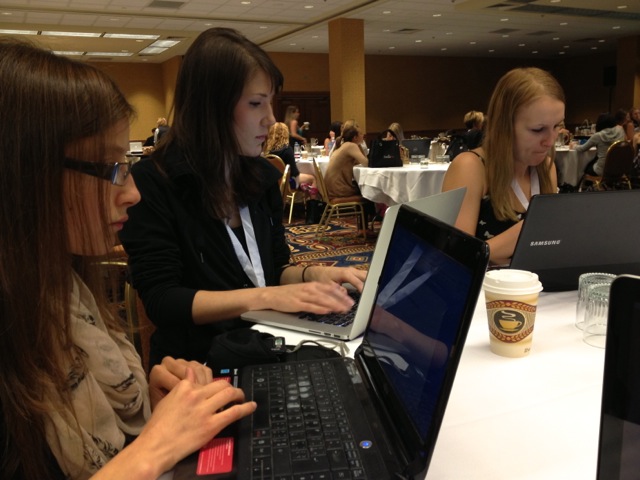 You can thank me in cookies. Or cereal. Or coffee. Or almond butter 😉
. – . – . – .
Blogs in Transition: Embracing Your Blog
Tips on how to find your blogging voice and develop a consistent blogging schedule.
How to Find Your Blogger Voice
Write a mission statement. This is your voice and personality – your "brand." It's basically who you're going to be and the image you're going to give across. Be consistent and stay true to it.
Be authentic. Don't try to be who people expect you to be. Don't try to be perfect.
Write the way you speak. Treat blogging like you're having a conversation with a friend.
Coin your own phrases, terms, and slogans (eg. WIAW, MIMM, Thinking Out Loud). Over time, people begin to associate these phrases with you, making you easier to identify.
Make your design an accurate reflection of you. Use colours, images, themes, etc. that you enjoy.
How to Develop A Consistent Blogging Schedule
Be realistic about what you can achieve. You don't HAVE to blog every single day. It's better to have fewer, better quality posts than put out lackluster content just for the sake of posting.
Spend some time each month brainstorming. Depending on what time of the year it is, you can pick a theme to focus on and base a lot of your posts around that.
Create an editorial calendar. Pencil in what topics you're going to post about ahead of time so that you're not left scrambling to come up with content. Keep it flexible.
Plan ahead! If you have a busy week/month coming up, devote some time over the weekend to come up with a posting schedule. Reach out for guest posts if you need to.
Focus on Your Design
Create a header in PicMonkey. A nice header makes your blog look more appealing and professional. It's free and easy to do [Tutorial].
Have social media buttons. Make sure it's easy for people to follow you with buttons for Facebook, Twitter, RSS, and Instagram in your sidebar.
Add/update pages. Research your top posts — see what people are most interested in.
Update your sidebar. This can be done with recent tweets, posts, recipes, etc. Keep things current.
Add badges to your sidebar. This helps people see what you're up to (eg. Sweat Pink, Fitfluential, upcoming races, etc.).
. – . – . – .
From Blog to Job: Using Your Blog to Elevate Your Career
Just because blogging isn't your job doesn't mean it can't help you find one.
A blog is a great way to get your foot in the door and put your name out there.
Use your blog as a portfolio — make it good quality because you never know who's going to stumble upon it.
Use your blog to explore what you're passionate about.
Include your blog on your resume. It shows your personality and what you're passionate about.
Great news for smaller blogs! Companies are interested in how fast you're growing, not necessarily how big of a following you already have.
Quality counts! Many brands prefer someone who is a better, more passionate writer than people who have a huge following.
Don't be afraid to submit your writing/recipes to companies and magazines. You have nothing to lose and might get lucky!
Find mentors. Talk to other bloggers and ask for advice. Don't be afraid to reach out to bigger bloggers with your questions.
. – . – . – .
The Organized Blogger
Tips, tricks, and tools for staying organized in blogging.
Organization and Content Creation
Have a plan. Create an editorial calendar (monthly/weekly)

Plan out what your posts are going to concentrate on (theme) – this gives you focus makes it easier to come up with content.
Be flexible. Stay within your theme 50-80% of the time and keep things fresh.

Tools for content creating:

Blogger friendships. Bounce ideas off one another.
Windows Live Writer (PC) and Mars Edit (Mac).
Tips on Blogging More Productively
Use your time wisely! Set aside a certain amount of time to complete a task and devote that entire time slot to working on it. A great tool for tracking your time is Online-Stopwatch.com.
Limit multitasking. Keep your work focused.
Track your time online. Limit online distractions by monitoring what sites you spend the most time on. A site like Rescue Time can do this for you.
Create short-term and long-term goals. Reward yourself when you achieve them.
Listen to the right music. Focus@will is a site that will play good ambient music for you.
Community Involvement
Be an active part of the blogging community. Never underestimate the power of collaboration and connection.
Become a person known for sharing valuable content via Twitter, Feedly, Buffer, Facebook, etc.
Use the time you have available to you. Be invested on the go — Tweet while walking. Hop on Instagram while waiting in line. Make the most of the time you have.
. – . – . – .
Blogger and The Brand
How to build quality relationships with brands.
What Every Brand Wishes Bloggers Knew:
Brands prefer working with bloggers who have already tried their products/services.
Be concise. Tell a brand what you would like from the outset.
Reach out with your own ideas. Don't just wait for them to pitch an idea to you.
Brag a bit. Include your stats and any other successes with blogging – be tenacious! Don't give up!!
Budgets are limited so be open to other ways brands can add value to you besides payment.
Ground Rules for Both Sides:
Determine if your values align before making any outreach (ie. Don't reach out to a vegan product if you are not a vegan).
Be each others' fans. Follow each other on Twitter, like each other on Facebook, comment on posts, and participate in conversations.
Make it easy to say 'yes'. Both sides should be detailed and clear in the initial pitch phase and keep it uncomplicated for everyone.
Keep communication open and honest. Be clear from the state about both parties' goals for the project to make sure everyone feels like they benefit from the relationship.
Tips for Bloggers Working With Brands:
Just say no. Not every brand is the right fit for your blog and it's okay to say "no" in order to say "yes" to the right opportunities.
Be proactive and reach out to the brands you admire and really want to work with.
Disclose! Understand FTC guidelines to protect yourself and your blog.
Go above and beyond with a little extra – a post, tweet, etc.
Don't try to do it all. Keep your deliverables simple and stick to what you are good at.
Show your value. When approaching brands, be sure to explain in detail how the partnership is beneficial to both parties. Bloggers add:

Targeted Awareness
Credibility
Compelling Content
SEO
Candid and Helpful Feedback

Be honest! Even if it's a bad review, you build credibility by being honest with your readers.
If you don't like a product, tell the brand beforehand and they might find a better fit for you.
Ask for something different to review. Brands like to receive positive feedback.
Remember YOUR worth. Reviews take time and effort. Don't spend time on things that are not worth it to you.
Tips on Approaching Brands:
Just ask! You have nothing to lose and everything to gain.
Be picky! Approach companies you admire and want to work with.
It's okay if they say no. Sometimes it takes persistence to make a connection.
Don't put out too many requests at one time. There's nothing worse than a string of posts that are nothing but product reviews.
Media kits are not always required from the outset. Only give numbers if a company asks.
Say thank you! Being polite and professional encourages a lasting relationship.
. – . – . – .
Yowza. So that post was a monster, but like I said… there was a lot of good into to share. There are just so many little tips and tricks to blogging, that you could probably study it forever and constantly have something new to learn. Daunting, but exciting at the same time.
Happy Tuesday, friendly faces! 😀
Bloggers: What's one area of blogging that you need to work on? Consistency? Productivity? Organization? Outreach? Design? Productivity is definitely my downfall… I need to start using my time more wisely and stop trying to multitask so much.
Do you consider multitasking to be beneficial or detrimental to productivity?