With under 300 calories and 20g of whole food protein for the ENTIRE recipe, these gluten-free banana oat Greek yogurt pancakes are a great way to start your day!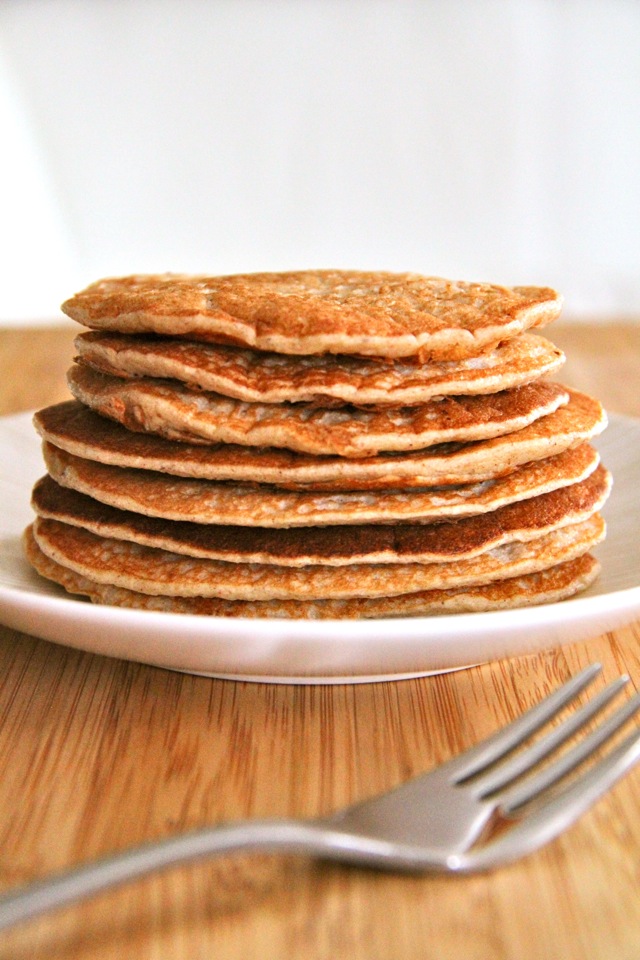 I'm a no-fuss kind of morning person. Despite the fact that I happily wake up early and jump out of bed full of energy and ready to go, you won't find me doing anything overly complicated before the sun comes up. Making tea, reading my devotions, journaling, making breakfast — those things I can handle. The rest of the day is crazy enough… mornings should be easy.
On that same note, breakfasts should be easy. As much as I love the idea of freshly baked cinnamon buns and fancy stuffed crepes, the reality of the matter is that bringing a pot of water to a boil and tossing in some oats is about as much effort as I'm willing to put into my morning meal. Make me something else and I'll gladly eat it; take me out and I'll gladly order a fancier dish; but since I live alone and no self-respecting restaurant is open by the time I'm ready to gnaw my arm off in the morning, I'm on my own when it comes to breakfast, which means that oats are on the menu more often than not. I'm okay with this… 99% of the time.
But what about that rare occasion where I'm craving something different? What about those mornings where the thought of oats just isn't appealing? For those days, there's pancakes…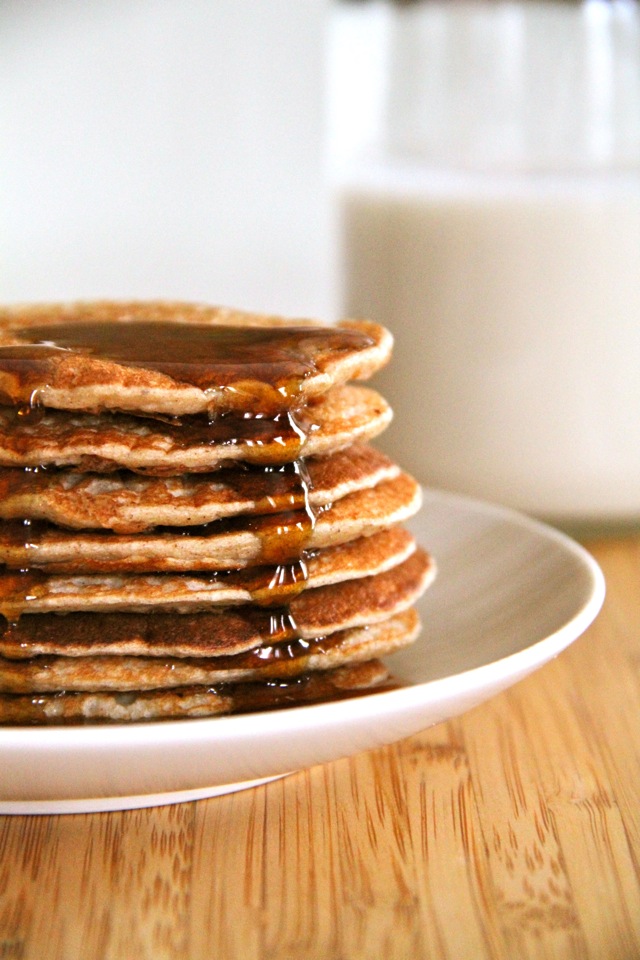 I love pancakes. The reason I don't make them for breakfast more often is, again, the additional effort it takes. Mixing, pouring, monitoring, flipping — don't even get me started on the flipping. I'll literally be standing there over my stove with a white-knuckled grip on my spatula, constantly having to remind myself to be patient. "Not yet. Nooooooot yet. Wait for it. WAIT." Needless to say, it's not the simple and serene start that I look for in a day. But, ohhhh, those golden stacks of deliciousness and their sweet siren song…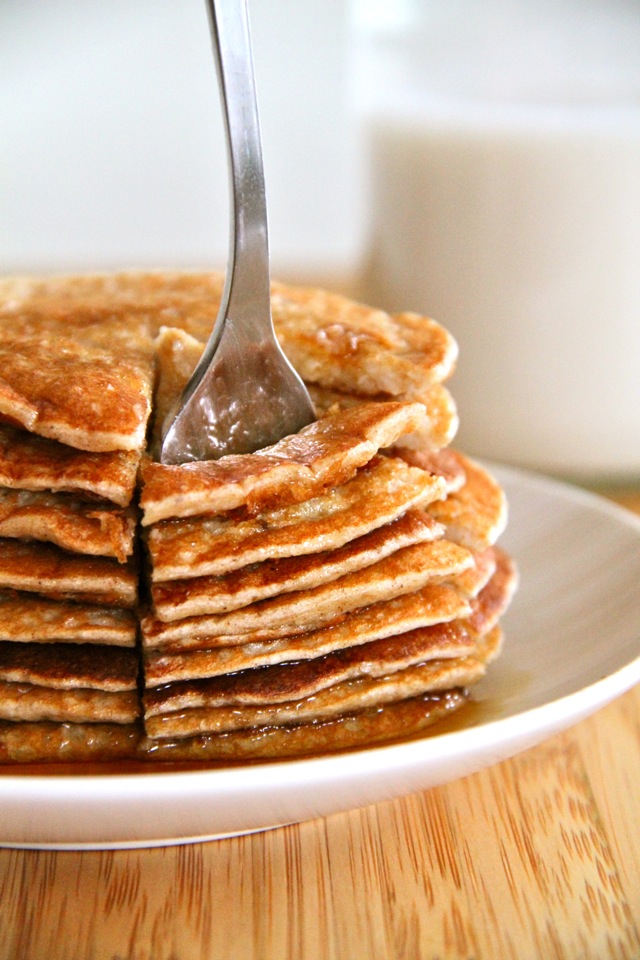 Luckily I've come up with a way to have my (pan)cake and eat it too — a foolproof recipe that's not only quick and easy, but tastes absolutely delicious. The ingredients list is short and simple; the batter doesn't have to be babied; flipping is a breeze; and you can whip them up in your blender. It's a recipe even I can manage in the morning, and the result is definitely worth the effort.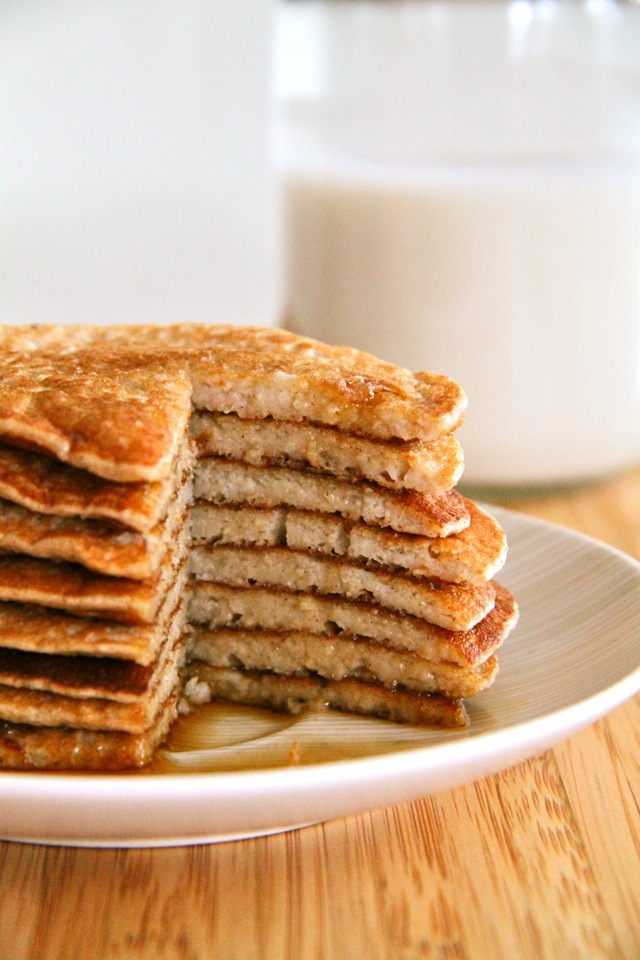 I'd love to know if you make this (or any!) recipe! Tag @runwithspoons on Instagram and Twitter, and be sure to subscribe to our mailing list to receive more healthy and delicious recipes straight to your inbox!
Print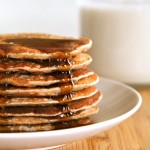 Banana Oat Greek Yogurt Pancakes
---
Author:

Total Time:

15 mins

Yield:

1

serving, 6-7 pancakes

1

x
1/2 cup

(

40 g

) rolled oats*

1/2 tsp

baking powder

1/2 tsp

ground cinnamon

1/2

medium-size ripe banana, sliced (about

50g

)

2

large egg whites

1/4 cup

(

60 g

) plain Greek yogurt**

1

–

2

Tbsp (

15

–

30

ml) unsweetened almond milk

1/2 tsp

vanilla extract
---
Instructions
Preheat a skillet over medium heat and coat it with cooking spray or oil. You want to make sure that it's very hot before you start cooking your pancakes.
Add all the ingredients to a blender in the order listed and blend until the oats have broken down and batter is frothy.
Using a ladle or 1/4 cup (60 ml) measuring cup, drop batter onto skillet until desired size of pancakes is reached. Cook until the edges begin to look dry and bubbles start to form on the top of the pancake, about 1 minute. Using a spatula, flip and cook about 2 more minutes on the other side. Repeat with the remaining batter, making sure to coat your skillet again with oil between each batch.
Remove from heat and serve with your favourite toppings.
Notes
* Make sure to use certified gluten-free oats if you need these to be gluten-free.
** You can also use a flavoured Greek yogurt.
Prep Time:

5 mins

Cook Time:

10 mins
Keywords: breakfast, easy breakfast, gluten-free pancakes, Greek yogurt, healthy breakfast, pancakes, recipe