These soft and chewy banana bread granola bars are gluten-free, refined sugar-free, nut-free, and can easily be made vegan! And the best part? They taste just like a slice of banana bread!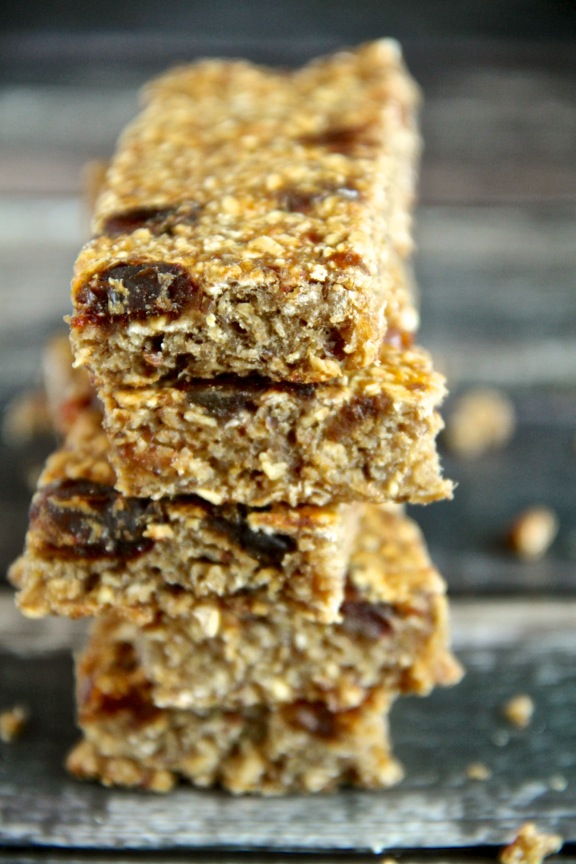 One week into 2015 and I have yet to actually figure out what my New Year's resolutions are going to be. I have a general idea of things I want to accomplish this year, but I haven't quite gotten around to laying them out in a nice and neat "I will do this; I won't do that" format… and truth be told, I'm not sure it's going to happen.
I've never been huge on resolutions, and despite feeling a slightly stronger-than-normal inkling to set some this year, that enthusiasm seems to have whittled away as the excitement of the New Year faded.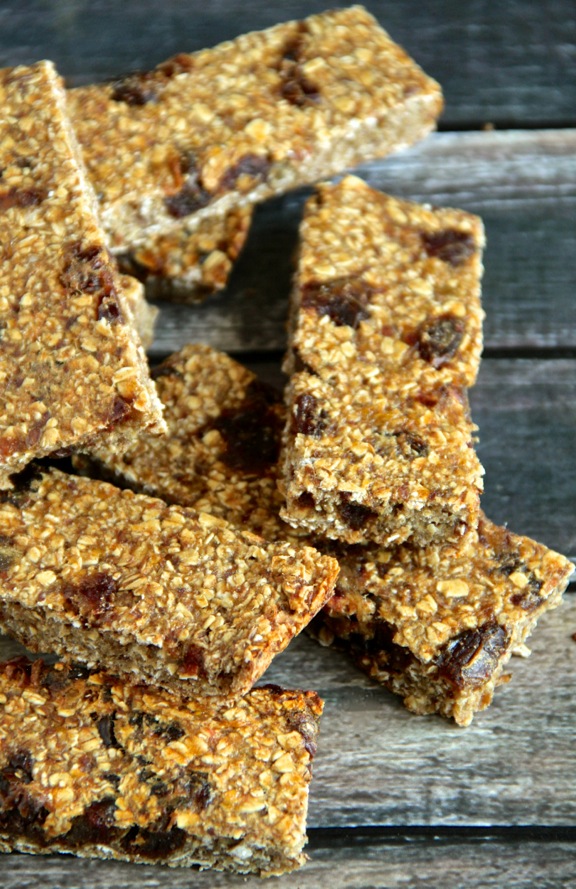 Instead, I'm going the One Word route… which is basically where you pick one word to motivate you and be your driving force for the next 365 days. Sounds pretty doable, eh? I think so. And in case you're wondering, my one word is — drumroll pleaseeeeee —
DO.
Do what? Anything. Do this, do that, do it… just do. See, I have this nasty habit of spending way too much time stuck in my head — thinking, analyzing, calculating — and not enough time translating those thoughts into actions. I think a lot of it comes down to the fact that I have a tendency to get overwhelmed extremely easily, and the more ideas or to-dos I have floating around in my head, the harder it is for me to do anything because I don't even know where to begin. I just end up feeling paralyzed and not really getting anything done.
And if you're wondering what on earth this all has to do with granola bars, sit tight… I'm getting there.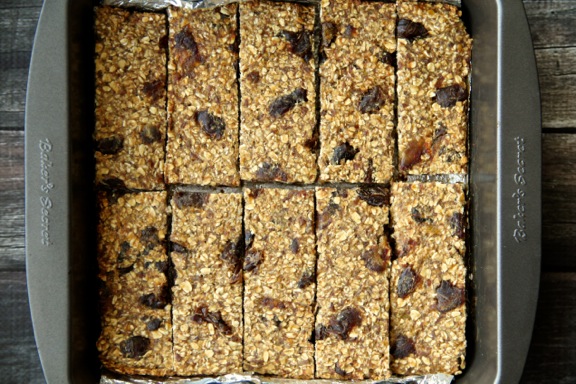 So it's been about 2.5 weeks since I've shared a recipe here on Spoons, which is basically forever as far as blog time goes. Part of that was because I was taking a mini vacation from the kitchen over the holidays, but a bigger part of it was the fact that I was starting to feel pretty burnt out by the end of the year and honestly couldn't find the motivation to get back to recipe testing.
The reason? Spending too much time in my head! I have a pretty long list of recipe ideas that I want to try, and therein lies the problem — there are too many of them and I never know which one I should start with. I know, right? But I spend so much time trying to figure out which recipe would be the best to post, on which day of the week, at which time of the year, etc, etc… that I end up taking all the enjoyment out of the process and not wanting to post anything. Hmph.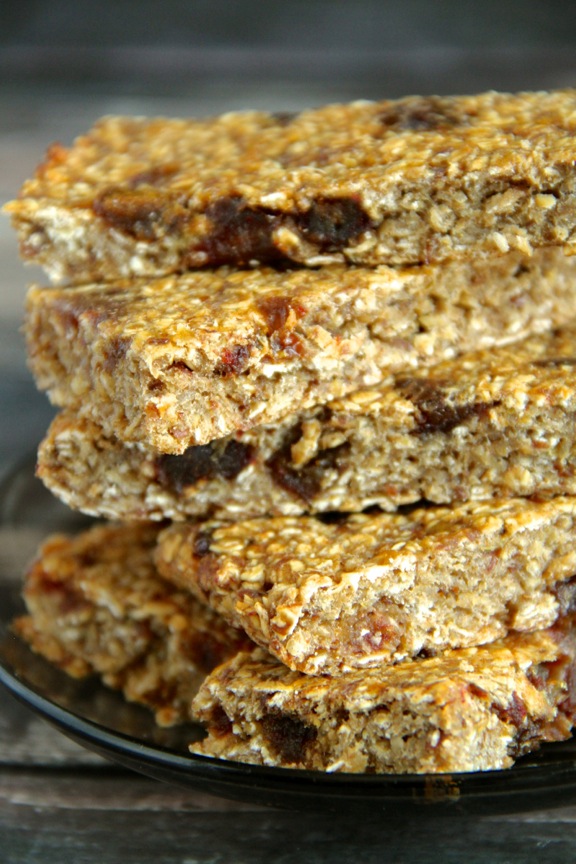 Heck, I wasn't even going to post these bars today — they weren't on the list! They were nothing more than the result of a spur-of-the-moment desire for a convenient snack to take with me to the mountains tomorrow. A spontaneous decision to toss all of my favourite ingredients into a bowl and see what happened.
And what happened was magic.
No planning. No pressure. Just a batch of delicious gluten-free, refined sugar-free, and nut-free granola bars that taste just like banana bread. They're soft, chewy, naturally sweet, and oh-so-satisfying. I may just have to try this doing thing more often…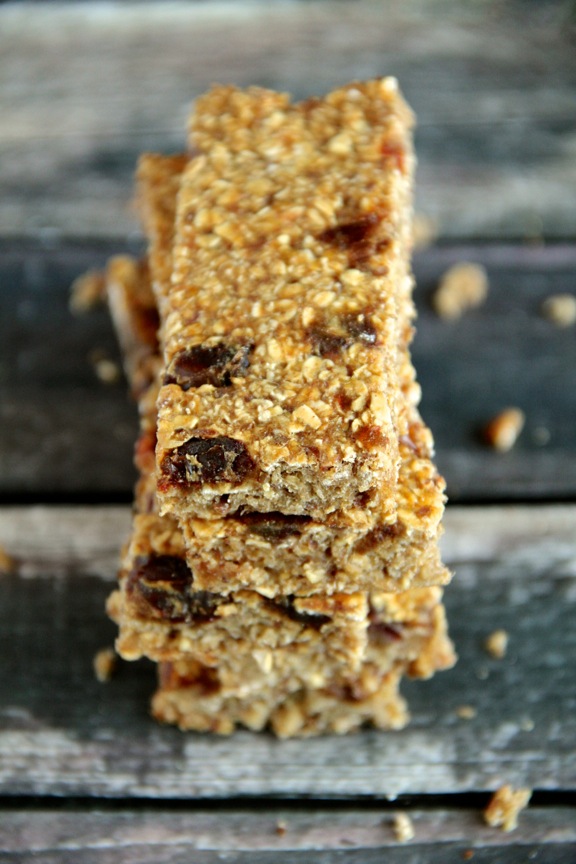 I'd love to know if you make this (or any!) recipe! Tag @runwithspoons on Instagram and Twitter, and be sure to subscribe to our mailing list to receive more healthy and delicious recipes straight to your inbox!
Print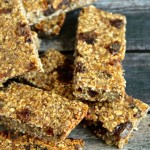 Banana Bread Granola Bars
---
Author:

Total Time:

30 mins

Yield:

10

–

12

bars

1

x
2 cups

rolled oats*

2 Tbsp

. ground flax

1 tsp

. cinnamon

1/2 tsp

. salt

1 cup

very ripe mashed bananas

¼ cup

honey**

1 tsp

. vanilla extract

1/2 cup

chopped dates, or add-ins of choice
---
Instructions
Preheat oven to 350F and prepare an 8×8 baking pan by lining it with a sheet of aluminum foil, leaving a few inches of overhang on the sides to allow for easy removal. Grease the foil with cooking spray or oil and set aside.
In a large mixing bowl, combine oats, flax, cinnamon, and salt. Add mashed bananas, honey, and vanilla, mixing until fully combined. Fold in dates.
Pour mixture into prepared baking pan. Using a greased spatula or your hands, spread the mixture evenly in the pan, pressing down firmly.
Bake for 20-25 minutes, until top sets and edges begin to turn golden brown.
Remove from oven and let cool in pan for 10 minutes before cutting into bars with a sharp knife.
Notes
* Make sure to use certified gluten-free oats if you need these to be gluten-free.
** Feel free to sub with brown rice syrup if vegan.
Prep Time:

10 mins

Cook Time:

20 mins
Keywords: banana bread, gluten-free, granola bars, nut-free, recipe, refined sugar-free
Looking for more healthy granola bar recipes? Try one of these!
Soft and Chewy Pumpkin Granola Bars
Soft and Chewy Protein Granola Bars
No-Bake Chocolate Sunflower Seed Butter Granola Bars