Crispy, tender, and loaded with a sweet cinnamon flavour, these baked sweet potato tots make a perfect gluten-free and vegan snack!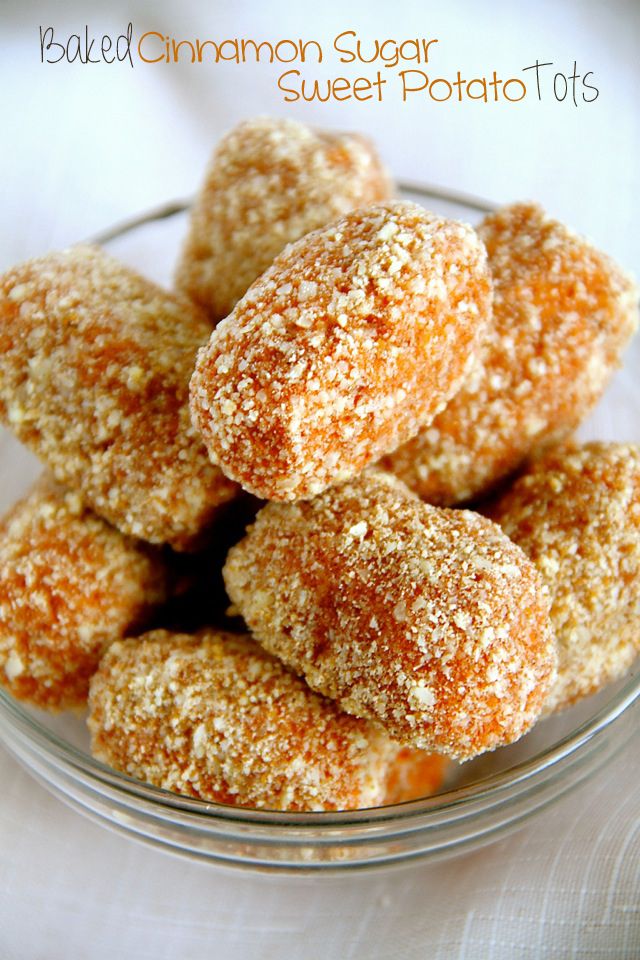 I'm pretty sure I didn't have my first taste of sweet potatoes until I started reading blogs back in 2010. I grew up eating plenty of regular potatoes since my family is European and they were one of the few veggies I would actually eat as a child, but sweet potatoes were an oddity to me back in those days. Along with avocado, coconut, almond butter, quinoa, hummus, and 90% of the other things I now eat.
In fact, my diet underwent such a dramatic shift over the years that the old me wouldn't even recognize the new me… and she'd probably turn her nose up at my current food choices as well. But that's probably a good thing considering I went through a pretty long phase where my idea of a quality meal involved blue boxes and golden arches. Mmm hmm. You know of what I speak. But I digress!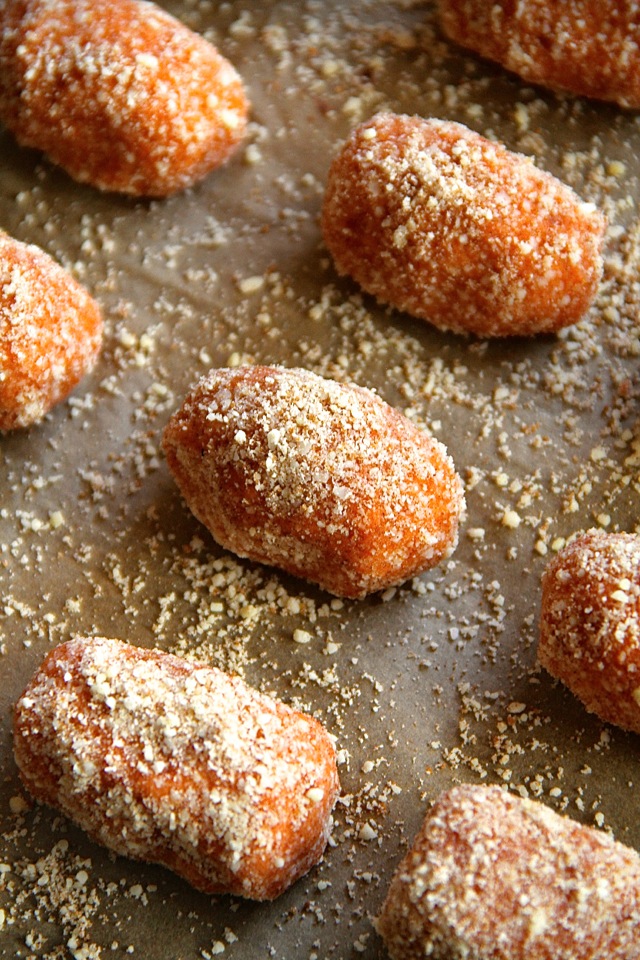 Sweet potatoes.
I honestly couldn't tell you what my first experience with them was like (meaning I didn't exactly have a Herbal Essences moment), but it must have been a good one considering I've kept them around to this very day.
The only thing is that I usually eat my sweet potatoes sweet. Like with maple syrup. And cinnamon. Usually a little bit almond butter thrown in there as well. I've never had the opportunity to try one of those sweet potato casseroles that are topped with toasted marshmallows, but I have a feeling I'd enjoy those as well. I mean, I may have walked away from the blue boxes and golden arches, but the sweet tooth in me will never die. Ever. Which is why it's no surprise that I'd toss cinnamon and sugar into some tater tots…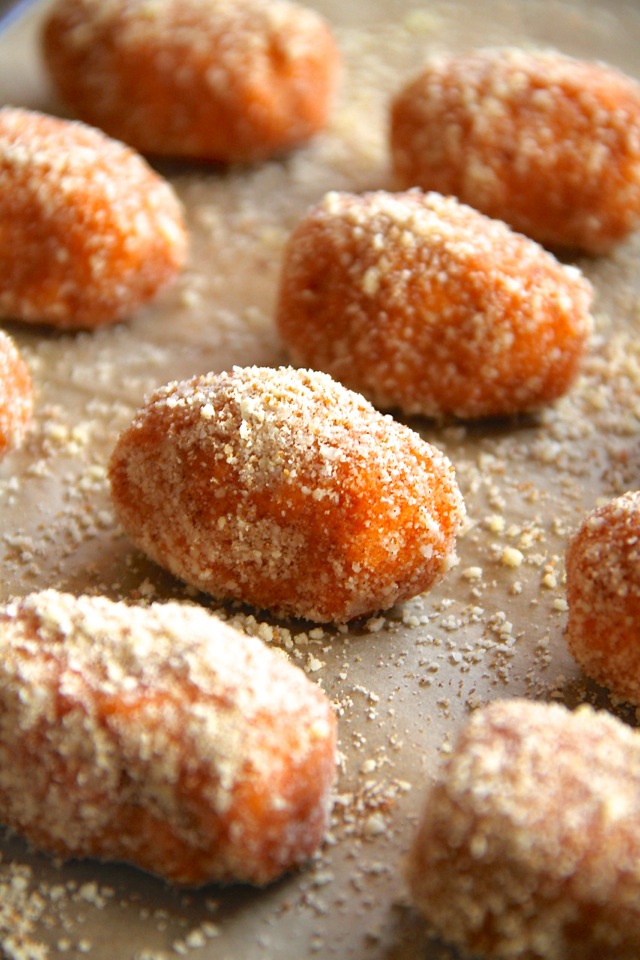 I don't really want to talk about this recipe and the huge headache that it gave me, but we're going to anyways. Just for you.
The texture was the problem. I couldn't get them to come out the way I wanted them to, and all my batches turned out either too crumbly or too wet. Sorry for the mental image — I had to go there.
The secret was a few spoonfuls of coconut flour — a magic little ingredient that solves all of life's problems. Okay, not really. But it solved this one. Not only did it soak up the extra moisture and help these tots firm up, but it also added a subtle coconut flavour that pairs beautifully with the sweet potato and cinnamon.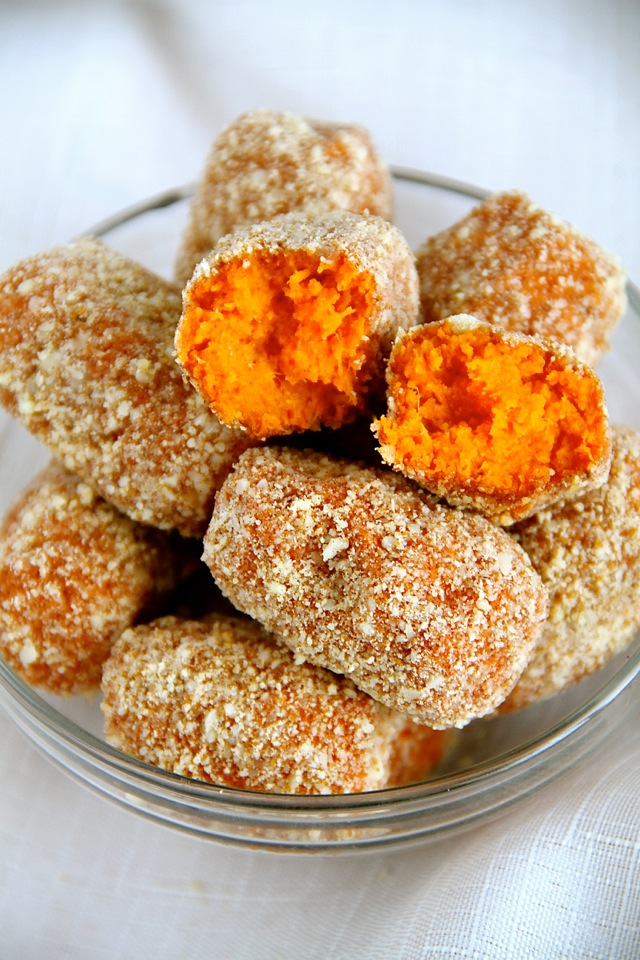 I was originally going to use breadcrumbs in the coating, but decided to swap it out with almond meal for no other reason than the fact that I like to experiment and I wanted to see what I would end up with.
The result is a gluten-free sweet potato tot that's tender on the inside and slightly crispy on the outside. The more dominant cinnamon flavour is accented perfectly by the subtler flavours of coconut and almond, with a slight touch of caramel from the coconut sugar. Can you tell I spent a lot of time with these tots? Mmm hmm. But basically, they're sweet and cinnamony pillows of sweet potato goodness, and they may just be my newest obsession. Hope you love them too!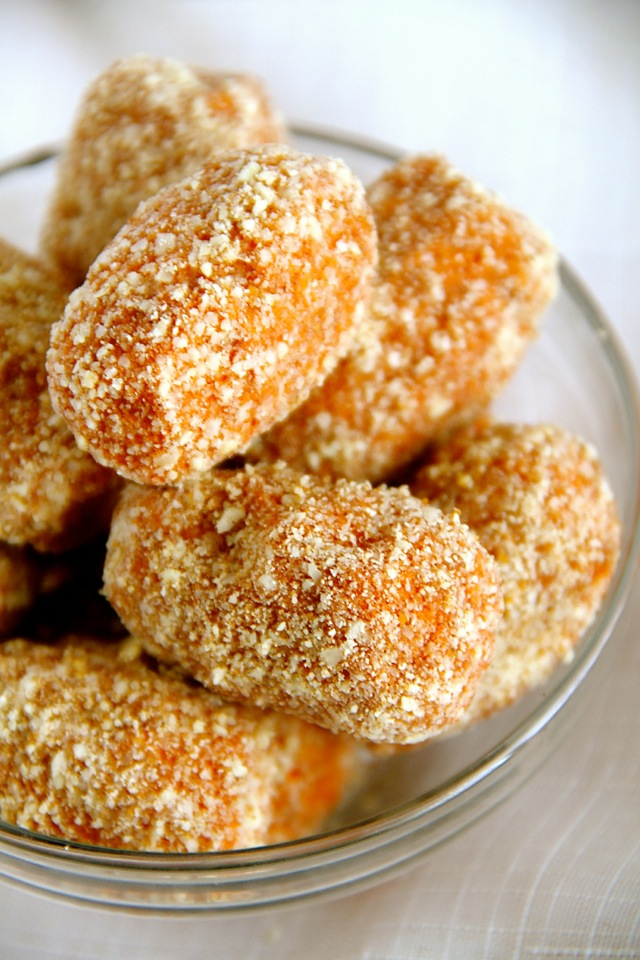 I'd love to know if you make this (or any!) recipe! Tag @runwithspoons on Instagram and Twitter, and be sure to subscribe to our mailing list to receive more healthy and delicious recipes straight to your inbox!
Print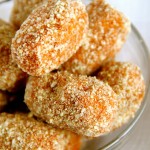 Baked Cinnamon Sugar Sweet Potato Tots
---
Author:

Total Time:

50 mins

Yield:

12

–

16

tots

1

x
1

lb. of sweet potatoes (approx.

2

large), peeled and cubed

2 tbsp

. coconut flour

1/2 tsp

. cinnamon

1/4 cup

almond meal

1/2

–

1

Tbsp. coconut sugar

1/2 tsp

. ground cinnamon

1/4 tsp

. salt
---
Instructions
Bring a medium-sized pot of water to a boil. Add cubed sweet potatoes and boil for 15 minutes, until soft. Drain well and shake off any excess water.
Use a fork or potato masher to mash the sweet potatoes until no chunks remain. Add coconut flour and cinnamon, mixing well to ensure it is fully incorporated. Set aside.*
In a small bowl, prepare coating by combining almond meal, coconut sugar, cinnamon, and salt. Set aside.
Preheat oven to 400F and line a baking sheet with parchment paper.
Use a tablespoon to scoop out sweet potato mash and roll it between your hands to create a small cylindrical shape.** Transfer to the bowl that contains the coating, and roll it around to ensure that it's evenly coated, pressing gently. Transfer to baking sheet and repeat with remaining mash.
Bake for 30-40 minutes, rotating at the halfway mark, until coating begins to turn golden brown and desired level of crispness is reached.
Notes
* This can be done ahead of time and stored in the fridge until needed. Mine came out to a little less than 1 1/2 cups mashed.
** You can really make them any shape you want, just make sure they're all uniform in size to ensure that they cook evenly.
Prep Time:

20 mins

Cook Time:

30 mins
Keywords: baked sweet potato tots, gluten-free sweet potato tots, healthy, recipe, snack, sweet potato tots, sweet potatoes