Crunchy, chewy, nutty, and sweet. This vanilla almond butter protein granola makes a nutritious and delicious breakfast or snack!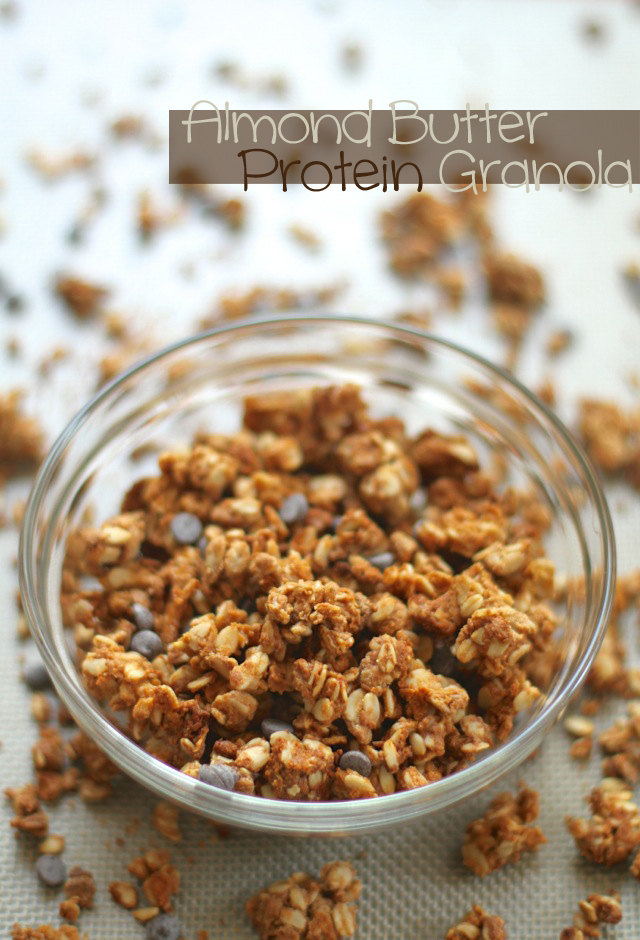 I feel like it's been forever since I've posted a recipe! But since I tend to do most of my baking/cooking/experimenting on the weekends — and I was off gallivanting in Vegas on the last one — I didn't manage to get any good eats up for you last week. My bad. But I'll try to make it up to you this week, okay? Okay.
Today's recipe combines two of my current obsessions — these soft and chewy granola bars (which is a recipe I've made at least 20+ times), and cereal. Basically, today's recipe is those bars in cereal form. In other words, granola…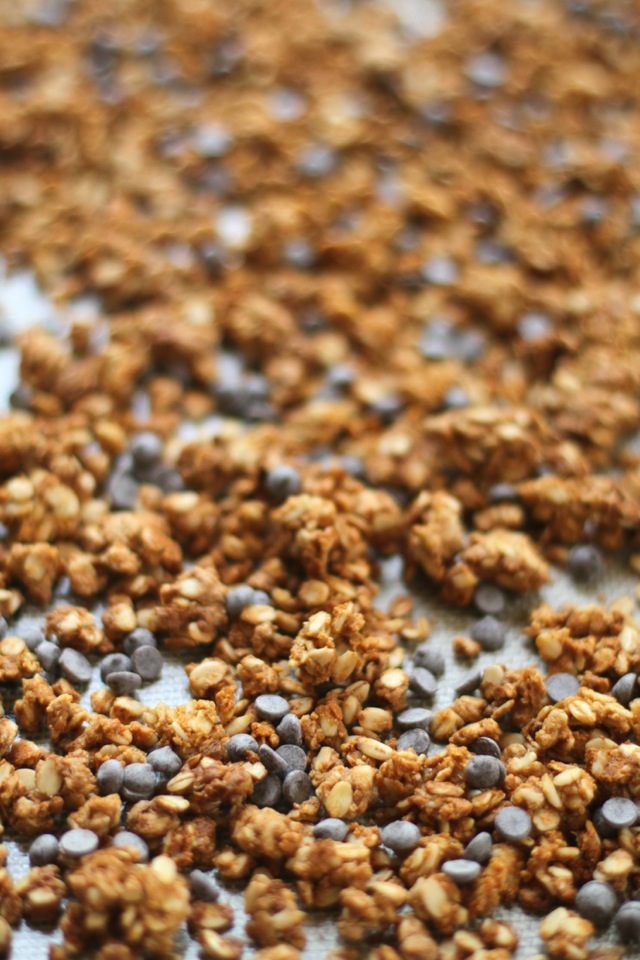 Almond Butter Protein Granola, to be more exact. And if you're wondering why I couldn't just crumble up one of my bars and enjoy it with some milk or yogurt, the answer is because the texture is completely different — which is kind of a big deal to a texture freak like me. Whereas the bars are softer and chewier, the granola is denser and crunchier… but not to the point where you feel like you're in danger of cutting your gums on a jagged edge. Just crunchy enough.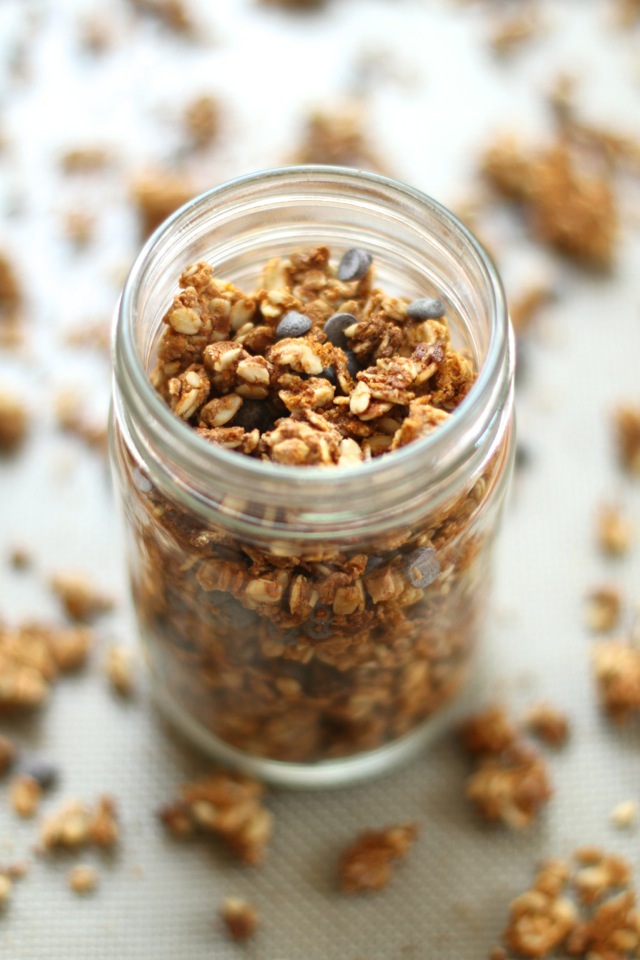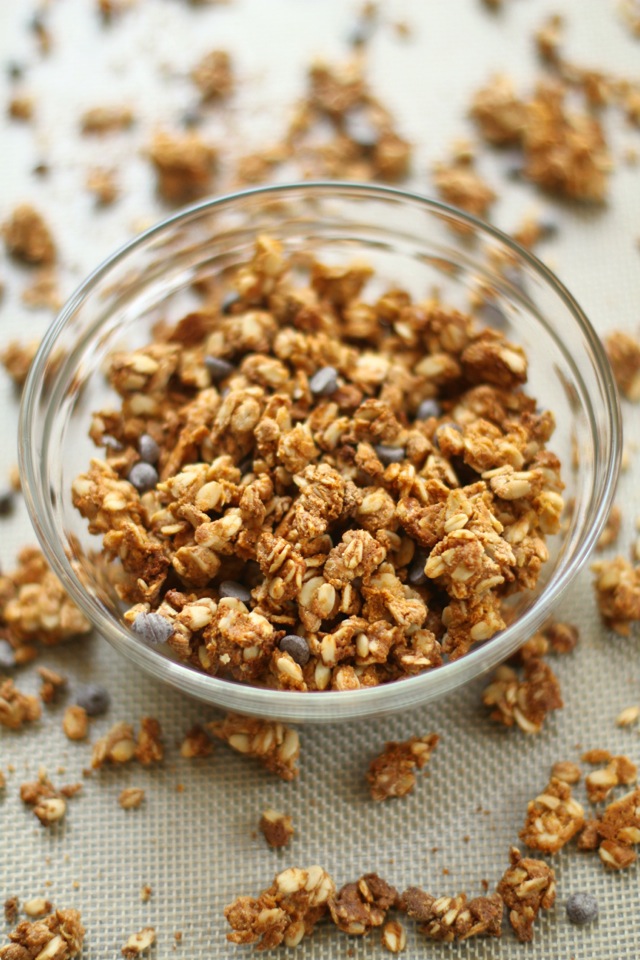 I'll be the first to admit that I'm super picky when it comes to textures — sometimes even pickier than I am with tastes. When I want something crunchy, it has to be the right kind of crunchy; when I want something chewy, it has to be the right kind of chewy — catch my drift? I also prefer more complex textures over simple uniform ones, which is why every bowl of cereal I eat has around 3 or 4 different cereals mixed into it. But that's a whole other story for a whole other day. Back to today's granola. Did I mention it's loaded with clusters?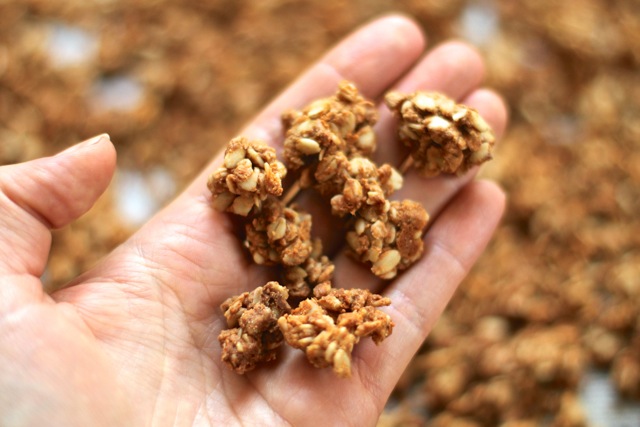 It's also a texture freak's dream. The individual oat/granola pieces are crunchy, while the honey/almond butter/protein coating is slightly chewy — it's basically the best of both worlds. Oh, and it doesn't taste half bad either 😉
It's also gluten-free, made without any refined sugars or unhealthy oils, and has a nice little protein boost thanks to the addition of protein powder — which you can easily omit if you don't have any on hand; but it does add to both the nutrition and flavour profile. You can also easily make it vegan by replacing the honey with maple syrup and using a plant-based protein powder and dairy-free chocolate chips (I like Enjoy Life brand). And if you don't like chocolate chips, you can sub those out for raisins… just be sure to add them after baking so you don't end up with little burnt raisin turds in your cereal. Not that I would know or anything.
But hey, look! Delicious granola! Enjoy 😀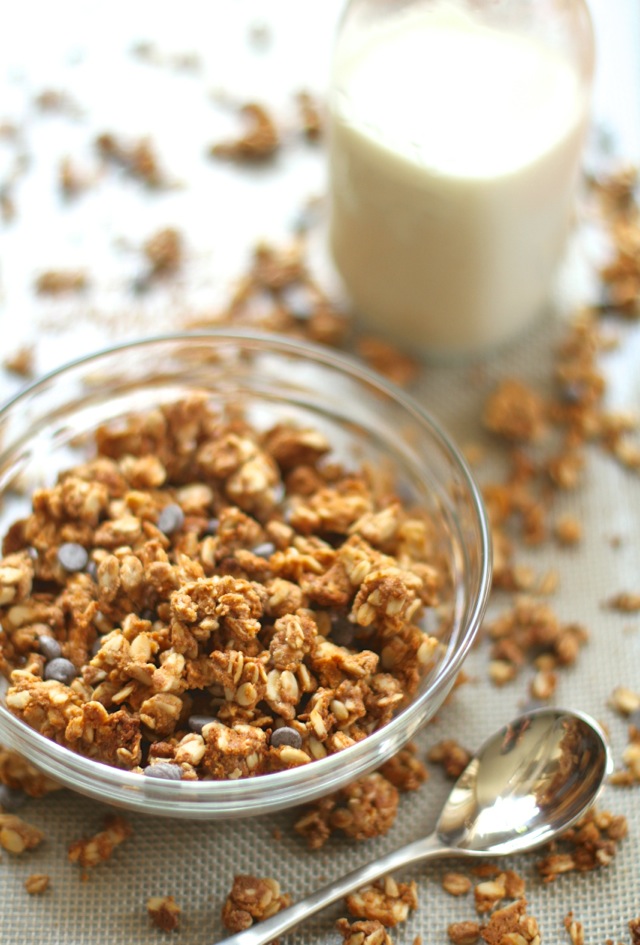 I'd love to know if you make this (or any!) recipe! Tag @runwithspoons on Instagram and Twitter, and be sure to subscribe to our mailing list to receive more healthy and delicious recipes straight to your inbox!
Print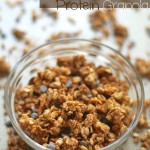 Vanilla Almond Butter Protein Granola
---
Author:

Total Time:

26 mins

Yield:

2 cups

1

x
1/4 cup

almond butter

1/4 cup

honey

1 tsp

. vanilla extract

2 cup

rolled oats

1

serving vanilla protein powder (optional)

2 Tbsp

. ground flax

1 tsp

. cinnamon

1/4 tsp

. salt

1/3 cup

chocolate chips
---
Instructions
Preheat oven to 325F and spray a baking sheet with cooking spray or line it with parchment paper or a non-stick baking mat. Set aside.
In a small saucepan over medium-low heat, add almond butter and honey, stirring until the almond butter is melted and fully combined with the honey. Stir in vanilla extract.
Remove from heat and add oats, protein powder (if using), flax, cinnamon, and salt. Mix well and use a spatula to ensure that all of the oats are well coated.
Spread the granola mixture over a baking sheet, leaving as many clusters as you want, and bake for 8 minutes. Remove from oven, stir, and bake for another 8 minutes, or until lightly golden.
Let cool completely before adding chocolate chips and transferring to a storage container. The granola will still be slightly soft when it comes out of the oven, but it will harden up as it sits at room temperature and cools.
Prep Time:

10 mins

Cook Time:

16 mins
Keywords: almond butter granola, healthy granola, protein granola, vanilla, recipe