If you've been reading Spoons for a while now, then you might know how much I love my Erin Condren Life Planner. And if you haven't been reading that long, then… hi there, it's nice to meet you. My name is Amanda, and I'm kind of addicted to my ECLP. And by "kind of" I mean I'm not entirely sure how I'd function without it.
I started using one in 2015, went back for seconds in 2016, and recently committed to a third helping for 2017…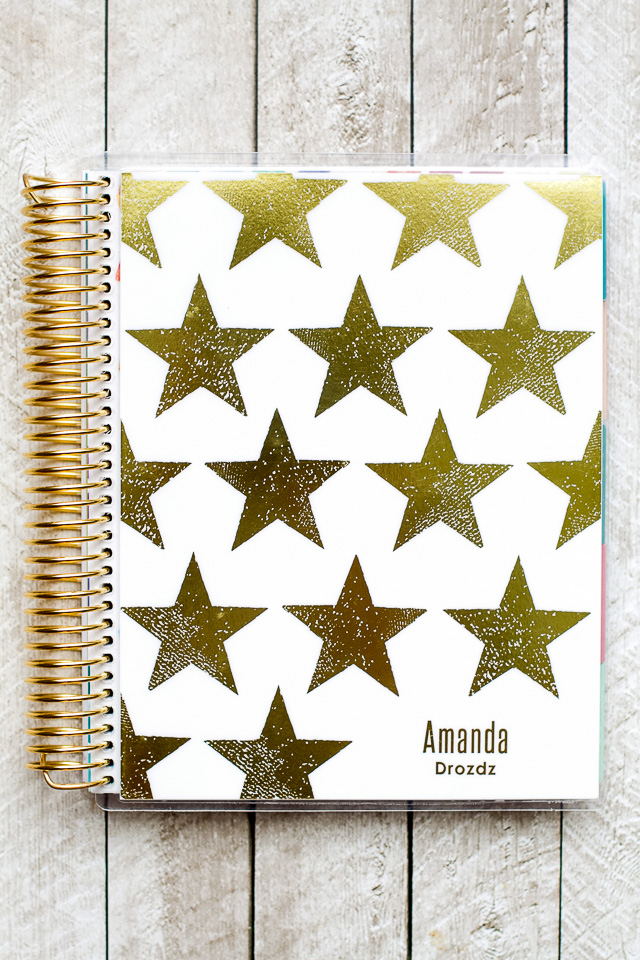 Ain't she a beaut? 😍
I'm smitten. And basically hoping that the next 4 months go by super fast so I can start using her. Yes, there's an option to get the next year plus any months left in the current year, but I basically use my planner as a mini scrapbook and I like to keep things separated by year.
Anyways! I'm rambling, which is what tends to happen when I get excited. And I'm excited because I get to indulge my inner planner addict today and get you guys hooked on review the new Life Planner for you guys!
Oh, and be sure to check out the end of the post because there's a few things down there for YOU.
. – . – . – .
Covers and Coils…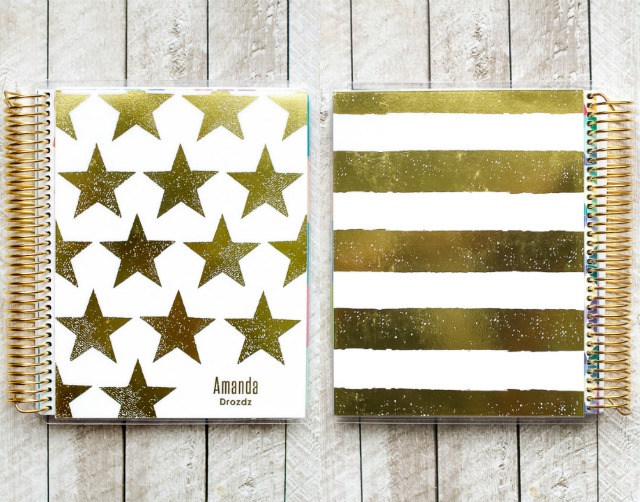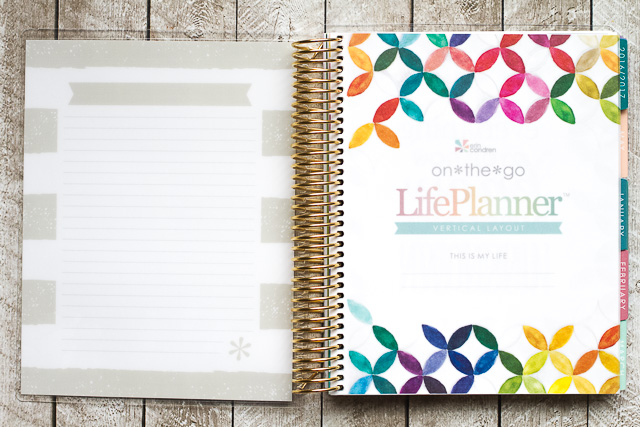 Gorgeous, durable, and functional!
The Life Planner clocks in at about 7 x 9 inches (18 x 23cm), and both the front and back covers are made out of a thickly laminated cardstock that's built to last. I use my planner on a daily basis, and I haven't run into any issues with the lamination separating or the covers getting shabby on either my 2015 or 2016. My planners basically look as good as they did on the day I got them, which is awesome since the covers are interchangeable. That means you can use past covers on future planners or buy additional ones and swap them out depending on your mood or the season. There are so many gorgeous ones to choose from, and each one is customizable.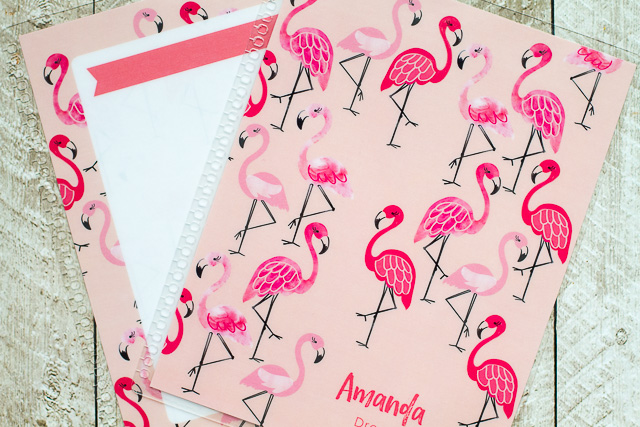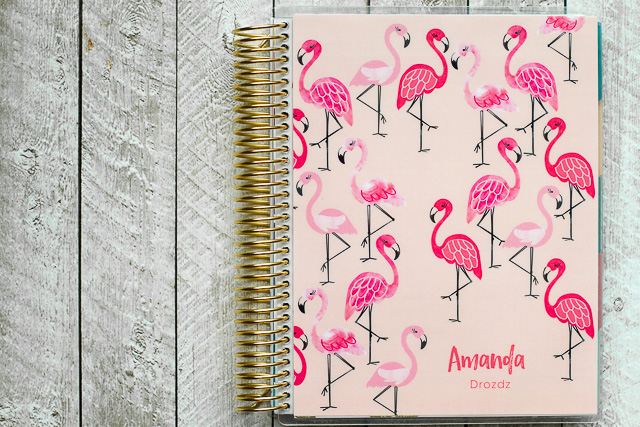 The only ones that aren't interchangeable or customizable are the gorgeous new Luxe options, which come in three colours (purple with rose gold, teal with gold, and taupe with platinum) and sport a soft vegan leather cover that's permanently coiled in. They're slightly larger than the regular covers, but have the same interior.
And the coil! You guys, this coil is probably the sturdiest one I've ever come across on a planner. It doesn't break, warp, or flake, and you can choose one of 4 colour options depending on the cover you want – gold, platinum, rose gold, and black (new!). It's the same slightly larger one as last year, meaning no bulky, cramped planner pages if you like to do a little decorating.
. – . – . – .
Calendar and Layout…
So the Erin Condren Life Planner comes with 3 different types of calendar pages. The year-at-a-glance (found near the very beginning of the planner):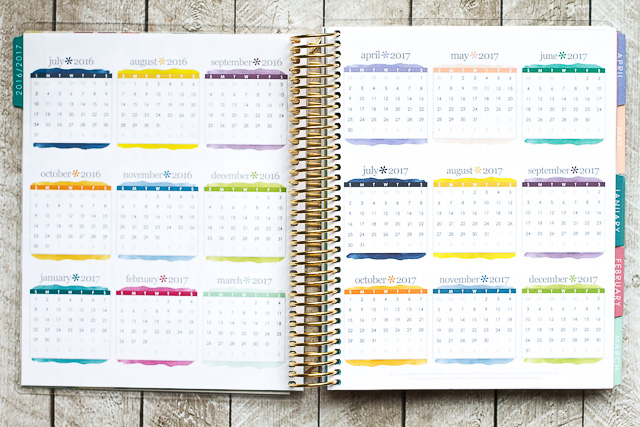 The month-at-a-glance (found throughout the planner at the beginning of each new month and easy to find thanks to a reinforced tab, with each month having a different colour theme and following a spread that has a blank note page and inspirational quote)…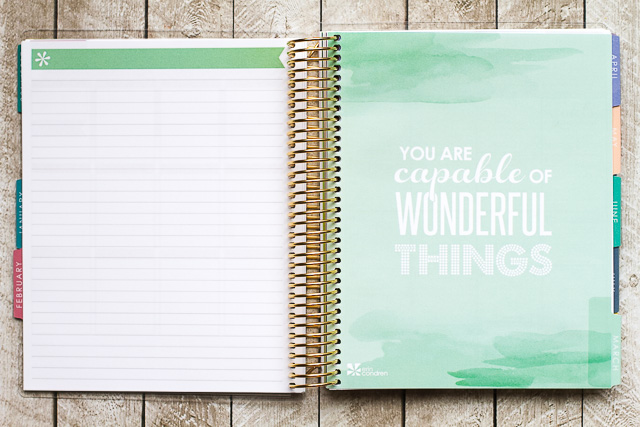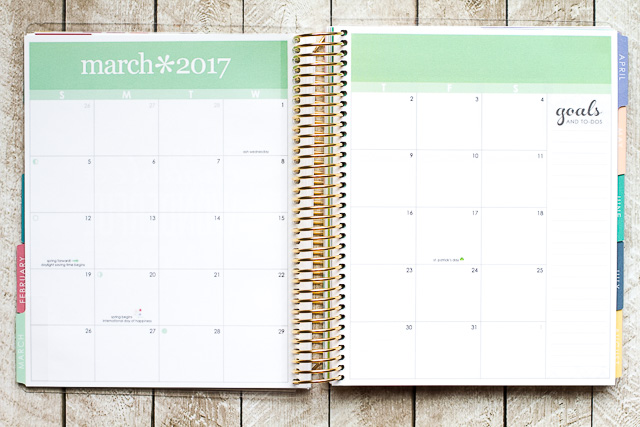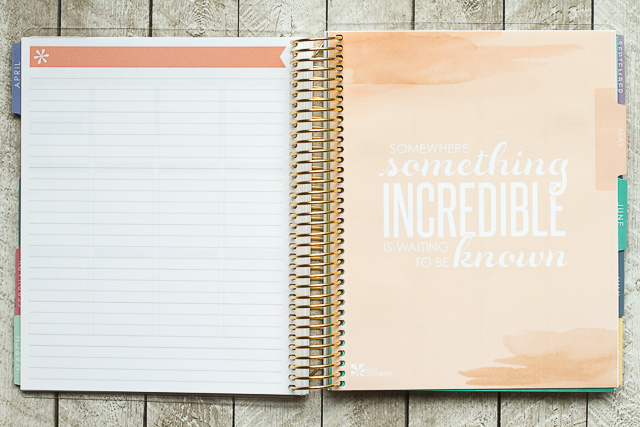 And the week-at-a-glance (found directly after each month-at-a-glance and featuring all the weeks for that month)…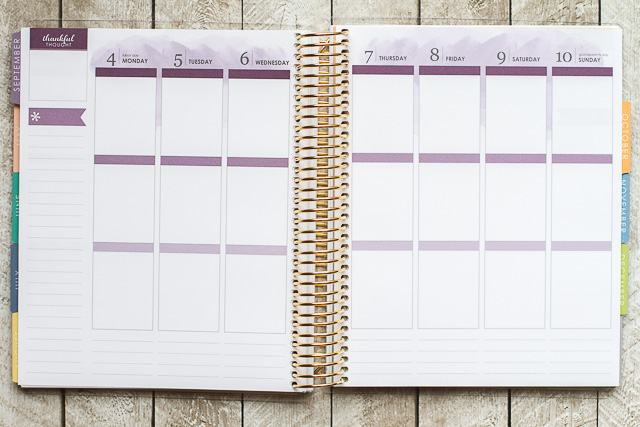 So here's where we get into some of the awesome new options for this year that'll help you customize your Life Planner and make it work for you.
In addition to the colourful spread shown above, you also have the option to choose a new neutral colour scheme that's simply black and shades of grey. I opted to go the colourful route, but I have to admit that the neutral looks freaking gorgeous as well…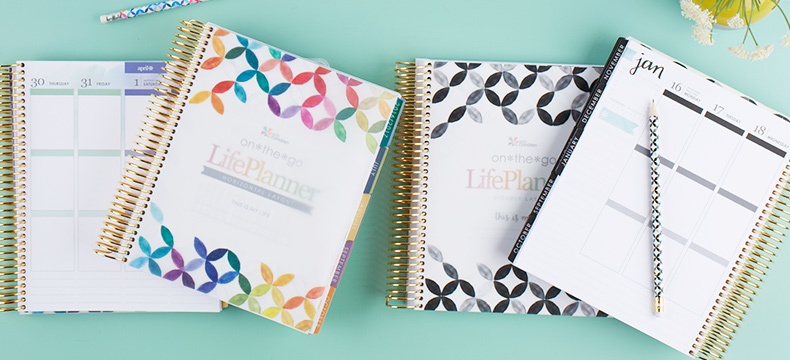 [source]
After that, you have the choice of 3 different weekly layouts. – vertical, horizontal, and hourly…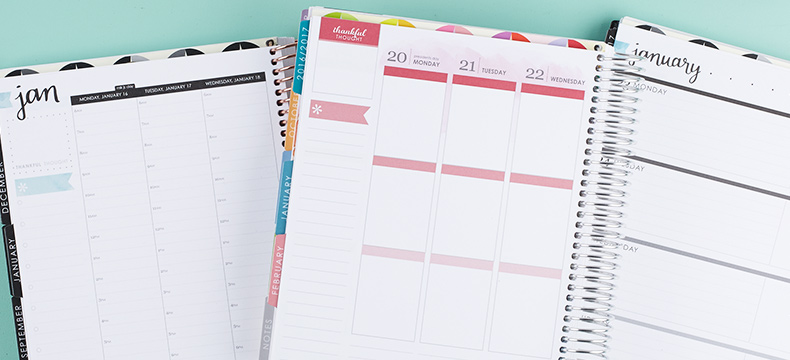 [source]
I personally love the vertical layout and how the days are divided into 3 chunks. I separate them as work/blog, errands/events, and fitness/health. It makes the most sense in my head since most of my work/blogging is done in the morning and my errands are run in the afternoon. Then I have the last box to track any exercise I did, how many steps I took, and how I felt that day.
I'm also loving some of the changes they introduced to the colourful spread this year, which include a more muted palette (two different shades of one colour as opposed to two completely different colours), boxes that are outlined in black instead of that month's colour, and a brush of colour up near the dates. Also, how gorgeous is the transition from one month to another?!?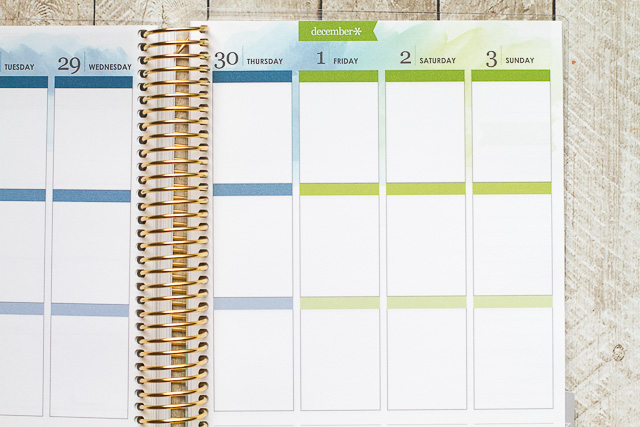 Oh, and the paper is a nice heavy weight (70 lb) with increased opacity this year to minimize pen bleed through.
. – . – . – .
Odds, Ends, and Extras…
In addition to all of that, you'll find a nice little assortment of goodies at the back of your planner. These include:
4 sheets of repositionable stickers (2 printed with different events and 2 blank)…

A "Keep It Together" folder and a newly detached (last year it was attached) vinyl zip pouch to stash your things…

The pouch comes with a small sticker book, some compliment cards, a couple 20% off coupons for future purchases, and a 6″ CoilClip that you can actually use to snap the pouch into your back of your planner if you want.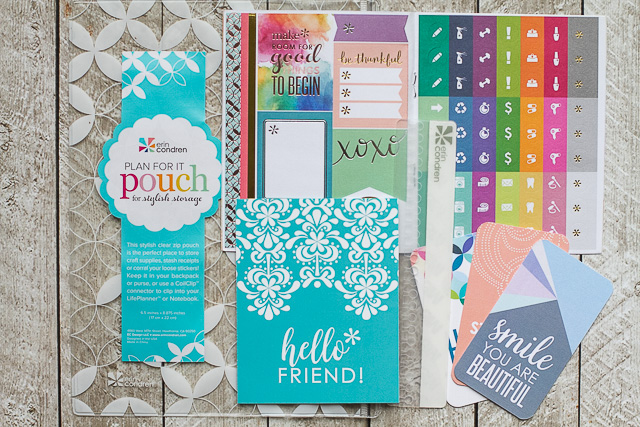 Finally, you'll also find a mini "Forget Me Not" perpetual calendar where you can keep track of birthdays and special events. Or do what I do and use it to jot down a happy/grateful thought every day…

And while these next things aren't included with the Life Planner, you also have the option to buy some accessories to spruce up your planner even more. You can get everything from gorgeously styled pens, pencils, erasers, attachable pen holders, sticker books, wet erase markers (to write on the inside of the covers), journals, bookmarks, dashboards, sticky notes, and basically all the things that are a stationary junkie's dream.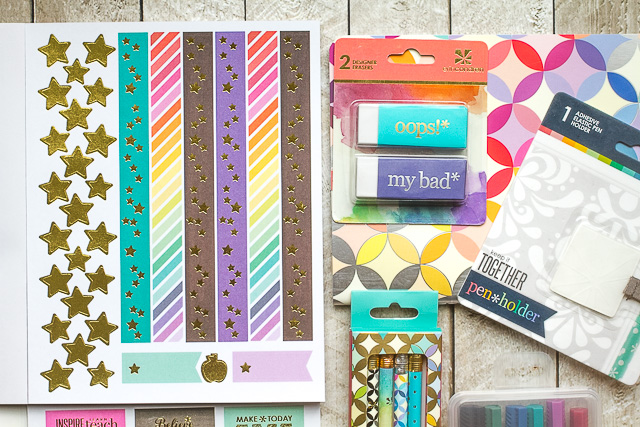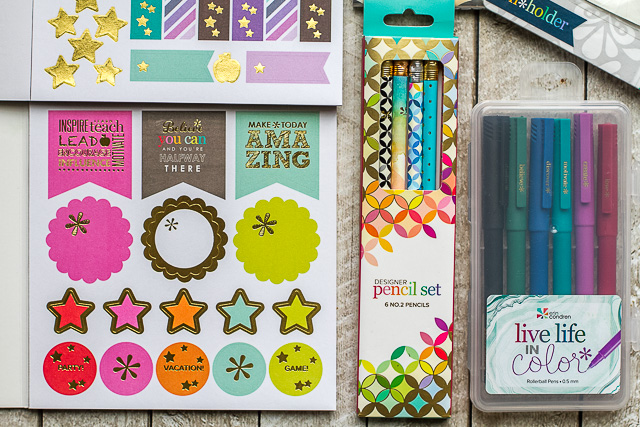 . – . – . – .
Overall Thoughts
So in case you couldn't tell, I adore this planner. I really, really do… which is probably why I keep coming back to it. Yes, it's a little on the pricier side as far as planners go, but if you're anything like me then you're using it every.single.day for 365 days, so why not have something that you love using and looking at? The quality is amazing, and the way it inspires you is just priceless.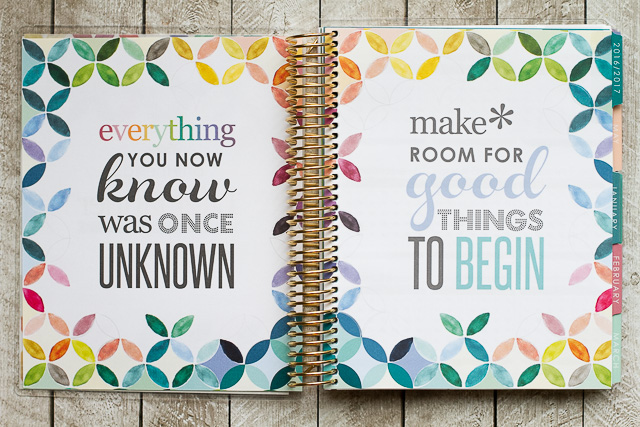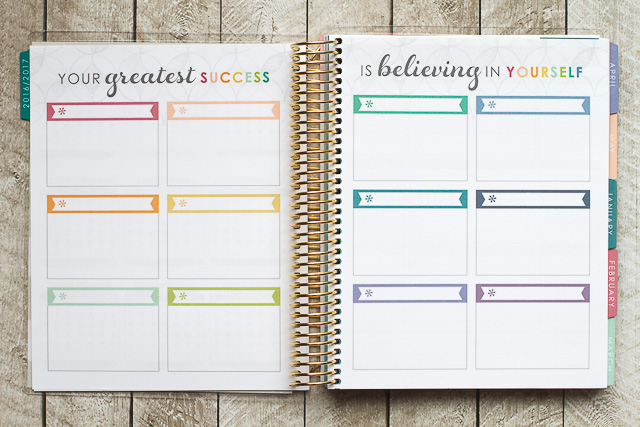 . – . – . – .
For you!
And now that I've gone ahead and written over 1000 words about how much I love my Erin Condren Life Planner, I have a little something for you. Two somethings, actually.
First, a referral link that anyone and everyone can use to get $10 off their first order. All you do is sign up with your e-mail and you'll get a discount code in your inbox shortly after that you can apply at checkout.
Second, a GIVEAWAY!! I kind of knew that I wanted to do another ECLP giveaway for Spoons' birthday since the one from last year went over so well, and when I mentioned it to the people over at Erin Condren, they so generously offered not one, not two, not even three, but FOUR of the new Luxe planners for four lucky Spoons readers, along with some accessories. That's these guys with the soft vegan leather covers: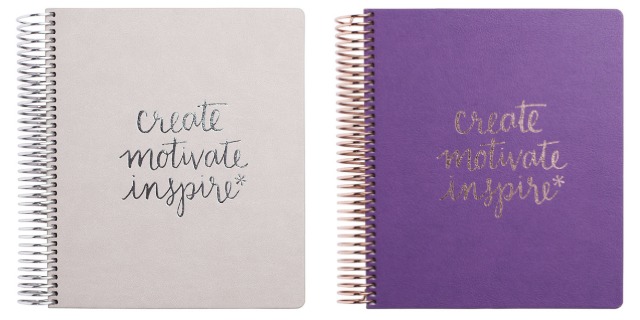 The giveaway is open internationally and ends on Wednesday, August 31st at 6pm EST. Anyone can enter, just please make sure you have parental permission if you're under 18. I'll be announcing the winners on September 1st, as well as contacting them via e-mail. To enter, follow the instructions in the Rafflecopter widget below, and good luck!

Let's chat!
Do you use a planner? Have you tried an ECLP?
More places to find me!
E-mail — [email protected]
Twitter — runwithspoons
Facebook — runningwithspoons
Pinterest — runwithspoons
Instagram — runwithspoons
Bloglovin — runningwithspoons
Snapchat — runningspoons
Disclosure: This post contains referral links. Erincondren.com sent me this product to review, but this is not a sponsored post and no further compensation was provided. All opinions are my own.