These ridiculously soft and tender dark chocolate blueberry banana oat muffins are made with NO butter or oil! Naturally sweetened and LOADED with chocolate and blueberry flavour in eat bite, they make for a healthy and delicious breakfast or snack.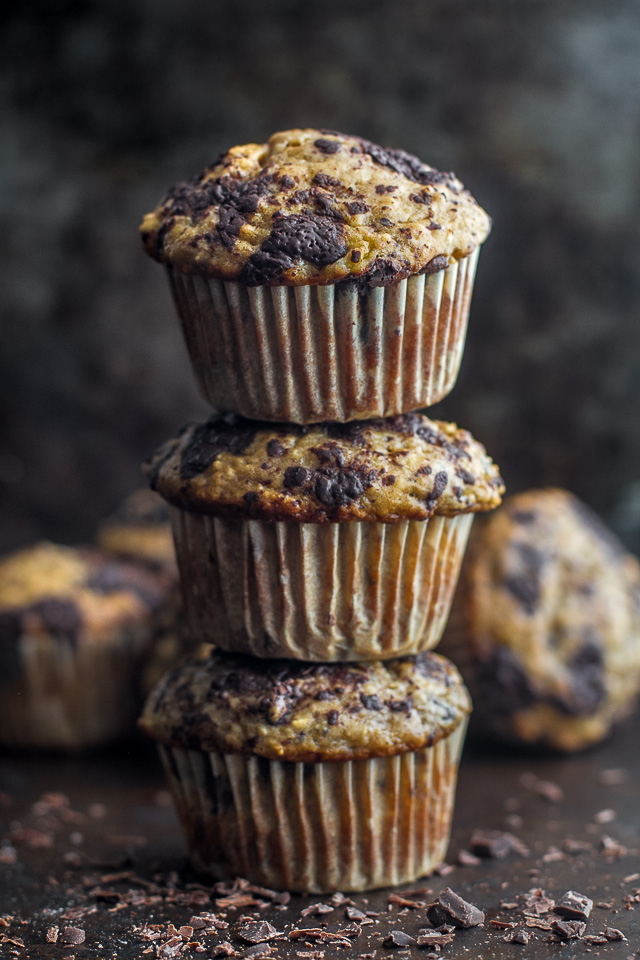 I feel like I'm in recipe limbo right now.
It doesn't really feel like summer anymore and I find myself wanting to move away from the berries and zucchini, but it still feels a little too early for pumpkin and warming spices… ya know? I usually try to hold off until at least September before I start snuggling up to the squashes here on Spoons, but I might have to break the rules and crack into the pumpkin a little earlier this year… which is basically me admitting that I've already cracked open a couple of cans.
I know, I know. But I've been working ahead so that I have recipes to post while I'm in BC during the first part of September, so it's been all pumpkin, cinnamon, and apple around these parts lately. Summer produce is basically dead to me. Well, except for that zucchini that's been hanging out in my fridge for about 2 weeks now – that thing is still very much alive. I think. Actually, I should probably do something about that. Crap.
Okay. Expect to see some sort of chocolate zucchini concoction soon. And then we'll jump into the fall stuff when it's more appropriate.
But first, these slightly-more-summery muffins…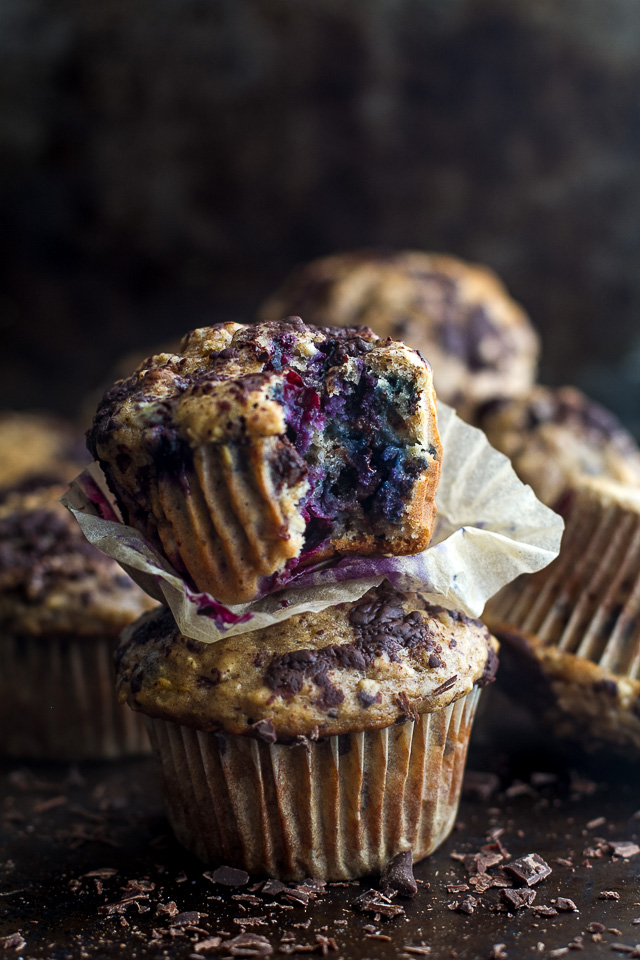 So I made these dark chocolate blueberry banana oat muffins, what… a week ago? 1.5 weeks ago? And while I love the more relaxed approach of getting recipes done so far ahead in advance, I'm not crazy about the fact that having such a big gap between making them and posting them puts me on the front seat of the struggle bus when it comes to actually writing about them.
Like… what did I want to say about these? 🤔 I can't remember. And that's not to say that they weren't memorable, but that I have a memory that's slightly better than a goldfish's when it comes to certain things, and with so much food/recipe related info running through my head on the daily, certain things just get lost in the deep, dark crevices of my brain.
Thank goodness for pictures that speak 1000 words.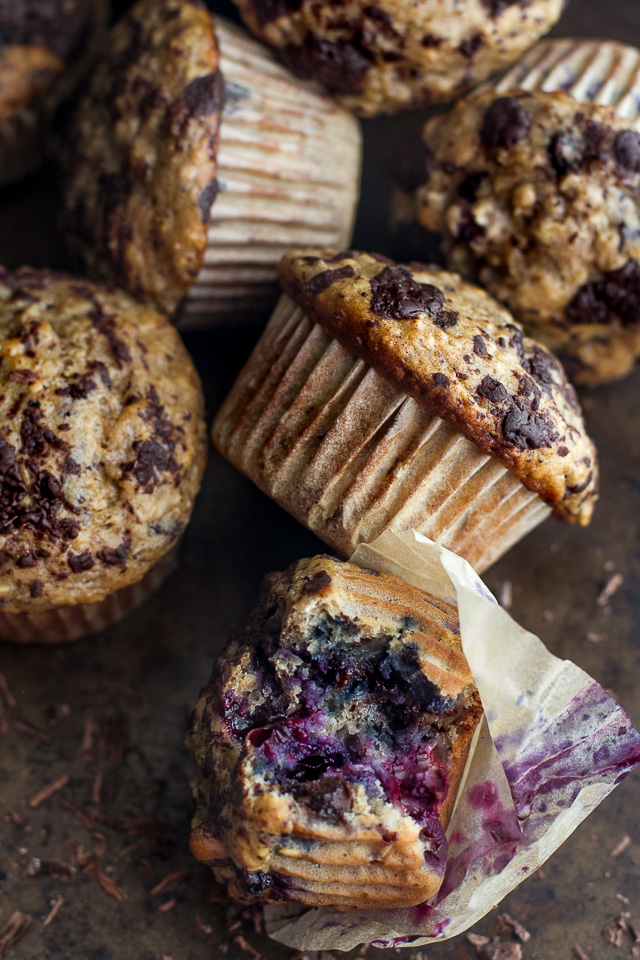 So from the progression of my camera roll, I remember that these guys were kind of a pain in the butt to photograph because they just would.not.stay.stacked. Two we could do, but put a third on one top and the whole thing would come tumbling down. I actually got so frustrated that I ended up skewering them together and making a makeshift muffin kabob. Hey man, desperate times.
But the beauty in the struggle is that we're dealing with some jumbo-sized muffins sporting some beautifully domed tops…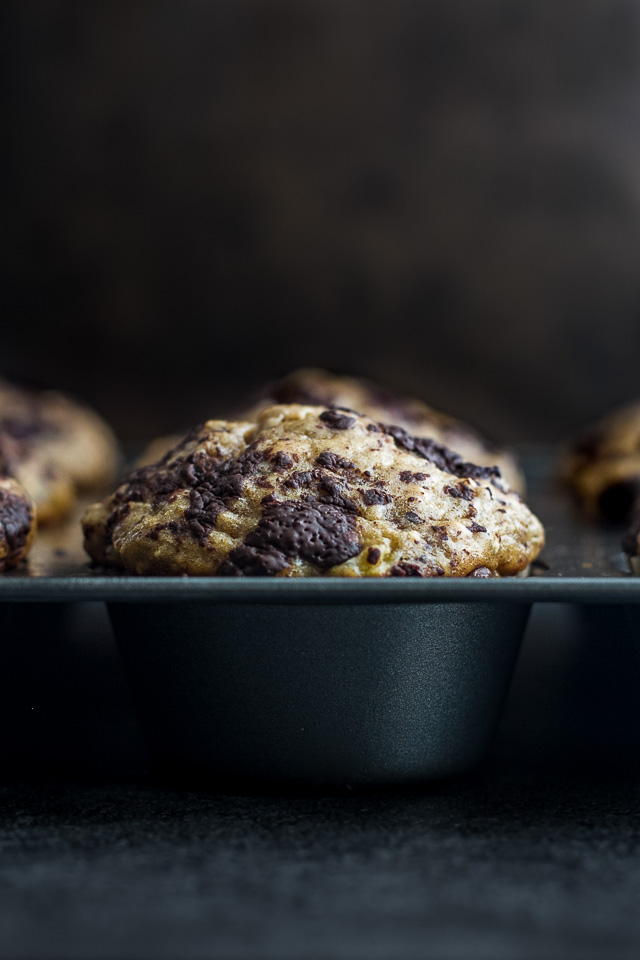 And while they might look all business at first blush, they're actually a lot of fun once you get to know them better.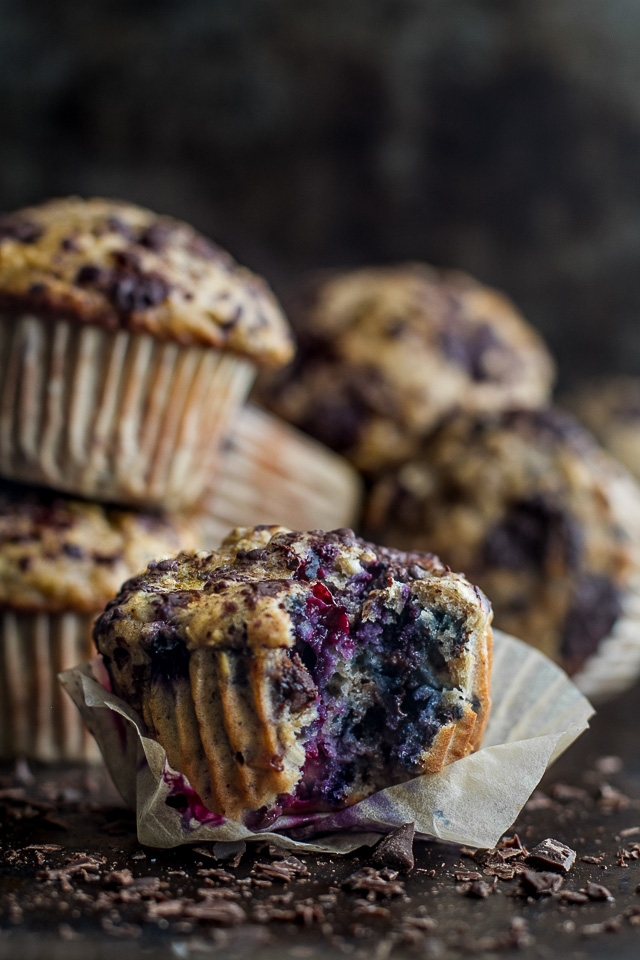 Dark chocolate and blueberries are a match made in heaven, and when you put them in a soft and tender muffin along with some bananas and oats? Beautiful things happen.
Like a lot of my other muffins, these guys are made with Greek yogurt, and like all the others that came before them, they're so plump and moist that you'd never be able to tell they're lightened up and healthy. I mean, you might be able to tell if you're used to eating those crazy big bakery style muffins that clock in around 5 or 600 calories, but for the awesome nutritionals on these guys? They taste pretty freaking delicious.
And, yes… that I do remember much. I hope you love 'em!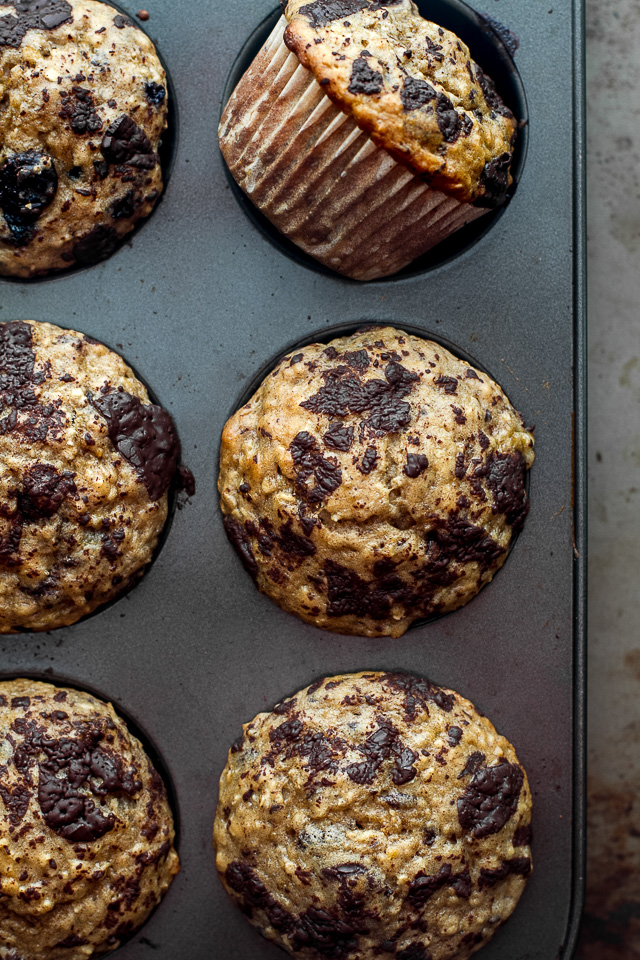 I'd love to know if you make this recipe! Leave a comment and rating down below to let me know what you think, and subscribe to our mailing list to receive new recipes in your inbox!
Print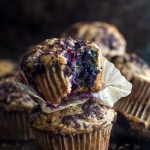 Dark Chocolate Blueberry Banana Oat Muffins
---
Author:

Total Time:

30 mins

Yield:

12

large muffins

1

x
2

large eggs

1/2 cup

(

115 g

) plain 2% Greek yogurt

2

medium-size, ripe bananas, mashed (

200 g

or

1 cup

)

6 Tbsp

(

90

ml) maple syrup

2 tsp

vanilla extract

3/4 cup

(

60 g

) quick oats

1 tsp

ground cinnamon

1 tsp

baking powder

1/2 tsp

baking soda

1 1/4 cup

(

150 g

) white whole wheat flour*

1 cup

(

140 g

) blueberries, fresh or frozen**

1/2 cup

(

80 g

) dark chocolate chunks or chips
---
Instructions
Preheat your oven to 350ºF (176ºC) and prepare a muffin pan by lining the cavities with parchment liners or spraying them with cooking spray. Set aside.
In a large mixing bowl, lightly beat the eggs until the yolks break apart. Whisk in the yogurt, bananas, maple syrup, and vanilla, mixing until smooth.
Stir in the oats, cinnamon, baking powder, and baking soda, mixing until well combined before gently mixing in the flour. Finally, fold in the blueberries and chocolate chunks, reserving some to sprinkle on top.
Divide the batter evenly among the 12 muffin cups, filling almost to the top. and sprinkle with remaining chocolate chunks and/or blueberries.
Bake for 21-23 minutes, or until the tops of the muffins begin to turn golden brown and toothpick inserted into the centre comes out clean. Allow the muffins to cool in the pan for ~5 minutes before transferring them to a wire rack to cool completely. Store them in an airtight container at room temperature for up to 5 days, or freeze for up to 3 months.
Notes
* You could also make this with all purpose flour or use a mix of 1/2 cup (60 g) whole wheat and 1/2 cup (60 g) all purpose. ** If using frozen berries, toss them in 1 Tbsp (7.5 g) of flour to prevent them from bleeding or sinking to the bottom of the muffins.
Prep Time:

10 mins

Cook Time:

20 mins
Keywords: banana oat muffins, blueberry, blueberry banana muffins, blueberry muffins, dark chocolate, Greek yogurt, Greek yogurt muffins, healthy, muffins, oatmeal muffins, oil-free, recipe

Looking for more healthy muffin recipes? Try one of these!
Blueberry Oat Greek Yogurt Muffins
Apple Oat Greek Yogurt Muffins
Healthy Almond Butter & Jelly Muffins
Healthy Double Chocolate Zucchini Muffins
Banana Oat Greek Yogurt Muffins