As a self-proclaimed cookie monster, it pains me to admit that I only have one recipe for cookies on my blog. Just one. BUT! Thanks to a quiet and somber Sunday afternoon, I now have two cookie recipes. Allow me to introduce you to the newest cookie to grace the Spoons family: vegan chocolate chip pumpkin oatmeal cookies…
A few notes about these cookies…
First, they were very much accidentally vegan. What I mean is that I didn't originally set out with the intention of making them vegan — a lack of eggs coupled with no motivation to head out to the store and buy some forced my hand and vegan cookies were born. Huzzah! The best part about vegan baking? Being able to enjoy raw cookie dough without the fear of food poisoning.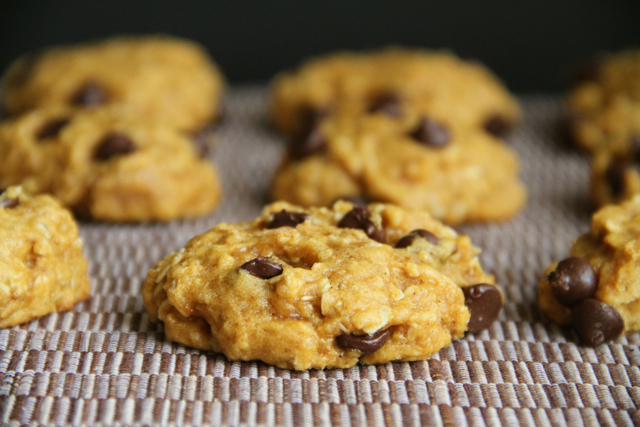 Second, I was originally planning to make iced pumpkin oatmeal cookies, but if you'll look above and note the laziness I mentioned in point #1, you'll realize that tossing in a handful of chocolate chips was infinitely easier than whipping up a 5-minute batch of icing… So, non-iced chocolate chip pumpkin oatmeal cookies were born, which is probably a blessing in disguise because everyone knows that chocolate chip oatmeal cookies are the best ones out there, and that pumpkin and chocolate make a killer combo. Win, win.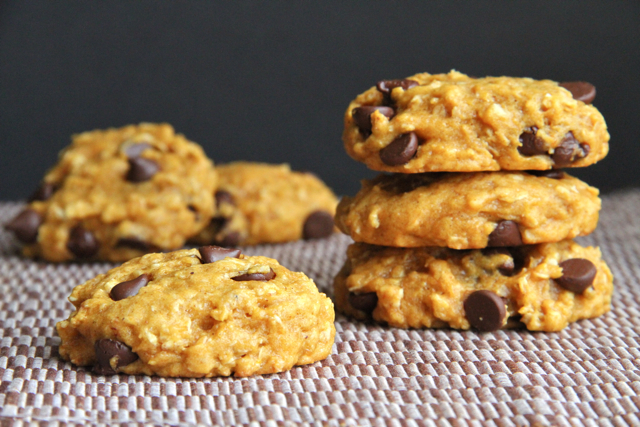 Third, this recipe makes 12 cookies. One dozen. You can go ahead and double or triple it if you want more, but if you're anything like me, you get tired of eating the same thing after the third or fourth cookie/muffin/slice, so keeping batches small is the way to go. It also means more opportunity to bake new things.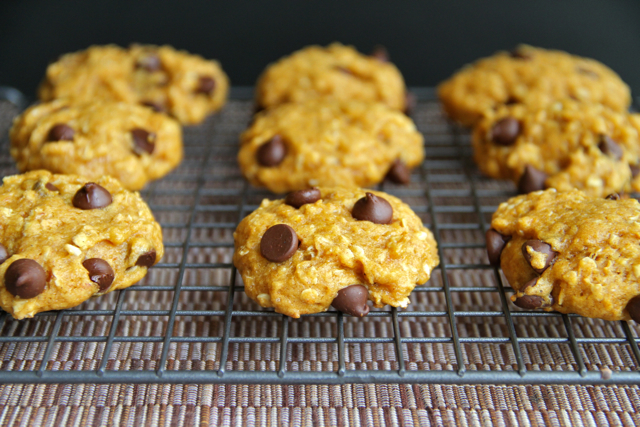 Fourth, fifth, and sixth… These are delicious. I am obsessed. Go make them now.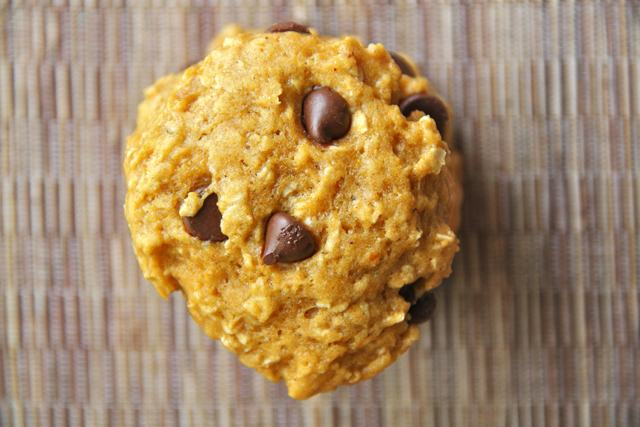 . vegan chocolate chip pumpkin oatmeal cookies .
Ingredients
3/4 cup whole wheat flour
1/2 cup rolled oats
1/4 cup unrefined sugar
1/2 tsp. baking powder
1/4 tsp. salt
1 tsp. ground cinnamon
1/2 tsp. ground nutmeg
1/4 tsp. ground ginger
1/4 cup maple syrup
1/2 cup canned pumpkin puree (not pumpkin pie filling)
1 tsp. vanilla extract
1 1/2 Tbsp. canola oil
1/4 cup dairy free chocolate chips (can also use regular)
Instructions
Preheat oven to 350ºF and lightly grease a cookie sheet or cover it with parchment paper.
In a medium sized mixing bowl, combine flour, oats, sugar, baking powder, salt, and spices. Mix until well combined and set aside.
In a separate bowl, combine maple syrup, pumpkin, and vanilla, then stir in oil to incorporate.
Add wet ingredients to dry ingredients, mixing until just combined. Do not overmix. Fold in chocolate chips.
Using a rounded tablespoon, drop dough onto prepared baking sheets, and flatten slightly.
Bake 10-12 minutes, or until edges begin to turn golden brown.
Remove from oven and let cool for 1 minute before transferring to a cooling rack to cool completely.
http://www.runningwithspoons.com/2013/10/21/vegan-chocolate-chip-pumpkin-oatmeal-cookies/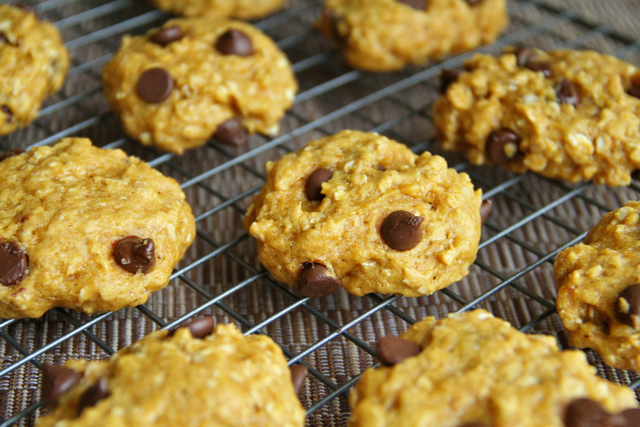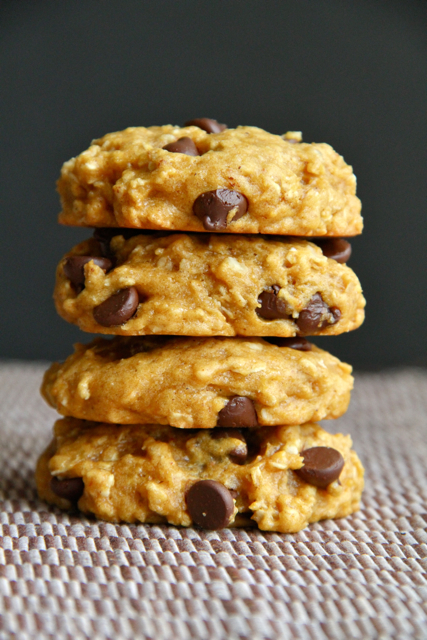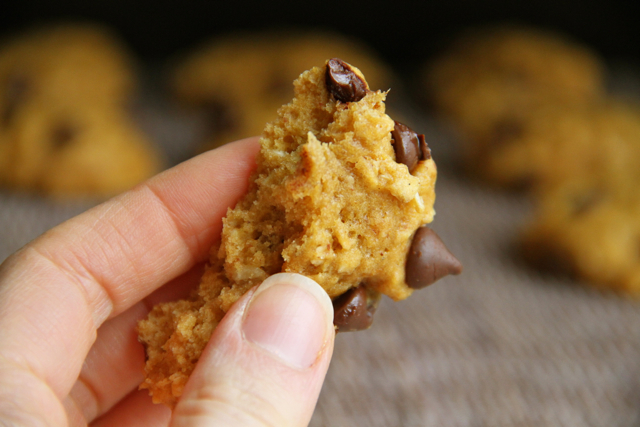 You may notice that the recipe doesn't call for any flax or chia "eggs" — this is because it doesn't need any. The pumpkin does a good job at binding the ingredients together, while simultaneously adding a slight cakiness to the overall texture.
If you're not a big fan of cakey cookies, you needn't worry about not liking these guys. The fact that I was out of eggs was actually a blessing in disguise because eggs tend to add to the cakiness factor, so a lack of egg leads to a significantly less cakey cookie. What you're left with is a cookie that's wonderfully chewy on the outside, and become softer towards the centre. Perfection.
. – . – . – .
Are you a fan of raw cookie dough? Do you eat it even when eggs are involved?
Are you getting pumpkin'd out yet?