Whoever can tell me how it's already Wednesday when I could've sworn it was just the weekend will get a cookie [bar]. And whoever can't will get a cookie [bar] anyways because I'm currently swimming in them nice and encourage sharing.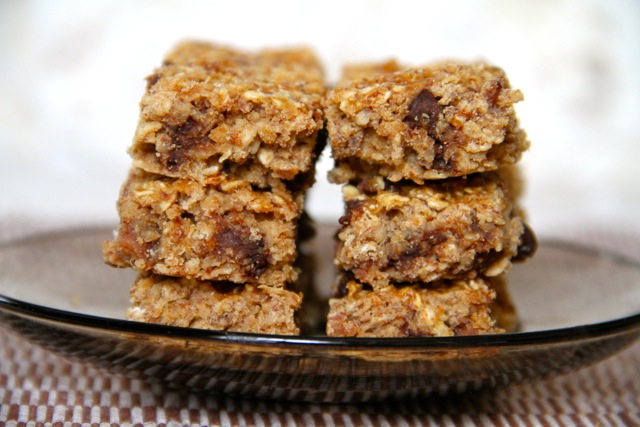 That would be the third batch of soft and chewy protein granola bars that I've baked in a little over a week. What can I say? When I like something, I really like something. Well, that and I like not having to think about coming up with new things to eat when life gets busy, so I fall into the habit of making old things over and over again.
Life has been busy. Eats have been on repeat. Here's What I Ate Wednesday Tuesday.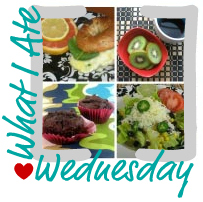 Breakfast was oats…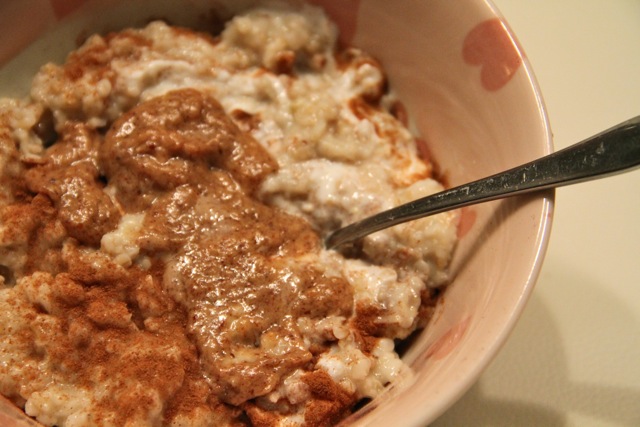 More specifically, whipped banana eggy oats layered with plain Greek yogurt and topped with roasted almond butter and cinnamon. I usually get a little more creative with my toppings, but I just wasn't feeling it yesterday morning. What I was feeling was a good cleaning session, apparently 😯
I'm not sure what came over me, but I somehow managed to sweep the floors, clean the bathrooms, organize my pantry, and do 2 loads of laundry… all before 8 AM. I would have thrown some vacuuming in there as well, but I was worried about waking my neighbours. I was also worried about passing out from the depleted glycogen levels that resulted from my vigorous morning workout (har har… not really, but I need a good segue), so I got my snack on…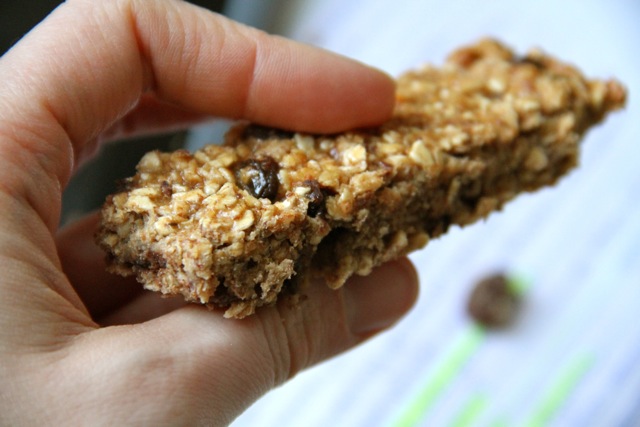 Soft and chewy protein granola bar.
… before sitting down to do some work. Aaaaaand then snacking some more, because everyone knows it's virtually impossible to sit at a computer and not be munching away on something…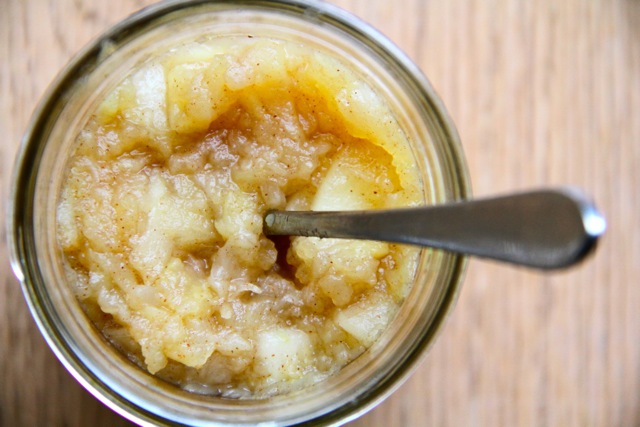 Confession: I always have a container of that applesauce sitting in my fridge. Always. In fact, I'm pretty sure it's managed to sneak its way in to a meal, snack, or 'passing-by-the-fridge-and-HEY-that-sounds-tasty' nibbling session every.single.day since I posted that recipe. Like I said, when I like something, I really like something. And I really like having a snack plate for lunch…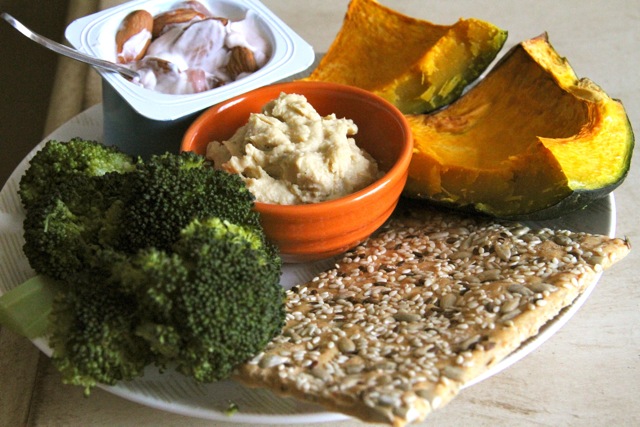 I know they're not for everyone, but snack plates have been my midday saving grace. I've gone from hating lunch to being able to tolerate it, so I'm clinging to that for as long as it keeps working. The key, I've found, is to make sure your snack plate is calorically equivalent to a regular meal, with a good balance of proteins, carbs, and fats. This one had a Dr. Kracker flatbread, classic hummus, almonds mixed in strawberry yogurt, roasted kabocha, and broccoli. Random, but it hit all the right spots and got me through a 2-hour Skype chat with a very good blend friend.
Before I knew it, it was time to snack… again…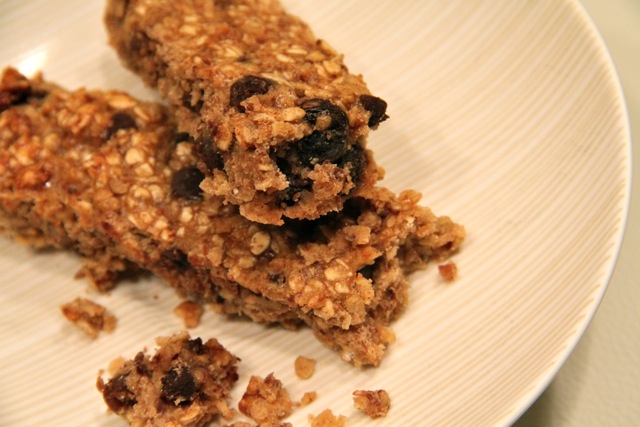 … on granola bars… again. At the risk of sounding like a broken record, when I like something… you know how it goes 😉 I would say that I foresee a fourth batch in my very near future, but I've got an upcoming recipe to share, so I have a feeling that'll become my go-to snack for a little while.
I also have a feeling that you'll roll your eyes when you see my dinner…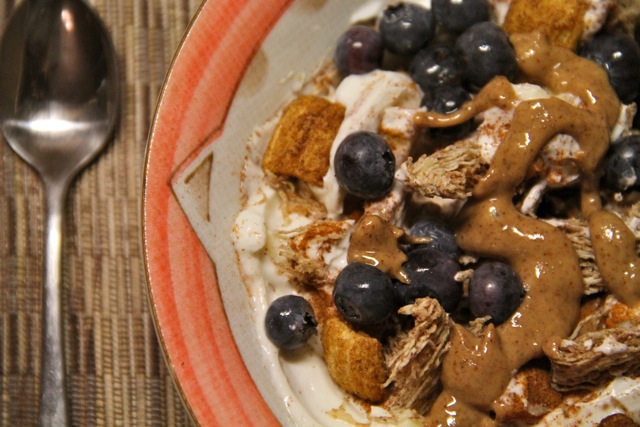 I know, I know… it's a bowl of cereal. A bowl of cereal made with plain Greek yogurt, banana, blueberry, Puffins, Kashi Cinnamon Harvest, and roasted almond butter, but a bowl of cereal nonetheless.
Here's the thing… This is me; this is how I [usually] like to eat. Sure there are plenty of days where I don't eat breakfast for dinner and snack on something other than granola bars, but unless those days happen to be Tuesdays, you don't see em. I used to feel all sorts of pressure to eat a certain way whenever I knew that WIAW was coming up because I wanted to give the impression that I had it all together… I wanted my eats to come across as being healthy, balanced, and creative, so I'd base a lot of my choices off that instead of what I actually wanted to eat. Heaven forbid that I ate the same things I ate the week before or that my appetite wasn't quite where it should be — unacceptable. There's a lot of judgment out there in the blog world and everyone seems to have an opinion on what/how others should eat, but at the end of the day, you just gotta do what works for you; and at the end of the day, what works for me is a snack of dark chocolate and warm almond milk…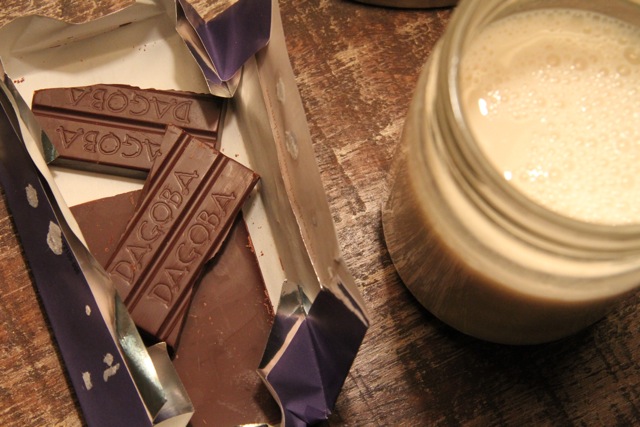 Life's just better when you end things on a sweet note 😀 Happy Wednesday, friends! I'll see you tomorrow for Thinking Out Loud!

Do you ever base your food choices off a certain image you want to portray?
What did you have for dinner last night?
What's one of your current food obsessions?