Hey guys! Hope you're all having a deliciously tasty Wednesday! Mine felt ridiculously scattered and all over the place, but I did manage to get some good eats in so let's take a peak at what I ate this Wednesday…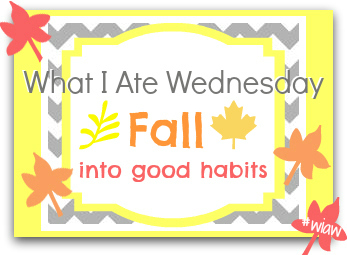 Apparently my ability to sleep in past 7 was a one-time kind of deal because this morning it was back to being up at the crack of dawn [read: 6:15]. I thought about rolling over and trying to get a little bit more sleep, but the promise of hot tea and a cold breakfast was just too enticing…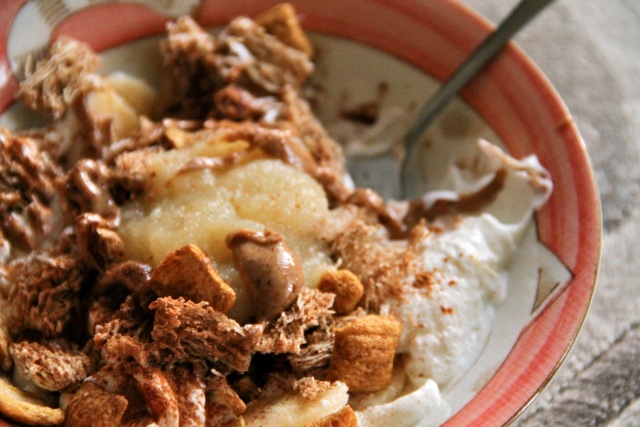 Plain Greek yogurt, banana, Kashi Cinnamon Harvest, Puffins, applesauce, roasted almond butter.
One of these days I may actually consider having something warm first thing in the morning, but I'm not quite ready to give up my beloved yogurt and cereal messes just yet. Heck, what I had for breakfast didn't end up being enough to satisfy the addiction, so I ended up having to go back for more throughout most of the morning…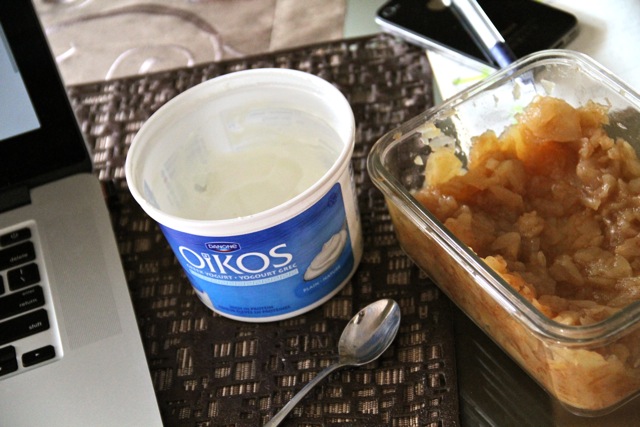 It's a good thing I live alone and don't have to worry about double dipping 😉 I know it's basically taboo to not practice portion control and bring an entire package of whatever it is that you're eating to wherever it is that you're sitting, but honestly? Sometimes that's the only way to feel satisfied. And while we're on the topic of satisfaction, can we just talk about the weirdest craving that I got hit with this afternoon?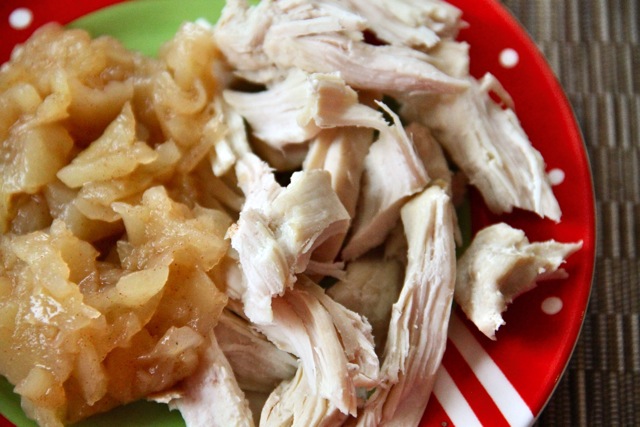 Chicken and chunky applesauce. Err, what? 😯 Honestly, I blame all you Americans for taunting me with your delicious turkey and cranberry sauce Thanksgiving dinners. This is my poor Canadian girl's attempt to not feel left out. It worked… kind of. And now that that's out of the way, let's backtrack to lunch…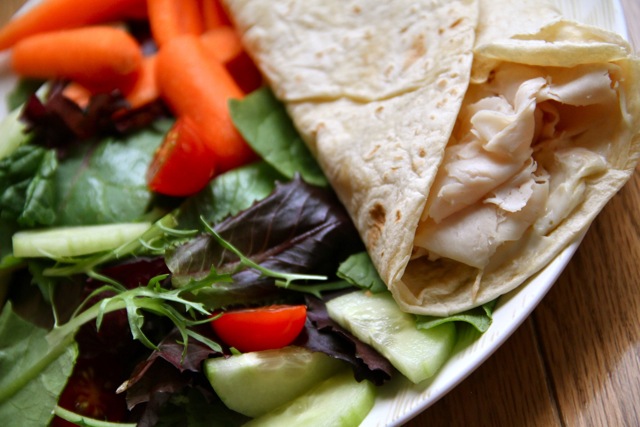 Nothing new to see here, really. Wrap. Turkey. Cheese. Veggies. Thinking up a new lunch is on my list of things to do, but it falls somewhere between writing a musical and tattooing a picture of Justin Bieber onto my back [read: most likely never going to happen]. Oh! But guess what did happen…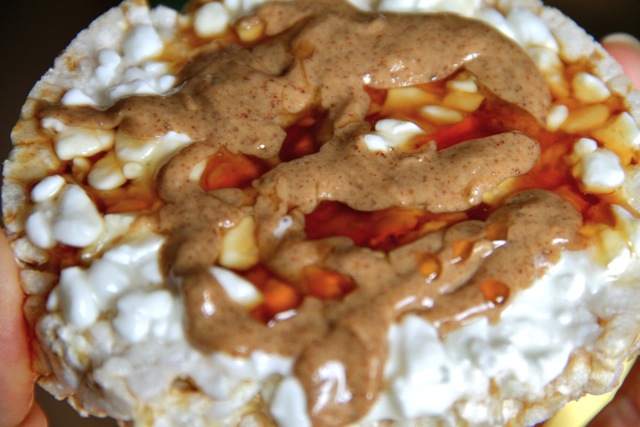 Rice cakes! I know they're considered a diet food and all, but honestly? They're tasty, satisfyingly crispy, and make the perfect base for anything and everything; and by anything and everything what I really mean is cottage cheese, almond butter, and honey, because that combination is to.die.for. Trust. And apparently I can't trust my memory anymore because I found a picture of these Shasha cocoa gingersnaps on my camera from today…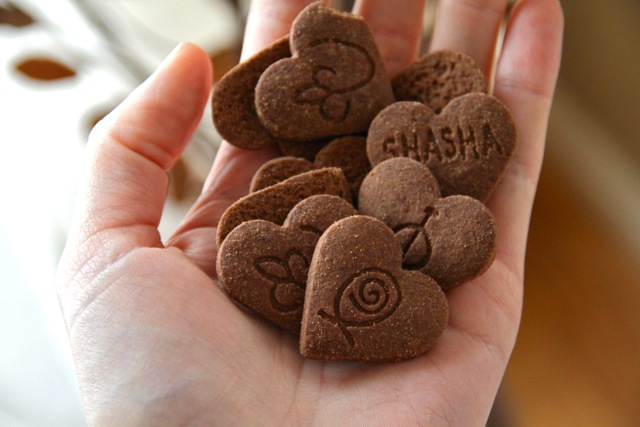 … but I don't actually remember eating them. I may just be losing my mind. BUT! I've heard that caffeine has some pretty beneficial effects when it comes to the prevention of things like Alzheimer's and dementia, so I guess that's as good a reason as any to keep medicating on a daily basis?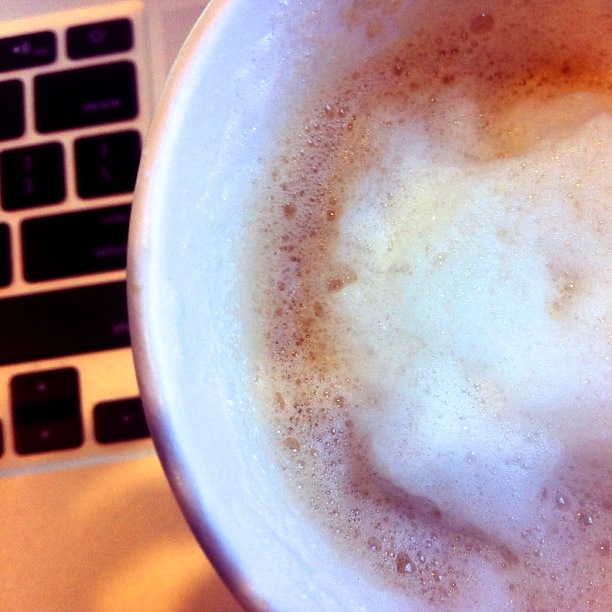 I'm getting old; I have to start taking precautions 😉 Oh! And I think I have to start cooking dinner more often too…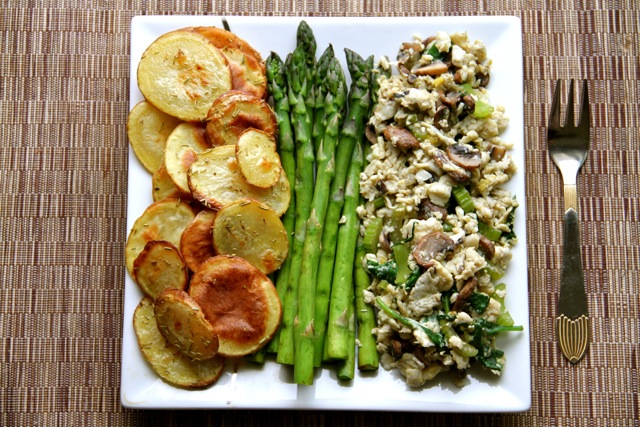 [Last night's] dinner was the first one in a while that didn't come from Mom or a box, and I've got to admit that I was a big fan. What you see here is potatoes roasted in olive oil and crushed rosemary, steamed asparagus, and scrambled eggs made with 2 whole eggs, mushrooms, spinach, and celery… and what I'll be seeing later tonight is probably a few spoonfuls of this…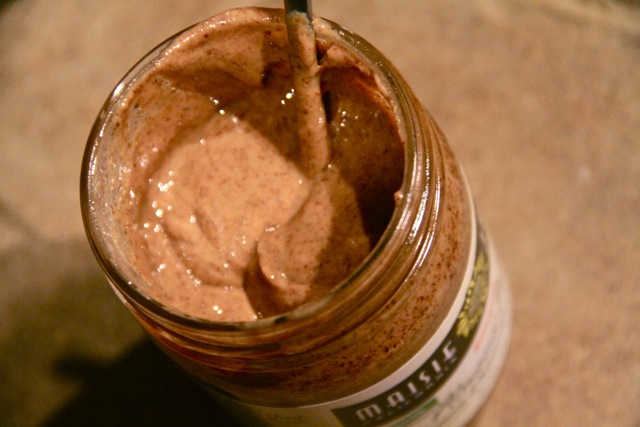 … because everyone knows that it tastes the best straight from the jar, portions be damned.
. – . – . – .
Do you ever grab a bag/box/jar/tub and eat without worrying about portions?
Any typical 'diet foods' you enjoy for non-diet reasons?