Well, things seem to be back to normal around these parts today, and can I just say thank goodness for that (although I do kind of miss the sleeping in bit). It's funny because there was a time where not having an appetite would bring me endless amounts of joy since it made restricting so much easier, but now? Now I think that a lack of appetite causes me more anxiety than an insatiable one does.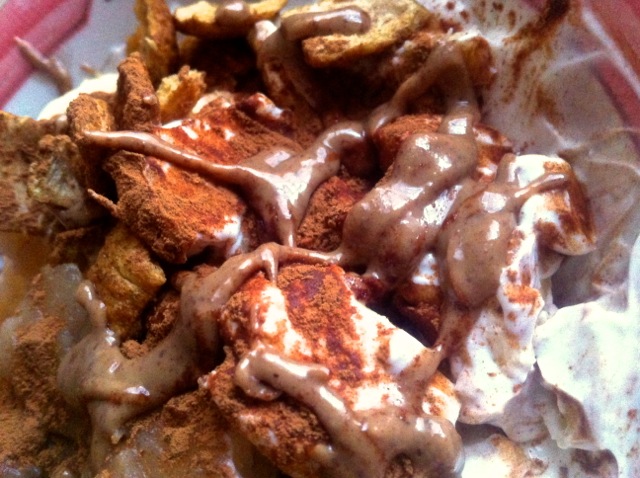 Woke up bright and early, and ready to eat. Greek yogurt, banana, cereal, homemade applesauce, roasted almond butter, and cinnamon… lots and lots of cinnamon.
Why the anxiety? Because of the excited little voice in the back of my mind that likes to revel in the fact that I might just end the day eating less than I should. It's a little frustrating to realize that my mind still harbors those kind of thoughts this far into recovery, but I'm just thankful that they're more of an annoyance than a true temptation.
I do my best to eat intuitively, and I don't have much of a problem with honoring my hunger, but it's a lot harder for me to honor a lack of hunger, especially if I know that my "fullness" is primarily caused by stomach woes. Part of me thinks that I should just give my stomach a break when it doesn't feel the best and let it work things out instead of potentially screwing it up even more, but the other, louder part is afraid of falling back into bad habits…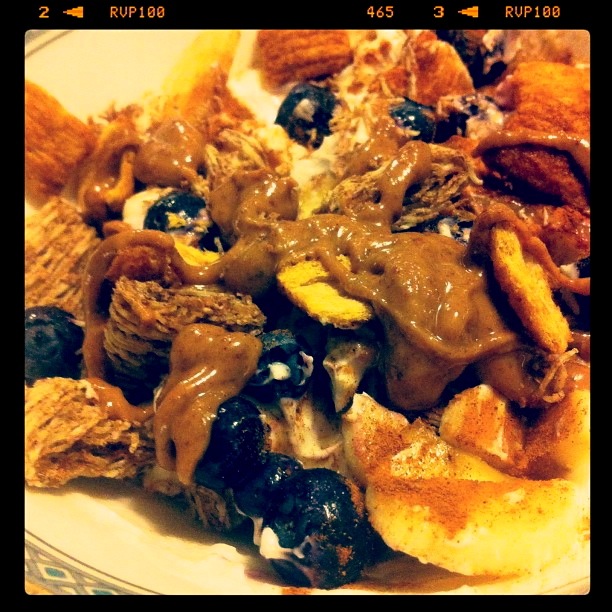 It seems that I can never be too full to enjoy brinner. Greek yogurt, Kashi Cinnamon Harvest, banana, blueberries, roasted almond butter, and cinnamon.
Something like skipping meals and consciously undereating is a really slippery slope for me, or at least it used to be. A big part of my eating disorder had to do with constantly one-upping myself and trying to do better [read: worse] than the previous day/week/month. If I exercised a certain amount one day, I would do the same plus a little bit more the next. If I ate a certain amount one day, I would try to eat a little bit less the next. I was constantly trying to get better at… well… killing myself, essentially – which didn't exactly work out the best in the long run.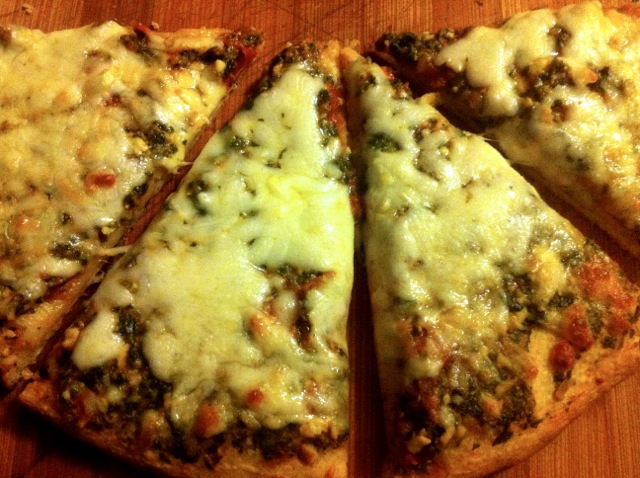 I probably overanalyze things way too much, but I think that's just one of the lingering effects of having an eating disorder. I got so used to constantly having to monitor any thoughts and actions that involved food during my recovery, that I guess I'm just having a hard time letting go of that practice. I remember not giving two hoots about whether or not I was eating enough prior to getting sick (especially if I wasn't feeling well), but now there just seems to be this hyper-vigilance that I can't shake. Ahh well. It's definitely gotten better over time – I guess it just needs a little bit more.
. – . – . – .
When was the last time you had breakfast for dinner? What did you have?
Do you tend to overanalyze things when it comes to your diet?
Do you think I think too much? 😉