So I guess a lot of people struggle when it comes to decision-making, but apparently not when those decisions involve chocolate – that was easily the winner in the chocolate vs. gummy bear debate, and while I'm definitely a big fan, I have to admit that I love chocolate and gummy candies pretty equally… what I reach for just depends on my mood. I will say that chocolate has definitely been seeing a lot more action lately, but I mostly blame that on Lucie and the amazing package full of Swiss chocolates that she sent me. I dug into a bar of truffle-filled dark chocolate the other night and basically lost the ability to form coherent sentences for a while…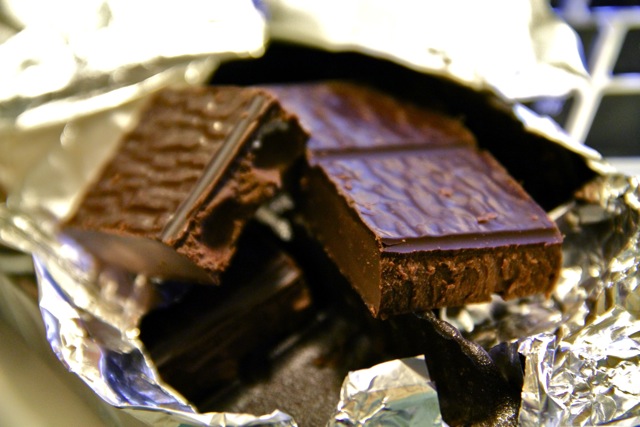 Holy. My. God. Oh.
Translation: it was delicious.
And speaking of delicious, it's that time of the week again where we devote the day to bragging about all the delicious things we've been eating. Yes, It's WIAW! Except this isn't so much what I ate on Wednesday as it is what.I've.been.eating.lately. Pft. Details.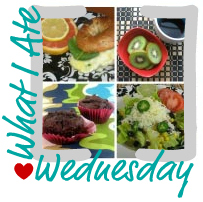 As per usual, the day starts with breakfast, and yesterday's was definitely a gooder…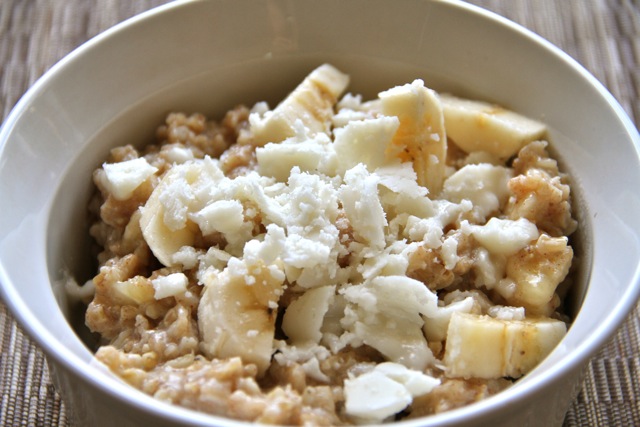 Eggy bananafied steel cut oats topped with coconut butter.
I've still been eating oats on occasion (thankfully without any crazy reactions), but lately I've found myself craving simple bowls as opposed to the crazy combos that I used to come up with. They remind me of the breakfasts that my mom would make me when I was little – plain oats with milk and a sprinkle of brown sugar. Simple yet oh so satisfying. I actually have no idea when I started making my eats so elaborate and complicated, but I'm thinking that the blog world definitely had something to do with that phenomenon.
Have you ever noticed how rare it is to see a blogger eat a simple bowl of cereal with milk? It's always: three different cereals, two different nut butters, three kinds of fruit, powders, chia seeds, superfoods – an entire production. And when it's not, it's always accompanied by an apology for being "boring." Clearly I'm guilty of doing that myself to a certain degree, but I can't help but wonder what happened to the days where I'd pour myself a bowl of Cheerios and call it breakfast without trying to get all fancy pants on it.
I think part of it has to do with an underlying expectation to be creative and interesting. People aren't inspired by a boring bowl of cereal – they want to see things they've never thought of before! The pressure is on! That's why I show you guys lunches like this…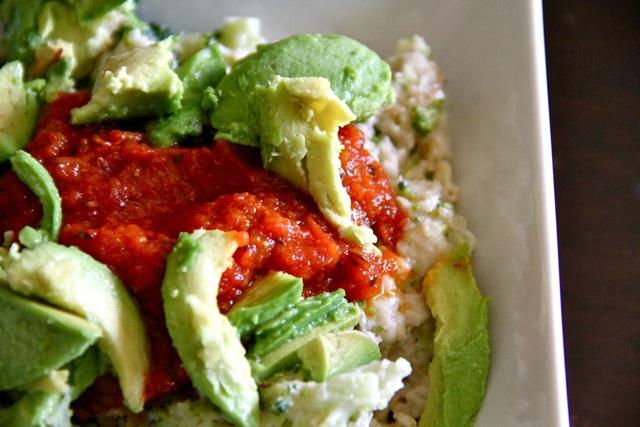 Brown rice with an egg and parmesan cheese cooked in, then topped with marinara sauce and avocado.
… when, more often than not (we're talking 5 days out of 7 here) I'm scarfing down a plain old turkey and cheese sandwich or wrap that isn't really worth writing home about. We've got your bread, cheese, turkey… pretty basic stuff. It tastes good, but it's not exactly life-altering or revolutionary as far as food goes. And in addition to that pressure to be creative, I also think that part of the complicated meal phenomenon comes down to simply wanting to avoid criticism.
I can't even tell you guys how many times I've eaten a snack that was just an apple or just a small bowl of fruit and not wanted to show it because I knew someone would inevitably scream out "Disordered!!! Restricting!!!" or leave a more 'subtle' comment like: "You should try adding some nut butter to that"… or…  "I can't believe that satisfied you. I would be starving!"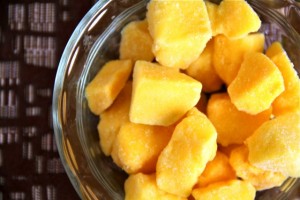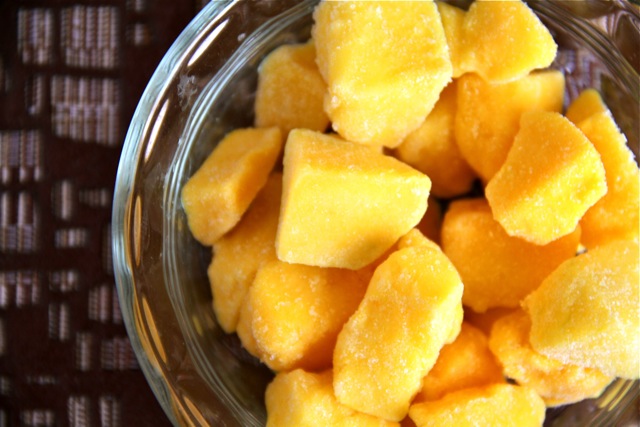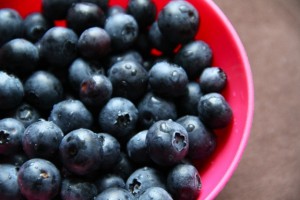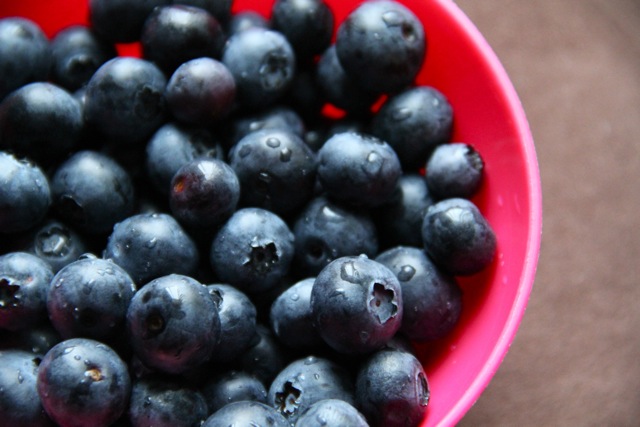 Frozen mangoes – Fresh blueberries.
Well, sometimes it doesn't satisfy me, which is when I snack on something a little more substantial…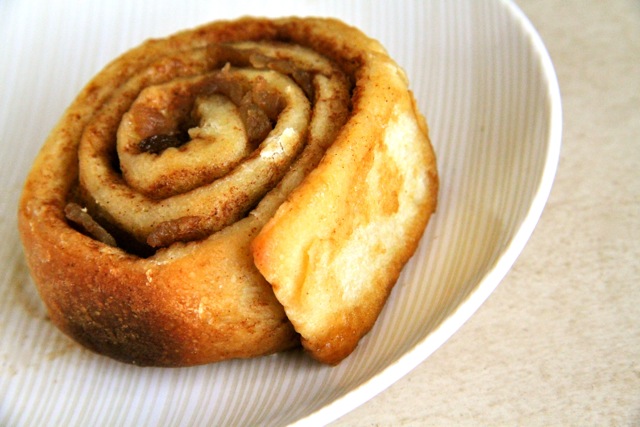 Homemade cinnamon bun.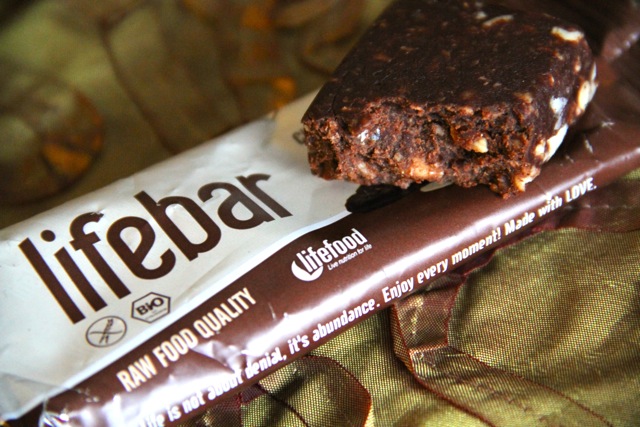 Chocolate Lifebar from Lucie. Very similar to a Larabar.
Plain Greek yogurt with a Weetabix and homemade applesauce.
But other times? Believe it or not, there are times where I really don't feel all that hungry, and sitting down with a big bowl of applesauce suits me just fine…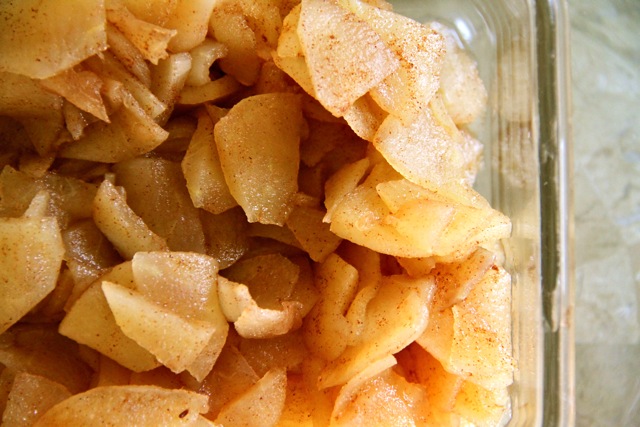 No planned portions, no complicated add-ins, just me, a spoon, the entire batch of applesauce, and eating until I've had my fill. No, it's not a perfectly-balanced snack with carbs, proteins, and fats, but it leaves me feeling perfectly satisfied all the same. Go figure. That doesn't mean that all of my meals are insubstantial, boring, and solely made up of carbs and sugar…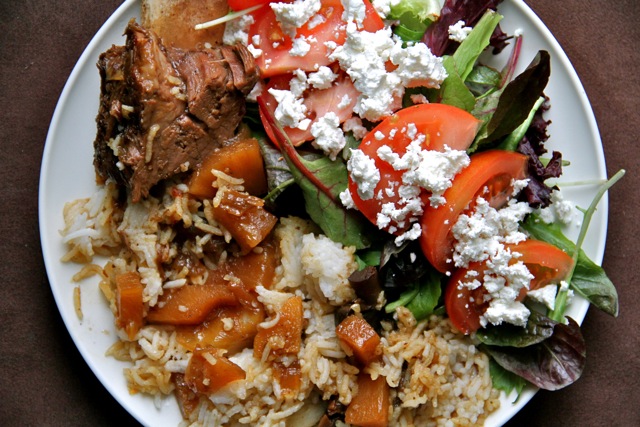 Dinner at home: brown rice with peaches, slow-cooker ribs, and salad with goat cheese.
… but some of them definitely are. That's life though, isn't it? Going with the flow and trusting that everything will balance out in the end? And it does. I've become so lax with my meals and snacks because I've found that even without my constant hyper-vigilance, my body seems to manage just fine; and it's kind of nice to have all that extra time to think about other, funner things like… well… that's a secret that I'll be sharing tomorrow 😉
Happy Wednesday, blog buddies!
. – . – . – .
Bloggers: do you ever feel pressured to eat a certain way or be creative with your meals?
Does it bother you when people make comments about your meals?
Do you make sure your meals are always balanced?