So I know it's only been 2 days, but so far operation try to get more sleep has been pretty successful. I've still been waking up at the crack of dawn (read: 5 AM), but I've been doing my best to resist the siren song of my iPhone and roll over and try to get back to sleep instead. It's been going well… Even though I'm still getting out of bed at 6 or 6:30, the extra hour feels kind of fabulous. It's strange to be waking up with the sun peeking through my windows though…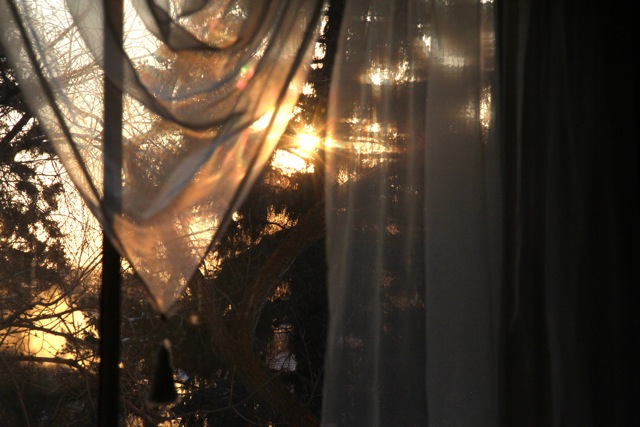 I'm so used to waking up in the dark and trying to navigate my way through a pitch black condo without walking into any pieces of furniture or hitting my shoulder on any door frames… which has actually happened more times than I care to admit. So yeah… the hidden perks of sleeping in! And the best part of all? I still get to enjoy my leisurely mornings, complete with my favorite breakfast…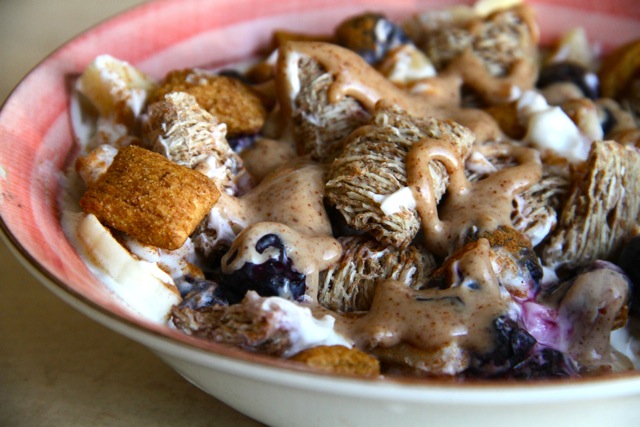 Plain Greek yogurt with a sliced banana, blueberries, Kashi Cinnamon Harvest, Puffins, and almond butter.
… and a side of blog reading. I could get used to this! But I do wish that breakfast lasted a little bit longer…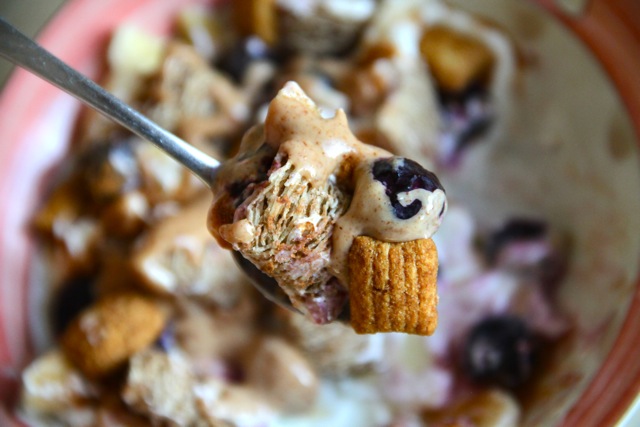 Confession: I may have cried a little when I finished the last bite – it's never easy saying goodbye to a delicious meal. But hey! Since today is Wednesday and we're already on the topic of food and confessions, I figured that I'd use today's WIAW post to get a few food related confessions off my chest. Aaaaaaand go!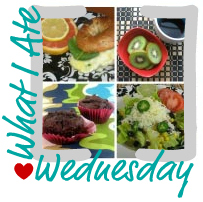 Confession #1: I may or may not have topped a rice cake with a hefty amount of leftover honey cream cheese frosting and eaten it as a morning snack…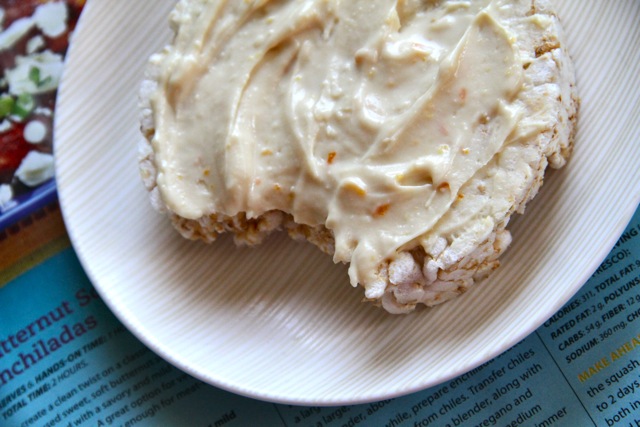 Seems like a complete paradox doesn't it? On the one hand we have a rice cake – the epitome of diet food. On the other, frosting – as far away from diet food as it gets. But in my defense, this frosting only has cream cheese, honey, and orange zest, which I figure is healthy enough to eat before 10 AM.
Confession #2: I've been eating almond butter and [blueberry] jam sandwiches for lunch almost every day for the past week…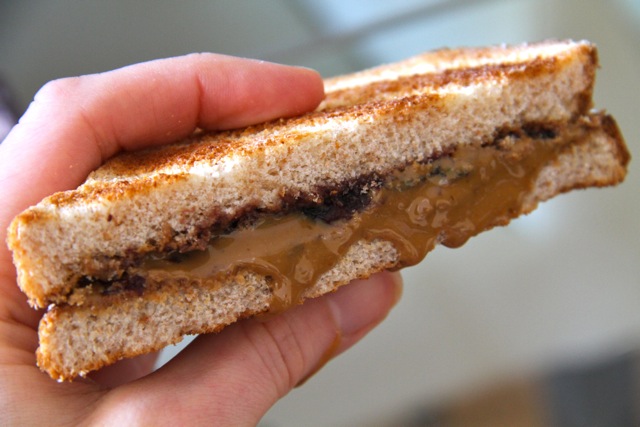 … and pairing it with various other kid-friendly, fun snack foods like Barefruit apple chips, coconut Oikos, and [unpictured] baby carrots…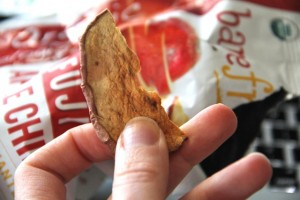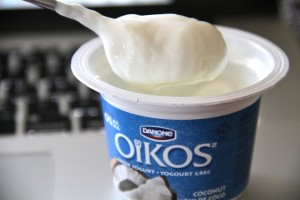 After enjoying this type of lunch setup so much last week, I decided that it needs to become a regular thing around these parts since it makes the ever-hated midday meal so much more bearable. Dare I say I actually look forward to eating lunch these days?
Confession #3: I always feel a little guilty when I have to ask the baristas at Bux to remake my cappuccinos so I've started ordering them dry (less milk, more foam), and I think I've finally found a way to ensure I get a cappuccino rather than a latte.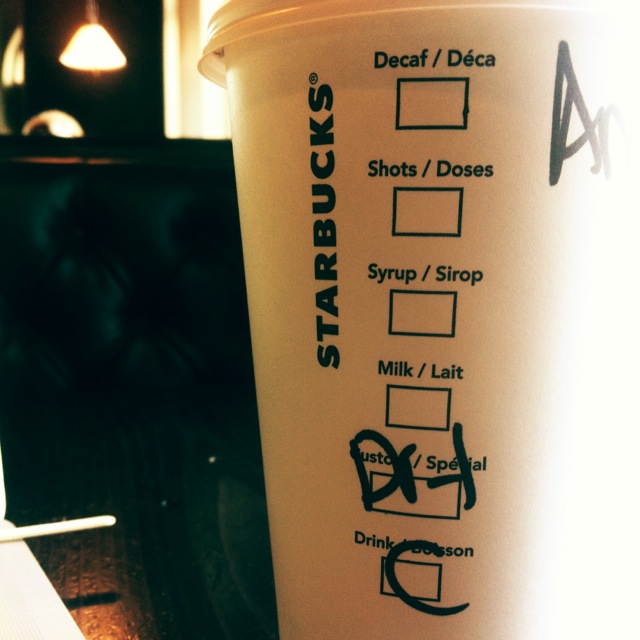 It's not 100% fool-proof, as there've still been one or two occasions where even my dry capp was way too wet (seriously?!), but it's getting better.
Confession #4: I couldn't figure out what I wanted for dinner, so I had a banana…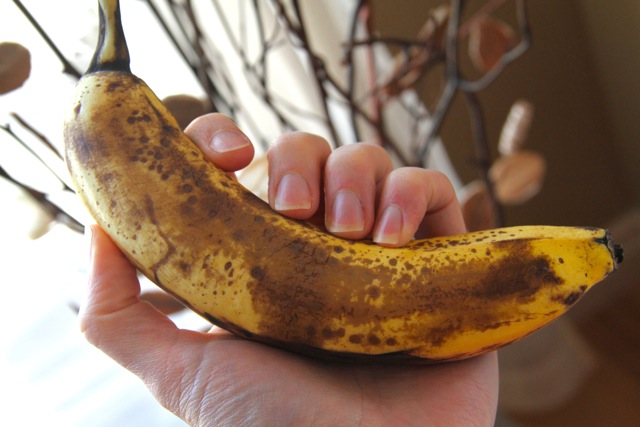 … beeeeefore heading over to my mom's because I didn't feel like cooking anything. Did I scare you? Don't worry. Long gone are the days where I can replace a meal with a piece of fruit.
Confession #5: I really love my mom…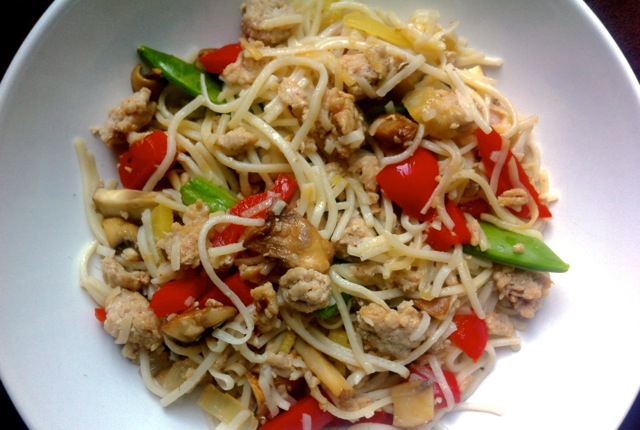 Toasted sesame chicken stir fry.
Confession #6: While making my snack last night, I realized I have a bad habit…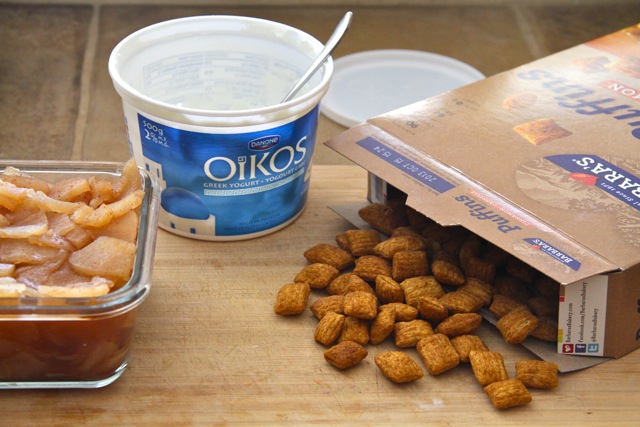 … but that'll be a whoooole other post in itself. Today'll be a busy one for me with work and volunteering and what not, but I'm planning on participating in a Twitter chat tonight hosted by Lindsay over at The Lean Green Bean. It starts at 8 PM EST and will cover various tips and tricks related to blogging, so use the hashtag #BlogSmarter if you'd like to join, and I hope to see you there!
Happy Wednesday, loves!
. – . – . – .
What's your favorite jam/jelly to have with an AB/PB sandwich?
What's one thing on your agenda today?
If you had to confess something, it would be: _______