Hi friends! Happy Wednesday! 😀
I was lucky enough to be able to work from home today, and all I can say is thank.freaking.goodness because the weather? Yeah. We're not even going to talk about it. Instead, we're going to talk about food, because a) it's tastier, and b) that's what Wednesday's are all about thanks to the lovely Jenn over at Peas & Crayons.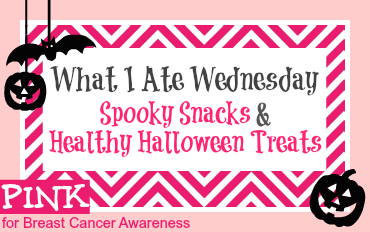 One of my favorite things about being able to work from home (besides, err, everything?) is not having to worry about packing my food and being able to eat whenever I please. Even though I'm nowhere near as rigid as I used to be with my eating schedule, a girl can still have her preferences, right? And well, my preference is to pretty much eat all day – starting with a bowl of cereal for breakfast…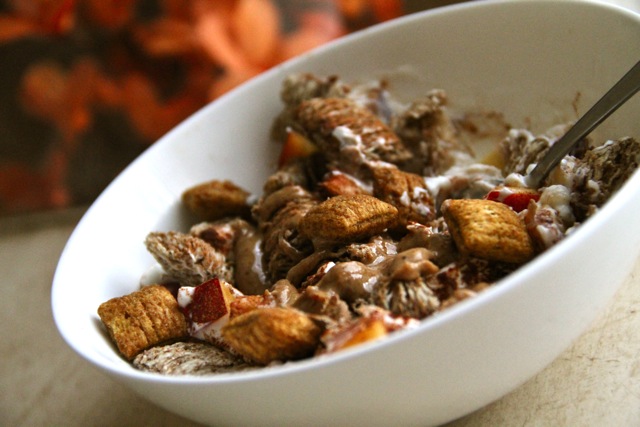 Plain Greek yogurt – banana – nectarine – Kashi Cinnamon Harvest – Puffins -roasted almond butter.
… and ending with a bowl of cereal before bed…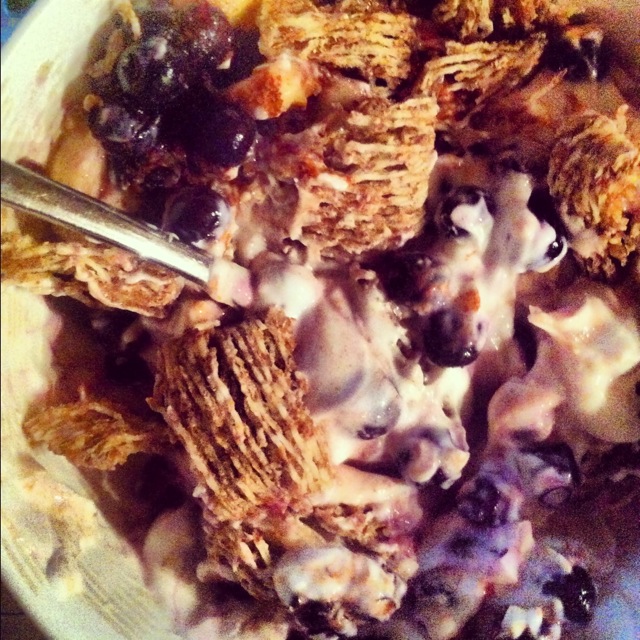 Plain Greek yogurt – blueberries – banana – Kashi Cinnamon Harvest (addicted).
I sometimes joke about the fact I feel like I'm always eating, but in reality… I am always eating. I've found that my stomach handles smaller meals a whole lot better than bigger ones, and that eating more frequently helps keep my energy levels up throughout the day. That's why a lot of my lunches and dinners end up being on the smaller side…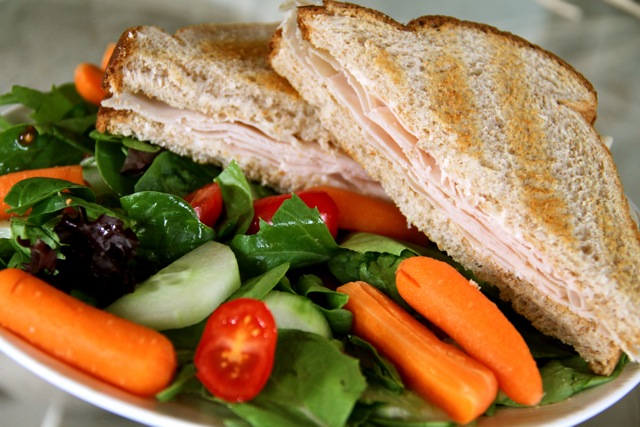 Lunch: Turkey and hummus between toasted bread – random veggies drizzled in olive oil on the side.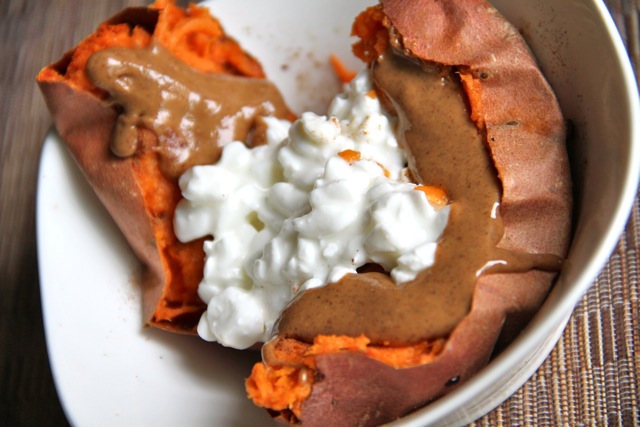 Dinner: Baked sweet potato with almond butter and cottage cheese.
… and my snacks come around quite frequently…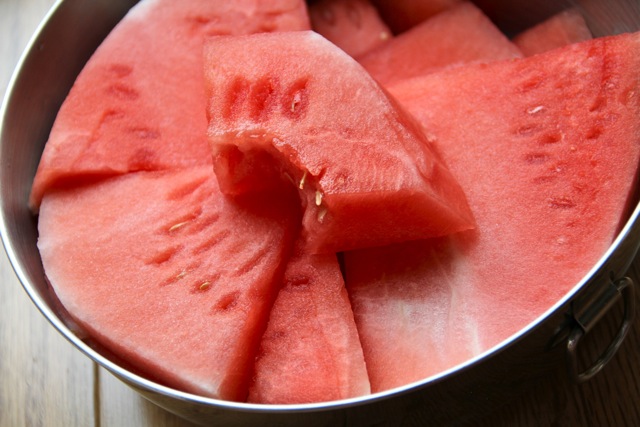 My foodie kryptonite. Without fail, I go through a pretty big bowl of watermelon on a daily basis, but I try to pick away at it throughout the day to avoid making myself sick by eating too much in one sitting.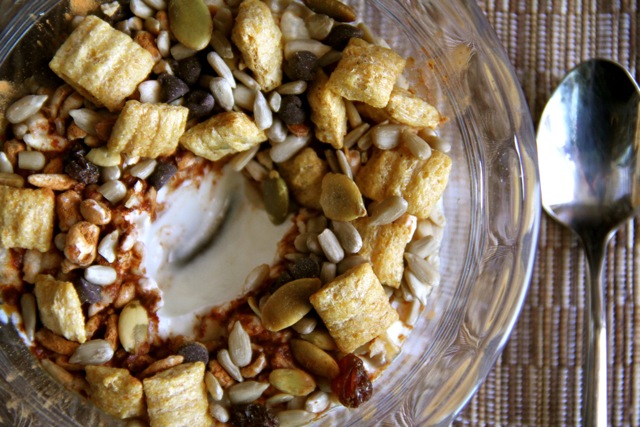 I'm on a huge yogurt mess kick right now – no matter how many I eat, I still want more. I'll worry about why later, but this was plain Greek yogurt, cinnamon, Kashi Honey Sunshine, and Enjoy Life Mountain Mambo trail mix.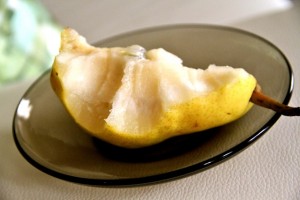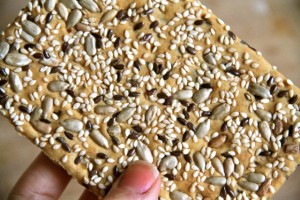 The sweetest pear I've had in a while – A Dr. Kracker Klassic 3 Seed crispbread.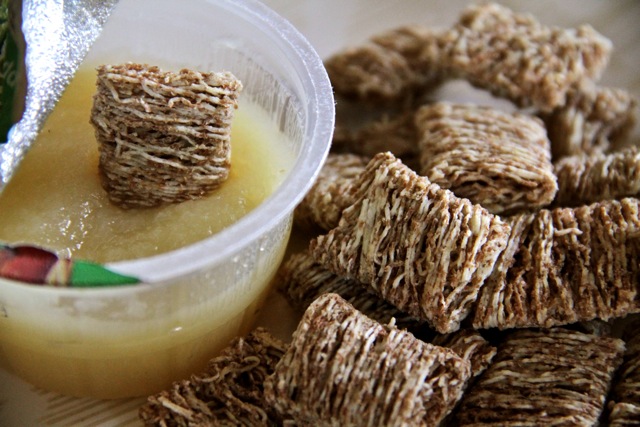 Have you ever dipped Kashi Cinnamon Harvest into applesauce? Holy.wow. I'm so obsessed with this combination right now, it's not even funny. Actually, I'm just kind of obsessed with apples in general…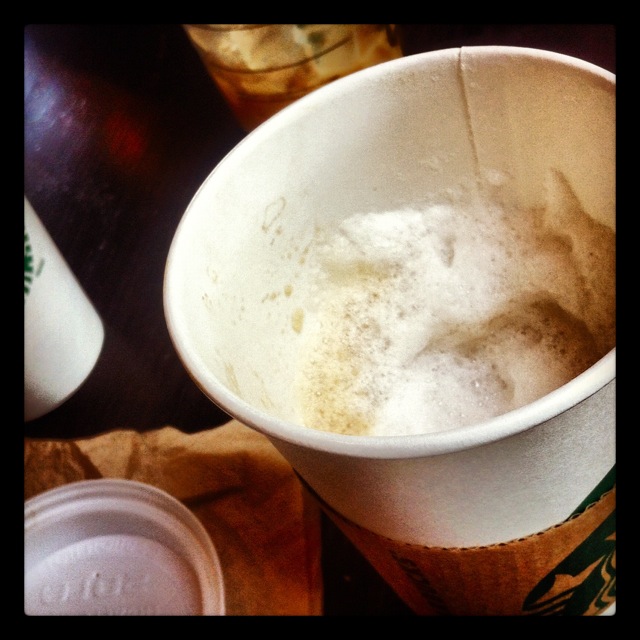 I finally braved the ridiculous weather to pick up my daily after "work" cappuccino. Reused picture, but I promise you my set up looked more or less exactly the same…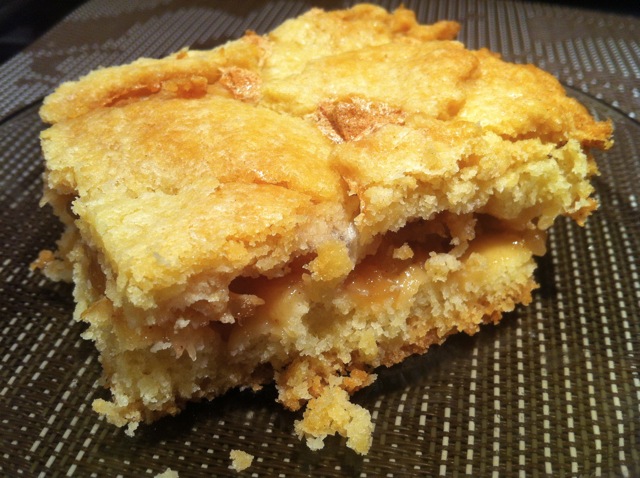 I ninja'd a slice of my mom's szarlotka (apple cake) when I was over there on Sunday and figured it would make a perfect mid-week treat. And ohhhhh did it ever.
So there you have it – a 10 mini meal day. That's what's been working well for me, though. I've never understood how people can get by on three square meals a day, but then again someone is probably looking at my eats and wondering the same thing about me… especially when it comes to the overabundance of cereal, yogurt, and fruit. Yeah, wow. I would say that I'll look into changing that, but that would be a lie. After all, why fix what's not broken?
Hope you guys are having an awesome night! I think I'm off to the mall to pick up some much needed beauty necessities. I see Sephora, MAC, Lush, and Lululemon in my immediate future, so please pray for my wallet…
. – . – . – .
Are you a constant snacker or more of a 3 meals a day kind of person?
Are there any foods that you think you eat way too much of?