Thank you guys for putting up with my randomness from yesterday — I promise not to pull those kind of shenanigans on you [too] often, but I think falling victim to a food coma gives me a legitimate excuse… After all, blood migrating to stomach = a significant lack of blood in brain = zzzZZzzZz. You can't argue with science. But I'm not about to school you in biology because there are more important things to discuss!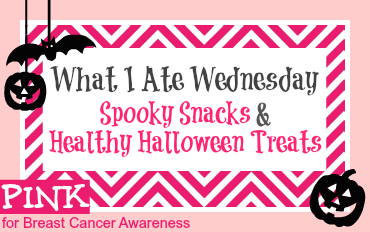 Even though I don't think I'd ever be able to go back to sharing my eats on a daily basis like I did when I first started blogging, food is probably still one of my favourite things to talk about… especially now that I'm learning more about it through my course with IIN.
One of the things I've been learning about more recently is the importance of eating a varied diet, 1) to ensure that you're covering the whole spectrum of vitamins and minerals, and 2) to prevent yourself from possibly developing food sensitivities as a result of eating too much of the same food.

Remember how I mentioned having to give up oats for almost a year because of the strange reactions I started experiencing any time I ate them? I honestly think it had something to do with the fact that I was eating so much of them that my body literally couldn't handle it anymore. Oatmeal for breakfast, oatmeal before bed, and sometimes even oatmeal for lunch/dinner — a little much, yes?
So oatmeal and I went our separate ways, and while it's currently back in my life and not causing me any grief (thank goodness), I make sure to keep it to one bowl a day. Still… I do tend to eat that bowl every.single.day. If not for breakfast, then for lunch, and if not for lunch, then for dinner. I don't think there's a problem with that, but introducing some variety probably wouldn't hurt… which is why I've [grudgingly] been switching things up over the last little while and trying to branch out in terms of what I've been eating.
I say grudgingly because I'm a creature of habit and I end up eating a lot of the same things because a) I like them, and b) it means I don't have to spend a lot of time thinking about what to eat. Back in the day, I used to spend hours planning out my meals on a daily basis, which is probably why I prefer to avoid thinking about things like that now — too many bad memories. BUT! taking things from one extreme (obsession) to the other (avoidance) isn't the way to go — that mythical middle ground is the place to be. Luckily, I figured out a way to add a decent amount of variety in my diet without having to give it too much thought — making simple swaps.
. – . – . – .
Breakfast… [oatmeal swapped for quinoa flakes]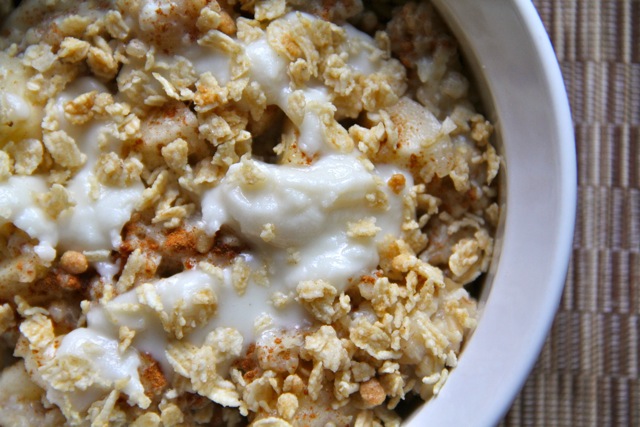 Cold, dark mornings call for warm bowls of comfort. Truth. I wasn't willing to give those up, but different grains I could do. This bowl used quinoa flakes in place of oats, and was dressed up with a whipped banana, melted coconut butter, and a sprinkle of cinnamon raisin granola for some added texture. Not half bad… Not quite the same as oats, but still good. I'd also love to try doing something with rice.
Morning snack… [coffee and baked goods swapped for NO! NO TOUCHIE!!]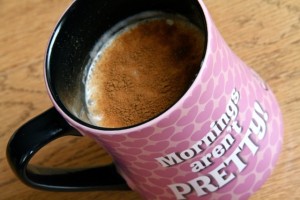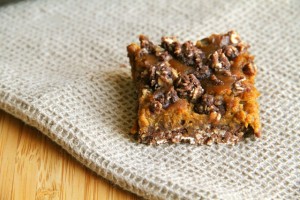 We all have our mandatory creature comforts, and this is one of mine that I don't want to mess with. A homemade cinnamon topped assaulted latte courtesy of my Keurig and a milk frother, alongside a pumpkin pie oatmeal bar. Bliss.
Lunch… [sweet snacking swapped for savoury sandwiches]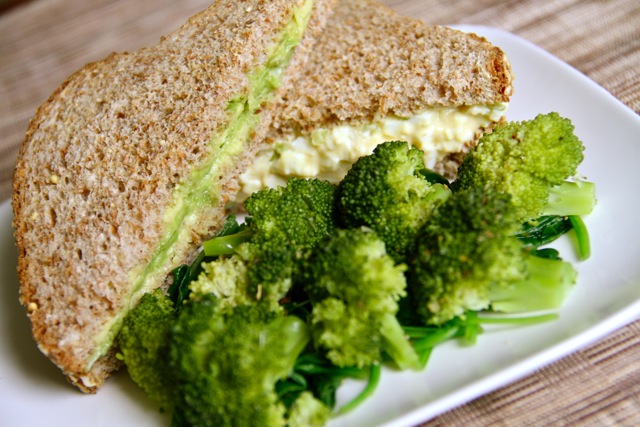 As much as I love my incessant afternoon snacking, I'll be the first to admit that sometimes it doesn't serve me all that well — sometimes you just wanna eat and get it over with instead of constantly being distracted by that slight hunger and needing to graze. So, I've been swapping my sweet snacking for more savoury meals since I've found that catering to my sweet tooth at this time of the day just makes it run a little more rampant. This lunch was a pair of sandwiches, one with avocado and the other with egg salad, with some steamed broccoli to add a little bit of colour.
Afternoon snack… [bananas & AB swapped for crackers & hummus]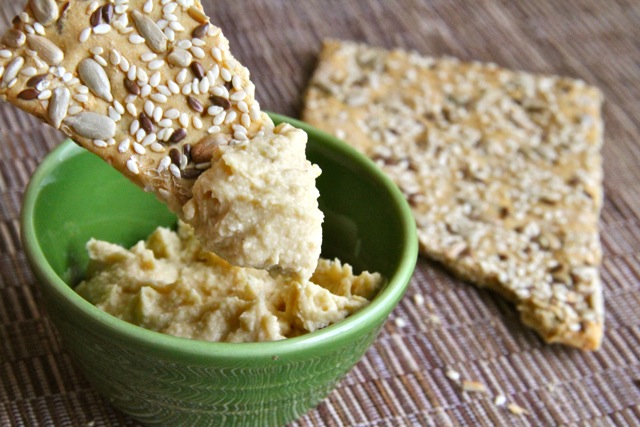 My go-to snack for the longest time has been a banana with almond butter, but seeing as it's not rare for me to hit 3 bananas a day, I figured that introducing a new snack into my rotation wouldn't hurt. Enter a Dr. Kracker classic 3 seed crispbread dipped in Sabra's classic hummus. Perfect for satisfying the [salty] tooth and beating the mid-afternoon slump.
Dinner… [chicken swapped for turkey]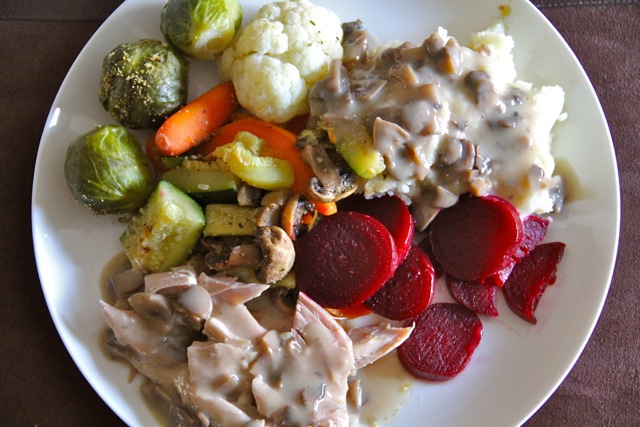 Okay, so this one is kind of cheating seeing as it was just Thanksgiving and using up leftovers has kind of become a necessity, but it's a good reminder for me to vary up my protein sources. I tend to default to chicken 99.9% of the time because it tastes good and it's what I'm most familiar with preparing, but swapping in different protein sources like turkey, eggs, tofu, and tempeh wouldn't hurt. I'd actually like to experiment with eating at least 1 or 2 vegetarian meals every week — something I really started slacking on since giving up the vegetarian diet. This dinner was a plate of turkey and mashed potatoes topped with mushroom gravy, alongside some various roasted veggies.
Evening snack… [cereal swapped for chickpeas]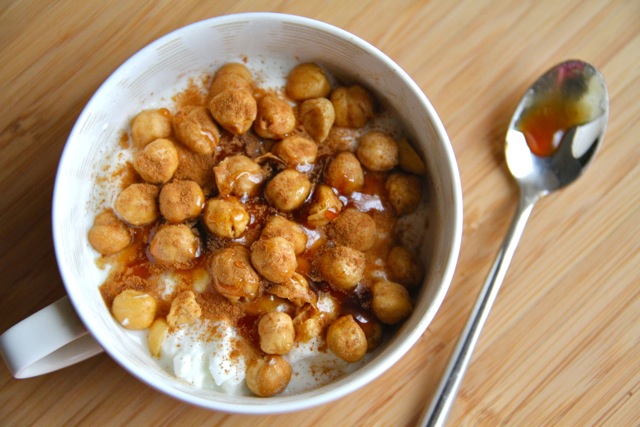 Even though I can't see you right now, I know you're giving me the raised eyebrow look. Or maybe you're not even the least bit surprised given all the #strangebutgood combos out there in the blog world. Either way, this bowl of plain Greek yogurt topped with Biena's honey roasted chickpeas, cinnamon, and honey was definitely a gooder. A little different from my normal nighttime bowl of cereal, sure, but the sweet crunchiness of the chickpeas was kind of reminiscent of cereal, so I didn't feel too deprived.
. – . – . – .
And that's that. Some really simple swaps that didn't involve too much thought but still introduced some variety to my diet — exactly what I was going for. I have to admit that, as much as I like my routine, adding a bit more variety intrigues my tastebuds and keeps things interesting. I've noticed myself being a lot more satisfied with my meals when they're something different from what I'm used to, which I'm guessing has something to do with the whole novelty aspect of them. If you find yourself stuck in ruts or grooves, just make some simple swaps. Keep the same basic formula for your meals, but rotate your grains, proteins, and fats. Not only is it an easy way to get more variety, but it'll keep you from getting bored with your eats.
Happy What I Ate Wednesday! 😀
. – . – . – .
Do you try to get a lot of variety in your diet, or do you usually eat the same things?
What food do you eat the most of?
What's your favourite afternoon snack to beat the slump?
Do strange combos in the blog world surprise you, or have you seen it all?