What's up Wednesday! You're not lookin' any better, but at least you're tastin' mighty fine 😀 And if we can't celebrate the weather, then at least we can throw a party and celebrate the food. Yippee!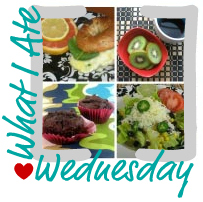 Thank you, WIAW, for bringing a little sunshine to this girl's otherwise cloudy day. And thank you, Jenn, for being the ever-gracious hostess.
. – . – . – .
Sometimes Most of the time, the things I do make no sense. Case in point: I eat hot oats on hot days, and cold oats on cold days. I'm not really sure what was going through my head while I was making these last night, but I decided today would be a good day to have overnight oats for breakfast…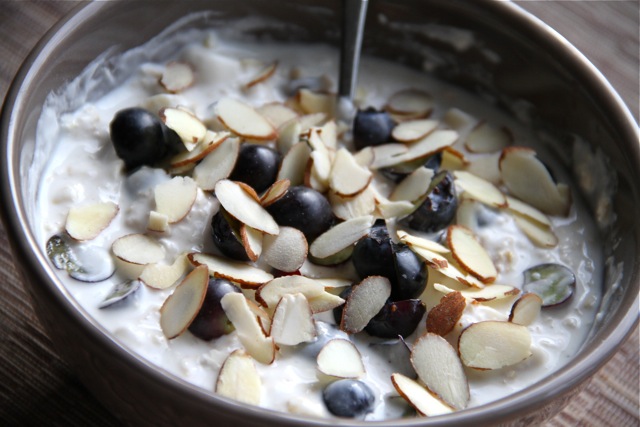 … blueberry coconut overnight oats, to be more precise. Last night I combined:
½ cup rolled oats
1 mashed banana
¼ cup Greek yogurt
½ cup coconut milk (from a can)
… and let it mingle in the fridge overnight. This morning I added some blueberries and slivered almonds, and went to town.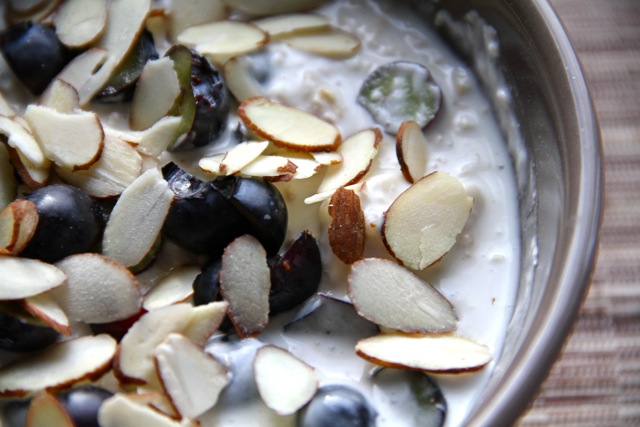 There's no denying that this was a tasty way to start the day, but after a few bites, I found myself missing my beloved chocolate pudding oats and wishing that I was eating those instead.
Sometimes I try and switch up my meals for the sake of variety, but what ends up happening most of the time is that I just miss my standard favorites. Ahh well. At least I had more luck switching up my pre-workout/mid-morning snack…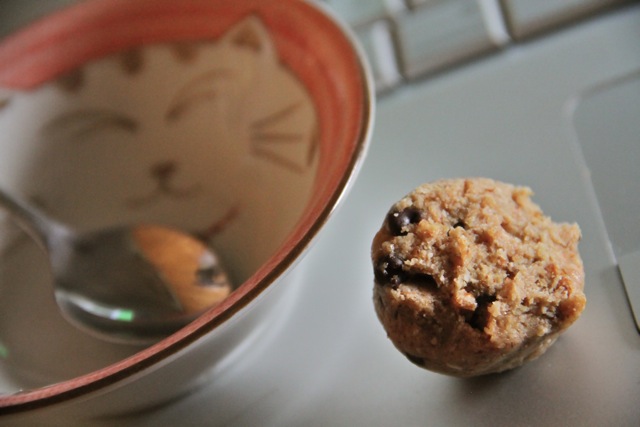 That would be a protein cookie dough ball and an empty bowl that was at some prior point filled with a mix of cottage cheese and strawberry Greek yogurt. What? I got hungry…
Thankfully, I didn't regret deviating from the banana/AB/chocolate pre-workout snack that I usually have, because this gave me all the energy I needed to power through today's strength training routine. Boom. I'm definitely going to be feeling that one tomorrow. Lunges, you kill me.
And because lifting fires up my appetite like nothing else, I was more than ready to eat again when  lunch time rolled around, but I decided to stick to the tried-and-true instead of trying to come up with something new, because my brain doesn't work so well when it needs food…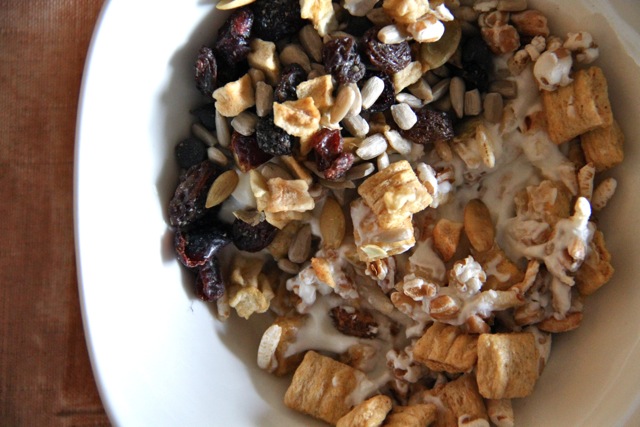 Standard yogurt mess: Greek yogurt, Kashi Honey Sunshine, puffed wheat, Puffins, and trail mix.
&
Mango Tofu Protein Pudding with a salad beast that always includes: red bell peppers, cocktail tomatoes, crimini mushrooms, and cucumbers.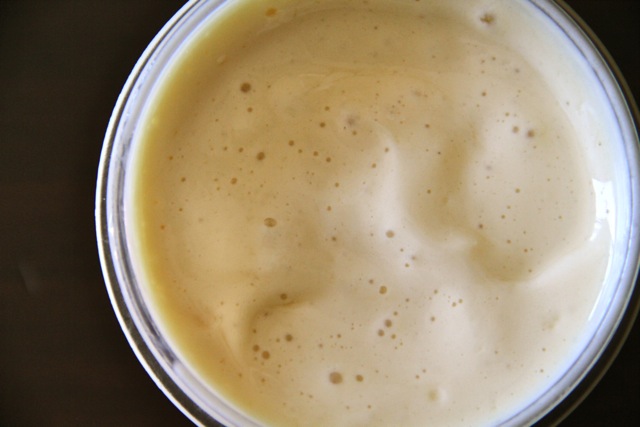 Pretty standard stuff. Nothing fancy or new.
BUT! for the past week or so, I have been dabbling with something new – I've been having a dessert alongside my lunch…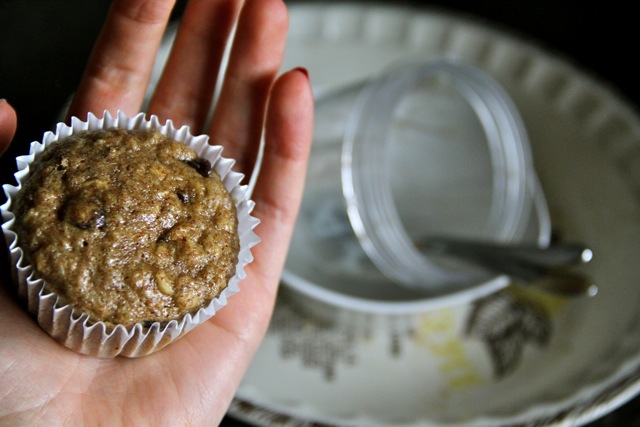 If you recall, last week I wrote a post about feeling slightly off and not knowing whether or not it was due to hunger. In the end, I decided to think less, eat more, and see what happened.
Best. decision. ever.
I'll probably go into more detail about some of the things that I've figured out/noticed in tomorrow's post, but yeah… dessert after lunch is definitely going to become a regular thing around these parts. As are these muffins. Gah. After a few hours of running errands, I was more than ready for an afternoon snack and decided to dig into another one…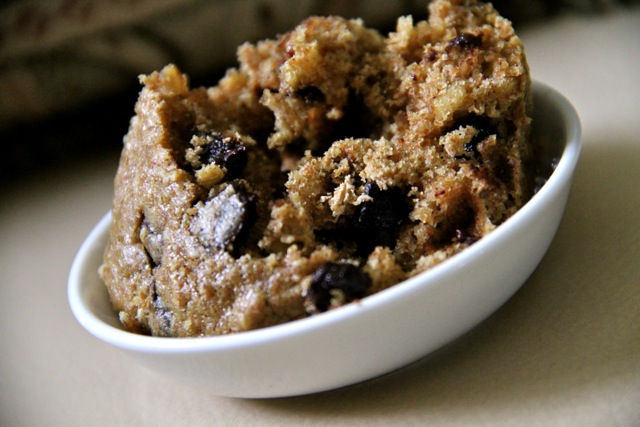 … along with some almond butter protein frosting and a bowl of fresh summer fruit…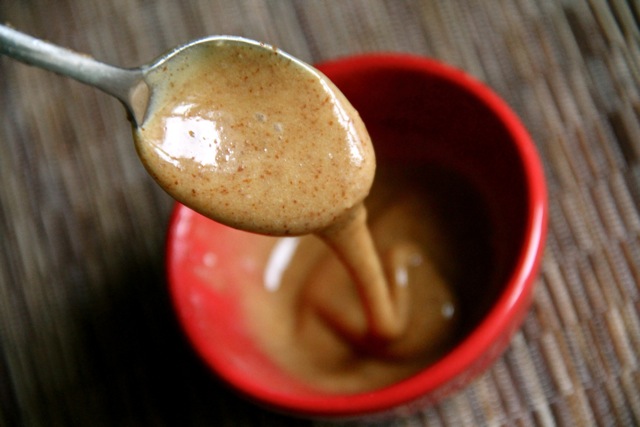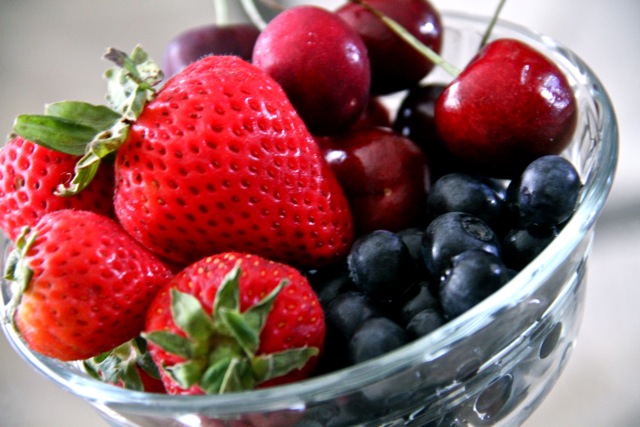 Thankfully, that managed to hold me over until dinner, at which point yet another repeat offender made an appearance…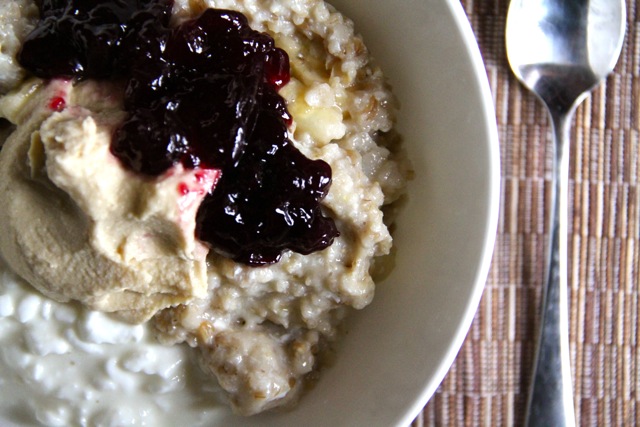 And I'm not 100% decided on what my bedtime snack will be, but right now I'm leaning towards my favorite bowl of bedtime oat bran…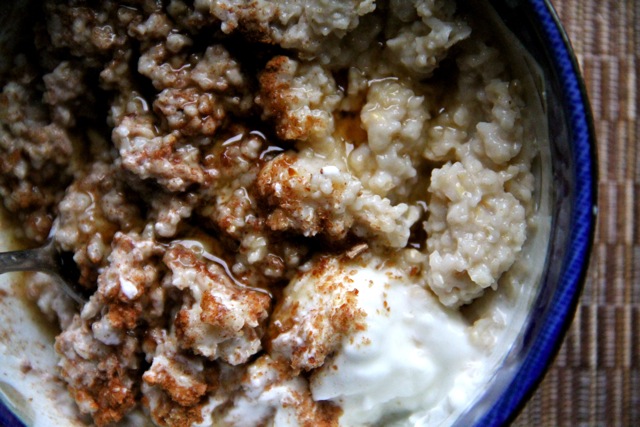 … with Greek yogurt, flaxmeal, and maple syrup.
Best lullaby ever.
. – . – . – .
As you've probably noticed, I eat a lot of the same meals/snacks on a regular basis. Today's eats even included 3 bowls of oats, which is actually a pretty common thing. Do I see it as a problem?
Naaaaaah.
I know a lot of people attribute a lack of variety to lingering disordered behaviors, but for me the opposite is actually true. When I was in the depths of my ED, I was completely obsessed with making sure that I ate as many different foods as I possibly could throughout the course of a day, to the point where I wasn't "allowed" to have the same food twice in one day, and my meals had to be completely different from one day to the next.
Exhausting. For real.
So, the fact that I can repeatedly eat the same thing and not spend hours thinking about food and trying to come up with new meals is actually a good thing. And to be honest, my stomach has been a lot less temperamental since I've cut down on the number of different foods I eat – I guess it wasn't too big on having to digest so many different things, either.
Variety is great, and all, but I love/crave what I eat, and as long as I enjoy it, I'll eat it as much as I want. And when I get tired of it? Only then will I move on to something new…
Sorry for being boring… except not really 😉
. – . – . – .
Do you eat a lot of the same things every day, or do you like to vary it up?
Do you ever switch up your eats only to wish you'd just stuck to what you normally have?