Hi friends! 😀
I hope that you're having an awesome day because it is an awesome day. Not only is it the tastiest day of the week, thanks to the beautiful Jenn over at Peas and Crayons, but today also marks the three month anniversary of my little baby [read: blog]. I have no idea where the last three months went, but let's hope that the next 36 days (EEEEeeeeeEEeeeE) go by just as quickly.
But enough talking. Let's start celebrating.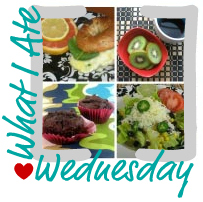 Actually, scratch that. There is something that I wanted to talk about today…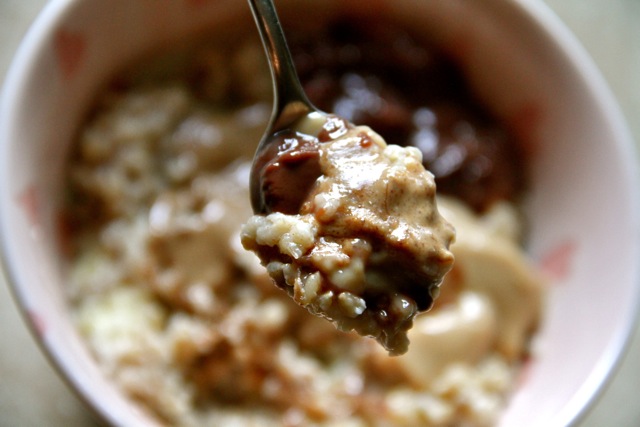 While browsing food blogs, have you ever caught yourself trying to guesstimate how many calories were in a specific meal that a blogger was eating?  This is something that I used to do all. the. time. Someone would post a picture of a delicious looking bowl of oats saying that they used:
½ cup of oats, 1 banana, 1 Tbsp. of PB, etc.
… and I'd be sitting there thinking "Okay, that's… 150 + ~80 + 90…". Food was nothing but a number, and the blog world nothing but a playing field for comparison. I would feel safe as long as I was eating less than so-and-so, and guilty when I was eating more.
But how accurate was I in my estimations, really? Probably not very. Heck, I can barely even keep track of how many calories I'm eating myself, much less try to accurately analyze someone else's eats over a medium as unreliable and limited as the Internet.
Take my breakfast, for instance. Would you be able to guess how many calories were in it?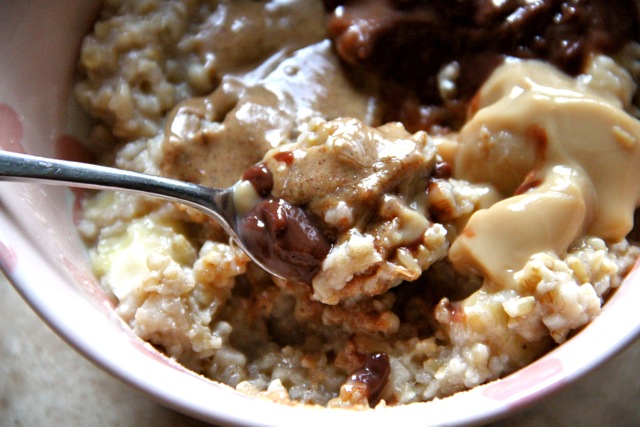 How about in my pre-workout snack?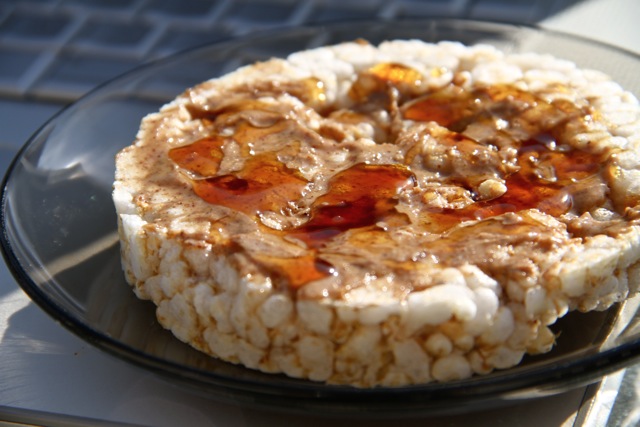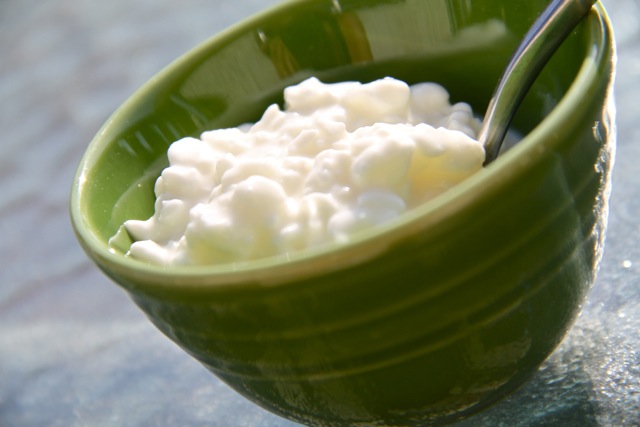 Or my post-workout shake?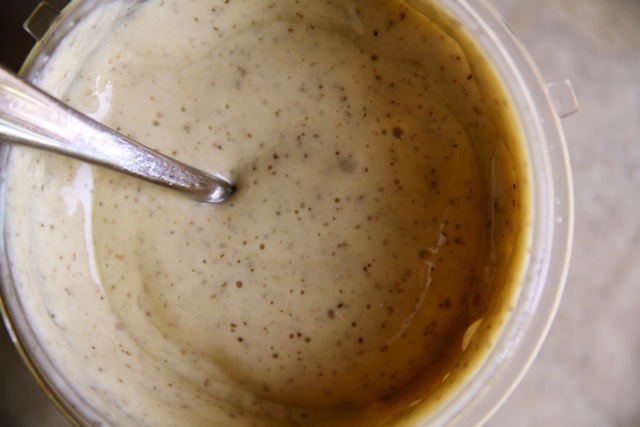 Would my lunch be any easier?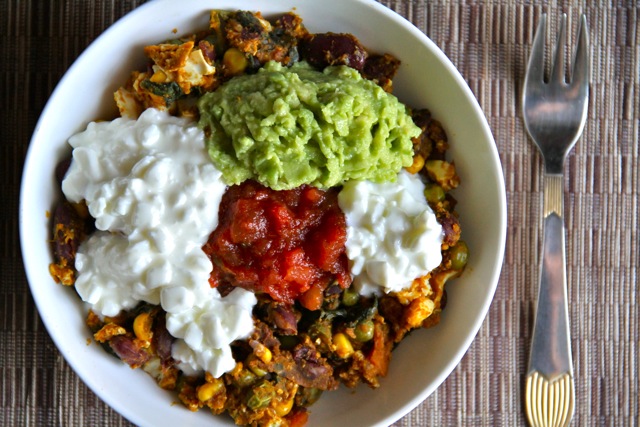 My guess is… probably not. And if you could, then I'd love for you to share that information with me, because I don't even really know, myself. In any case, calories aren't the point of today's rant, comparison is. Comparison and judgment. It's far too easy to look at the way a blogger (or anyone) eats and pass quick judgments.
Oh, she eats too little.
Oh, she doesn't eat enough fat.
Oh, why is she eating A and B instead of X and Y?
Why this, why that. Why does it matter? I'm me. You're you. What I have for breakfast isn't going to determine how much energy you have throughout the day, and what you have for lunch isn't going to help me to get through my mid-afternoon slump. More importantly, you will never be able to see the entire picture from the confines of a computer screen, so any judgement and assumption that you make are always going to be based on faulty and limited evidence, leading you to faulty and limited conclusions.
I enjoy looking at what other people eat for inspiration and new ideas, but that's it. I've reached a point where I'm comfortable enough in my own choices to not be influenced by the choices of others, and I no longer feel the need to calculate and compare. When I was fighting with guilt and uncertainty over my own eating habits, then I was constantly nit-picking the eating habits of others, but I've come to realize and accept that what other people eat is their own business, because they're the only ones who get affected. I know what works for me and what I need, and today I really needed one of these bad boys…
[/end rant]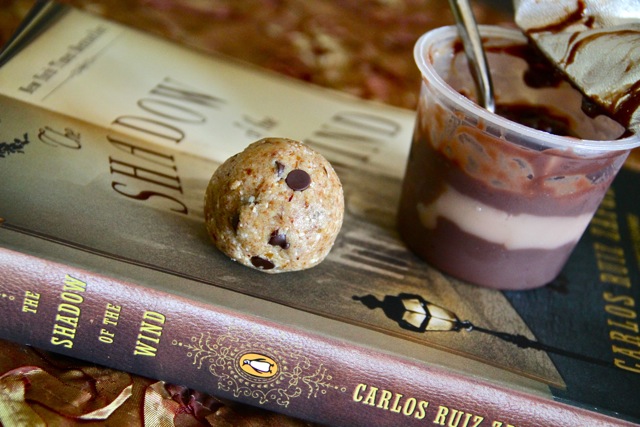 It's been two days or so since I've had a cookie dough ball, which is probably the longest that I've gone without them since I started making them. Crazy, considering how addicted I am. But I was hit by a mad craving this afternoon, and it was bye-bye sobriety. Chocolate pudding and a good book (I highly recommend The Shadow of the Wind) were enjoyed on the side.
When dinner time rolled around, I kinda sorta had no idea what I wanted. I say kinda sorta because I wanted something like sweet and savory oats, but I wasn't feeling the oat part. Solution? Use a similar but different grain…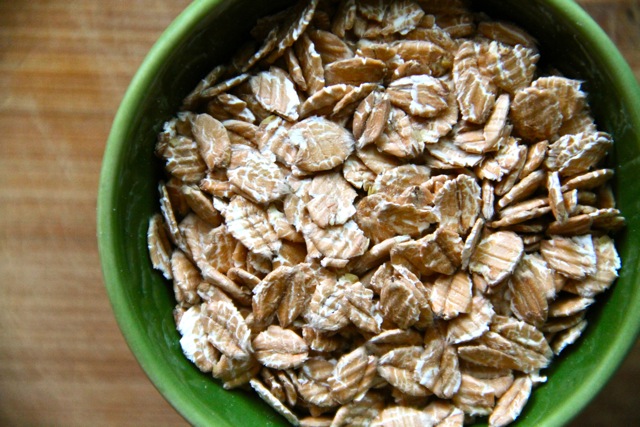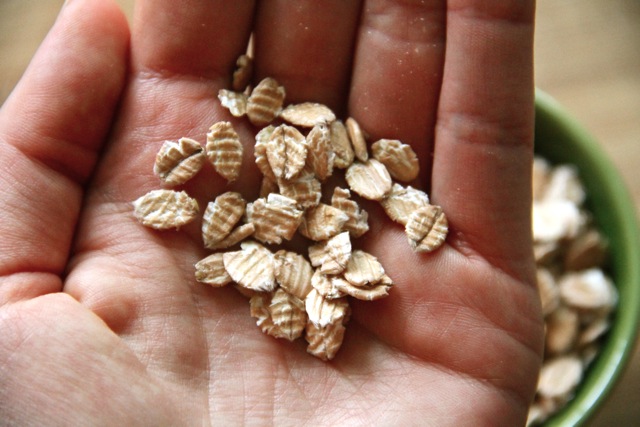 Those would be spelt flakes, and they've been sitting in my pantry for far too long, so I decided that today was as good a day as any to give em a go, and this is what I ended up with…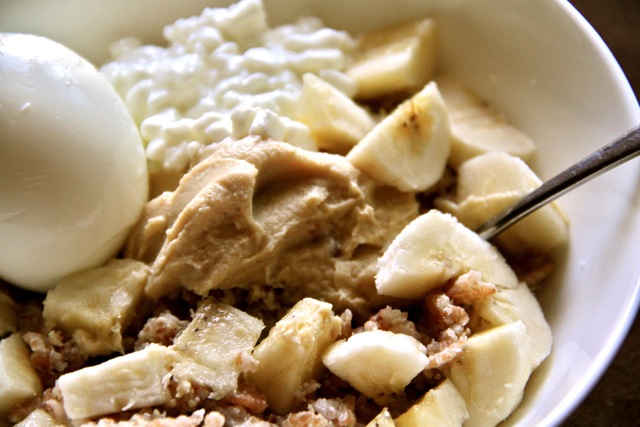 A sweet and savory spelt bowl! Which is just a fancy way of saying that I replaced the oats with spelt flakes, added a harboiled egg, a banana, some cottage cheese, and a glob of hummus, and called it a meal. An incredibly delicious meal, at that.
And with that comes the end of today's post and a take-home message: When you compare, judge, and assume, you only make an "ass" out of "u" and "me", so don't do it 😀
. – . – . – .
No questions today, really, but I would love to hear your thoughts on the subject of judgment and comparison. Why do you think people do those kind of things?