EEEEeeeEEEeee! Kaiah's gonna be just fine!
EeeeEEEeeee! 28 more days 'till I move!
EeeeeeEEEEee! It's WIAW 😀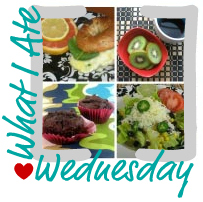 . – . – . – .
I woke up this morning with absolutely no appetite and no desire to eat. A rough day + a bad night = one Amanda that's all out of whack 😯 But after sitting down at the computer with a warm cup of tea, and reading all of your amazingly supportive comments, tweets, and e-mails, I began to feel a bit better and decided it was time for breakfast…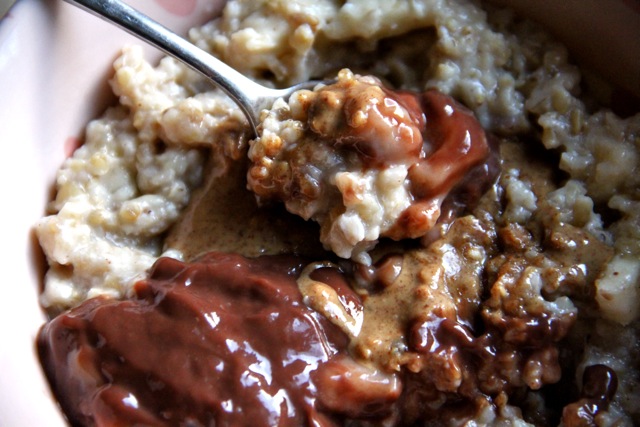 Eggy bananafied oats topped with almond butter and chocolate pudding.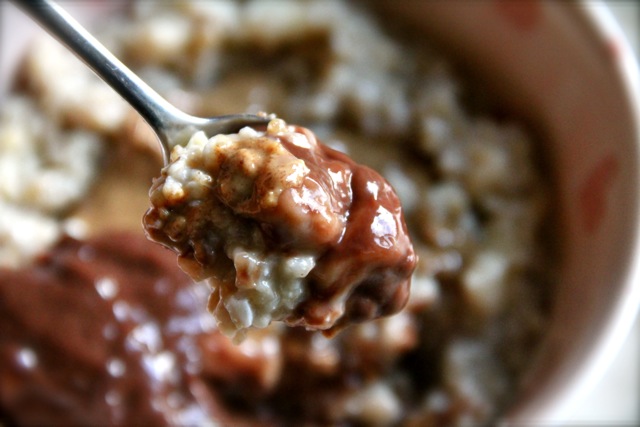 I spent the rest of the morning trying to keep myself occupied while I waited to hear from the vet about Kaiah. Now, I'm not the most patient person in the best of times, so this morning was sheer torture. Eventually, I gave up trying to keep myself occupied with menial tasks (like tidying and painting my nails), and turned to exercise as a way to try and relieve some stress.
But not before snacking first…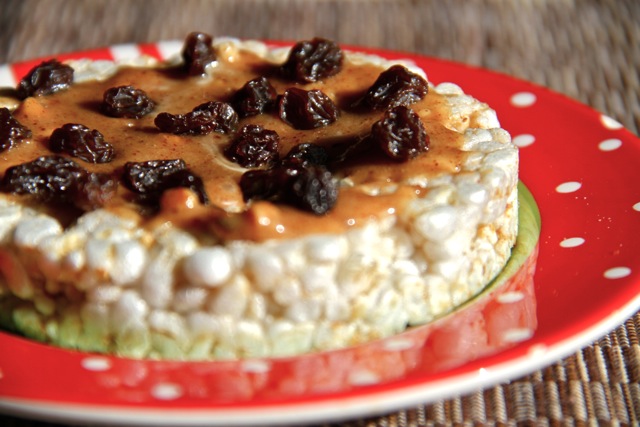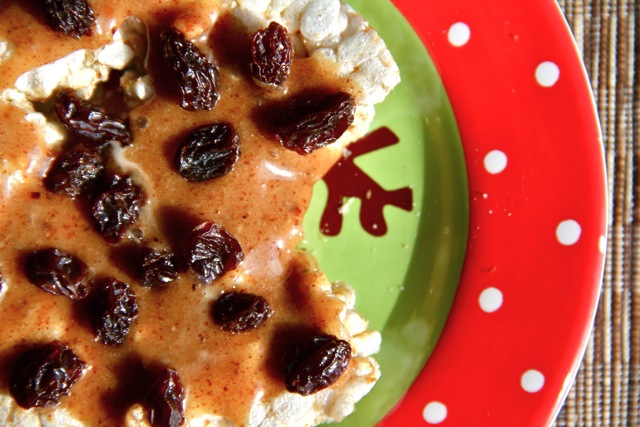 Rice cake topped with almond butter protein frosting and raisins
Not gonna lie; today's workout sucked big time – so much so, that I don't even think I can call it a workout. I did 15 minutes of intervals on the treadmill to warm up before moving on to weights, but I threw in the towel about halfway through my routine because my heart just wasn't in it.
I would say that I was dragging my feet because I had too much on my mind, but I think I'm going through a bit of an exercise slump because a lot of my workouts have been subpar lately. I can't even really remember the last time I broke a good sweat, and I have no idea what happened to my motivation.
Maybe it's just a phase. Hopefully it's just a phase 😕
In any case, lunch was a much more satisfying experience…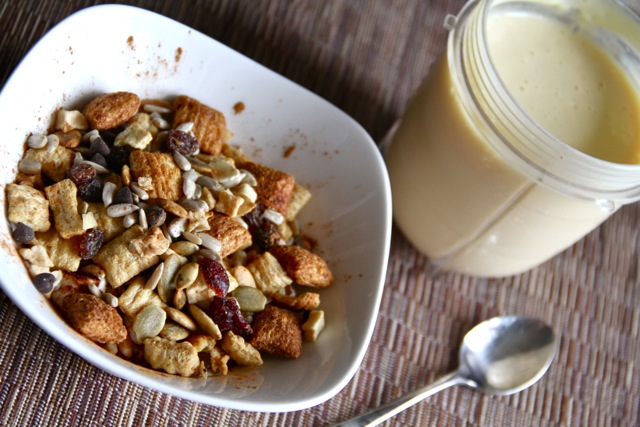 Greek yogurt mess with Puffins, puffed wheat, Kashi Honey Sunshine, trail mix, and extra cinnamon. Mango protein pudding.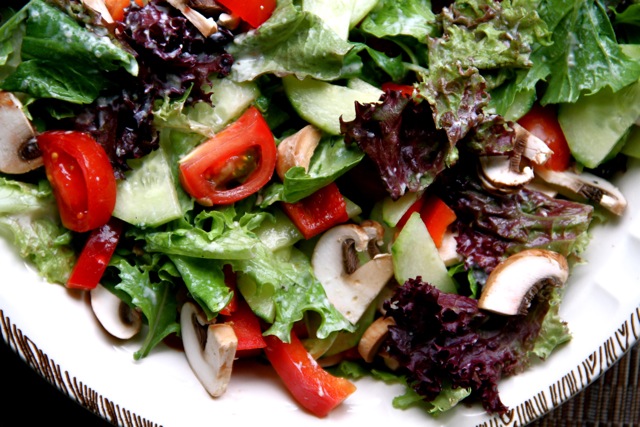 Salad beast with simple salad dressing
Mmm Mmm Good. But the best part of all was that I finally got the news that I was waiting for…

… and you can bet your bottom (gah, how old do I sound?!?) that I broke into dance before running out the door to bring my baby home. Ky's kind of embarrassed about the whole ordeal, and told me not to share anything too personal on the blog, but basically she has an infection in one of the scent glands around her… errr… butt, which was causing her a lot of discomfort and making her all irritated and antsy. At first they thought that they were gonna have to operate, but it turned out not to be so bad and it should clear right up with antibiotics alone.
Huge sigh of relief.
I worry about her because she's getting kind of old. She has the energy and attitude of a 6 month old puppy, but in a few short days she'll be 8 years old, and I start to see her real age during the still moments when she's not running around and being a goofball…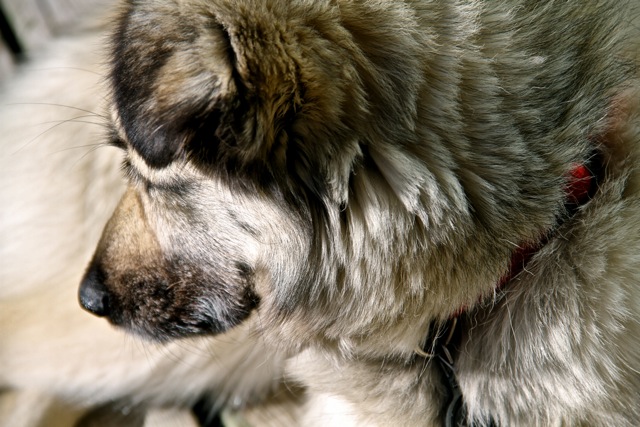 But enough about that. It's happy time now. And  snack time too!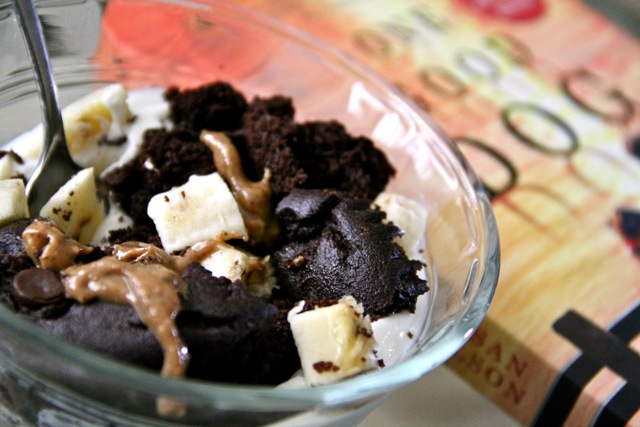 Deep Chocolate Vitamuffin, banana, almond butter, Greek yogurt.
Looks tasty, doesn't it? I suppose it was, but I have to admit that I'm kinda, sorta getting tired of Vitamuffins. I used to think they were all that and a bag of potato chips, but let's be honest here – that was back in the early days of my recovery when real desserts were scary, and my own baked "treats" were basically sugar/fat free lumps of flour and water.
What was I thinking?!? 😯
Needless to say, I won't be buying another box after I get through the one I have, which means that I need to start looking around for a good chocolate muffin recipe (anyone know of any?). Until then, I'll try to make the most of what I've got to work with…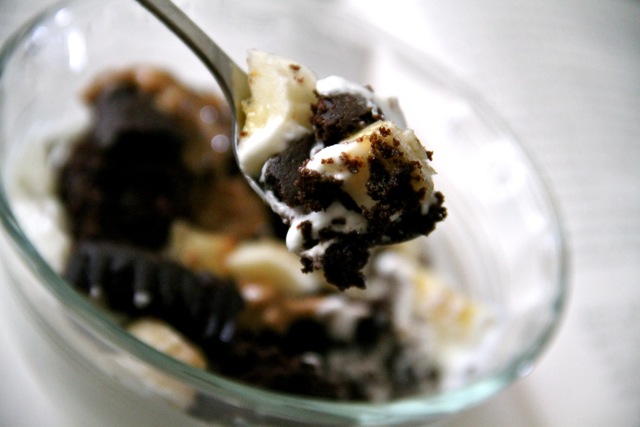 I know. I feel sorry for me too 😉
But another snack more than made up for what the first one lacked…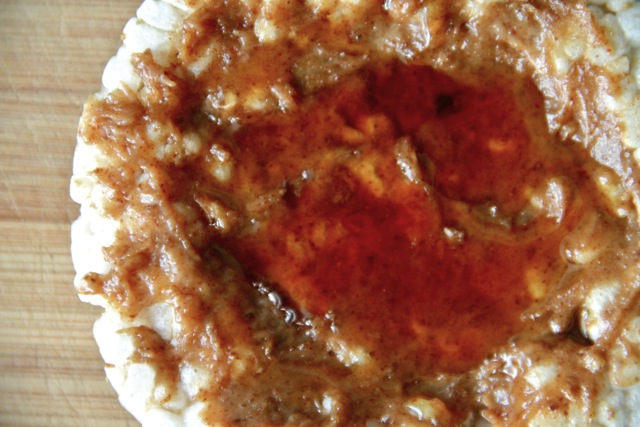 Rice cake (obsessed) topped with almond butter and honey.
And dinner… err… yeah…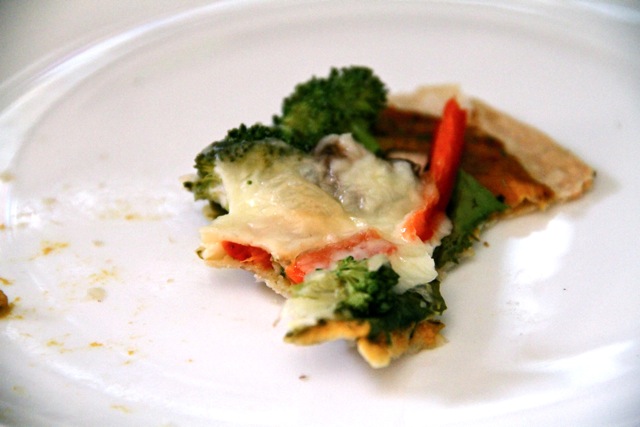 I hated it, obviously 😉 And now if you'll excuse me, I have a cuddle date with a furry face and a bedtime snack to look forward to…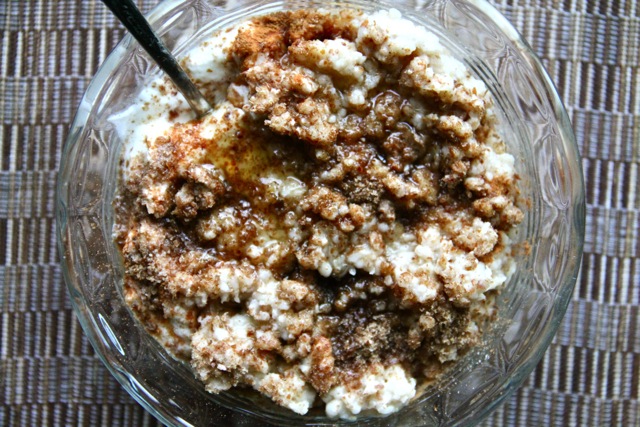 Oat bran mixed with applesauce; Greek yogurt, flaxmeal, cinnamon, and maple syrup.
. – . – . – .
Do you ever experience exercise slumps? How do you get out of them?
Have you ever been really impressed by a certain food/recipe, only to find that it no longer appealed to you after a while, and you find yourself wondering what you saw in it in the first place?