Hey, hey, hey! 😀
Hope everyone's having a beautiful day! Everything's just peachy in my neck of the woods, but I do have one tiny, little complaint… Now, I'm not usually one to gripe about the weather, but I just have to get it out of my system before I can go on. June… you're sucking big time. More sun. Less cloud. Kay? Thanks.
Much better.
Now we can get the party started. It is, after all, everybody's favorite day of the week!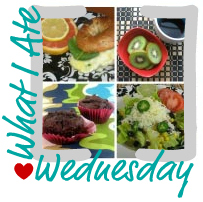 Wednesdays start out the same as any other day, with tea, coffee…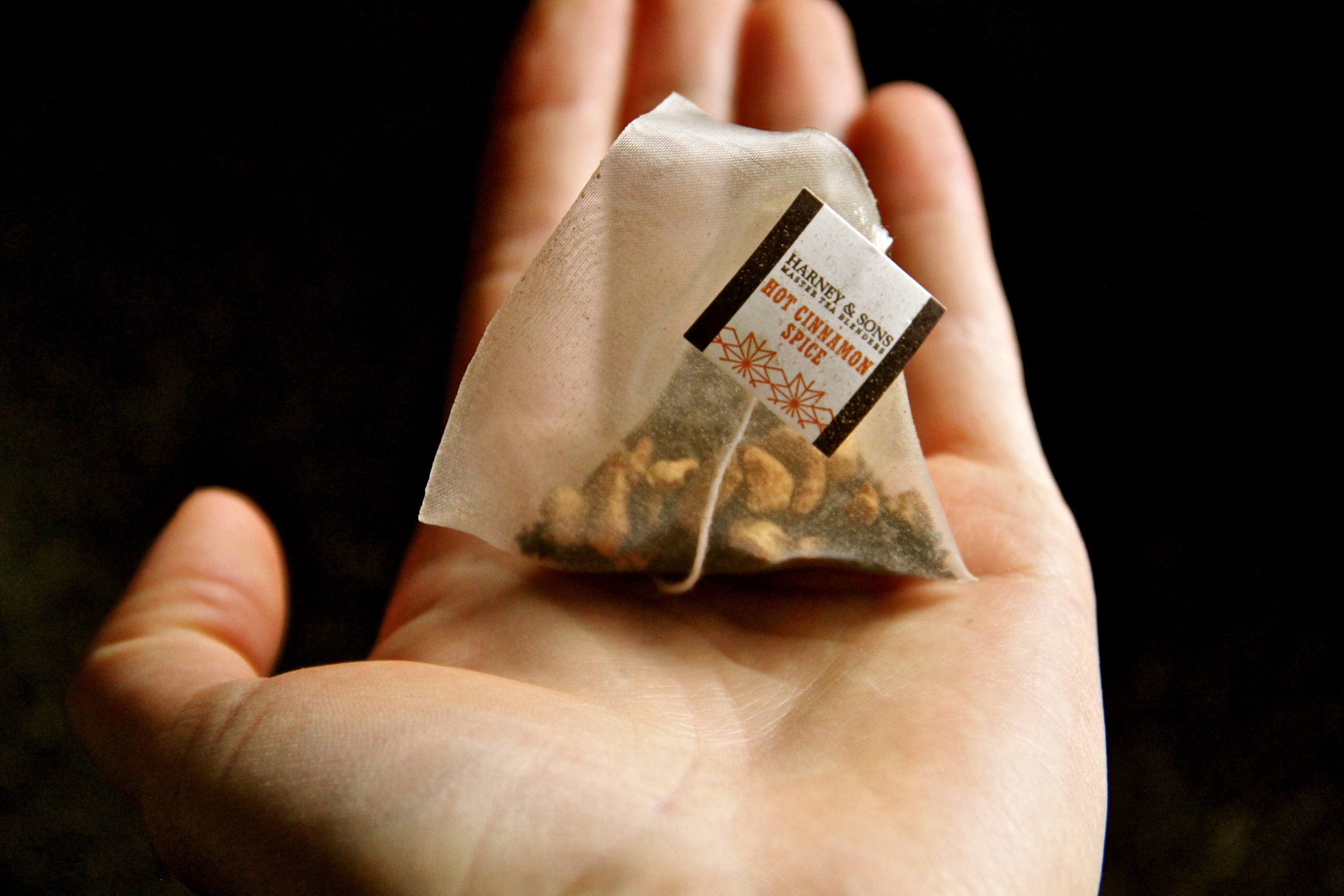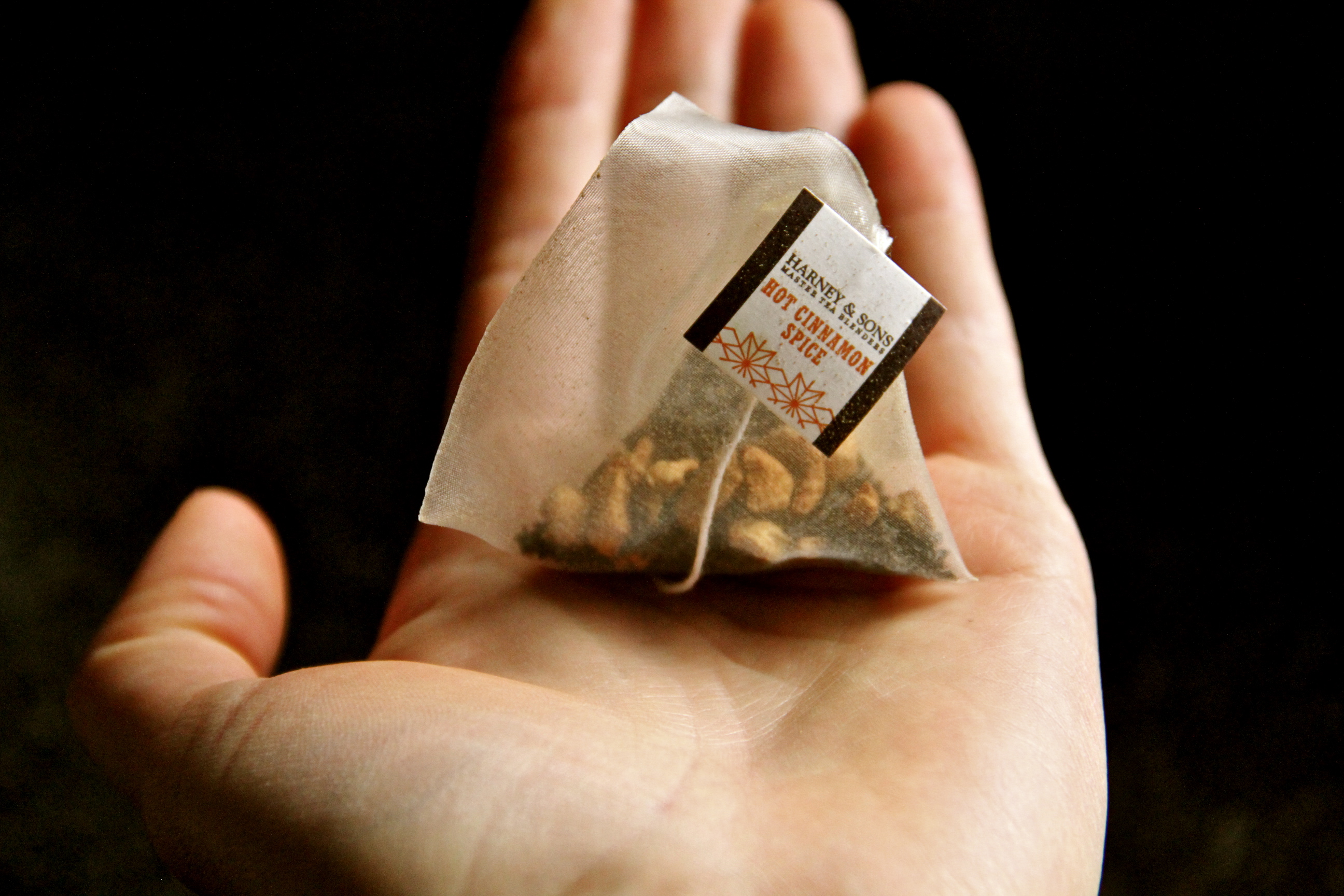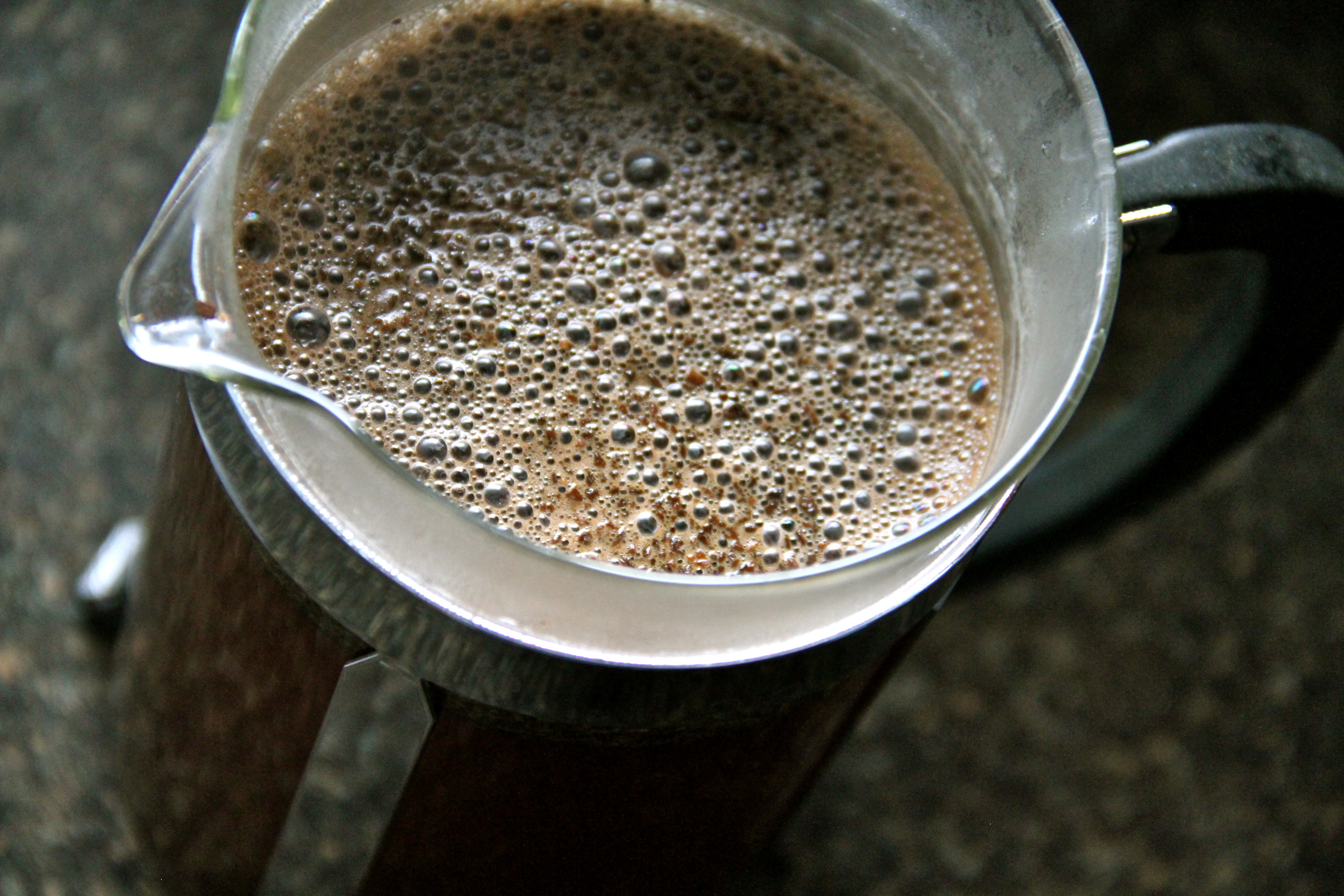 … and breakfast…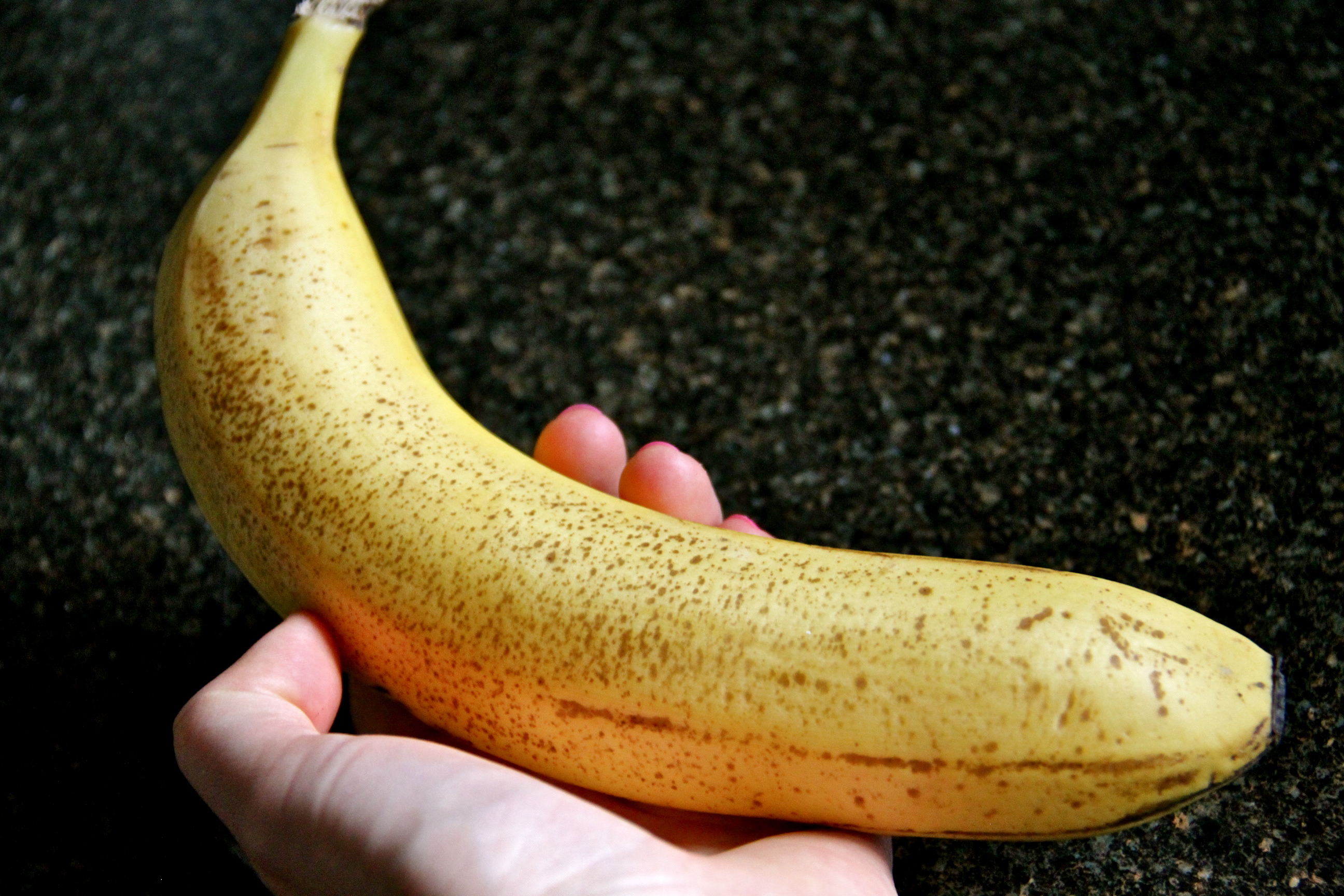 Just kidding.
Breakfast wasn't a lonesome banana; if it were, you can bet that I'd be a Starvin' Marvin after about half an hour. But can we just talk about the size of that sucker for a sec? I don't know what they're feeding these buggers, but this thing was huge – two bananas worth at least.
That being the case, only half of the monster banana went into this morning's actual breakfast…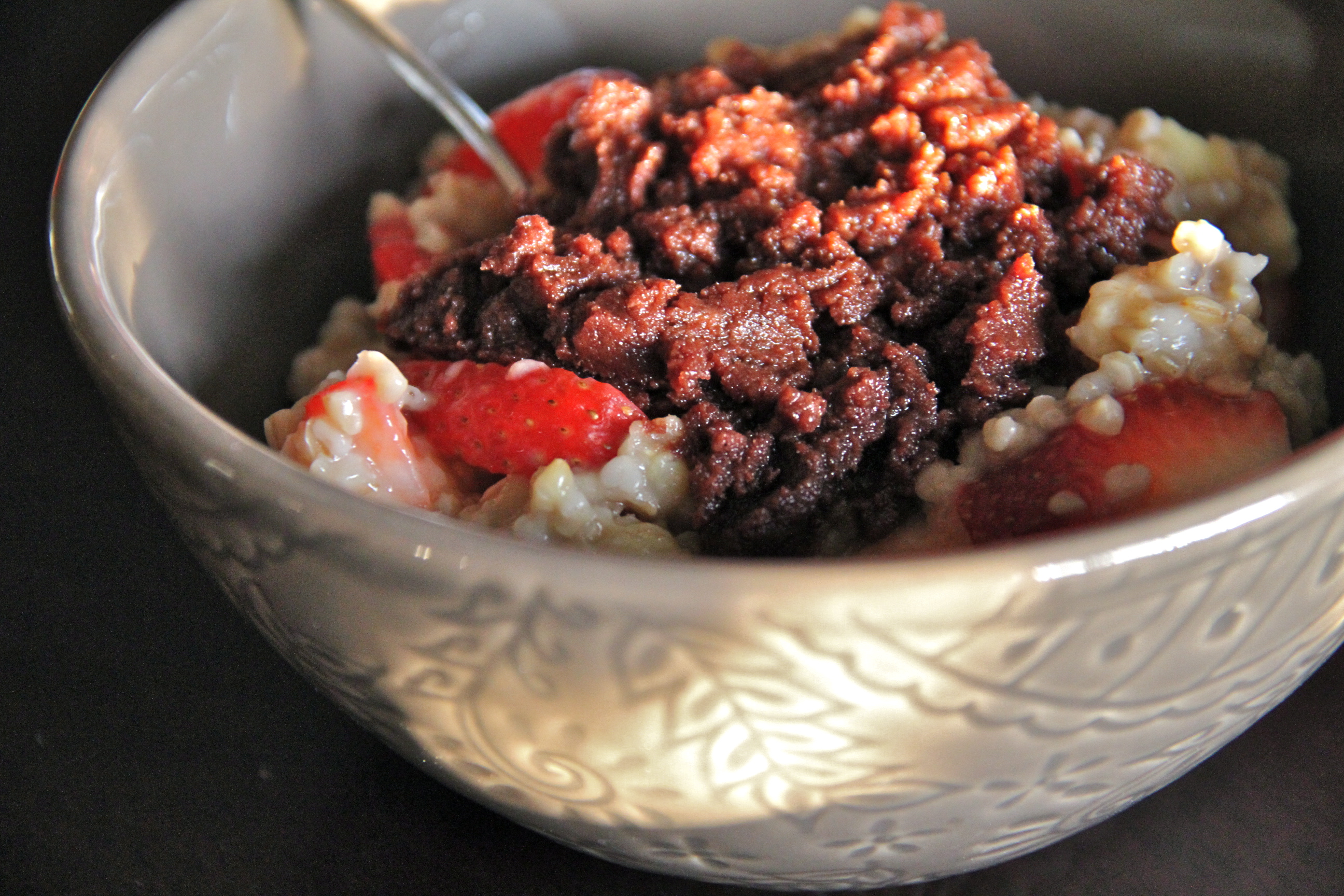 Eggy, banana-fied steel cut oats with fresh strawberries and Cacao Bliss.
… while the other half went into today's lunch. But we'll get to that in a sec, because before lunch came some deee-licious mid-morning snacking.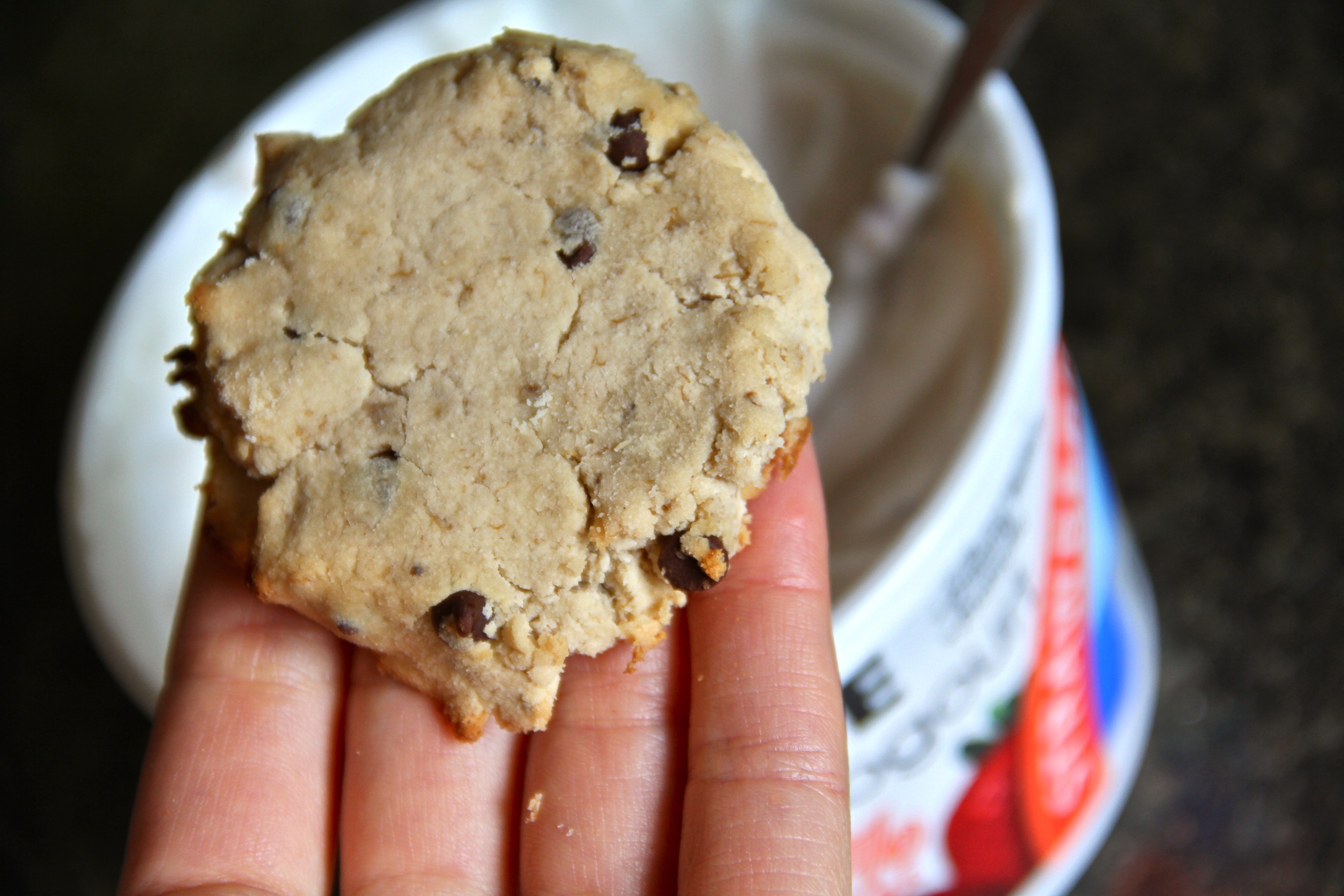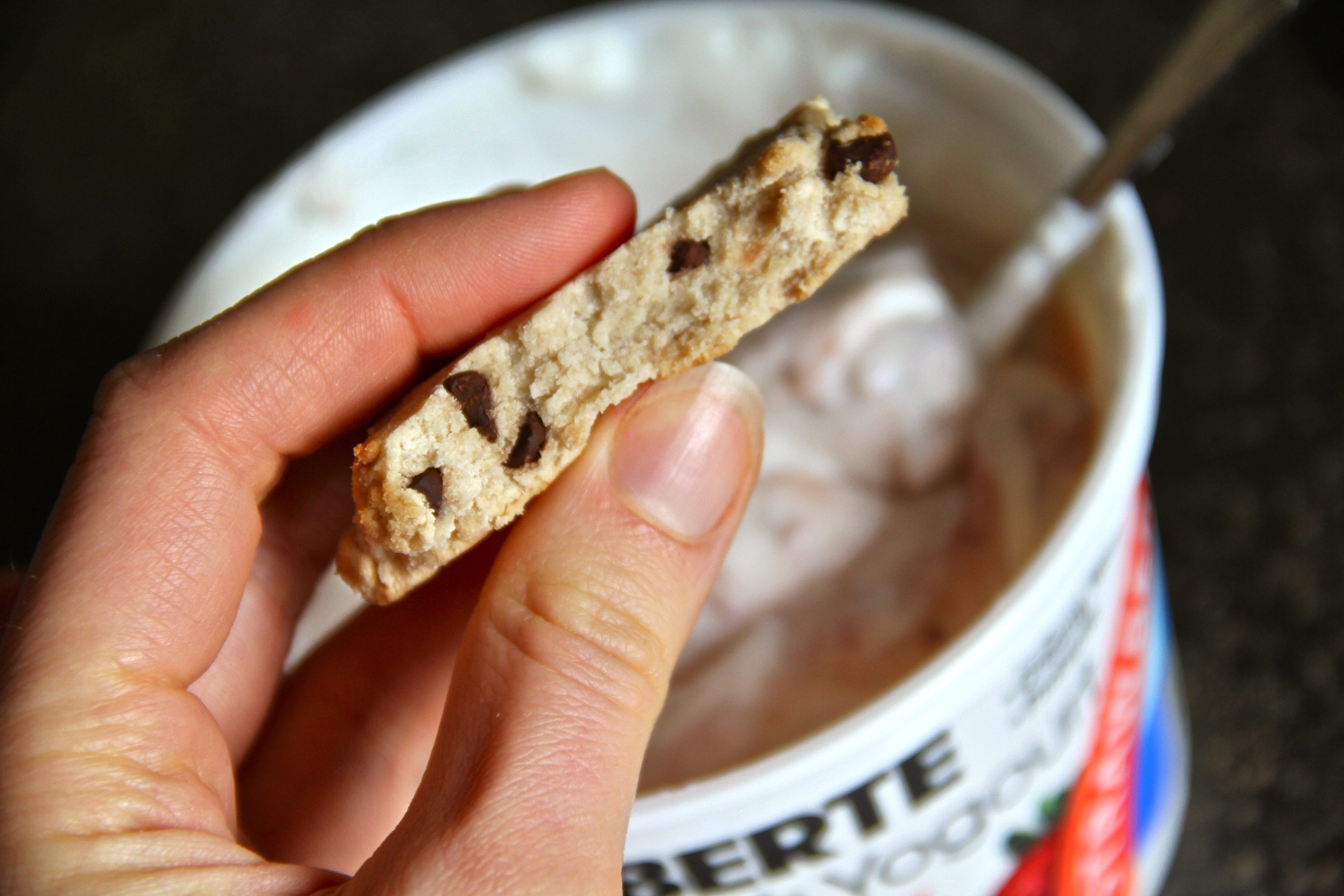 Strawberry Greek yogurt; Coconut Banana Chocolate Chip Cookie
Can someone please tell me how people make it from meal to meal without snacking in between? It seems like no matter how much or what I eat for breakfast, lunch, and dinner, I'm always hungry a couple of hours later. Like clockwork. This constant hunger used to make me really uncomfortable, but now? Now I actually love it, to the point where I start getting worried if my hunger doesn't kick in on time. Not only does it mean that I have the metabolism of a cheetah, but I get to enjoy more good food. Win, win 😀
But where was I? Ahh, yes. Second breakfast Lunch time…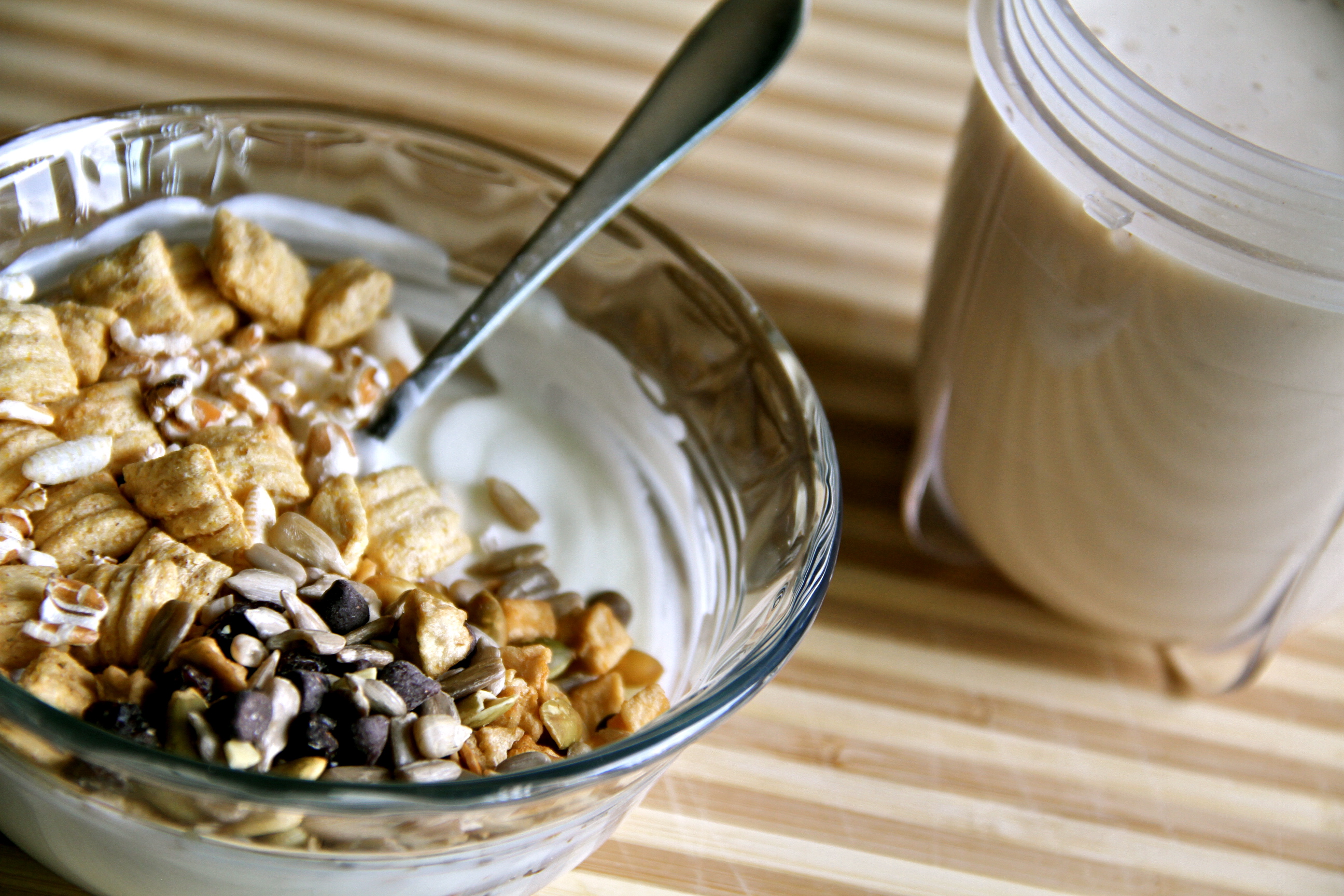 … where the other half of this morning's monster banana made an appearance as part of a vanilla tofu protein pudding. Alongside that gem we have a lovely bowl of Greek yogurt with trail mix, Kashi Honey Sunshine, and puffed wheat. Yes, I'm still doing the whole breakfast for lunch deal pretty much every day. I love it. At this point, I'm not sure I'll ever be able to go back to lunch-like lunches…
BUT, let's go back to the topic of monsters for a sec. In addition to enjoying breakfast [at least] twice a day, I also enjoy a salad beast [at least] once a day. You know… to get some veggies in. And because I honestly do love them. But you have to realize that when I say salad beast, I mean salad beast…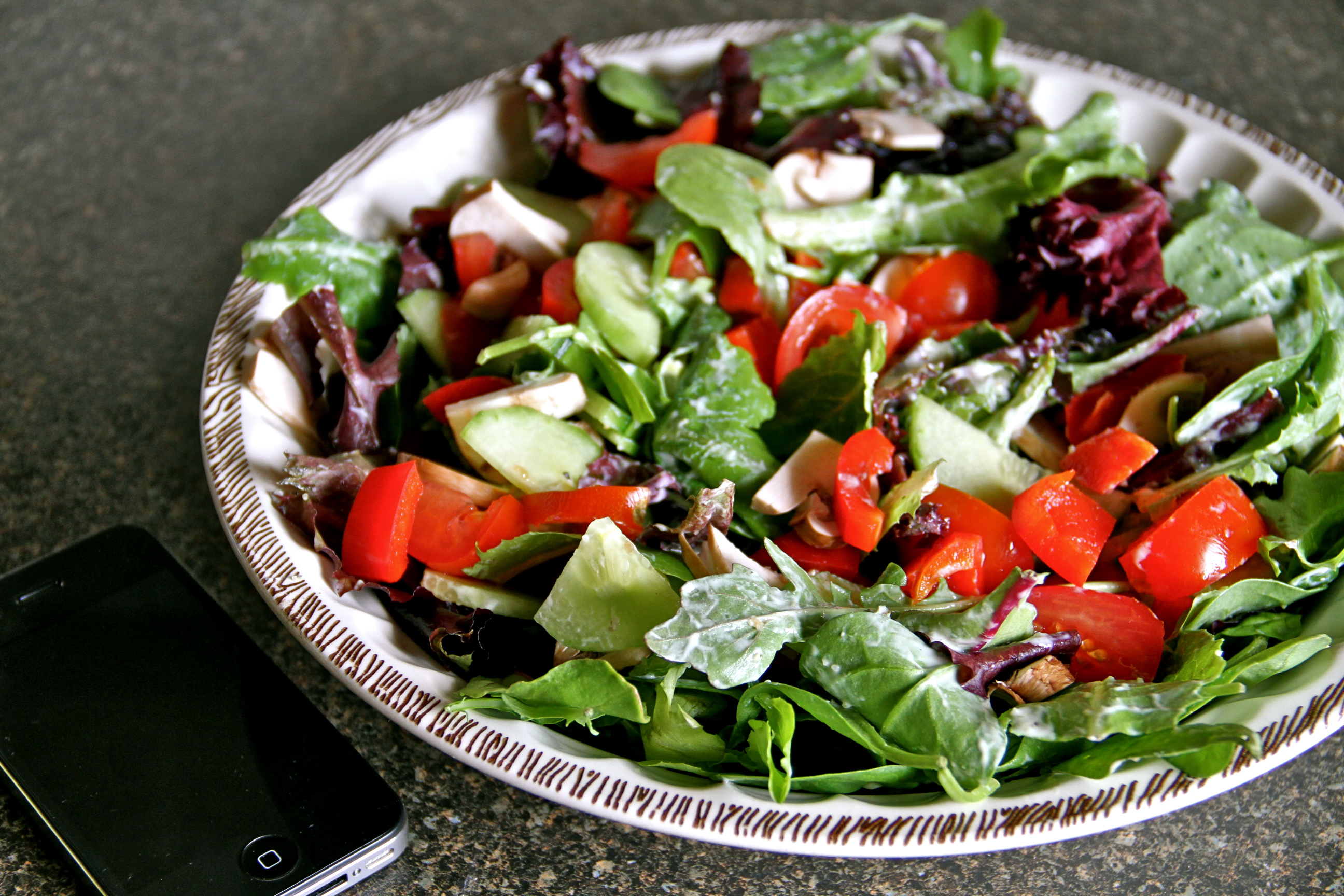 I put my salad bowl next to my iPhone so you can get a better idea of where I'm coming from. But yeah… crazy how I can pack away all that veggie goodness without so much as blinking an eye. What can I say? I'm a lean, mean, veggie eating machine. But there are only so many veggies you can eat in a day, right? I mean, you gotta leave room for dessert…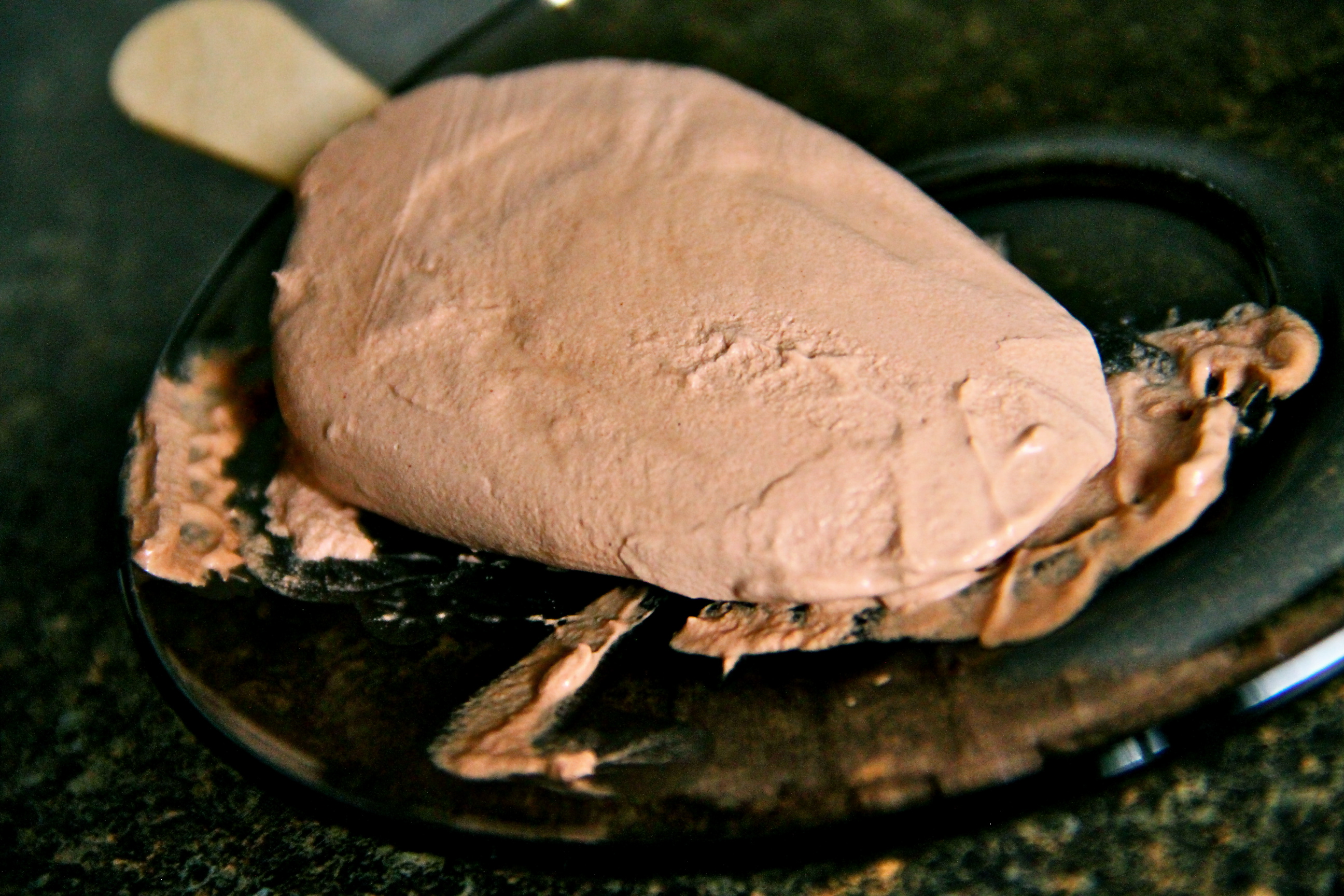 Melty Coconut Bliss Dark Chocolate Bar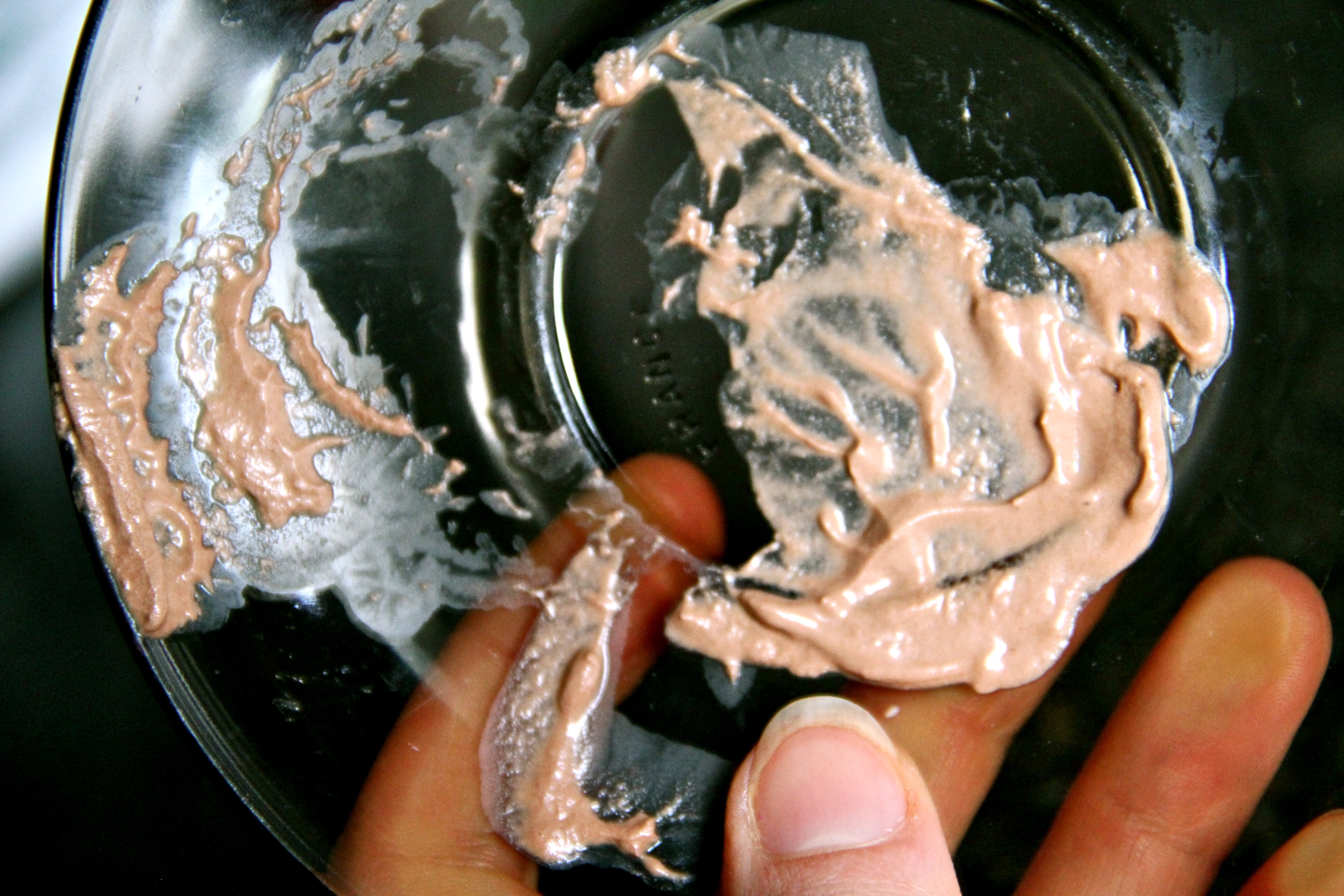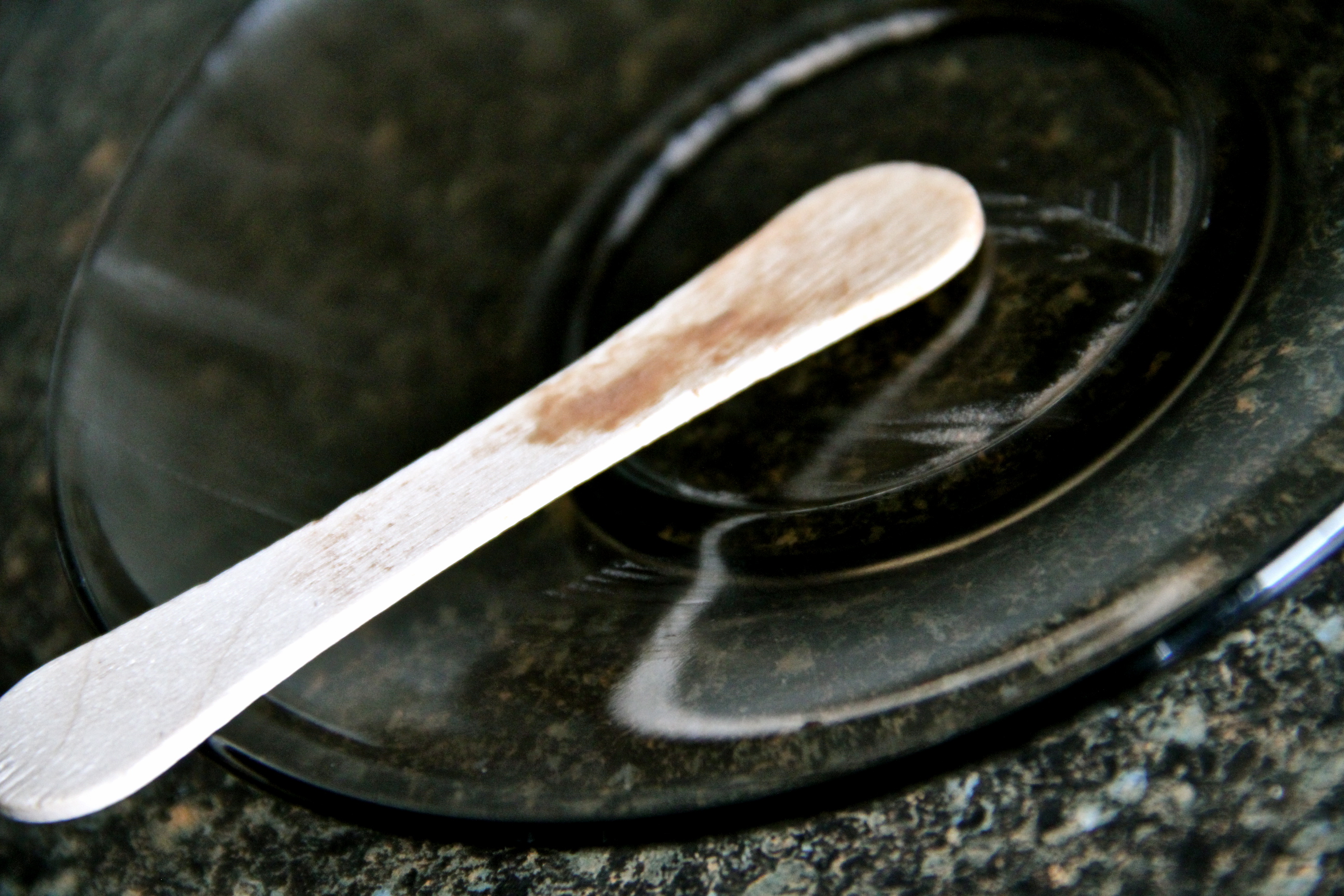 I am indeed a plate licker. No shame. What would be a shame would be leaving any bit of that delicious goodness uneaten. So, I grab that plate with both hands and lick to my heart's content. Not only does it make me feel like I'm 10 years old again, but it saves me the trouble of washing the dishes…
Kidding.
The plates do get washed properly around here, so don't be afraid to come over to my place for dinner. And speaking of dinner, tonight's was definitely a good one…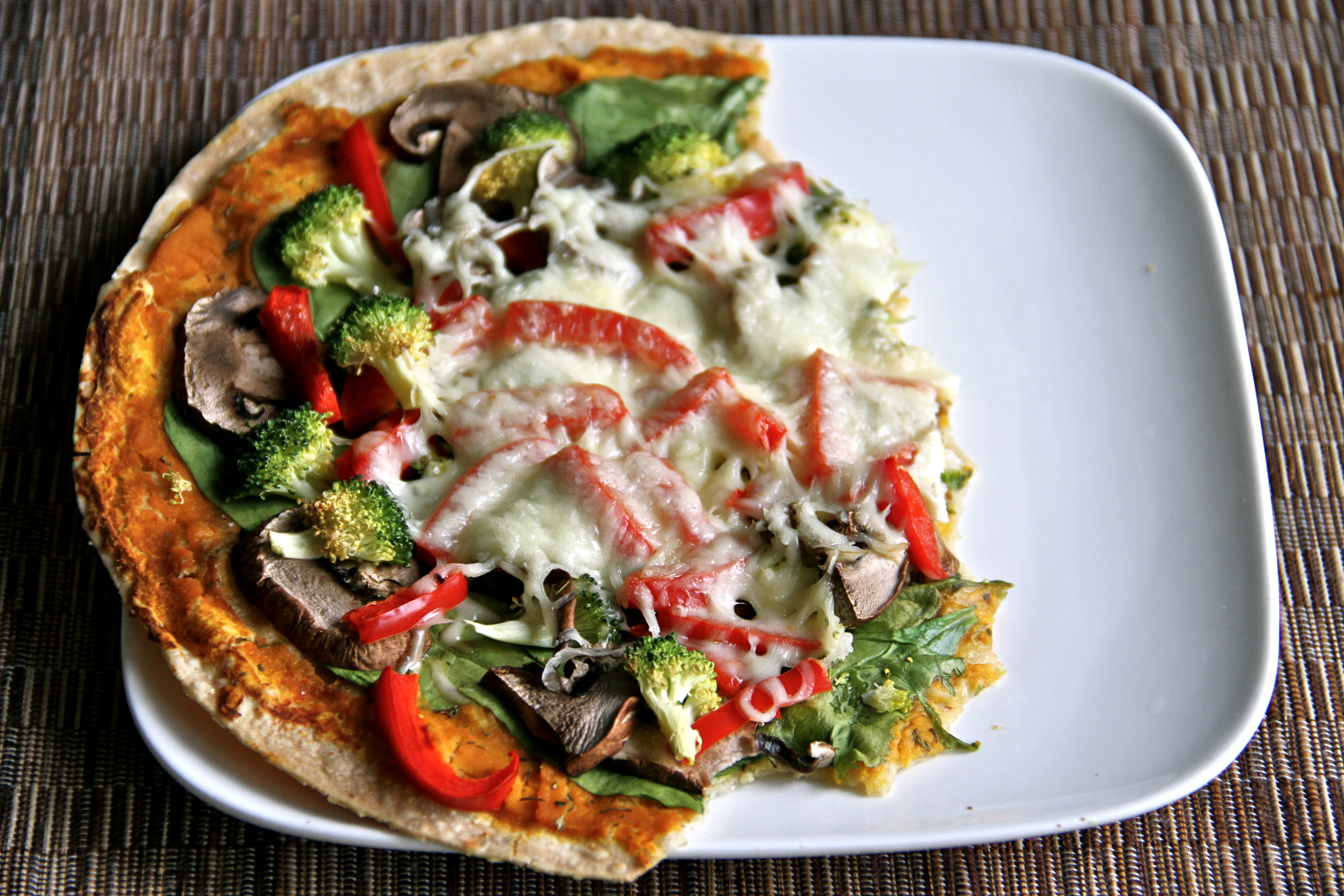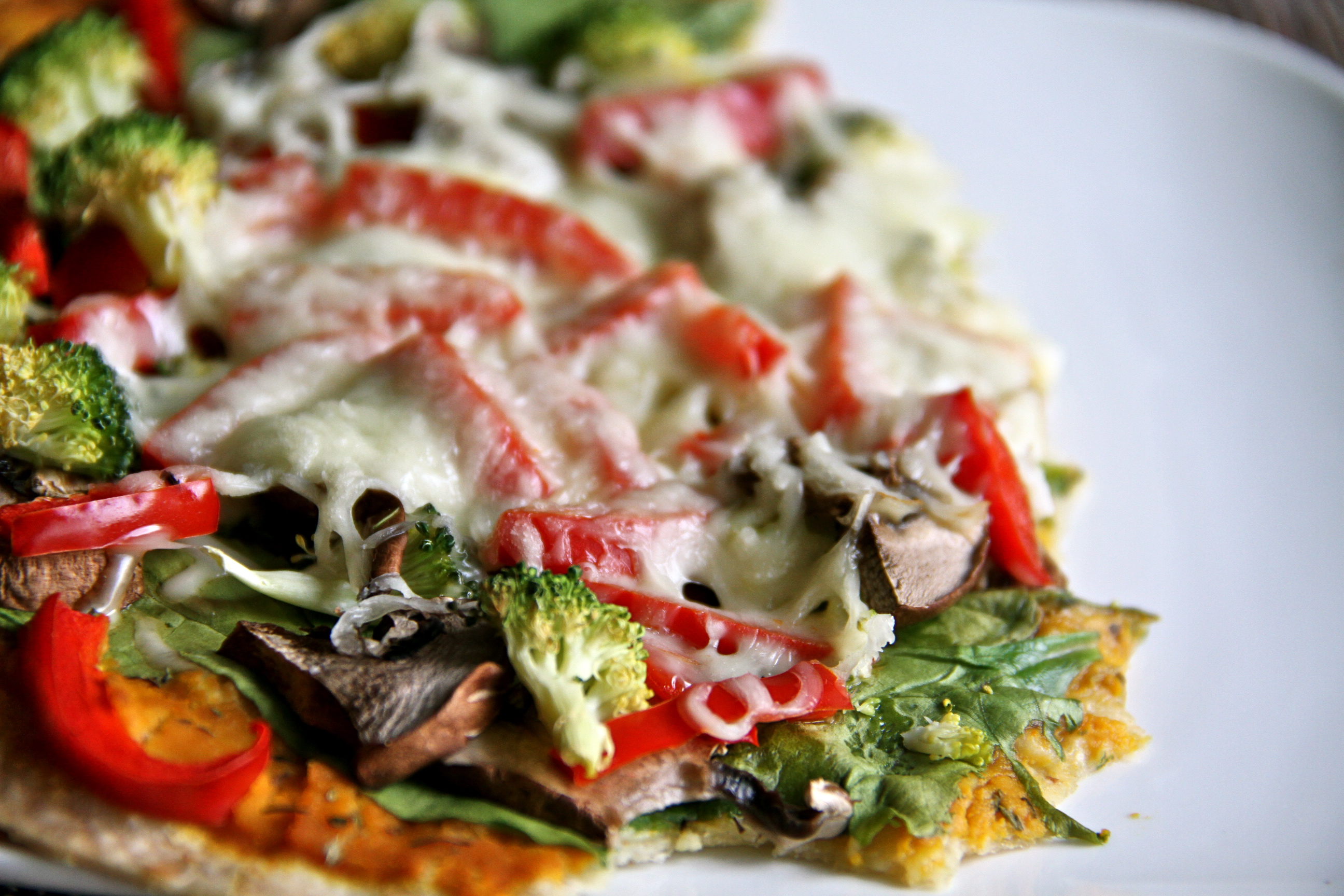 It was also a whole one. But I was hungry, got a little over-excited, and dug in before taking a proper picture. Don't worry, I learned my lesson – my burnt tongue is not too happy with me right now. But I have a feeling it'll forgive me when snack time rolls around…
I don't usually include my nightly noshings in these WIAW posts because I publish them just after dinner, which means that I haven't yet eaten my nightly snack… but here's one from last night, just to end things on a sweet note. Enjoy your night, loves!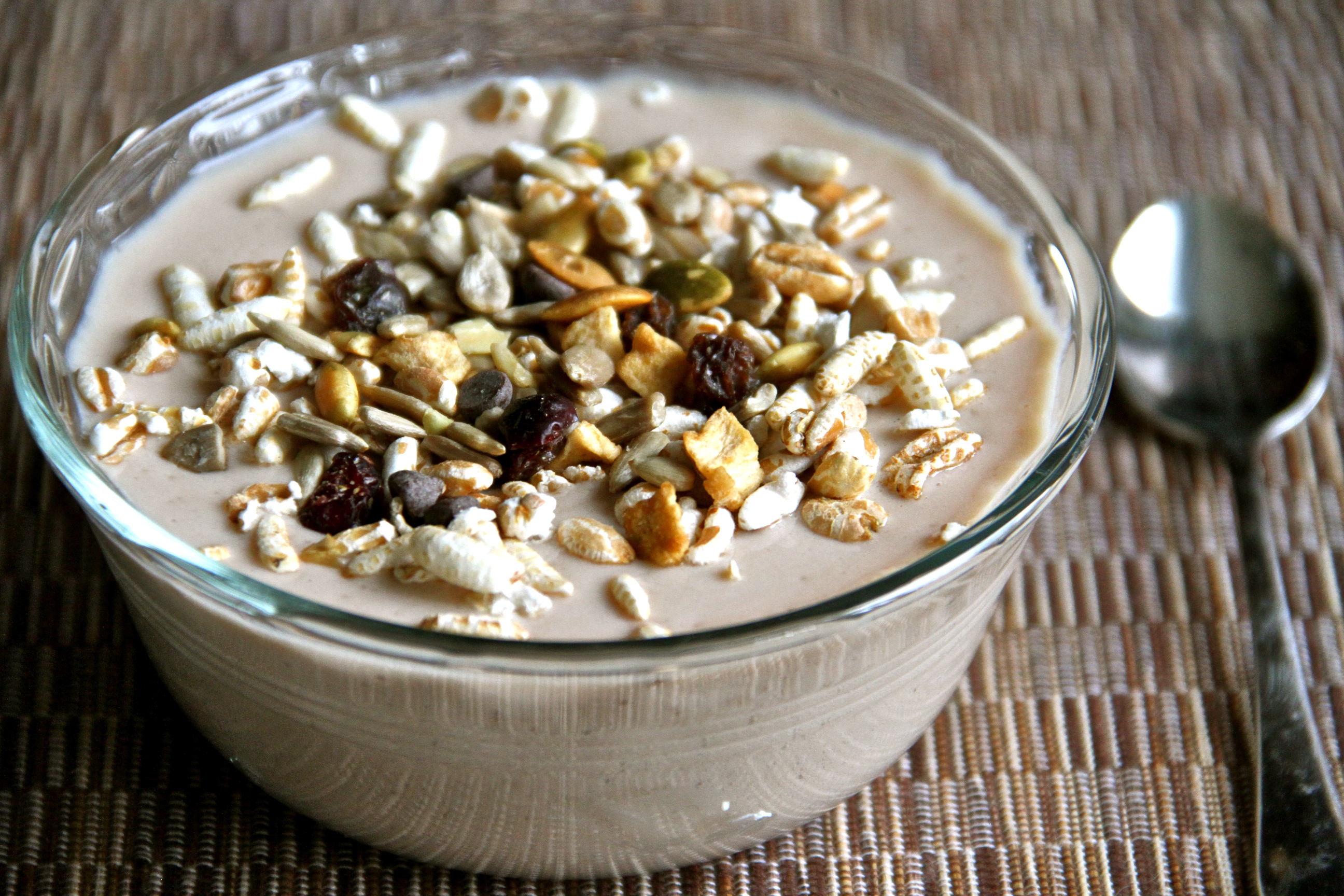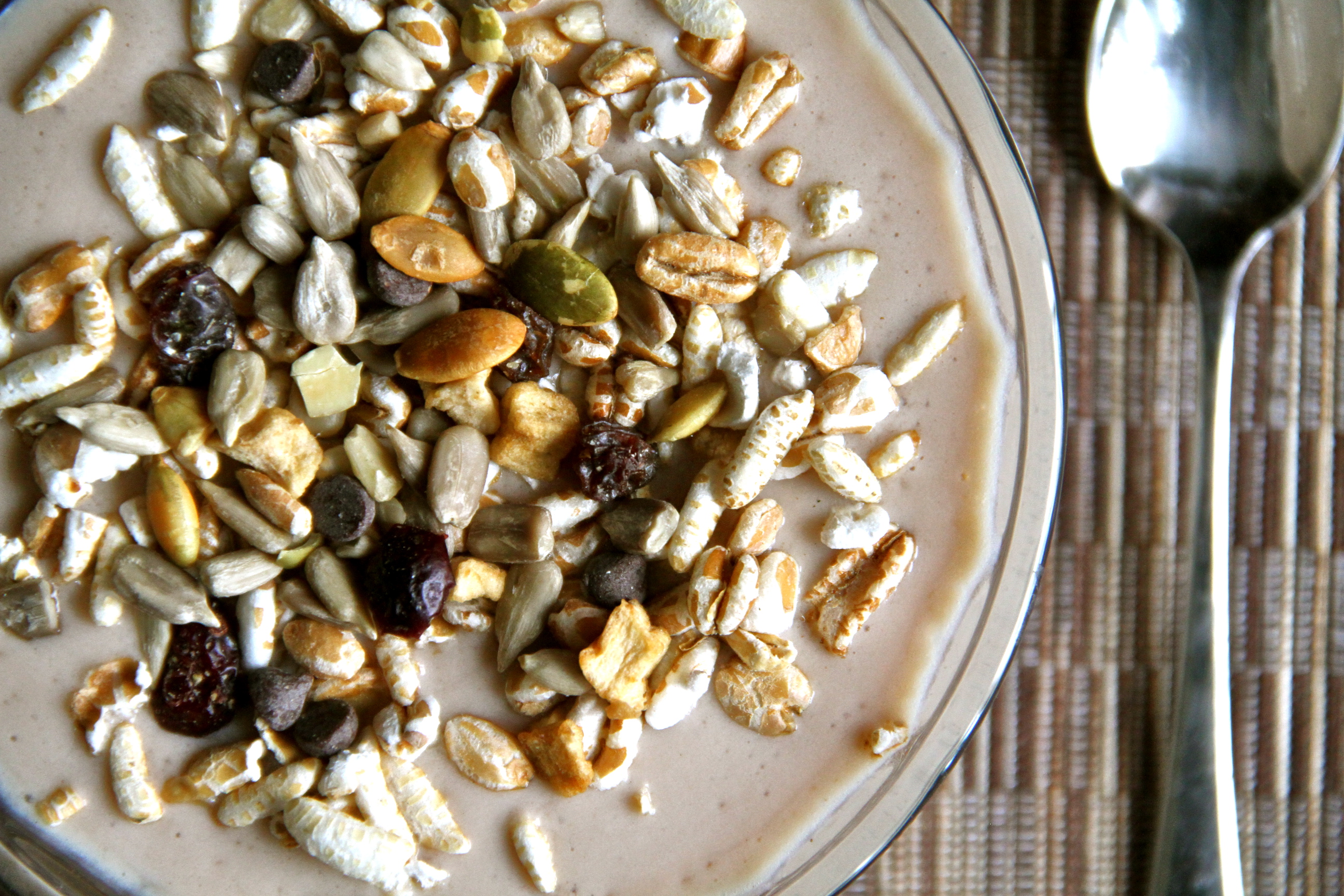 Banana smoothie made from 1 frozen banana, 1 Tbsp. almond butter, and ~¼ cup of almond milk; topped with puffed wheat and trail mix.
. – . – . – .
Do you snack between meals?
Are you a bowl/plate licker too?
Do you have a hard time getting your daily veggies in?